One of the biggest trends of recent times, everyone's got one in their wardrobe. It's a huge debate that how to wear boyfriend jeans since it has been a trend. Even now the boyfriend jean is more than a trend, it's a staple piece for every woman's closet who follows the fashion trends closely. There are many creative ways to wear boyfriend jeans from an off-the-shoulder top to a pair of combat boots. Also, boyfriend jeans can be worn not only on a casual day but also on a date night. Bella Hadid, Kaia Gerber, and Selena Gomez are just some of the boyfriend jeans fans that you can get inspiration from their stunning stylings. Never give up on the boyfriend jeans that you can wear anywhere and anytime. Keep scrolling to learn How To Wear Boyfriend Jeans: 12 Styling Ideas. 
With a Straight Coat
Every year winter and autumn, the straight coat that gives us that classy look is a perfect match with boyfriend jeans. Whether sneakers or heels, straight coats can be matched with almost everything. It's all about your vision of fashion.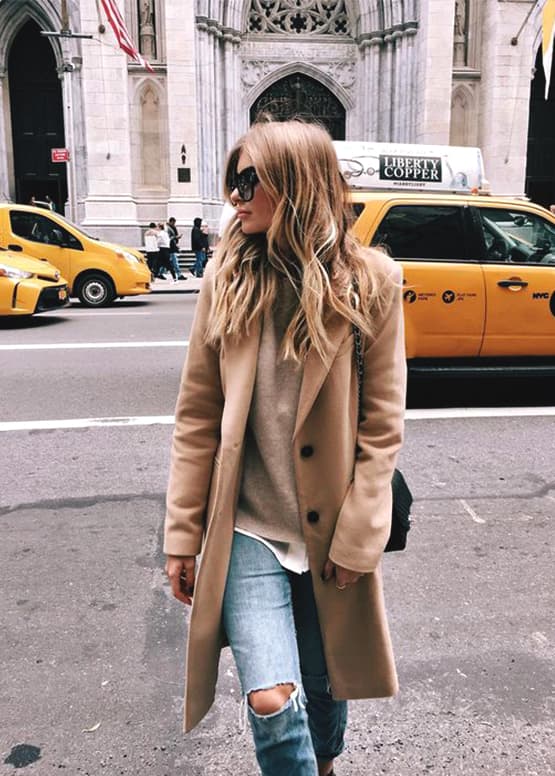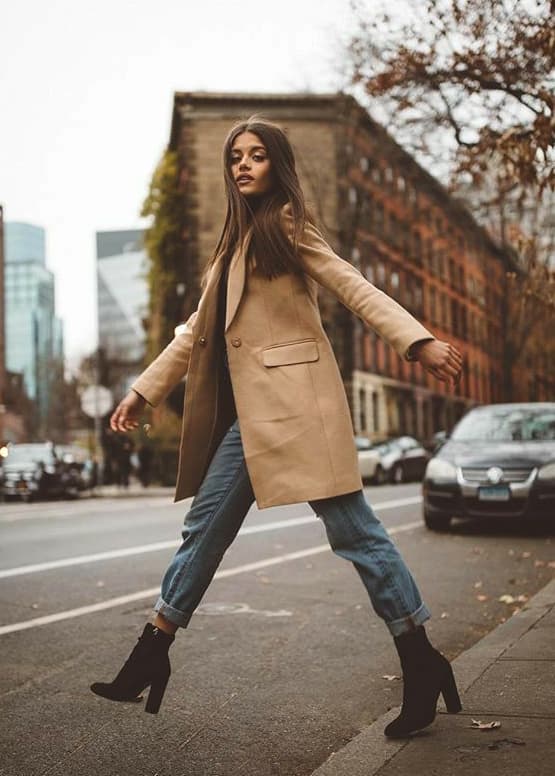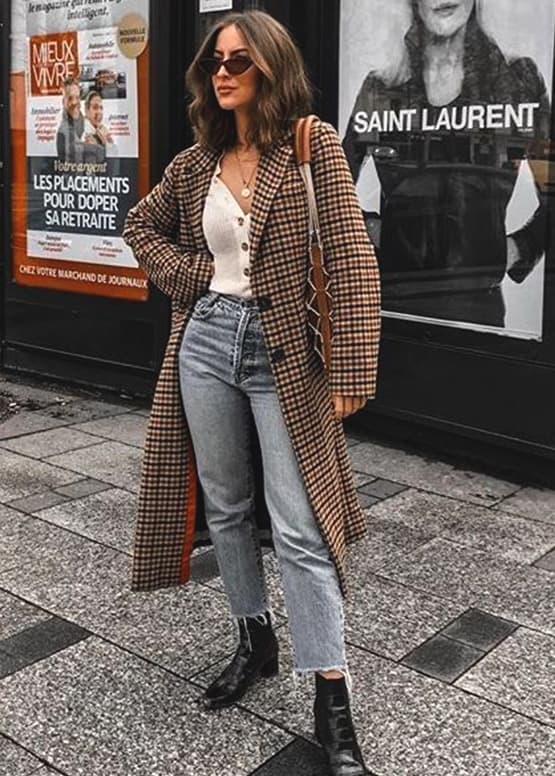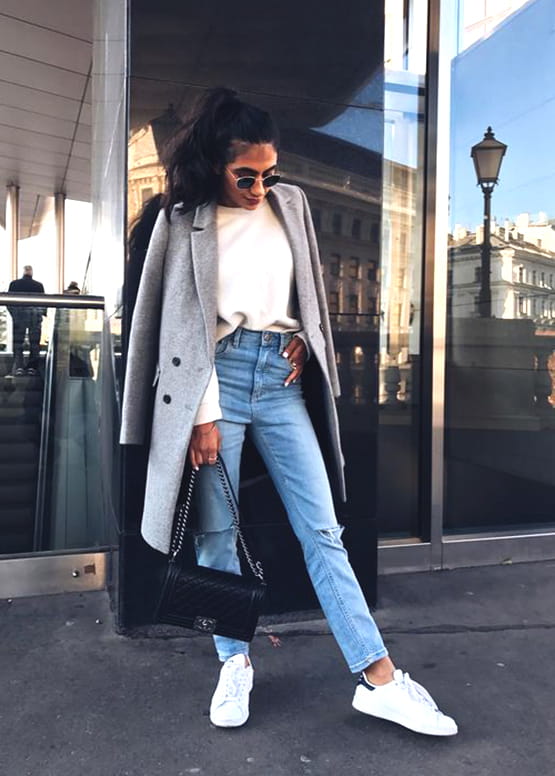 With a Turtleneck Sweater
The turtleneck sweater is a timeless trend that you can effortlessly match with your boyfriend jeans. It's the best way to create both cute and elegant style. The most useful part of turtleneck sweaters is that we can find all kinds of turtleneck sweaters according to our style such as loose or slim fit turtlenecks. Also, a straight coat on a turtleneck sweater can be a really sophisticated outfit on a cozy winter day.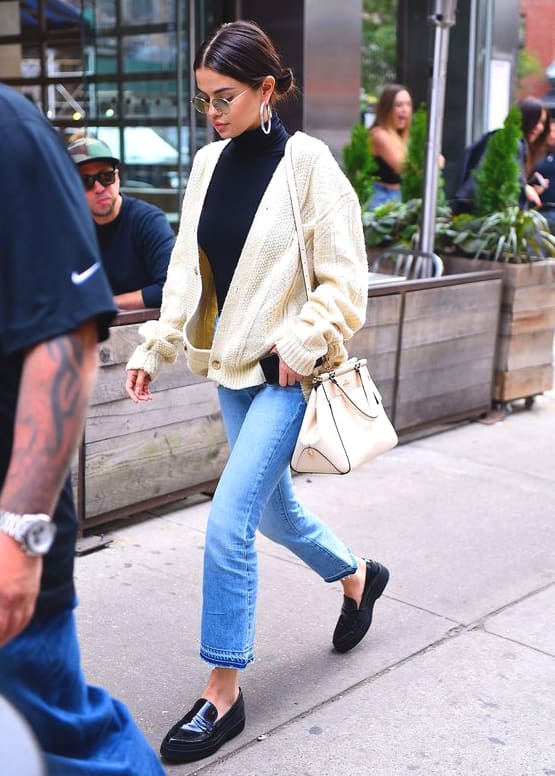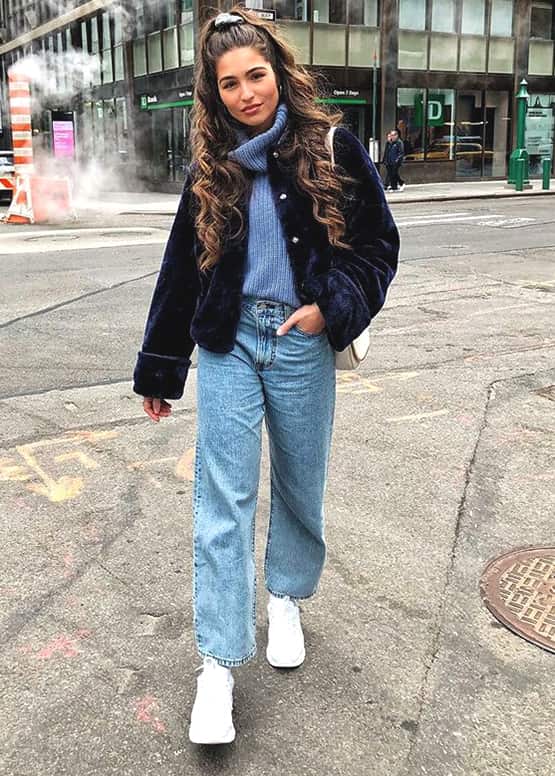 With an Off-the-Shoulder Top
Looking for a feminine look? There is no way a masculine look after you wear an off-the-shoulder top on a boyfriend jean. The off-the-shoulder tops are in this season's favorite fashion trends. If you love off-the-shoulder tops as I do, take a look at the previous article about the Off-the-Shoulder tops. ?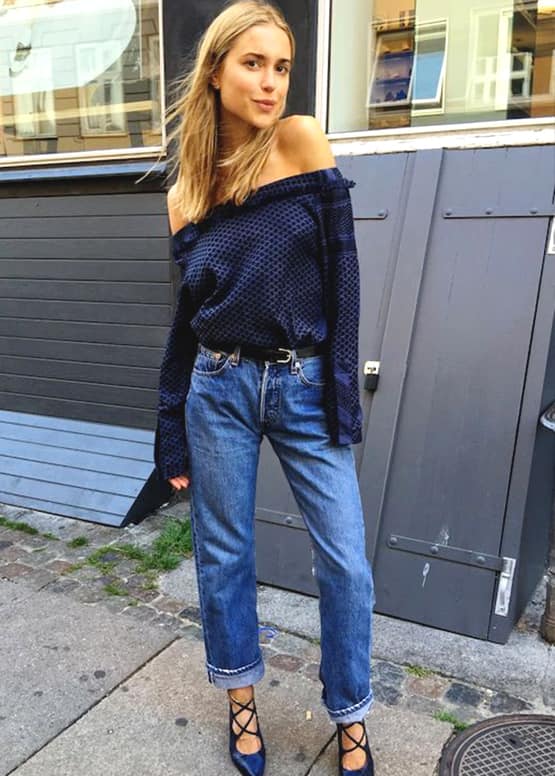 With a Black Leather Jacket
A black leather jacket is a must-have piece in a woman's closet. But don't worry if you don't have one. You can easily find a reasonable black leather jacket online. Wearing a bold looking black leather jacket with boyfriend jeans will give you that fashionable look as on the streets of Fashion Week.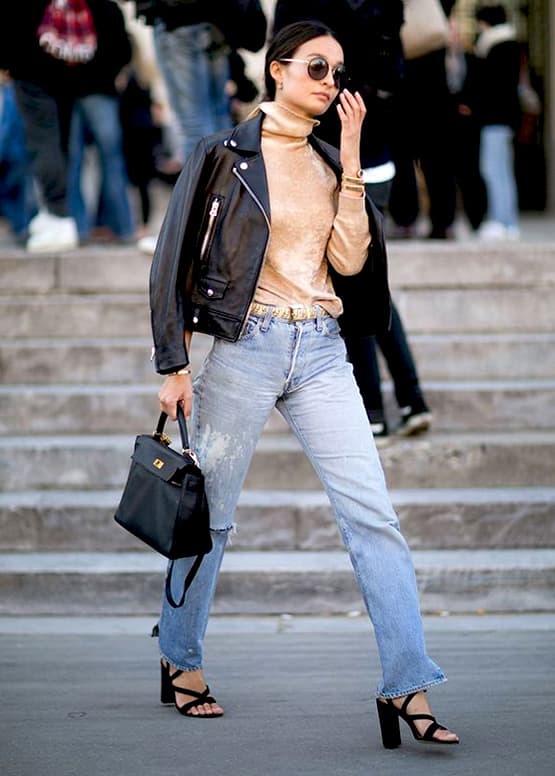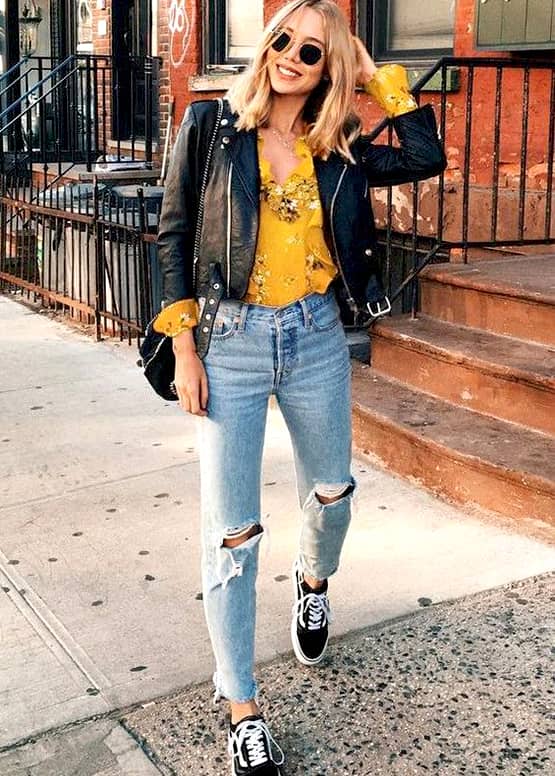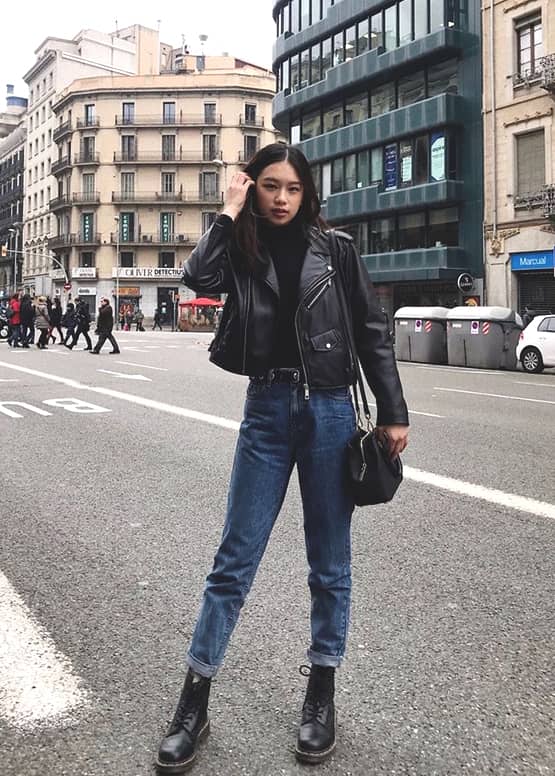 With Bright Colored Heels
Add some brightness to your look to get that fancy style. Who doesn't want to look glowing in usual boyfriend jeans? Bright colored heels are also so popular under the boyfriend jeans in 2019. This trend, which is also a favorite of Gigi Hadid, has increasingly been a world of fame. Moreover, bright colored heels give you that smart but chic look for any occasion such as a date night or a dine & wine.?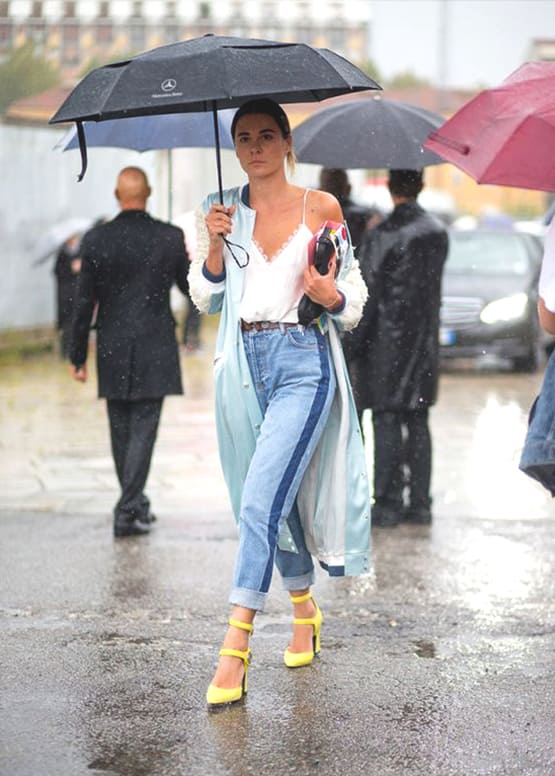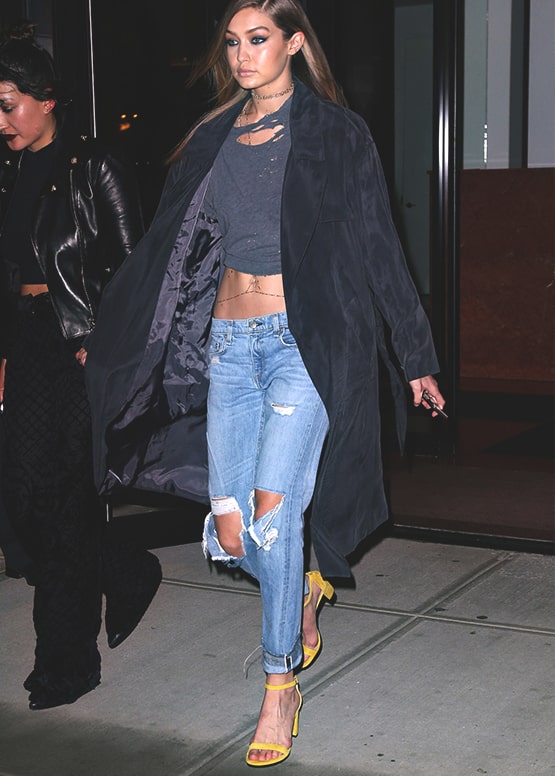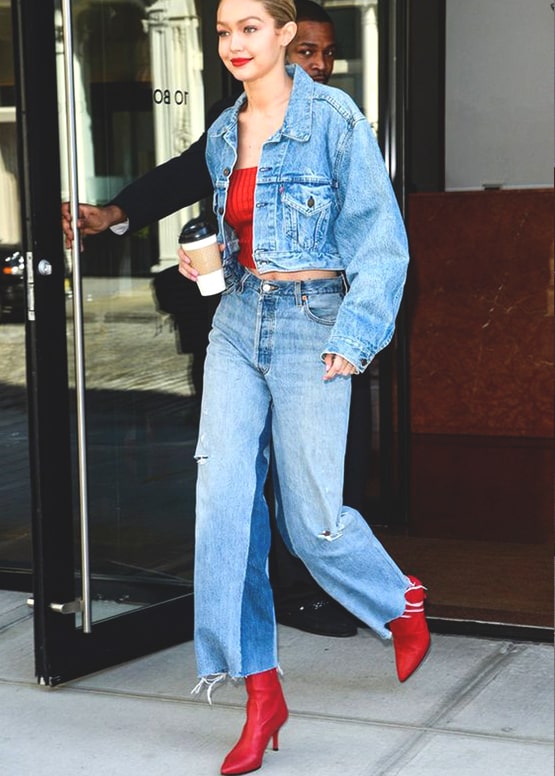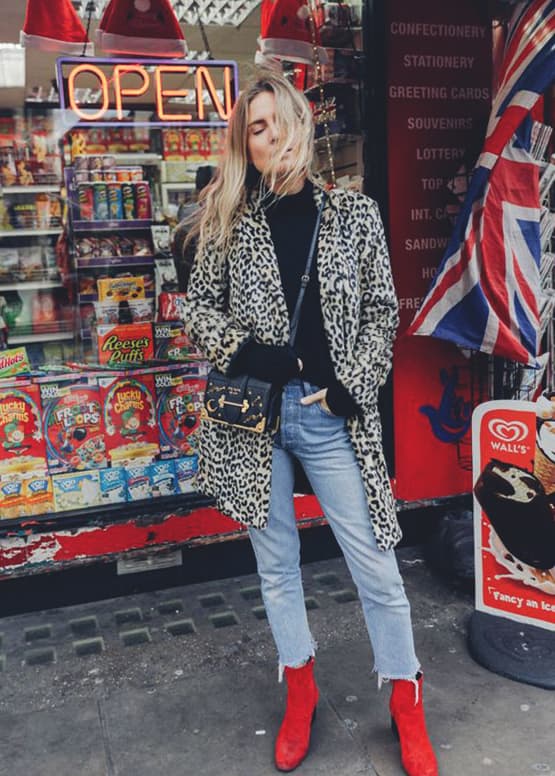 With Ankle Boots
Ankle boots are the most preferred piece to wear with boyfriend jeans. With a pair of ankle boots and a long coat on a trendy boyfriend jean is a great match at this time when the weather is slightly colder. Ankle boots and boyfriend jeans can also be matched with trench coats and leather jackets. One way or another, you will be dazzling.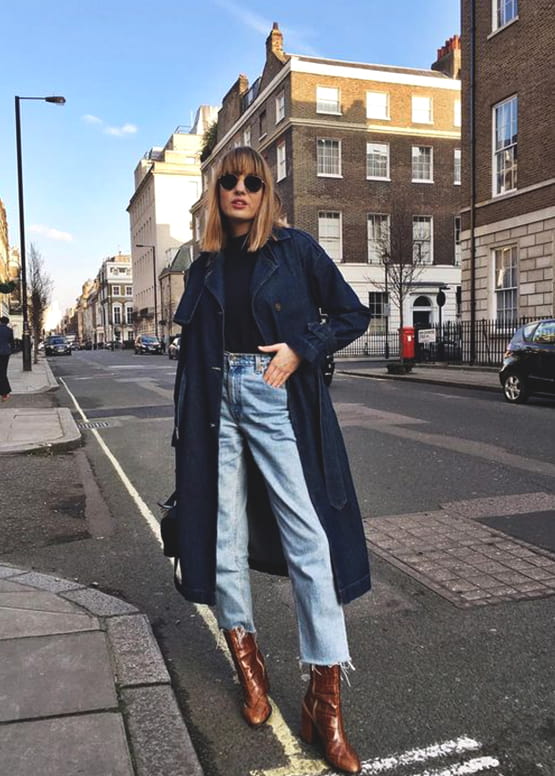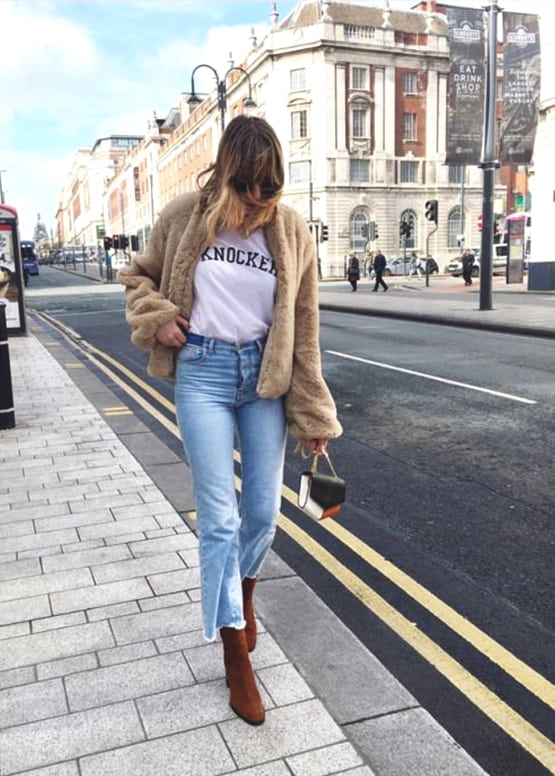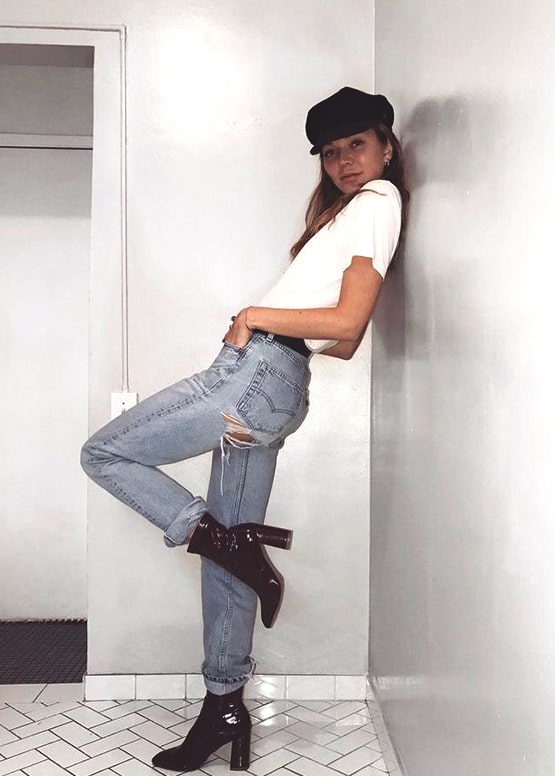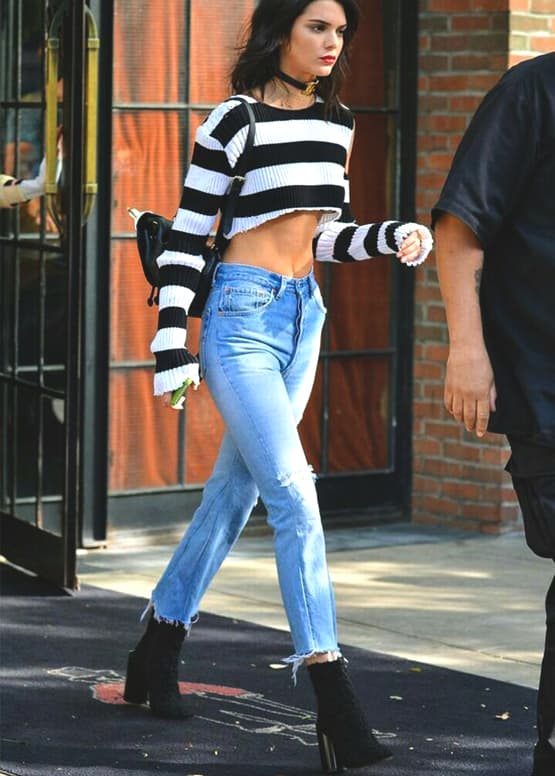 With Combat Boots
Go bold with a pair of combat boots which are so trendy in this season. Black, white and camel colors are highly in demand when it comes to combat boots. It's a little more masculine style wearing a boyfriend jeans with these stunning laced combat boots. Here are good inspirations for the combat boot fans who need to try something brand new!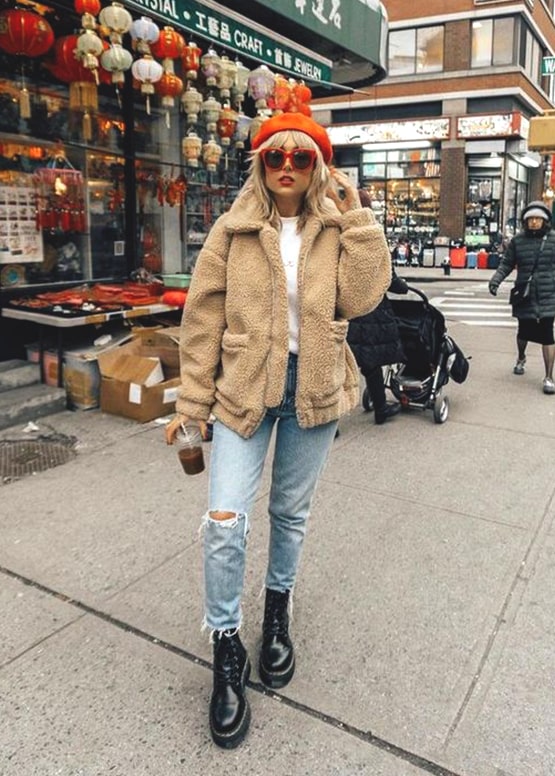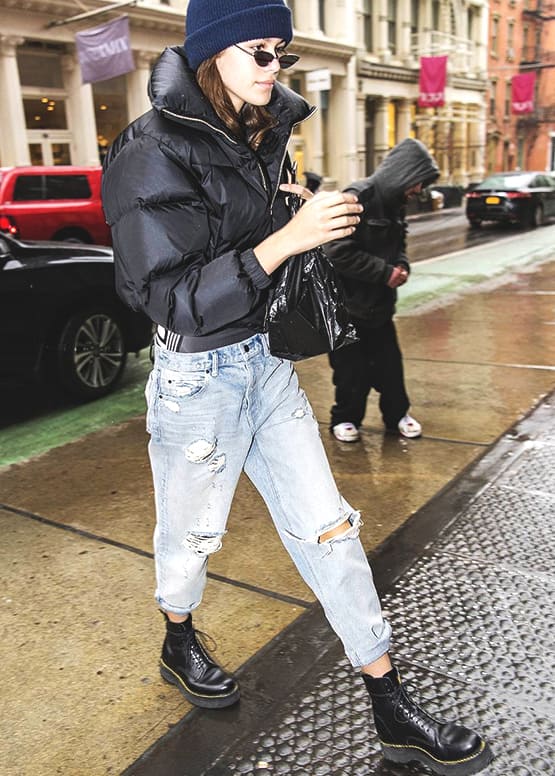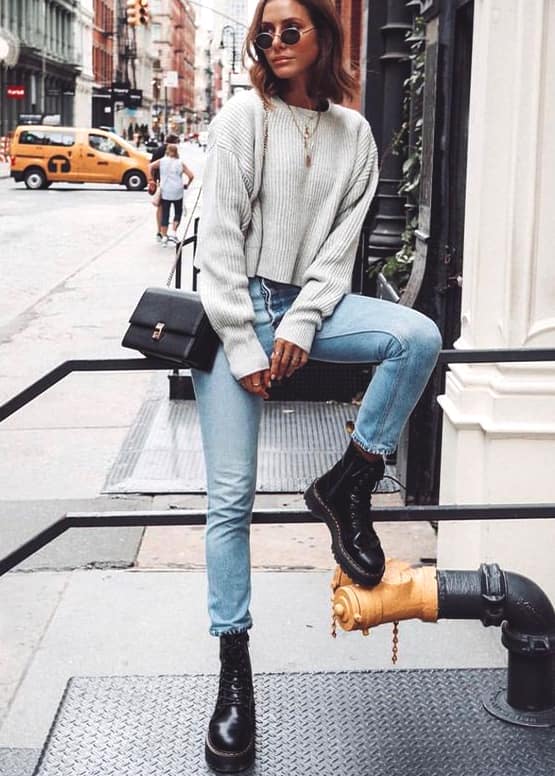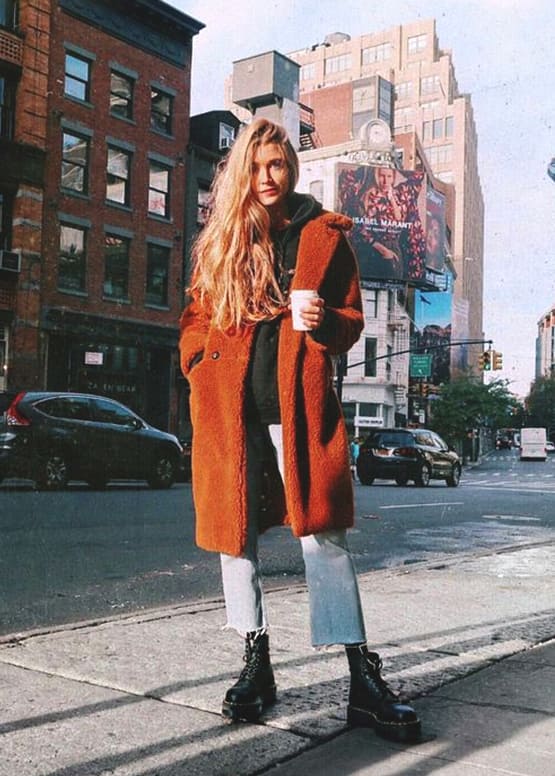 With a Long Coat
A classy, cool and modern. The long coat can have all these three in itself. The long coats are mostly preferred with high heels and flats, but boyfriend jean has a loose formation, so the high heels may seem more appealing to style boyfriend jeans with a long coat. Finish your look with a bun hairstyle to have a sleek appearance.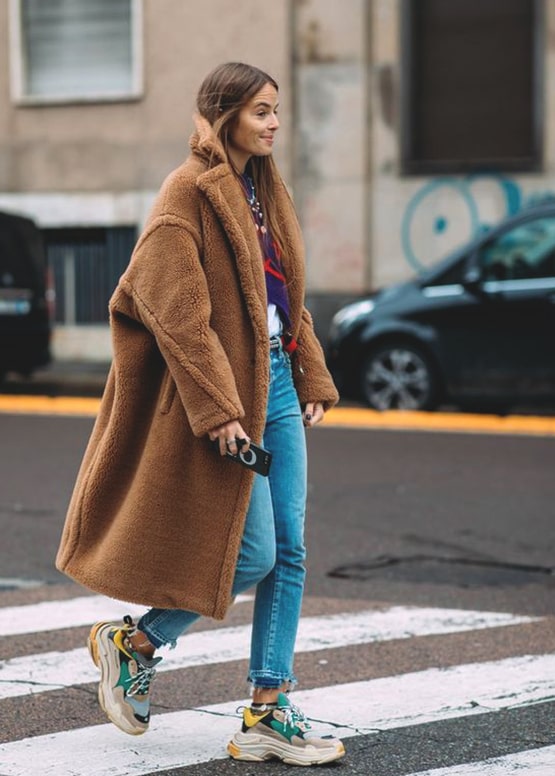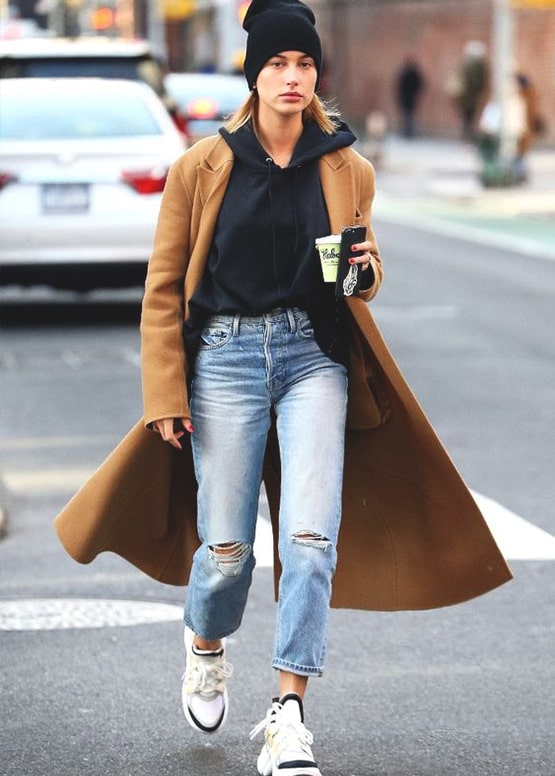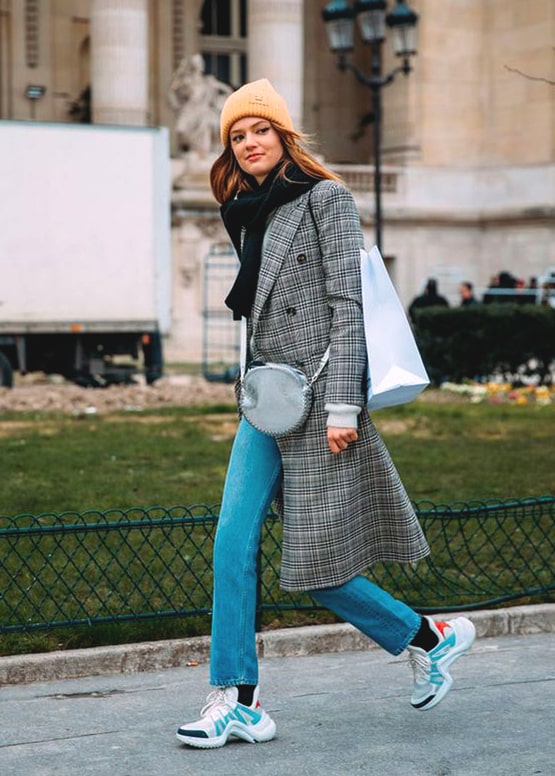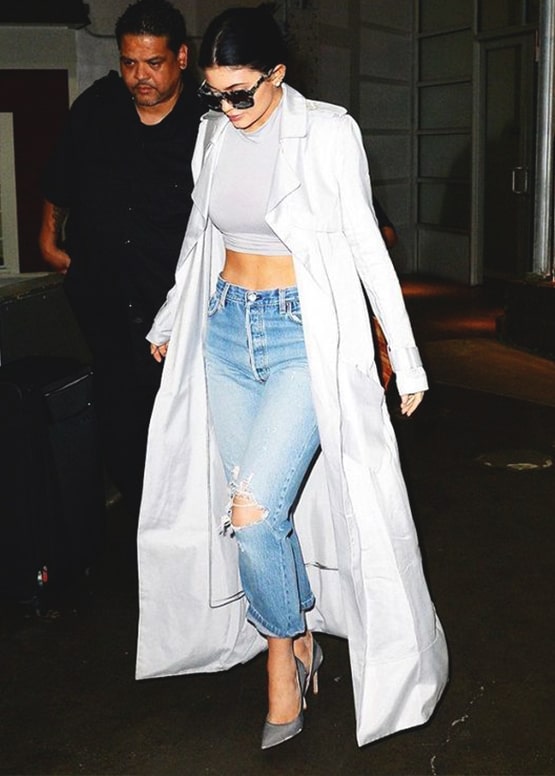 With a Denim Jacket
Denim-on-denim has been a strong fashion trend during the year. Wearing the same wash denim can seem boring, instead of this change the colors of denim such as lighter jacket and dark wash boyfriend jeans. Those who want a more sporty and stylish look should definitely try boyfriend jeans with a denim jacket.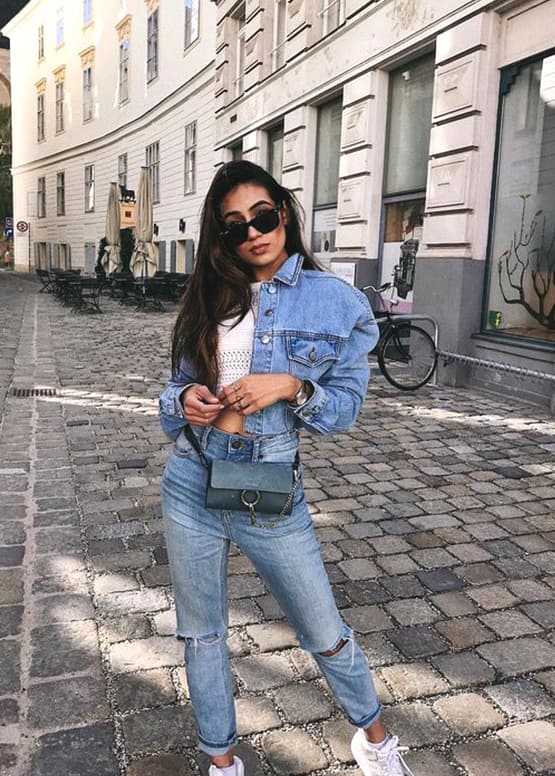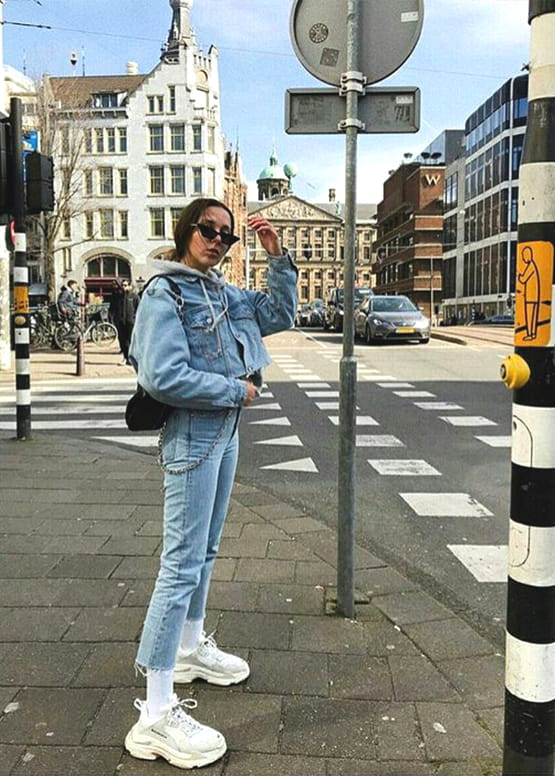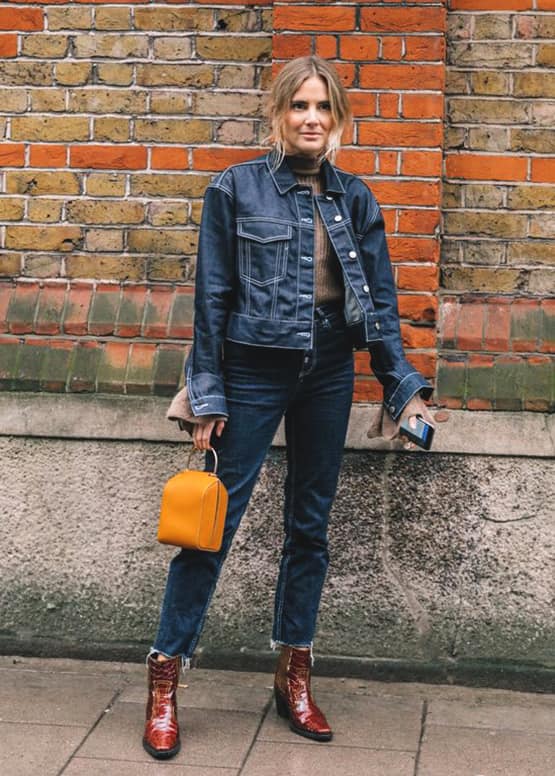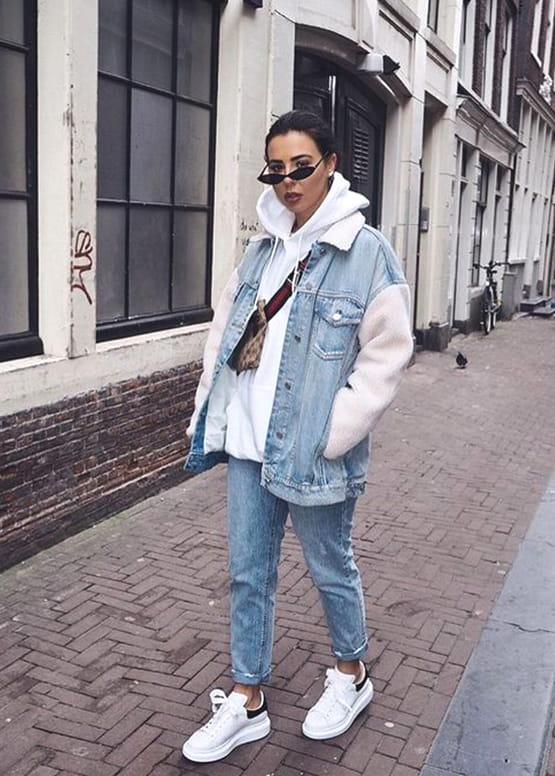 With a Belt Bag
How much we've heard of belt bag this year, haven't we? Then, it would be a good idea to picking the right belt bag for your style and wearing it with boyfriend jeans. The belt bag which steals all the fashion weeks this year fits with every outfit. You're not late to try belt bags with your impressive styling skills.?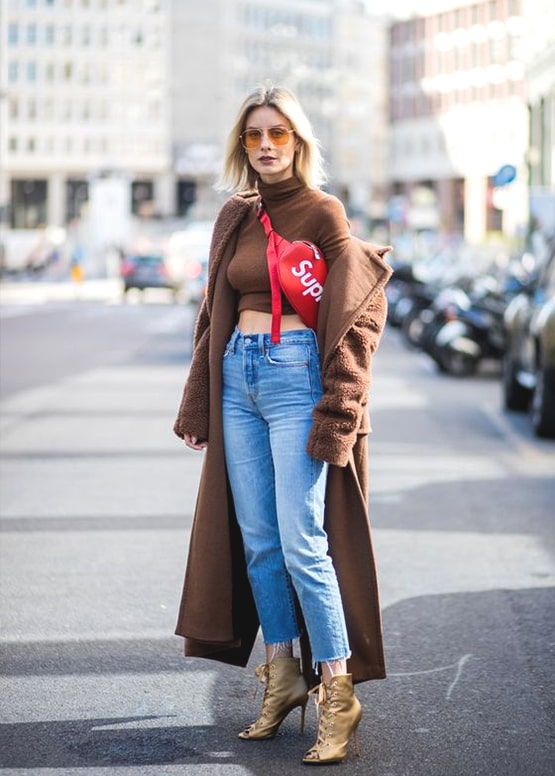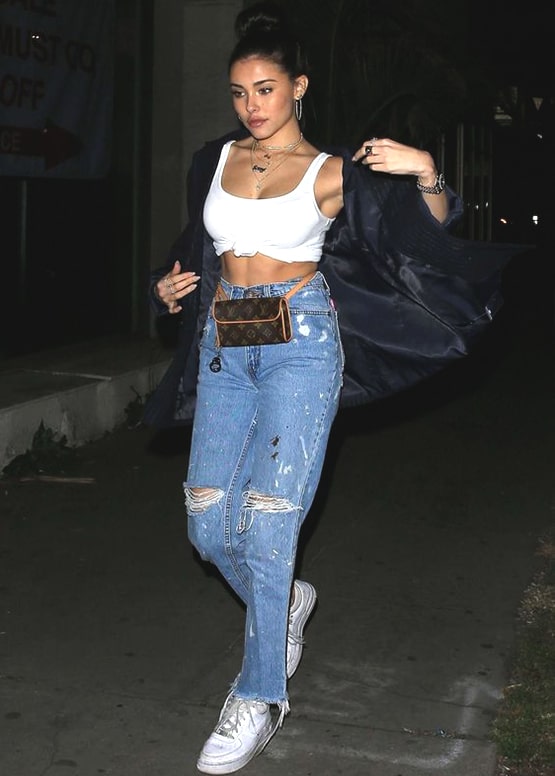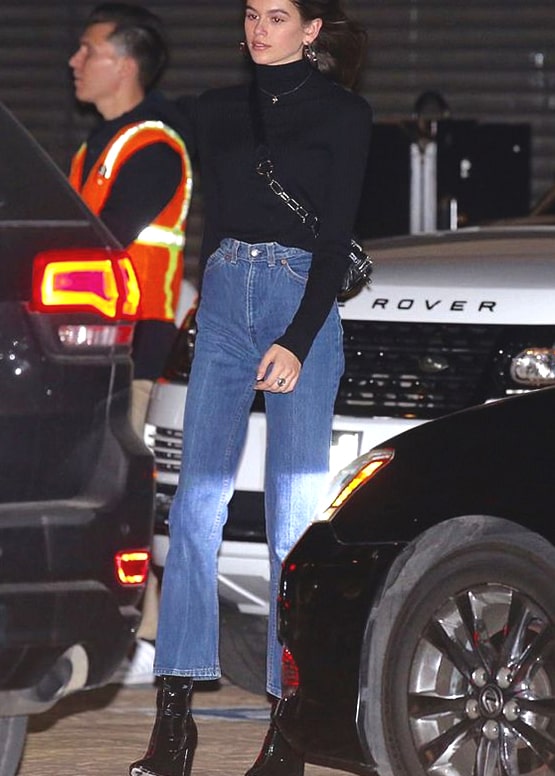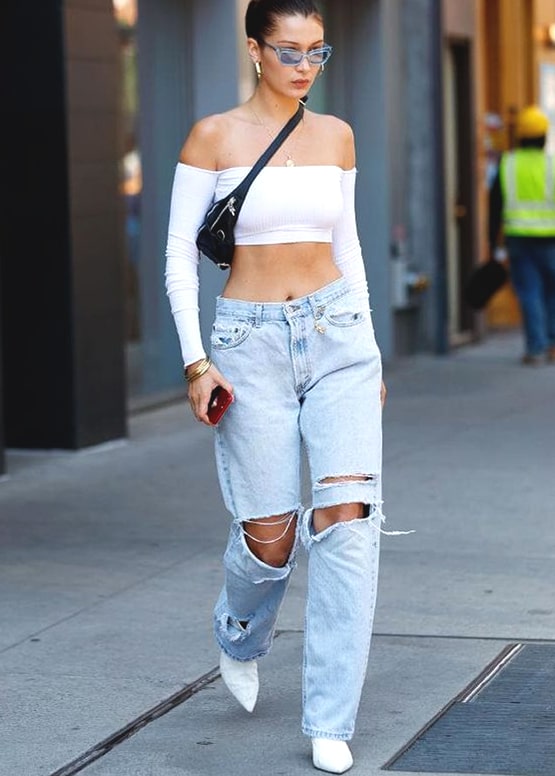 With a White Top
I can hear you say that white top and boyfriend jacket what a cliche styling idea.? But, it depends on a creative idea of how to wear a white top with boyfriend jeans. Here is your answer to taking some inspiration from unique white top and boyfriend jeans outfits. A vivid red middle long coat and a bright red lipstick on a basic white tee is a perfect styling idea to break the cliche.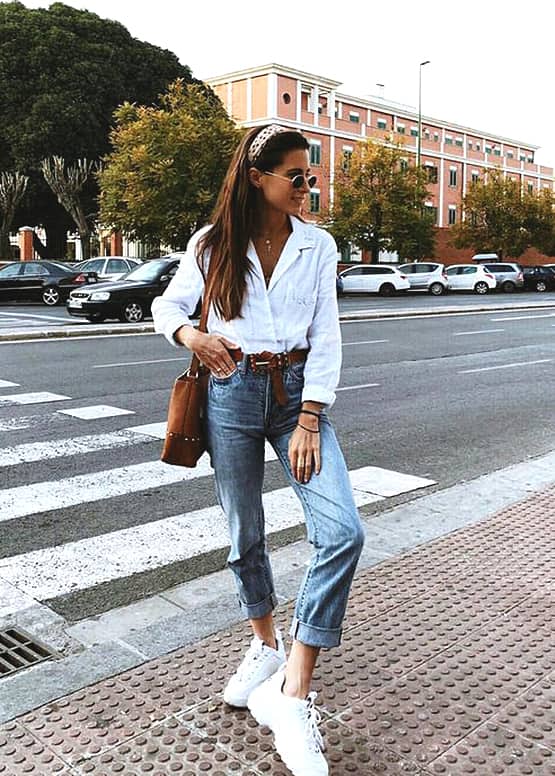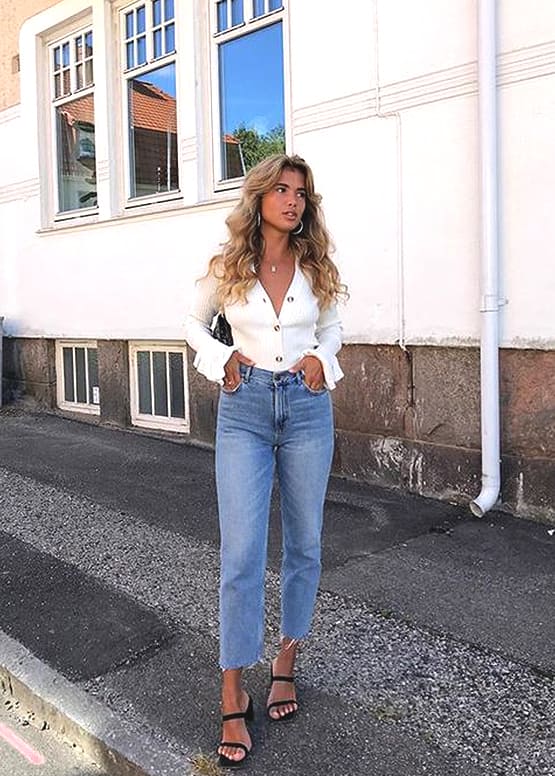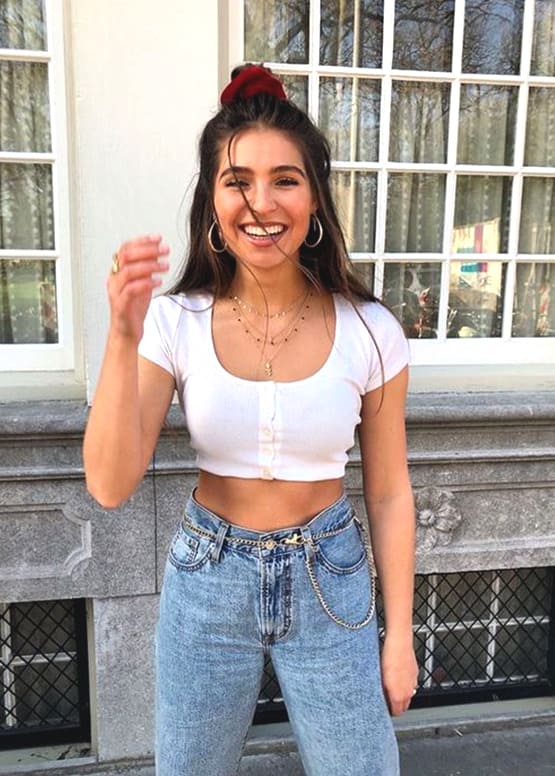 With a Striped Shirt
Nothing looks as cool as a striped shirt on the boyfriend jeans. Stripes go with pretty much every piece of clothing in our wardrobes. A simple striped shirt makes boyfriend jeans more fashionable, furthermore, wearing a sexy lace bralette in the stripes shirt turns you into a fashion icon!