It doesn't matter how you are going to celebrate Valentine's Day this year, or not willing to celebrate it, treat yourself with our sexy inspirational outfit ideas. Do your makeup, wear your hottest outfit, and put a huge smile on that gorgeous face regardless of bf or gf on Valentine's Day. Whether you're planning to go out on a romantic dine & wine, hang with your best friends, or stay at home for Netflix & chill, these Valentine's Day outfit ideas turn your day into a celebration. From cozy casual looks to a sexy date night looks, we gathered the most trendy ones that you can wear not only just on Valentine's Day but the rest of 2020 days. Here are 25 Flirty Outfit Ideas For Valentine's Day.
LACE BLACK TOP & RED SKIRT
What can be more flirty than lace on V-day? A black lace bodysuit with a red leather skirt will totally give you that flirty look. You can richen this outfit idea with an embellished leather bag and a stylish leather jacket. The outfit suits both a girl-gang hang out and a romantic date night. It's up to you how you plan to spend the Valentine's Day 🙂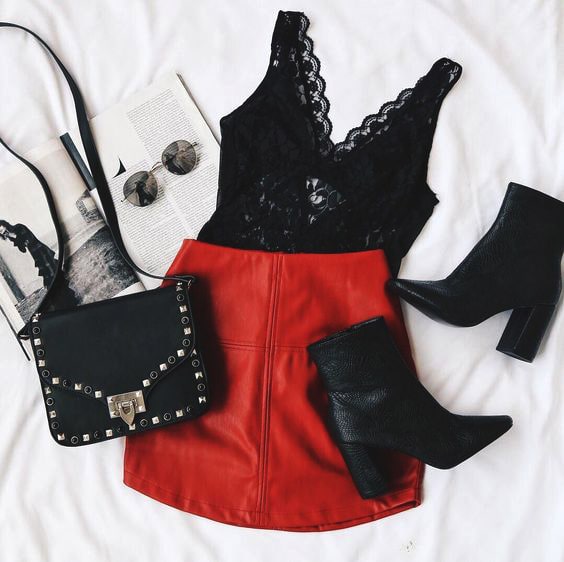 WHITE SHIRT & RED CHECKED LEGGINGS
Checked leggings and pants are super fashionable in this year. So, you can try to style one of them with a plain white shirt on it which gives you an elegant appearance. Combining a white shirt with red checked leggings shows your inner cool-girl and also who wants a relaxing but appealing look, we highly recommend this outfit on V-day.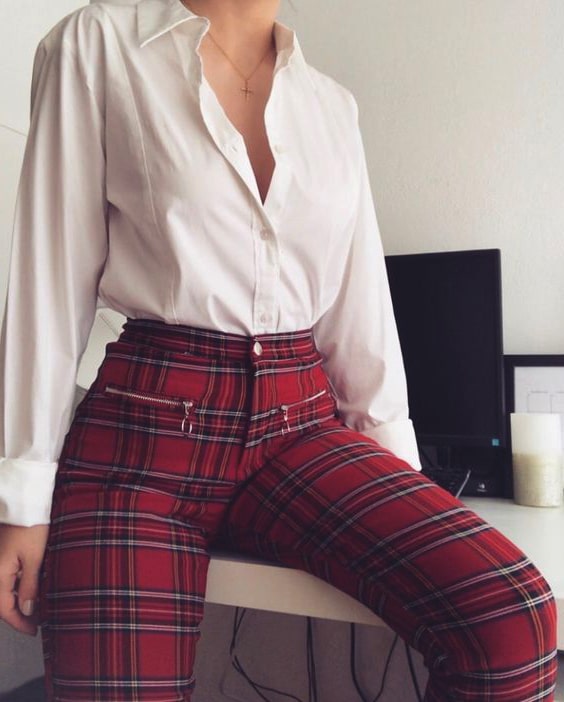 BLACK TURTLENECK & PLAID BUTTON SKIR

T
Plaids! The only thing is extremely mentioned in this season by the trendsetters everywhere. Here is a perfect plaid detailed outfit idea for your V-day! As it's a sweater weather season, styling a black turtleneck sweater and a plaid button skirt with a pair of red suede boots will look stunning for any specific day.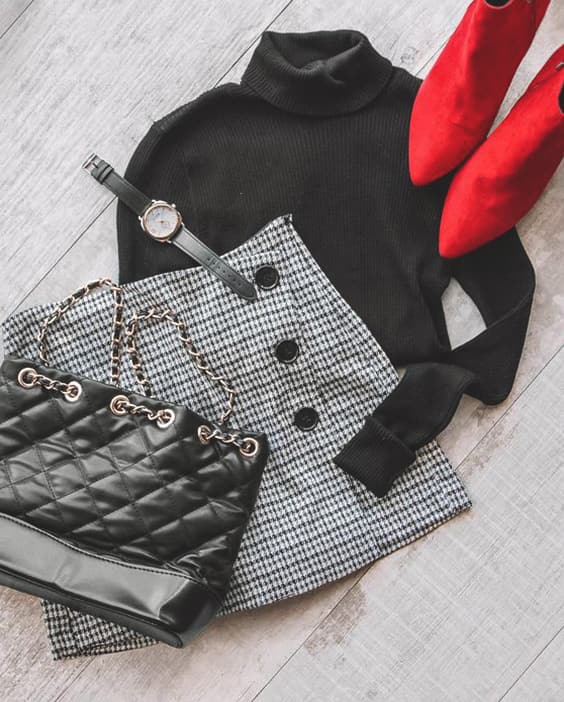 MONOCHROME OUTFIT TREND
The monochrome trend that we talked about last season is still quite popular this year. This orangy colored stylish blazer and "skort" outfit absolutely gives you the cool vibe that you need on V-day. For a more sporty look a side bag is a great idea, but if you want to look smarter, have an elegance clutch bag to complete the look.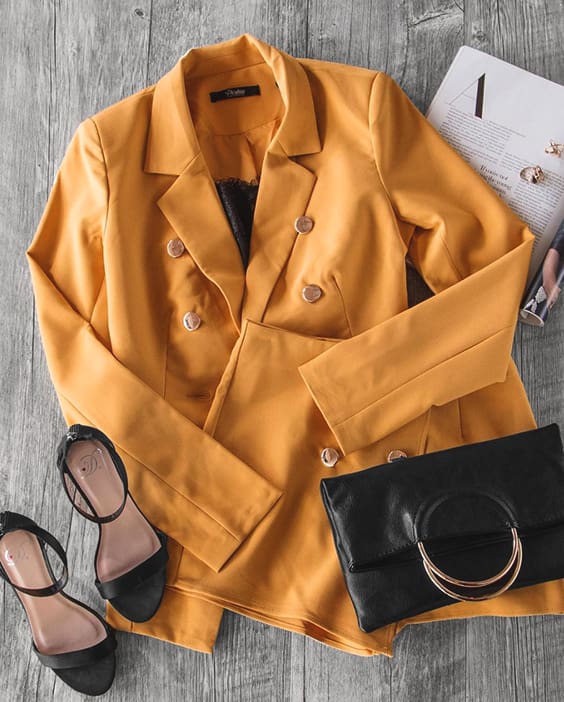 CASUAL VALENTINE'S DAY OUTFIT IDEA
Planning a casual V-day? Then you're going to love this look. Wear your favorite jeans and a knit cardigan on! Go with a lace detailed satin strap top which is one of the popular trends in 2019. You can prefer a comfortable sneaker as shoes which will completely fit your casual Valentine's day look.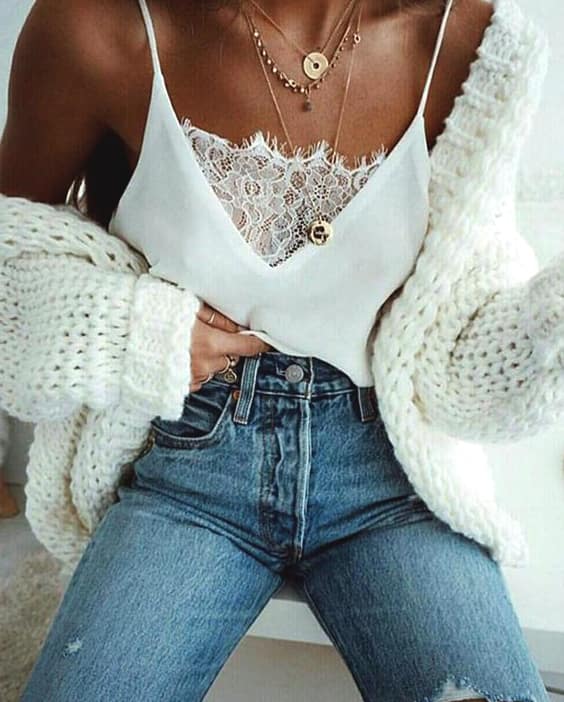 PINK VALENTINE'S DAY OUTFIT IDEA
Pink on pink, there is no day that you can wear it except V-day! It's a wonderful idea for the girls who are looking for a girly look. This bright pink lame trouser and a sweet pink sweatshirt reveals your girly side but also shows how fashionista you are.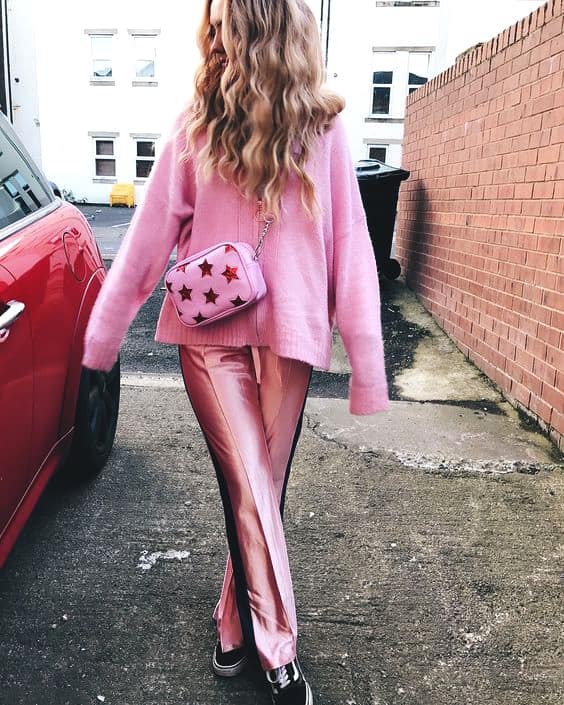 CASUAL VALENTINE'S DAY OUTFIT
When it's casual, it's the first piece that comes to mind. Of course, I'm talking about jeans that you can certainly wear it on a casual occasion without thinking. As it's in this casual Valentine's day outfit example, a jean with a belt and a button up white long-sleeved top looks like it's the meaning of casual outfit. 🙂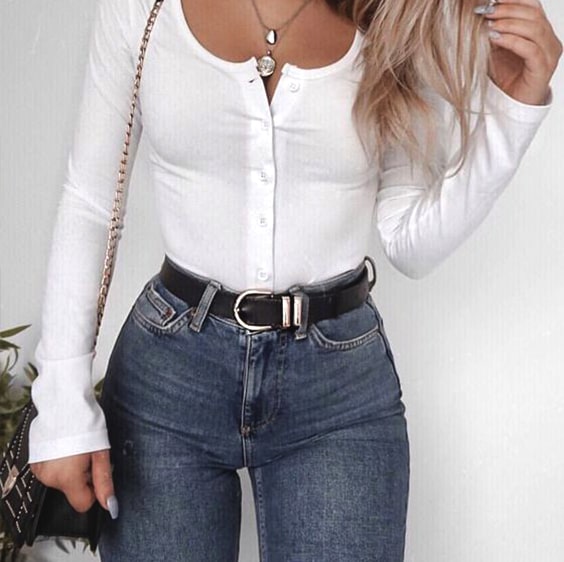 CUTE VALENTINE'S DAY OUTFIT 
Are you looking for cute outfit ideas for Valentine's day? Then, here is a cutesy and hottie Valentine's day combination of a red striped midi piled skirt and a white puffy shoulder top. Complete the outfit with a heart-shaped fanny pack that perfectly reflects Valentine's Day is really a stylish idea. Get some inspiration and be ready to spread cuteness around.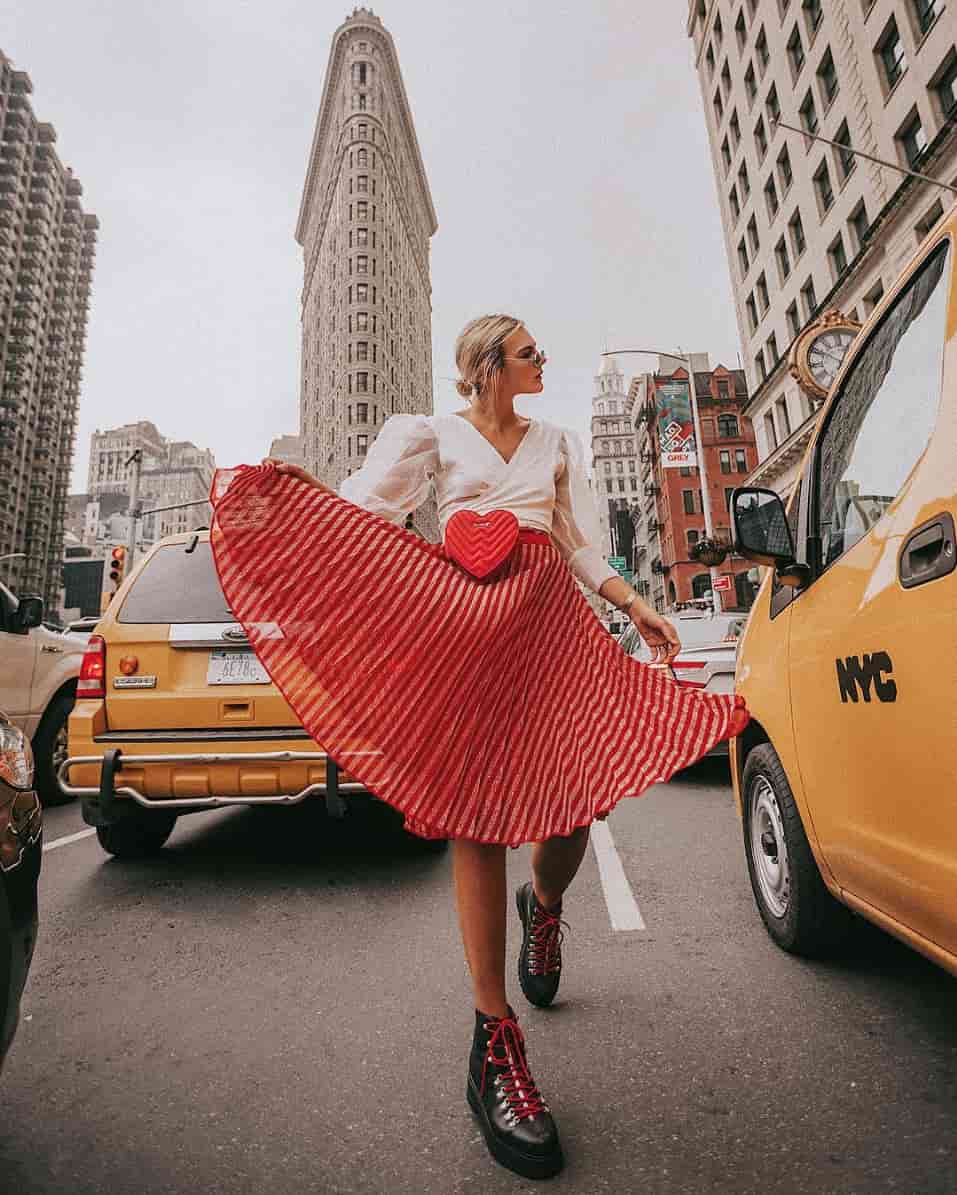 ANIMAL PRINTED VALENTINE'S DAY OUTFIT
The popularity of leopard is getting more and more increasing, but how to style it is the essential question. As the leopard pattern would make an ordinary outfit incredibly sexy, the outfit could become a complete fashion disaster in the wrong use. So, how to wear animal prints on a special occasion? The key is you just wear it as a single piece such as a jacket or a pant which gives you a more glamorous look. Try to wear a leopard printed jean and a V-neck sweater on. This Valentine's day outfit idea looks so stylish and sporty at the same time.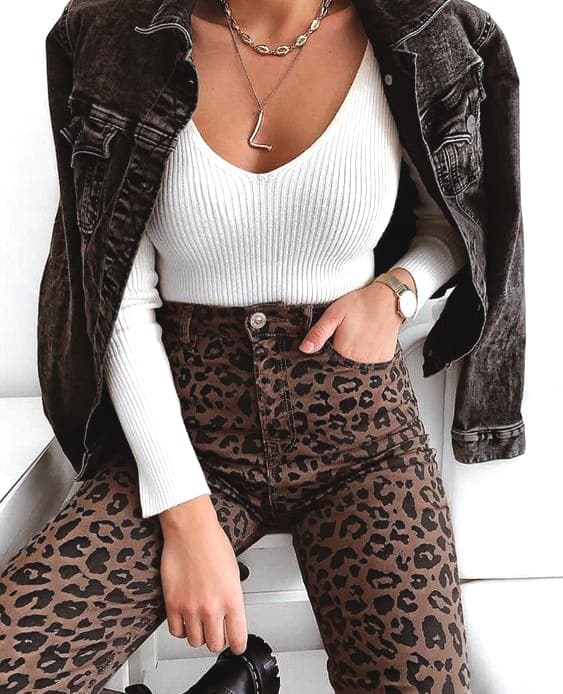 PLAID SKIRT VALENTINE'S DAY OUTFIT IDEA
It's the year of plaids, so why you don't wear them on this special day? The only thing you have to do on this freezing winter day, wearing the knee boots and a plaid red skirt to turn this cold day into a warm one with your hot style. As Valentine's day inspo, a feathered top is an original matching idea on a plaid skirt.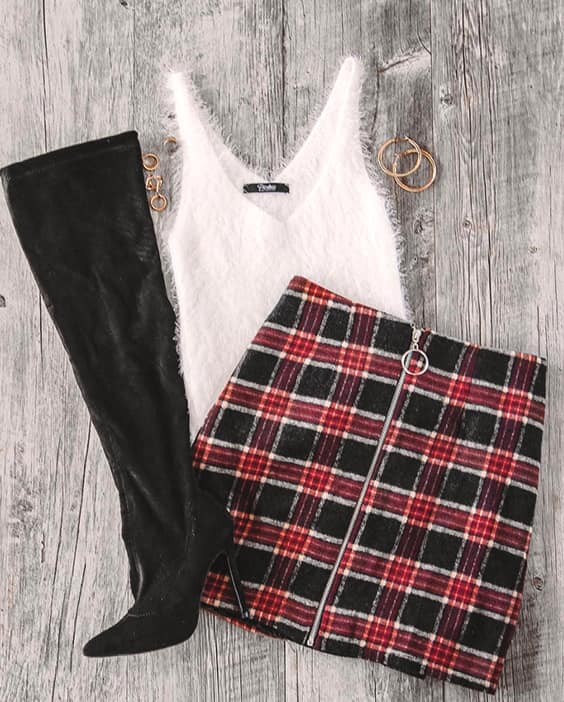 RED BLAZER & BLACK LACE BODYSUIT
Just WOW! Looking this sexy on V-Day is a wish that every fashion addict wants. During this time when the monochrome outfits are so trendy, it's a fabulous idea to be dressed in a red blazer and a red pant. Wear a black lace bodysuit which will upgrade your look with a touch of sexiness.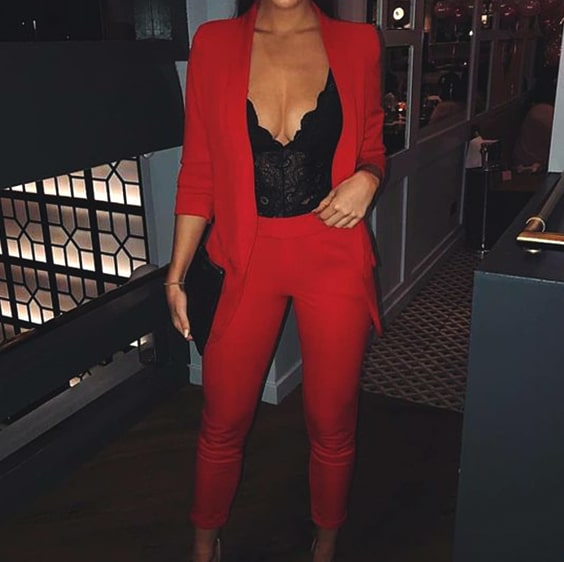 SATIN BLUE MINI DRESS & LEATHER JACKET
If you need a shinier but on the trend dress list of 2019, you're going to love this V-Day outfit idea! Unlike all classic red and pink Valentine's day colors, satin blue mini dress is an extraordinary idea for a true fashion lover who follows the trends closely. Also, the elegant silver chain belt tied to the waist and the black leather jacket made the satin blue dress fancier.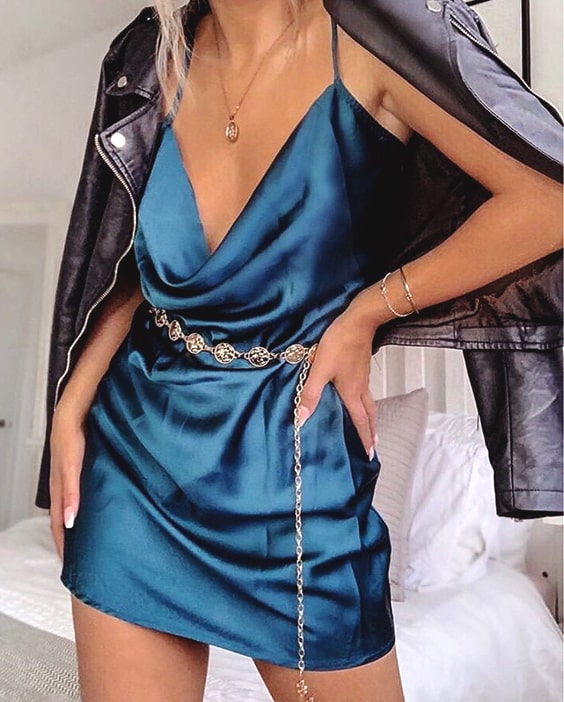 CASUAL & CLASSY VALENTINE'S DAY OUTFIT
Are you planning a more comfortable and casual V-day? The first thing comes to minds is blue jeans! Being comfy doesn't mean that you will be seen out of fashion, on the contrary, you can only look fashionable in your most comfortable clothes. Take your favorite jean out from the closet and wear a lace detailed top on it. It's up to you which shoes you want to wear; go with the sneakers to feel comfy or choose the heeled sandals to look flirty.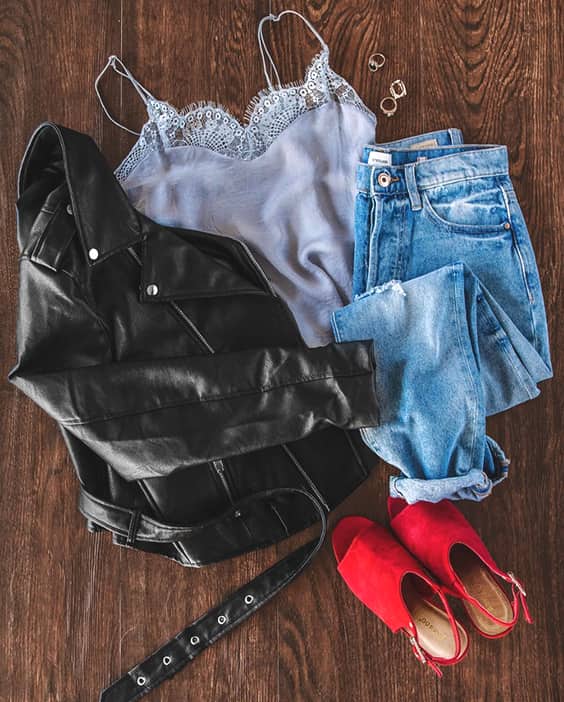 SEXY BURGUNDY DRESS & BOOTS
Dress to impress? You are reading the right blog to decide how you will amaze around you on V-day! A sexy burgundy spaghetti strap mini dress and sock boots will definitely change your V-day into a memorable occasion. Here is a stylish idea; wearing the same material burgundy ribbon as a choker.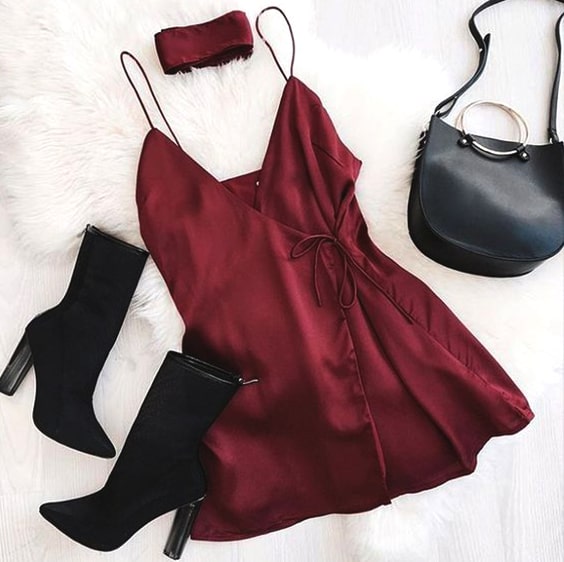 RED VALENTINE'S DAY OUTFIT IDEA
Valentine's day means a romantic date for couples, and if you are thinking the same with your bf or gf, red is unquestionably your color. Take a long teddy coat on your shoulders after getting impressed by this red V-day outfit idea. Matching your red pumps with a red laced bodysuit will set the place on fire.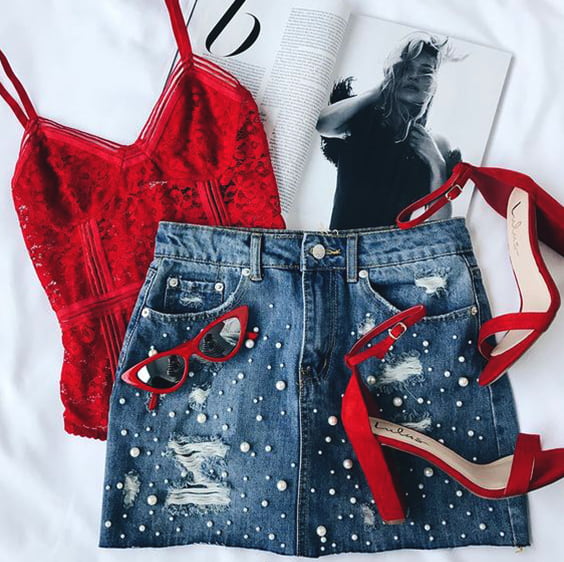 COZY KNIT SWEATER OUTFIT IDEAS
A classy woman always knows how to look cozy and chic at the same time. Show off your style by wearing denim and a nude knit sweater. Just focus on the details of your outfit such as a lace bralette which is nearly seen but noticeable or an ankle nude boot suits your sweater.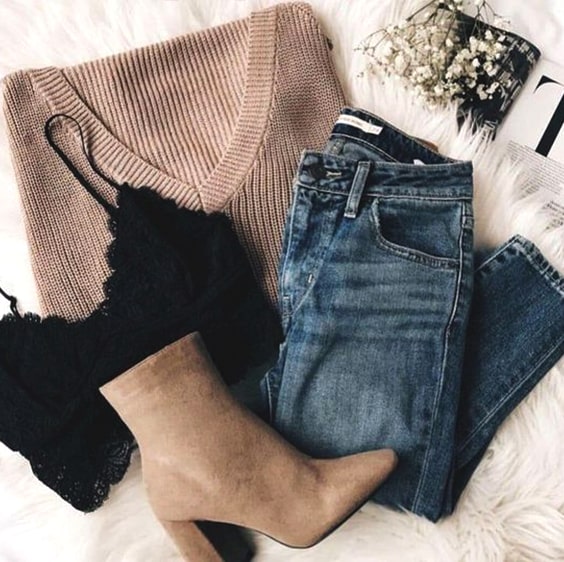 OVER-THE-KNEE BOOTS & OVER-SIZED HOODIE
If you are a hoodie junkie, we have a so cool V-day outfit idea for you. A pair of red over-the-knee boots and your favorite over-sized hoodie will save the day. It's not only looking super hot but also extremely in the limelight. You will add this outfit inspo your A-list for sure.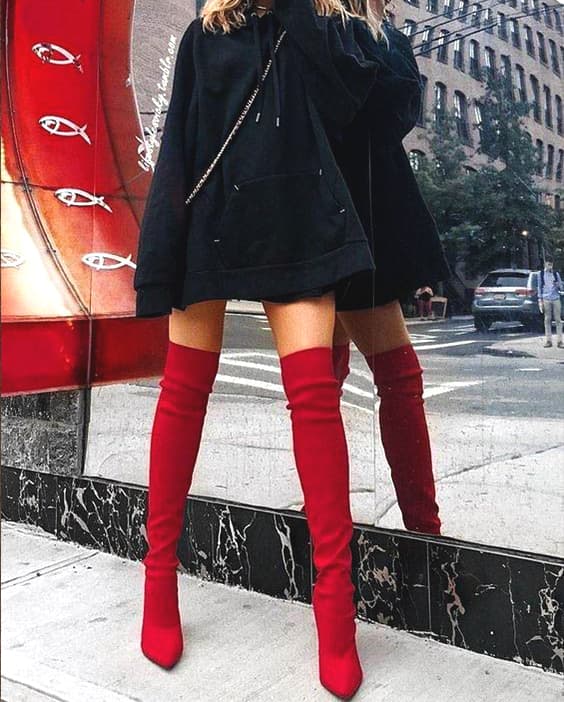 COZY & COOL VALENTINE'S DAY OUTFIT
Another cozy V-day outfit idea for the cool girls! A plaid dress with a trendy white sweater is a quick way to look stylish and feel cozy. It's a versatile outfit that you can wear both day and night. To complete your high-level outfit idea, try it with combat boots which are the most trendy pieces on the trend list. 😉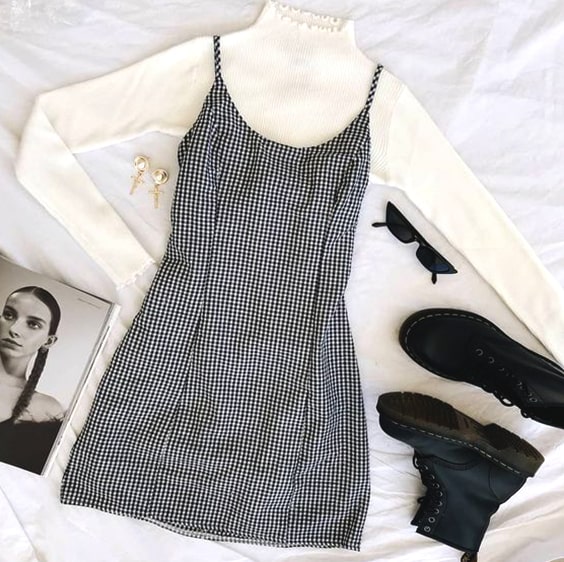 CASUAL & SEXY VALENTINE'S DAY OUTFIT
Who doesn't want to be both casual and sexy at the same time? Gathering the right casual but eye-catchy pieces are the main secret of looking casual & sexy on Valentine's day. Make a statement with a red puffy coat which is so popular in recent, let your outfit will razzle-dazzle on Valentine's day.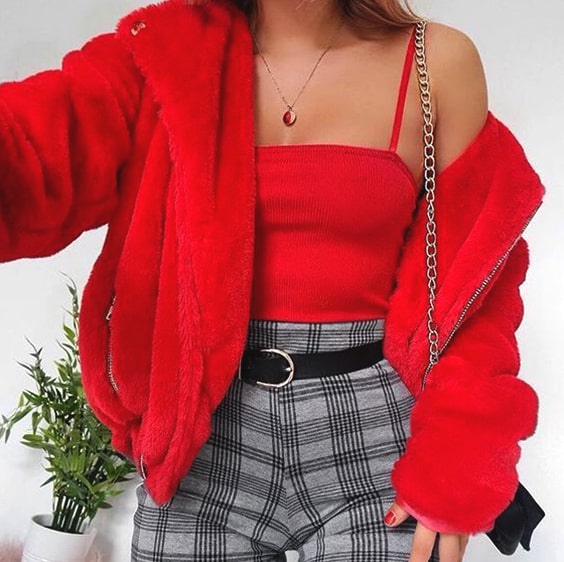 TRENDY CHECKED MATCHING SUIT OUTFIT
Matching the top and the bottom trend is going to hit the number 1 on the trend list. The combination of a trendy checked blazer and a skirt in the same pattern is an amazing choice for Valentine's day, as you should be able to add your own style to the outfit. A heartfelt necklace is a very sweet idea to refer to Valentine's day.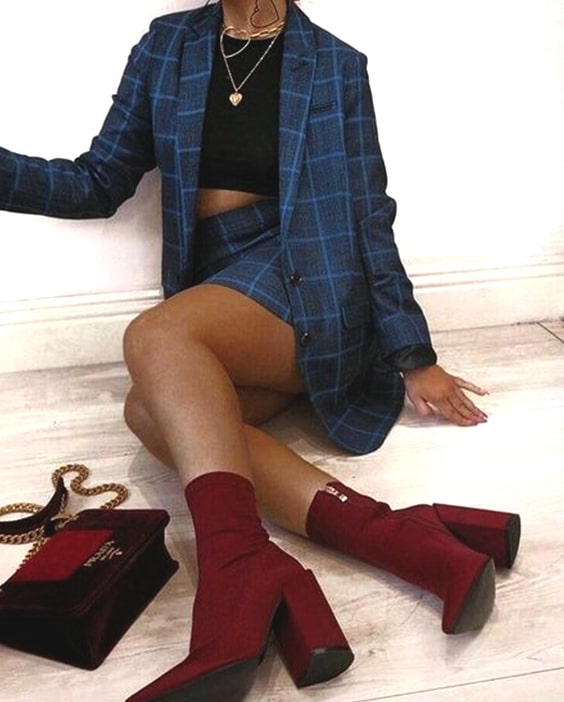 SEXY VALENTINE'S DAY OUTFIT IDEA
How can I move on without mentioning leopard in this V-day outfit ideas list!? There is nothing on the world that leopard can't show sexy. One of the most significant points in the leopard pattern is to not overdo it. It's the best thing you do to get a single leopard piece in your outfit. This flirty Valentine's day outfit will make you undeniable.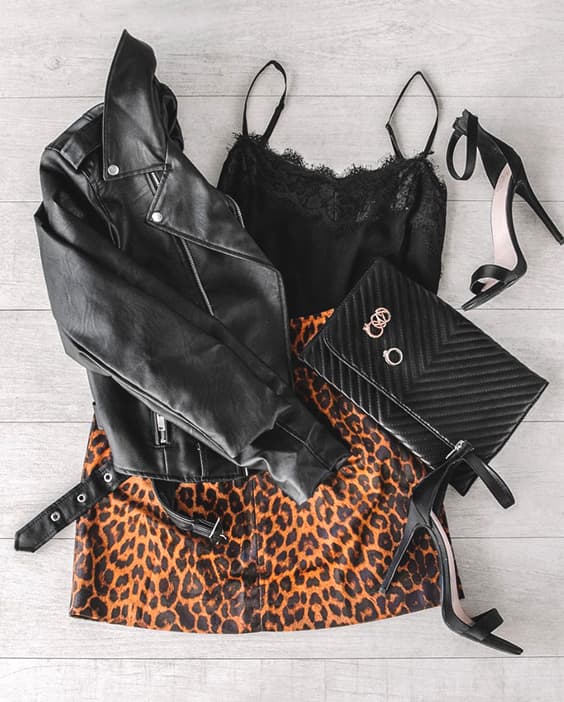 BLAZER DRESS OUTFIT IDEAS
Want to look classy? You can have all that classy and sexy look in this outfit, no doubt! A camel blazer dress and a white turtleneck sweater are looking stunning. It's a perfect V-day outfit idea to those girls who want to try something new and chic. Whoever stands in front of you will stay speechless for sure. 🙂
MESH TOP OUTFIT IDEAS
Show off with a trendy flare detailed mesh top on Valentine's day! You can combine a mesh top and a high waist pant with an elegant belt like in this V-day outfit idea. This look will absolutely have the all eyes on it because it deserves.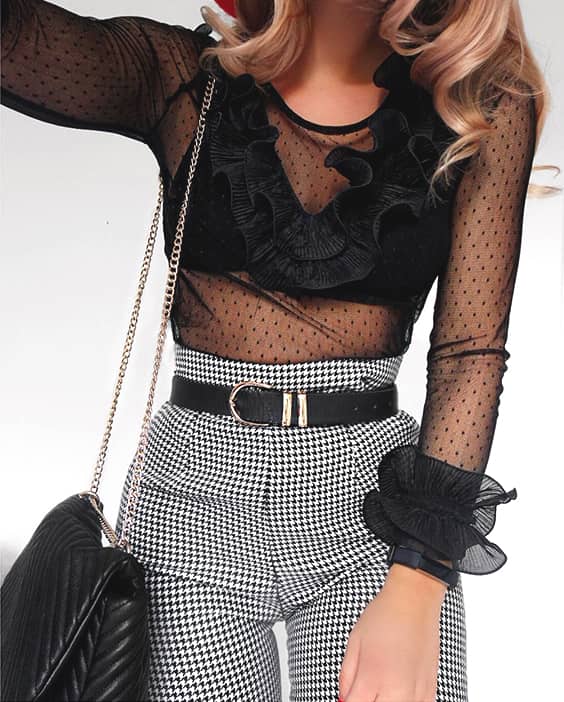 COZY CHUNKY KNIT & JEAN OUTFIT
On a cold winter day, look cozy and feel cozy with a chunky knit jumper. In this V-day outfit idea, the knit and the nails flawlessly suit, however, the light washed blue jean forms the clear contrast. Also, another darker shade of the knit can go with this look. I can hear you say that "I'm totally into this outfit!" ?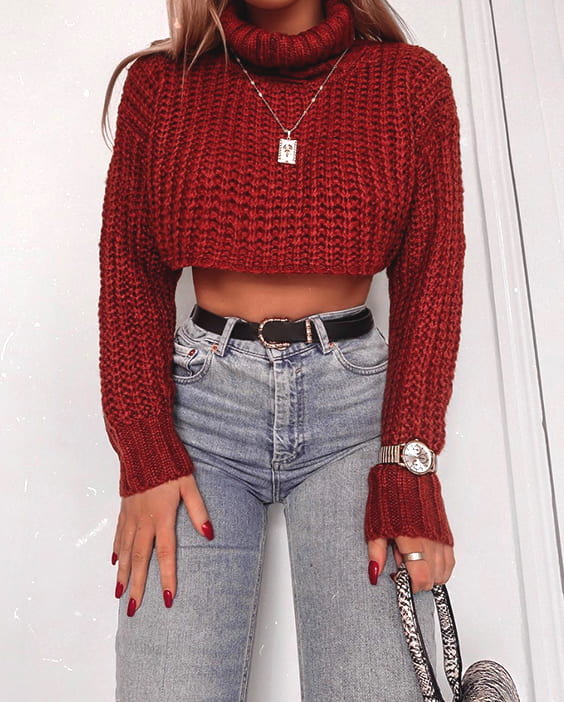 RED SKIRT & RED LIPSTICK MATCHING OUTFIT
For the girls who have a matching addiction, a red lipstick and a same colored piece is a brilliant idea! No need to say that red is the major color of V-day, but you may want to pair up the colors you already have in your closet. Take a look at your lipsticks and decide which one will go best for your enchanting V-day outfit. Don't forget, details are always better than so much in the fashion world. In short; less is more. ?