If you keen on cute nail designs, rose gold nail designs are perfect for you. Rose gold nail design is the prettiest manicure that you can ever try. Trust me, after you see these elegant nail designs, this trend will be your number one favorite manicure design. Another thing you are going to love about rose gold nails is it's versatile that this trend works with every occasion and every outfit from casual to smart. Keep reading to get inspired by 10 Elegant Rose Gold Nail Designs That You Should Try.
CHROME ROSE GOLD NAIL DESIGN
Last year, chrome rose gold nail design was so famous that we almost saw everywhere. However, we are going to see so many of them next year, no doubt! If you love glamorous and shiny nails, you do not think any other nail design rather than chrome rose gold nails. Rock a night party or a celebration with these stunning chrome rose gold nail designs that we chose for the inspiration.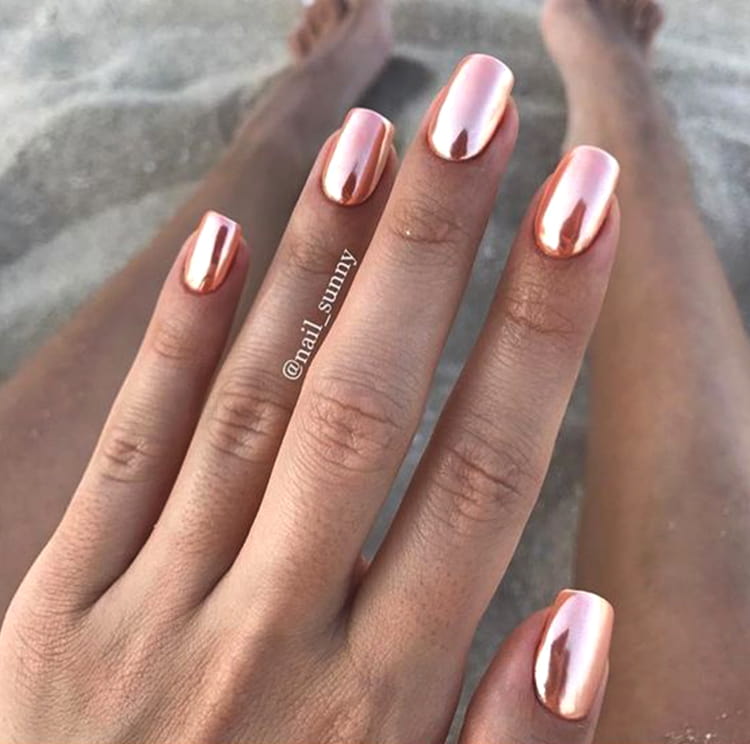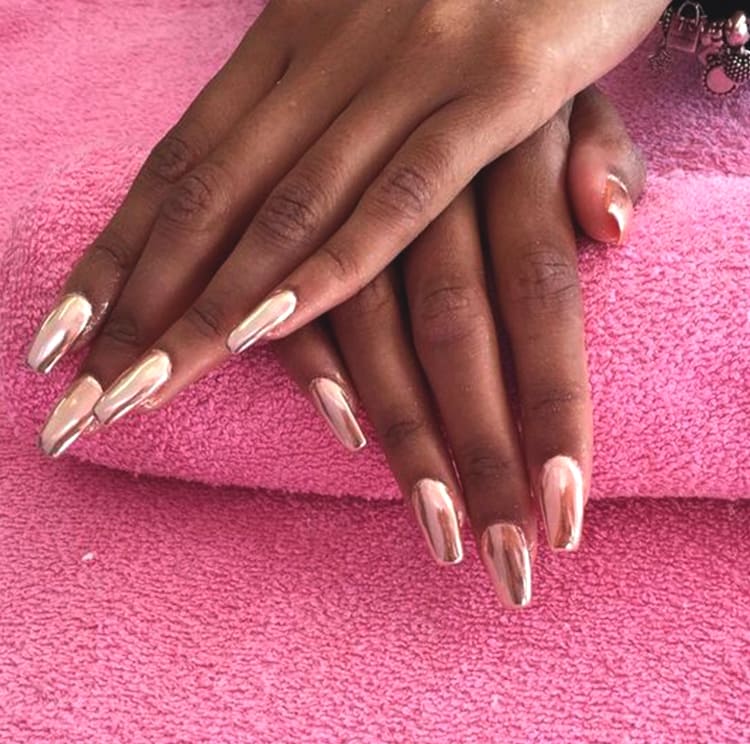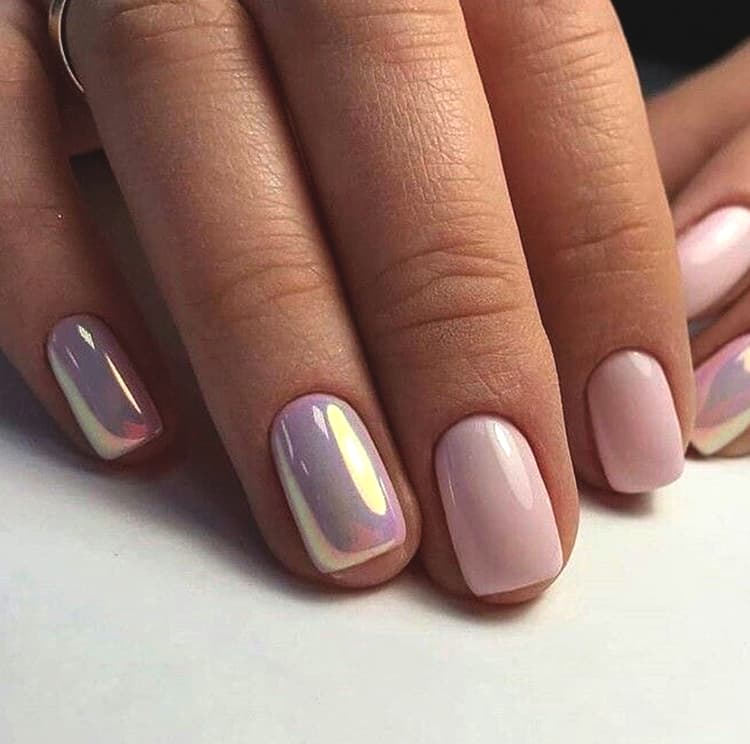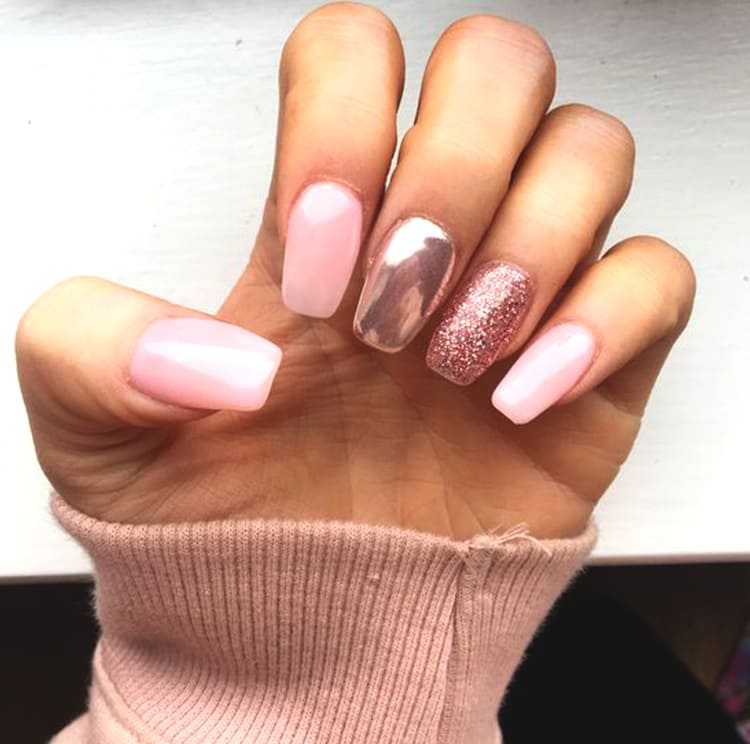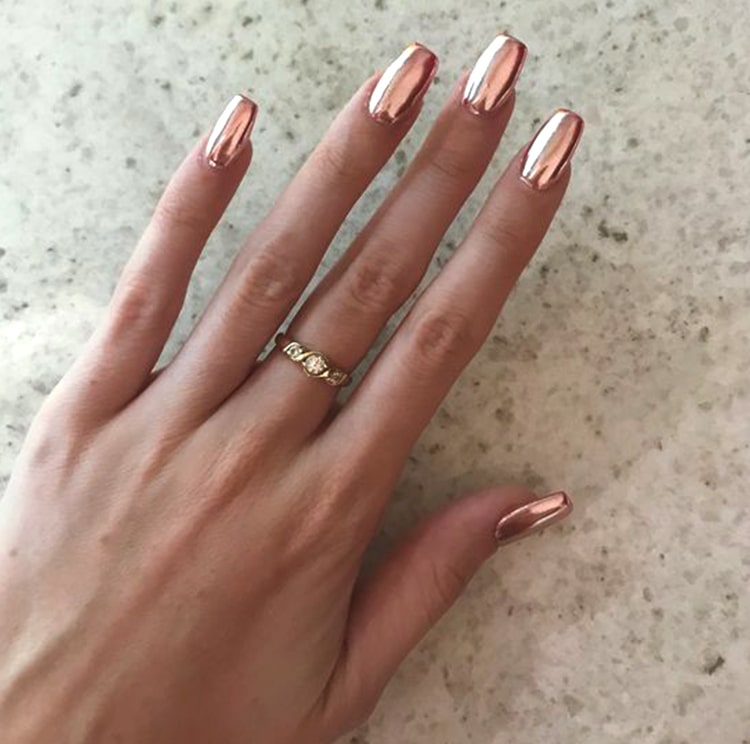 OMBRE ROSE GOLD NAIL DESIGN
Ombre nail design has been highly demanded trend since it first shown up in last years. It looks like ombre nails will take over 2019 too. Then choose the best one for your style already now. All you need is a sponge for the best result as in the ombre rose gold nail design tutorial.
View this post on Instagram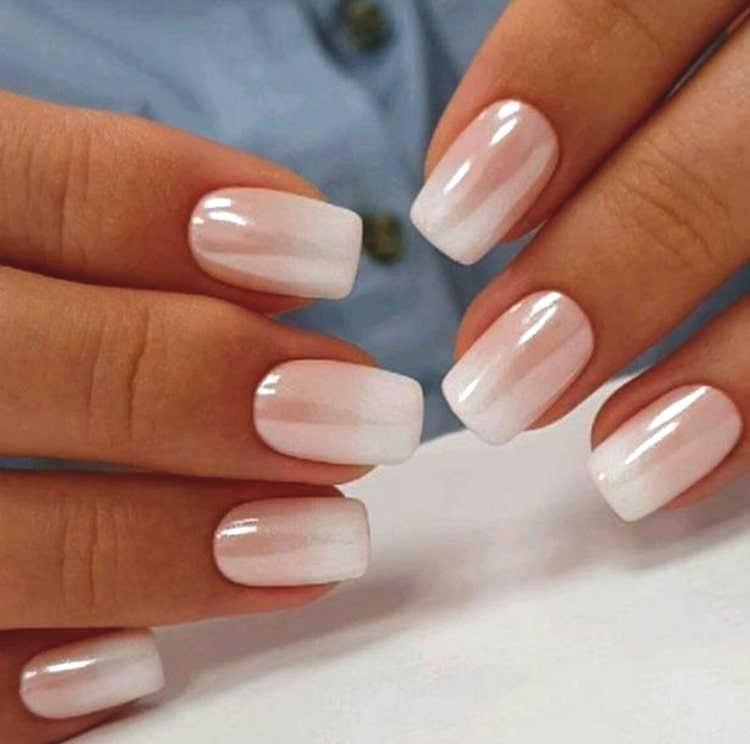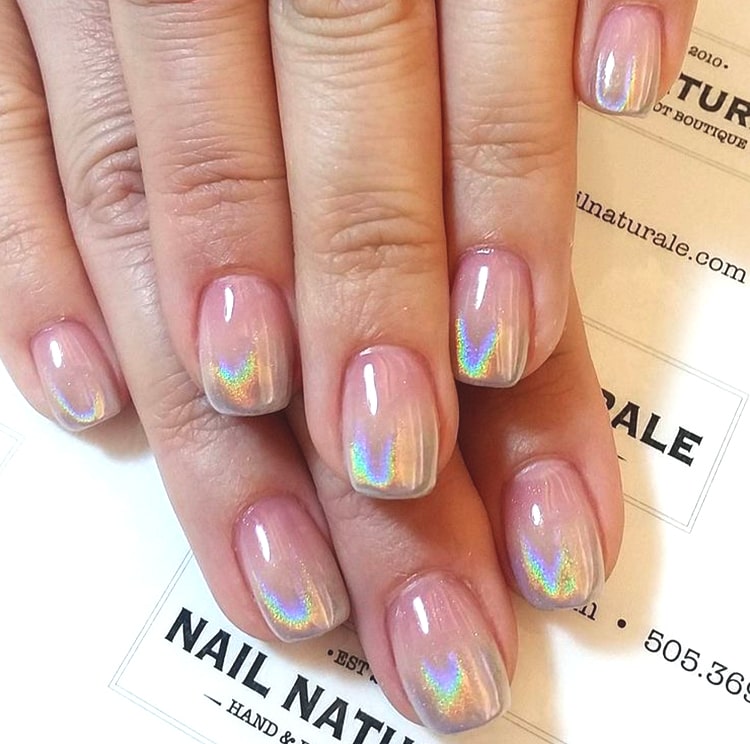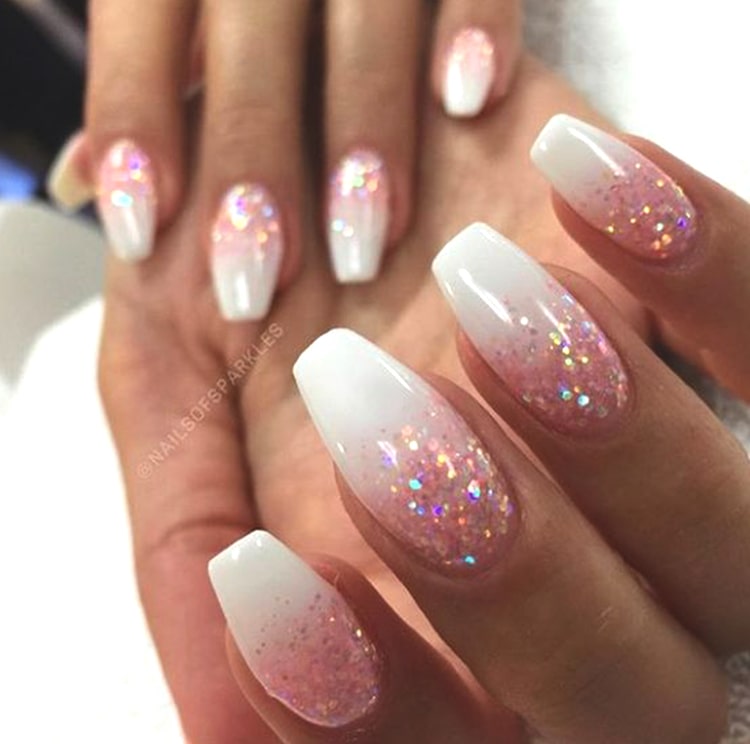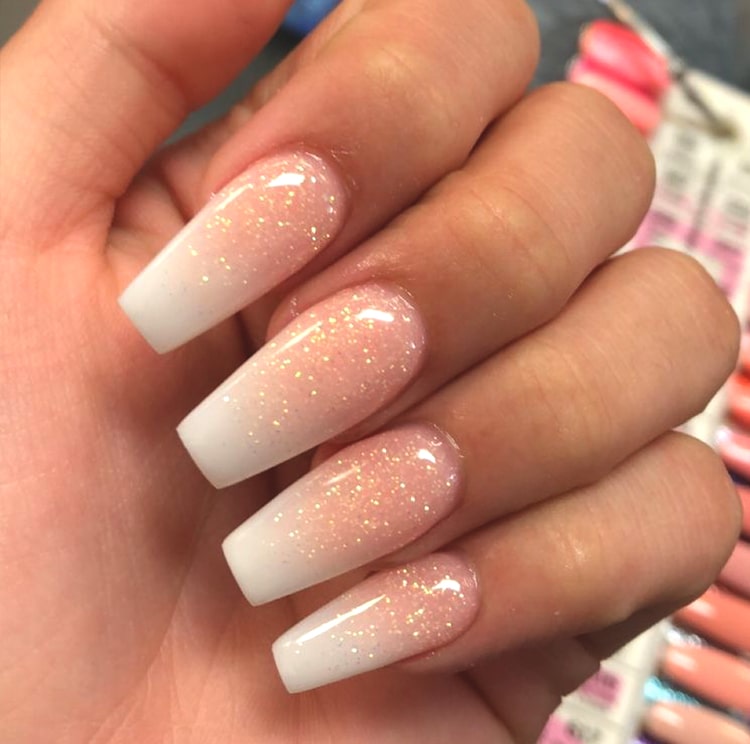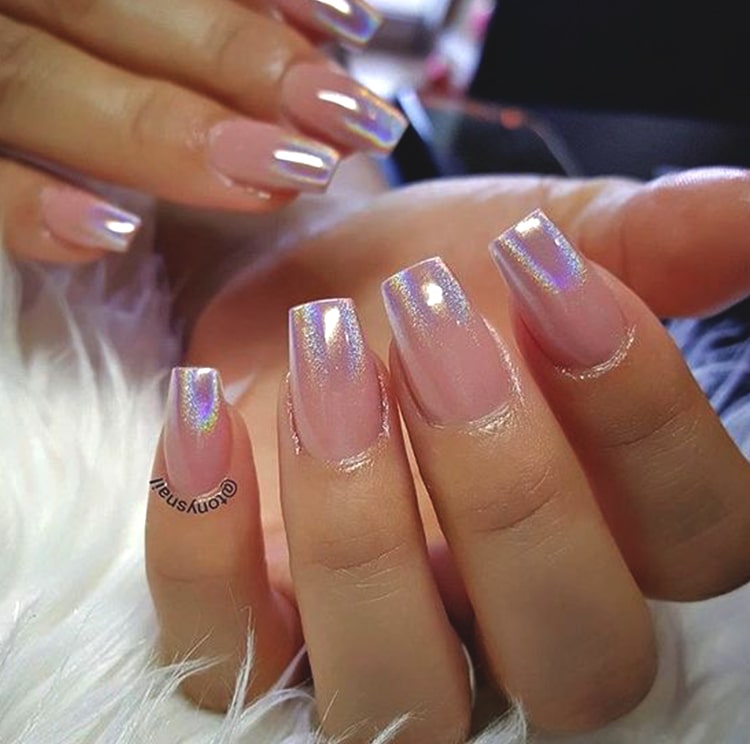 ABSTRACT ROSE GOLD NAIL DESIGN
Art has no boundaries, and so has the nail art. Abstract nail design is all about your creativity that you can paint an abstract design, either in minimal form or in detail. Rose gold is one of the most must-have colors for abstract nail design. Just be free to express the inner artist in you on your fingernails.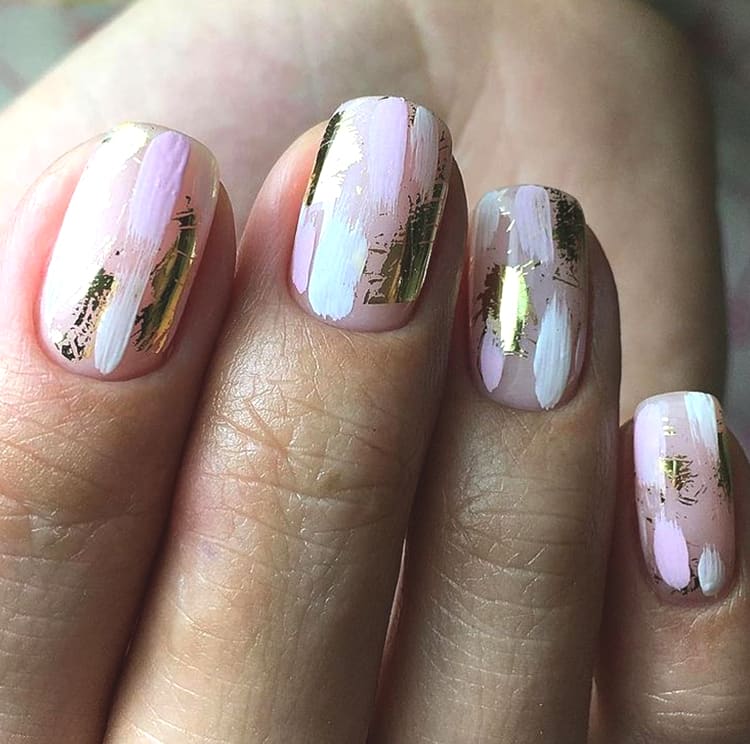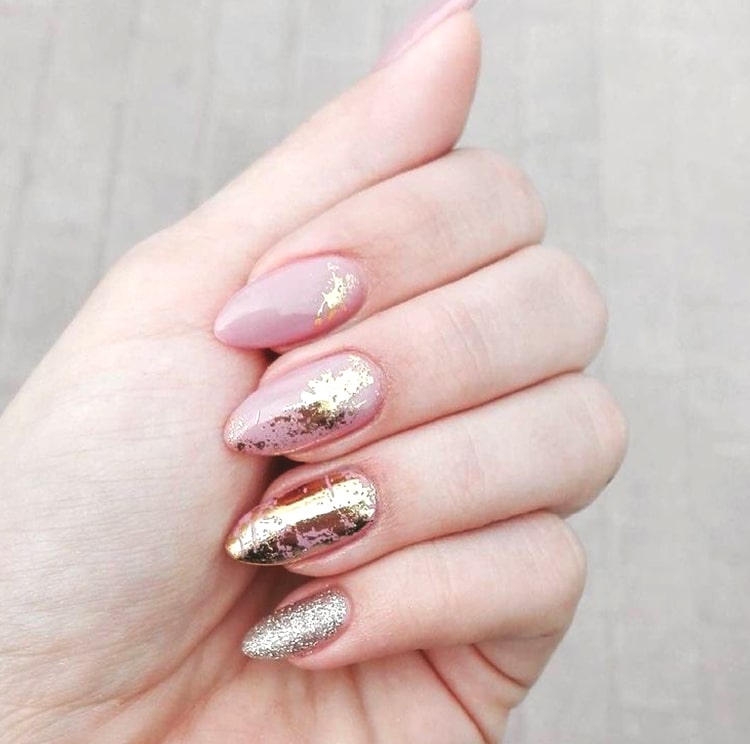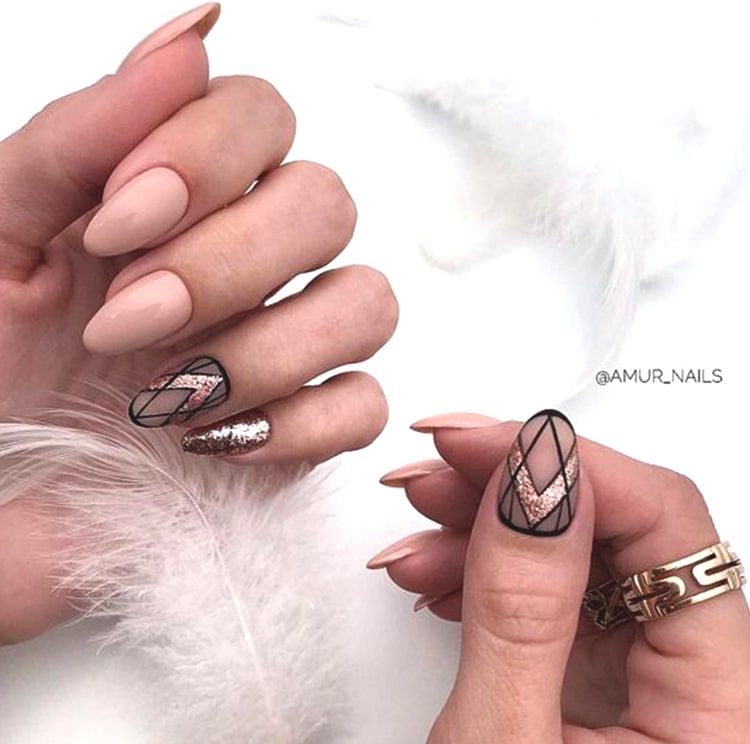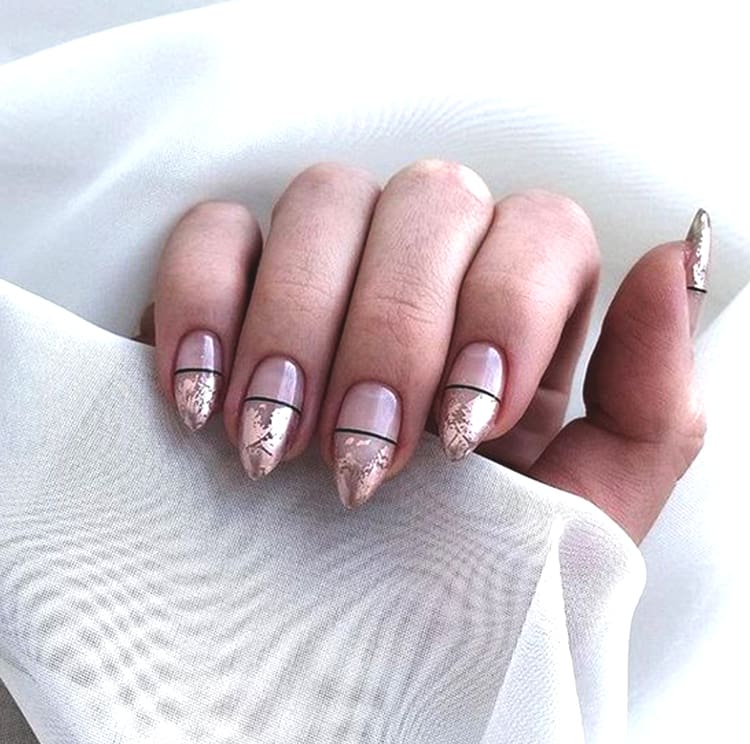 GLITTERY ROSE GOLD NAIL DESIGN
For champagne's sake how stunning glittery rose gold nail designs are! Champagne glittery nails are extremely preferred especially in New Year's Eve. This so girly trend is also not too hard to achieve as you thought. Grab a rose gold base color and paint the top of it with just silver glitters or there are the glittery nail polishes that you can use. Don't forget to paint one fingernail twice to get the perfect glittery rose gold color.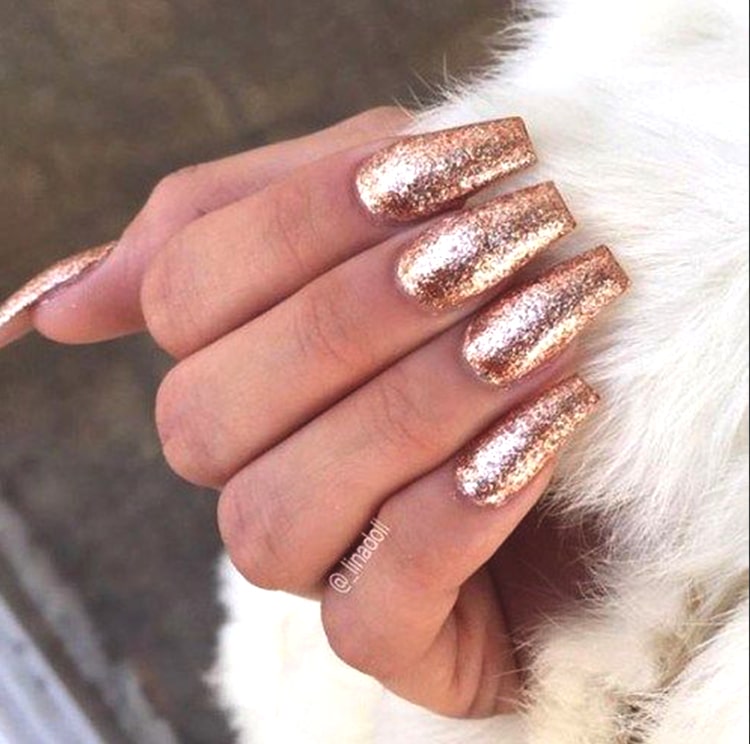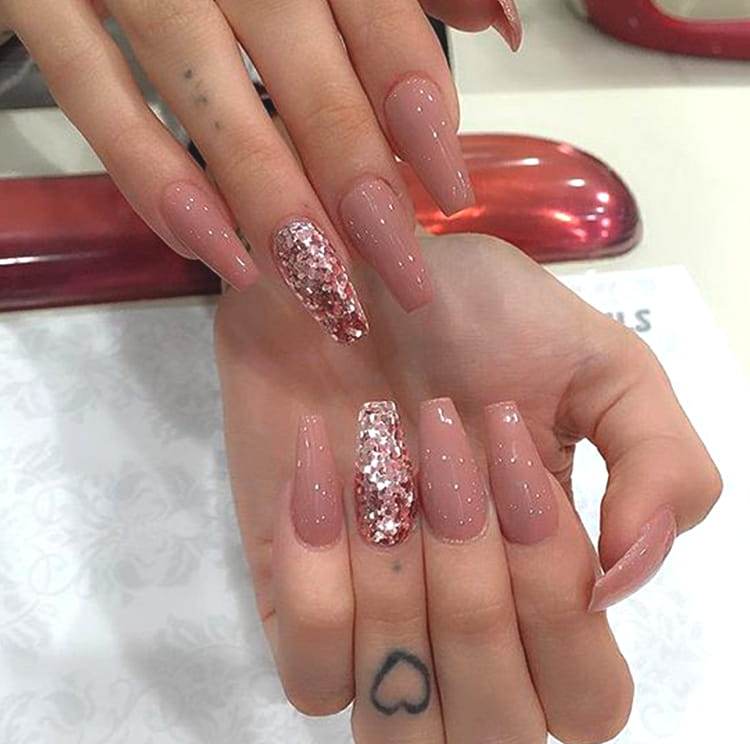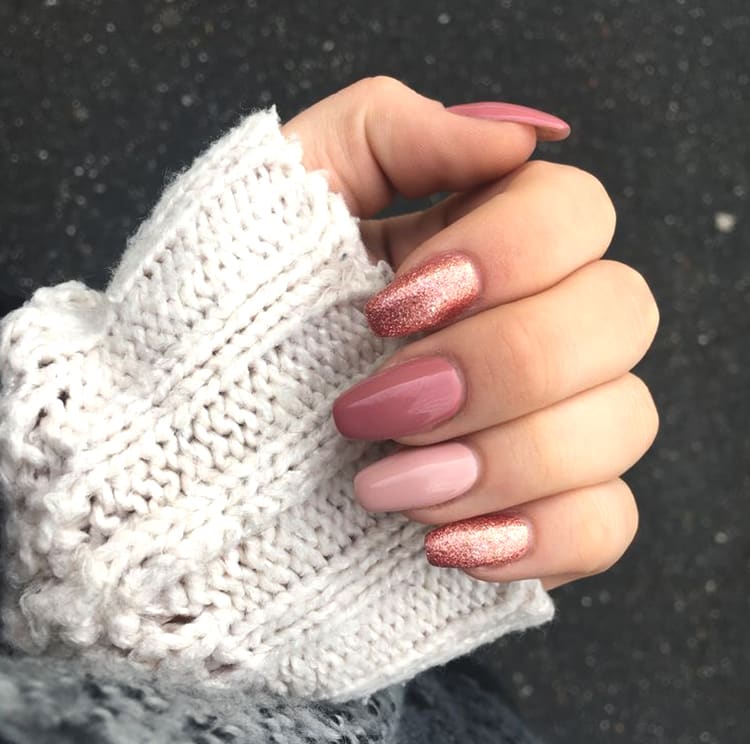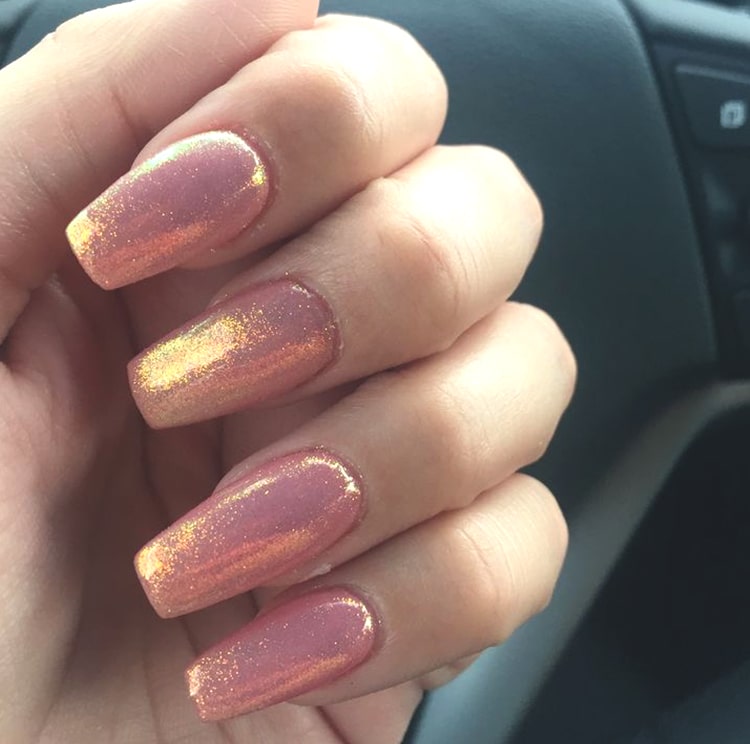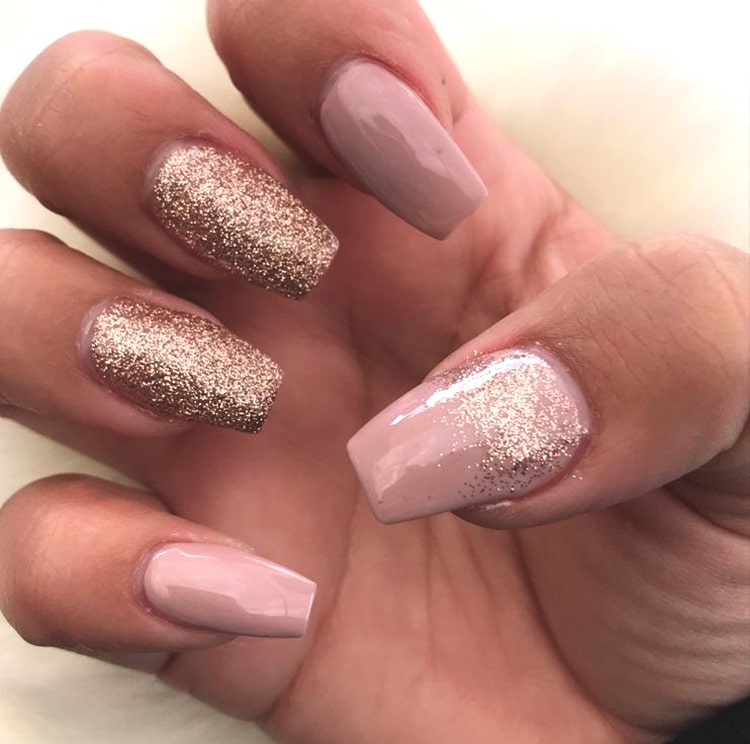 MARBLE ROSE GOLD NAIL DESIGN
If you are a nail design addict, you're going to love this marvelous trend. Marble nail art design can be difficult to manage because normally it works with water technique, but there is another way to do it at home. If you want to learn how to do the marble nails, try this simple and chic tutorial at home by yourself with a rose gold color nail polish, also you can use some shimmery and white nail polishes to catch the flawless look. Once try the marble rose gold nail design and you will addict to it!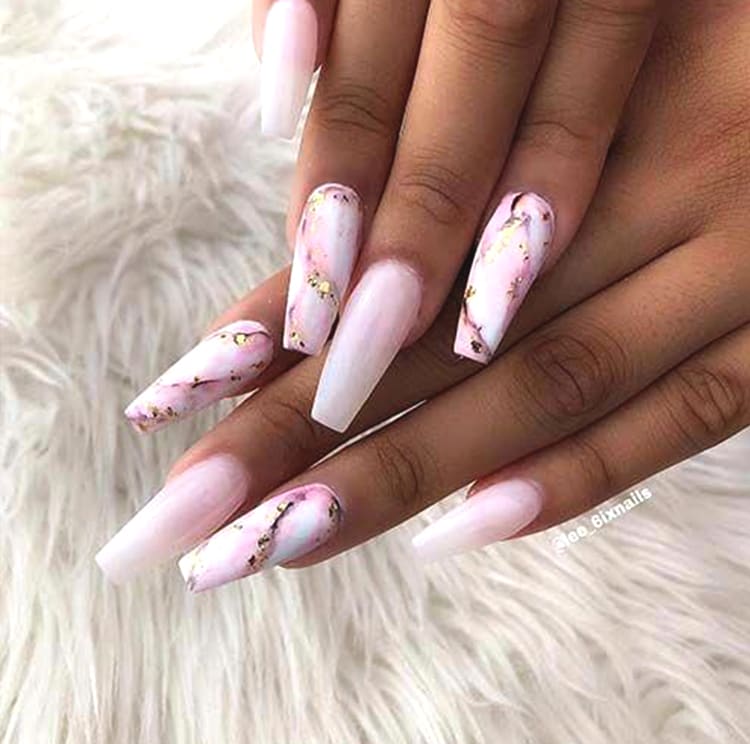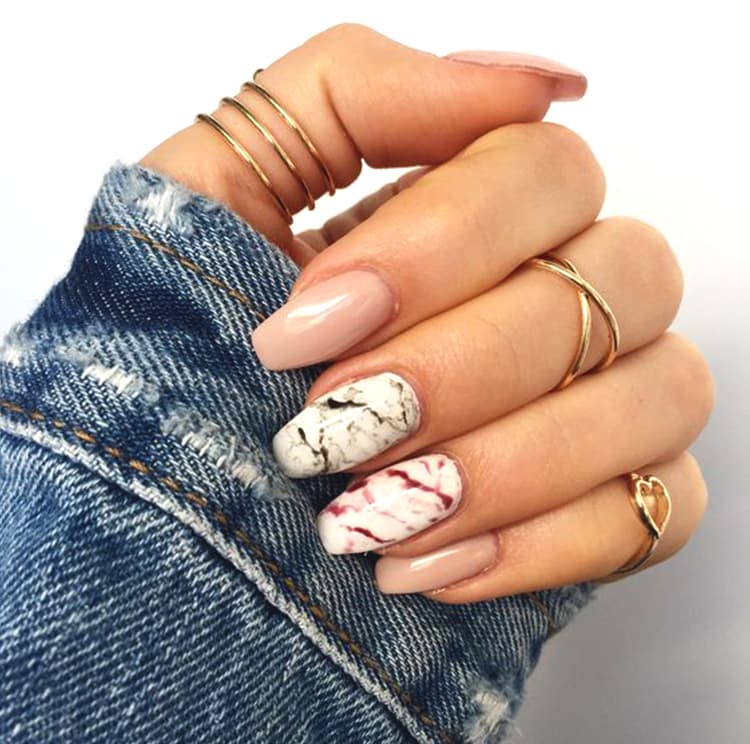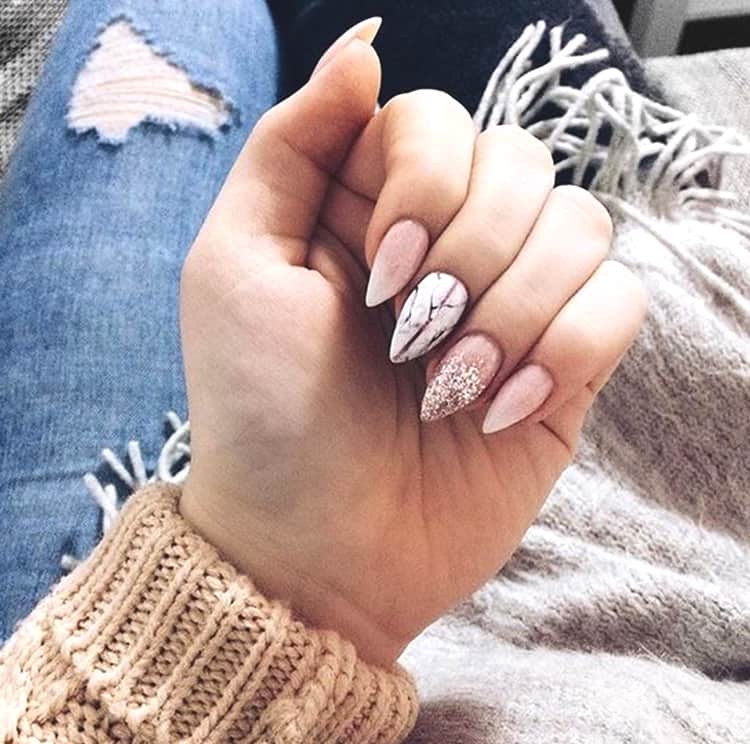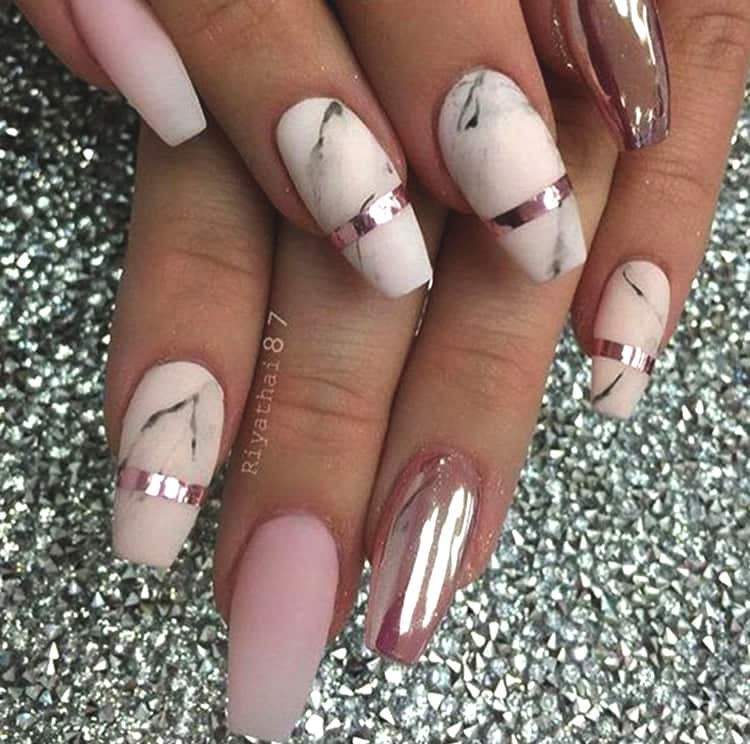 MATTE ROSE GOLD NAIL DESIGN
The matte trend is not just for makeup anymore. We have used to see matte colors on the fingernails. Matte rose gold nail design is one of the most foregrounded nail art trends among nail artists. Moreover, matte nail polish is perfect for the winter time with its sleek appearance.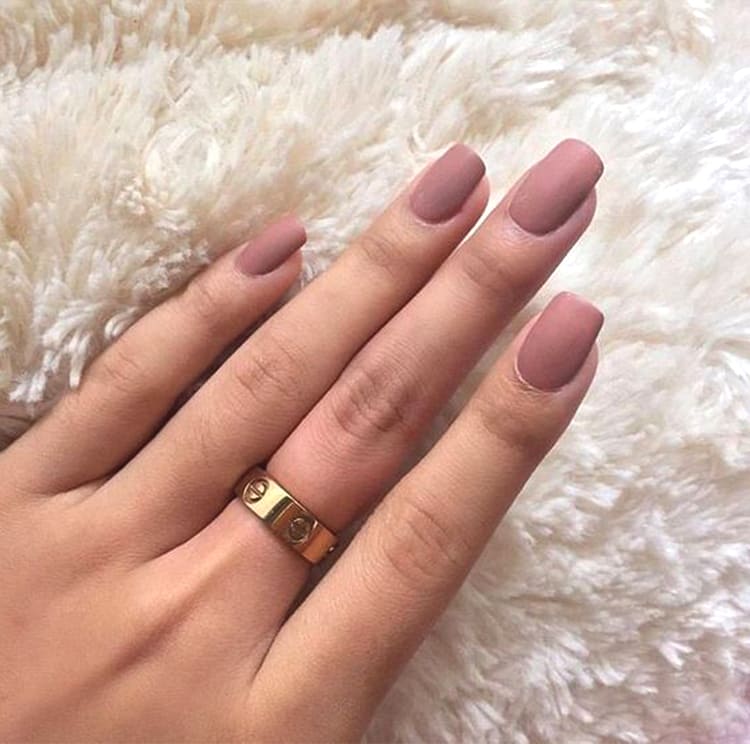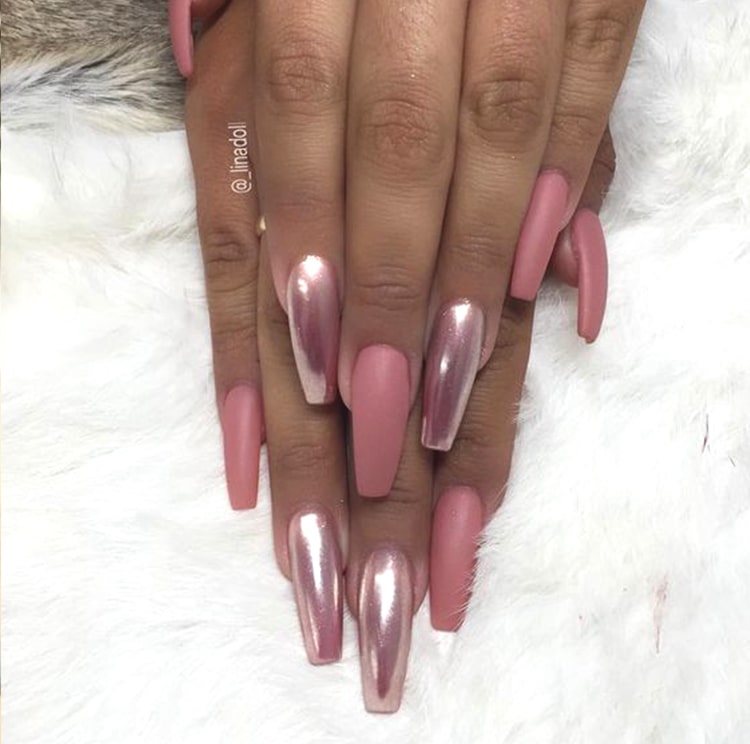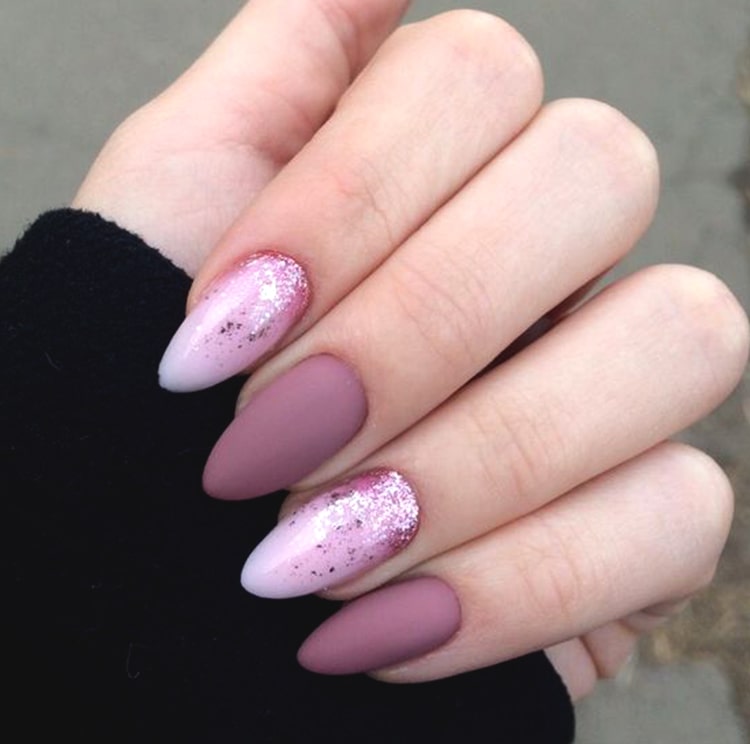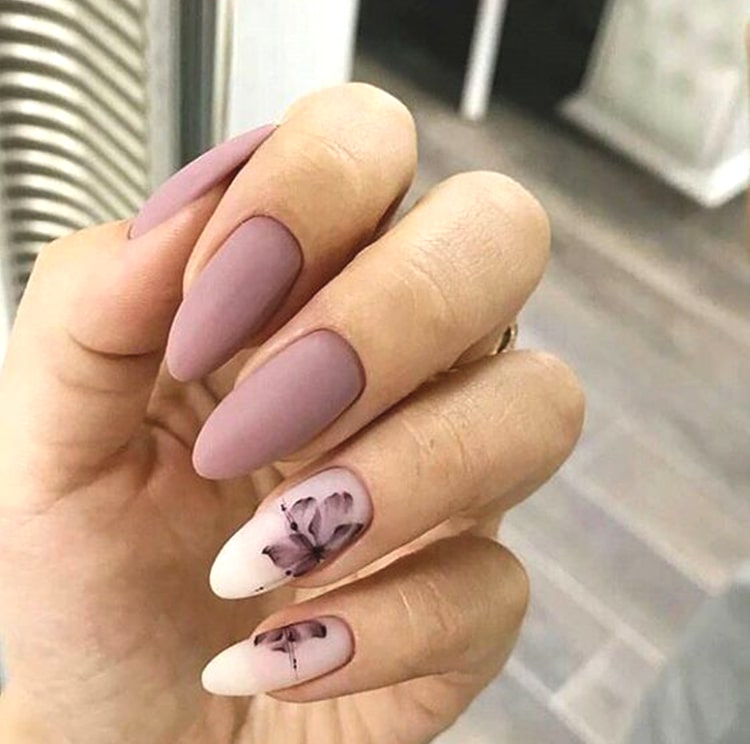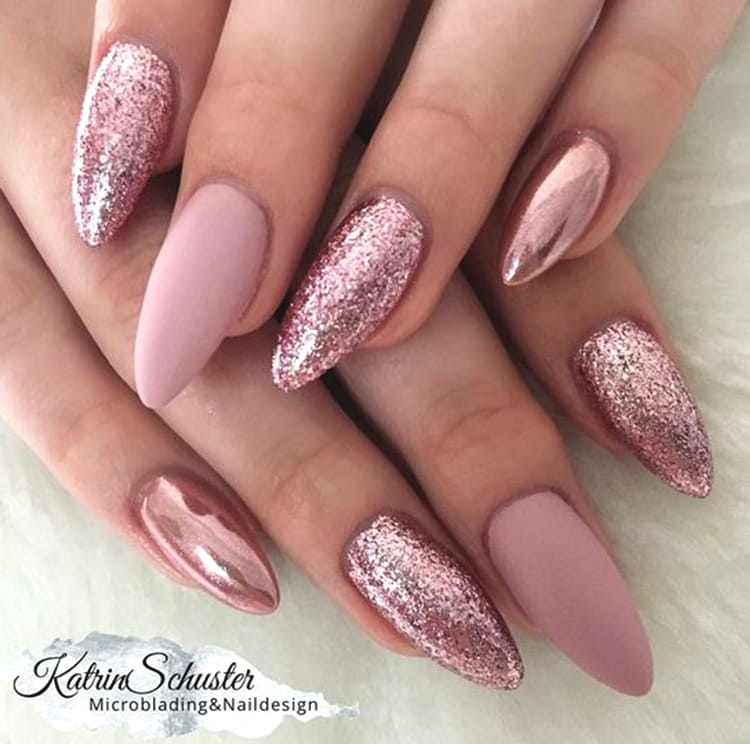 ROSE GOLD FRENCH NAIL DESIGN
French nails is a beautiful design in itself, and it's impressive when rose gold is added. This royalty-worthy nail design keeps its popularity in every season. Rose gold french nail design definitely goes with a wedding or formal occasions. It is actually suitable for every event that you can plan in the future.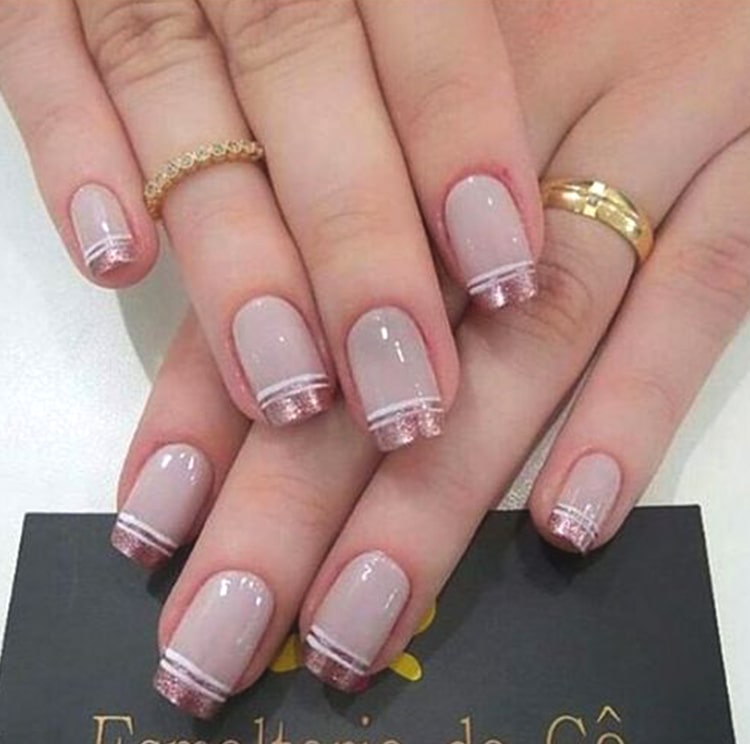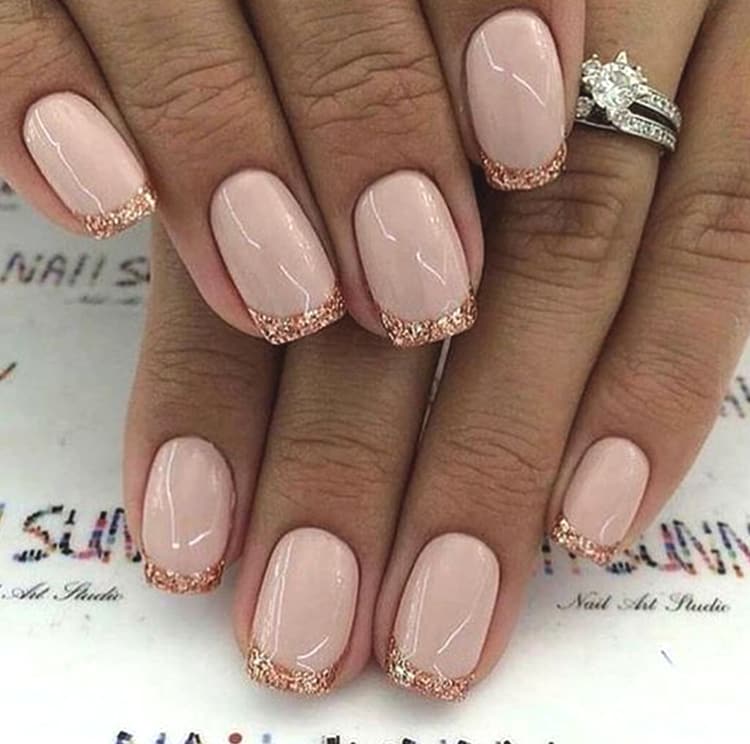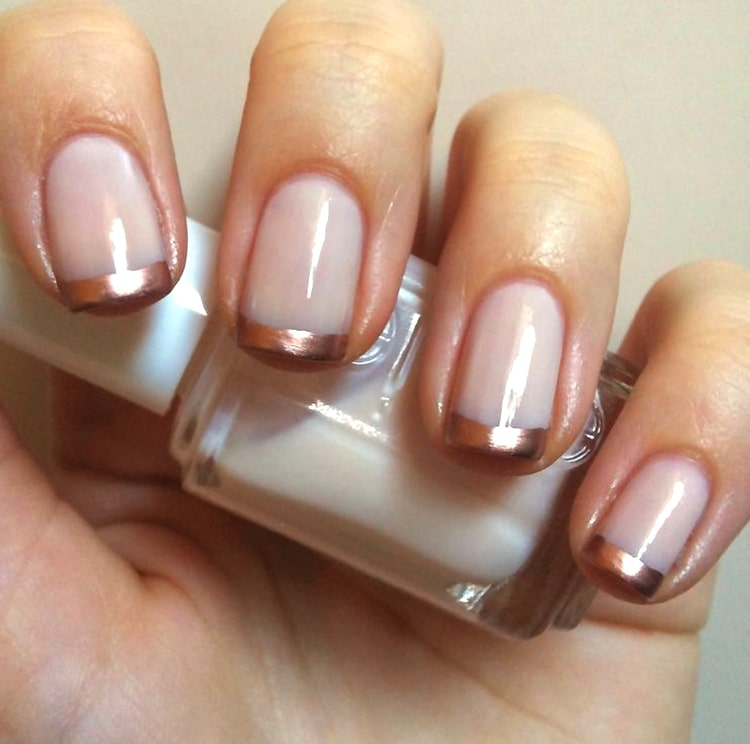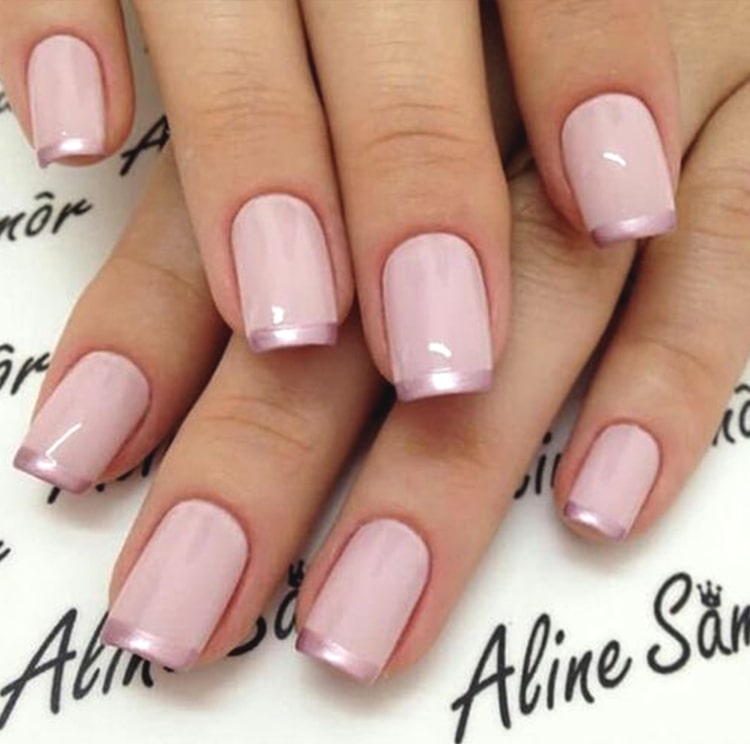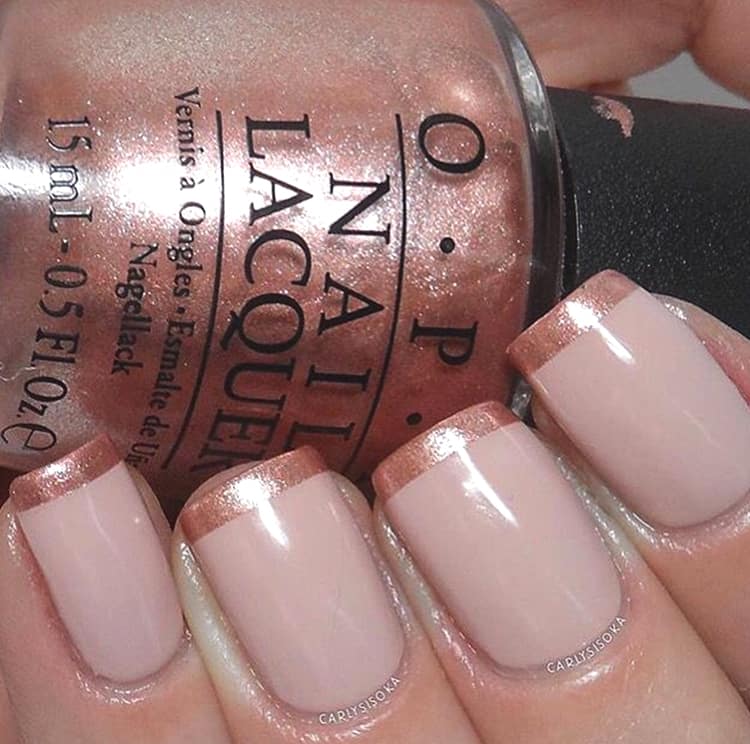 ROSE GOLD & DIAMONDS NAIL DESIGN
Diamonds are forever! Girls can wear diamonds like forever but not only just on our fingers and necks, we move them to another level and carry the diamonds to our nails. Rose gold & diamonds nail design is totally for the bold and fancy look lovers. If you don't like the show-off, a gem will be a great detail for a single fingernail.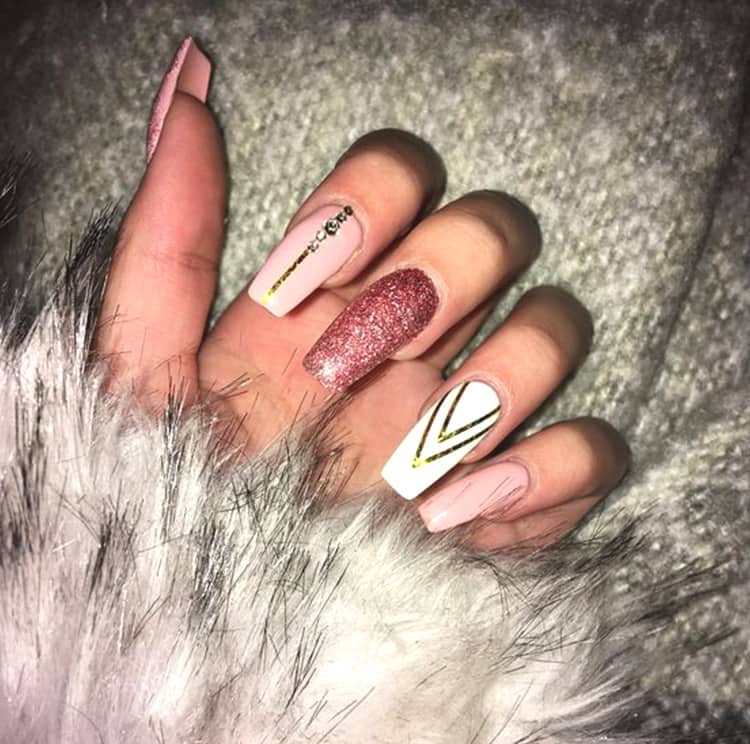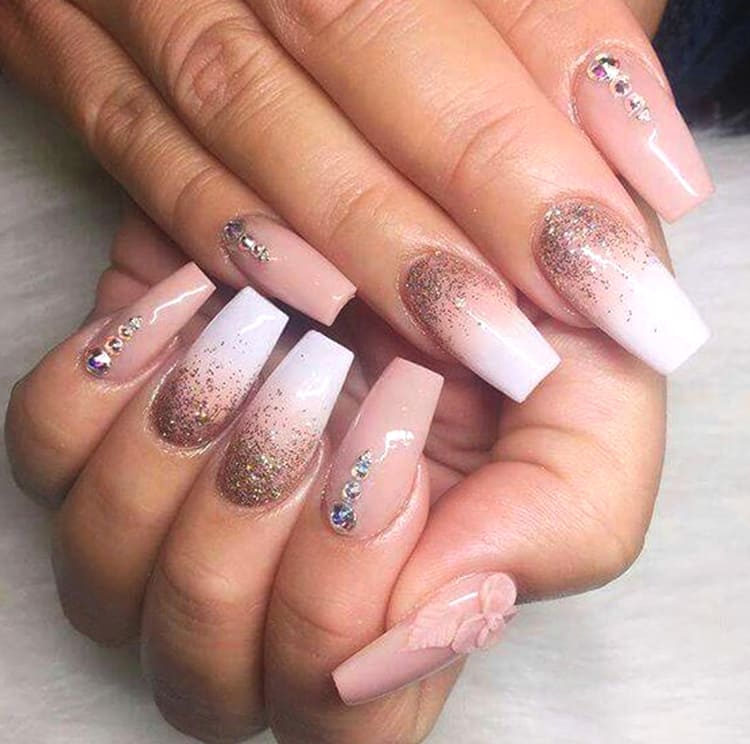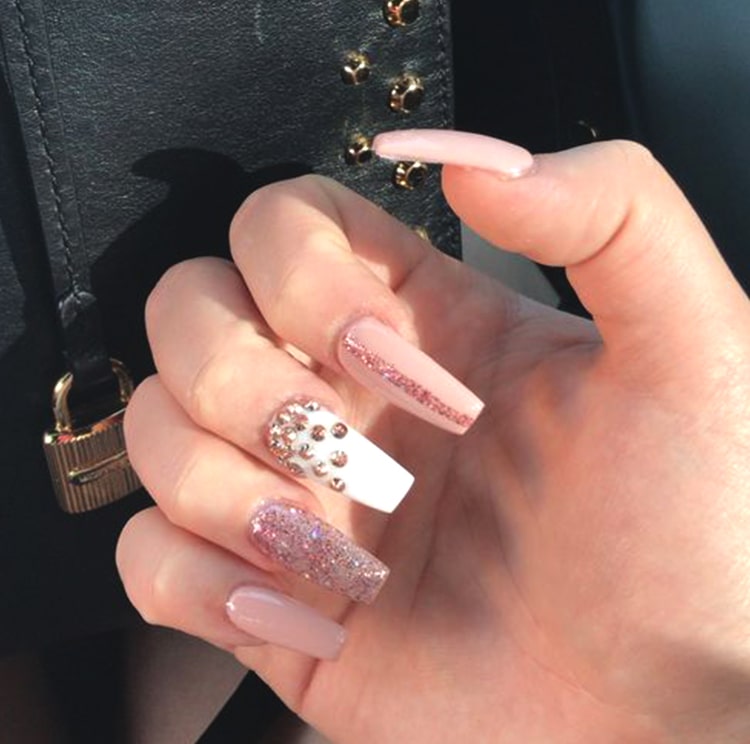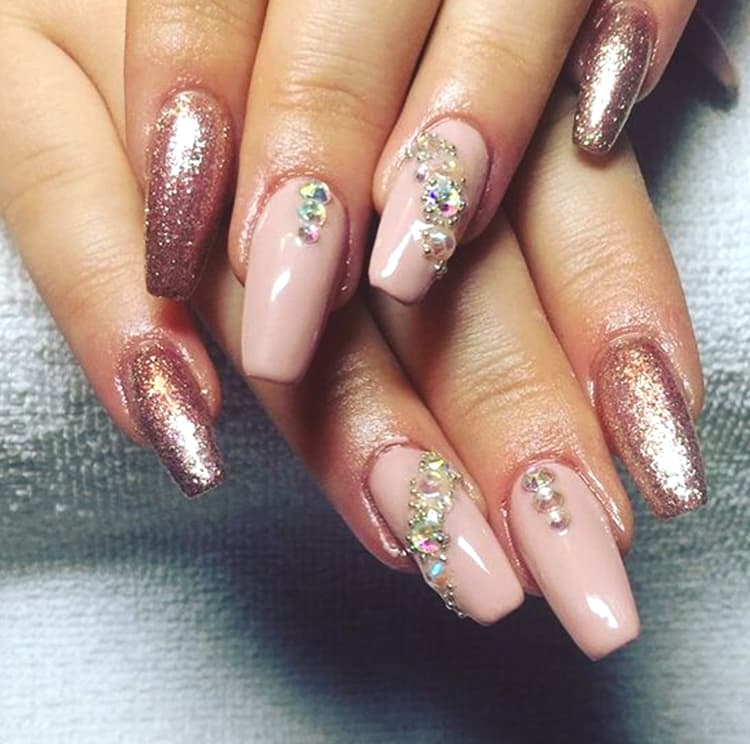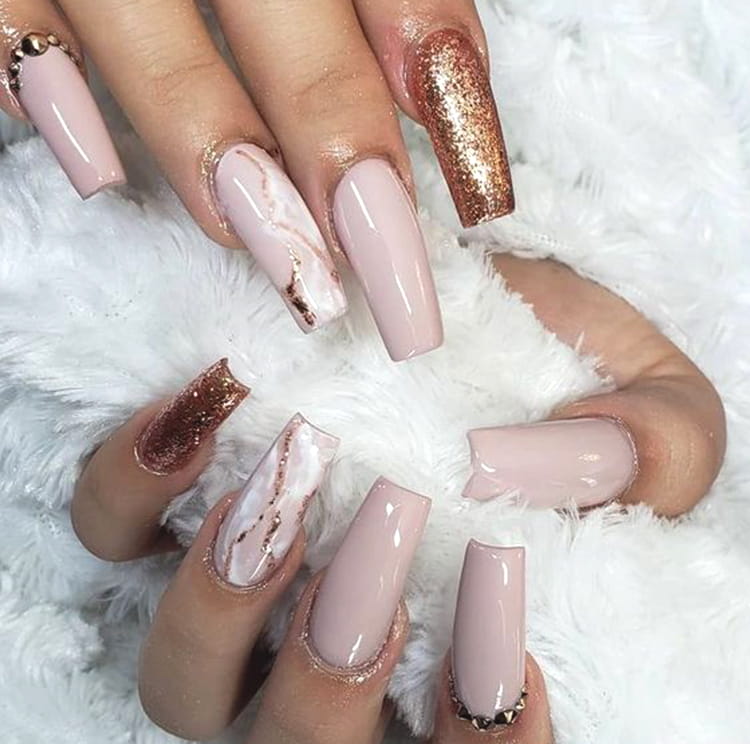 PINK & ROSE GOLD NAIL DESIGN
Pink is like a lifestyle that we can never give up. Some of the gals may not wear pink most of the time, pink can be very nice when it looks in small details. Pink & Rose gold nail design is a perfect example for who want pink as accessories. Don't forget, on Wednesdays we wear pink!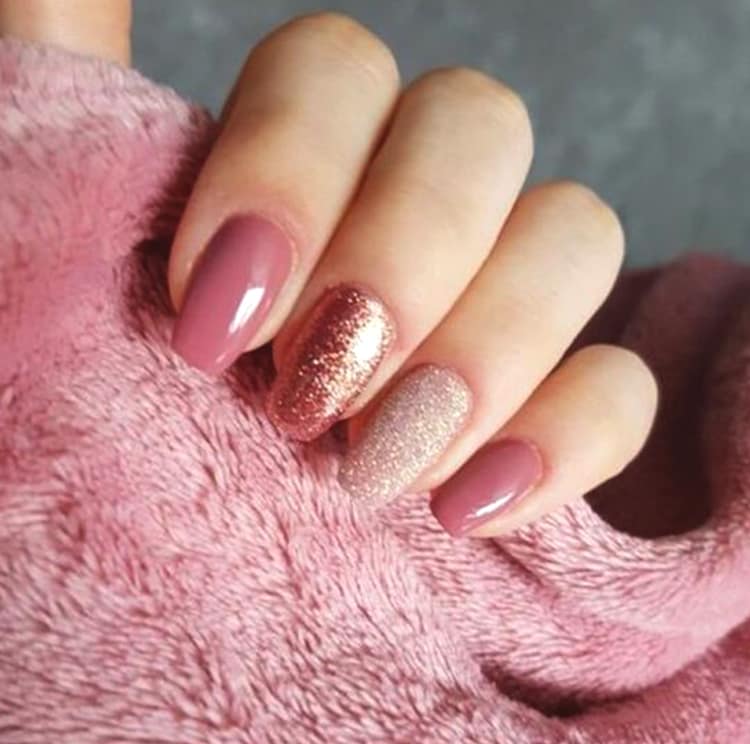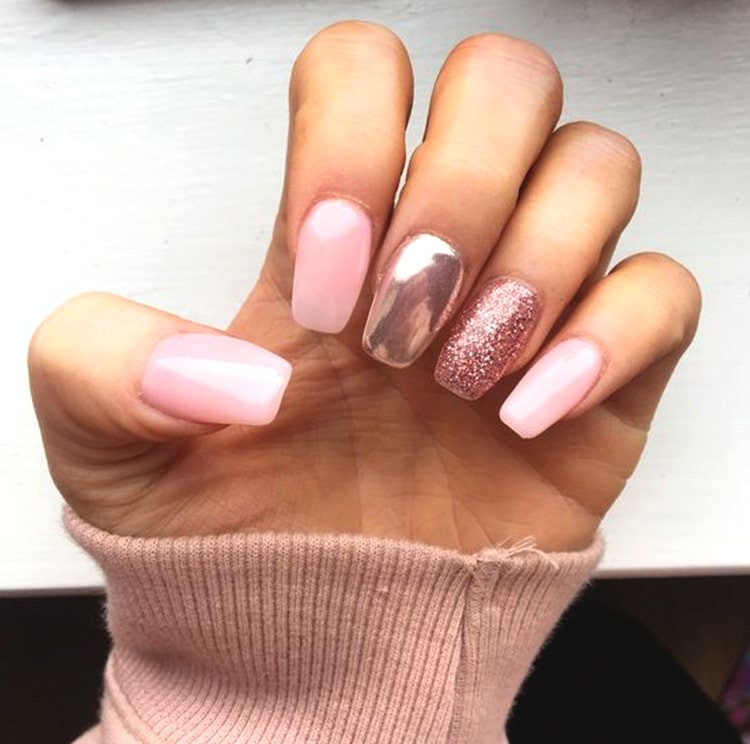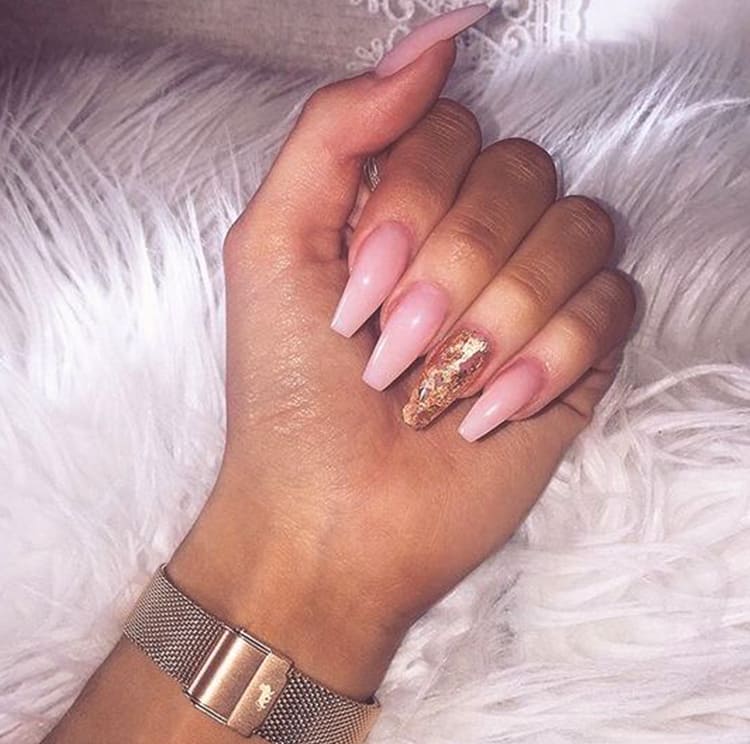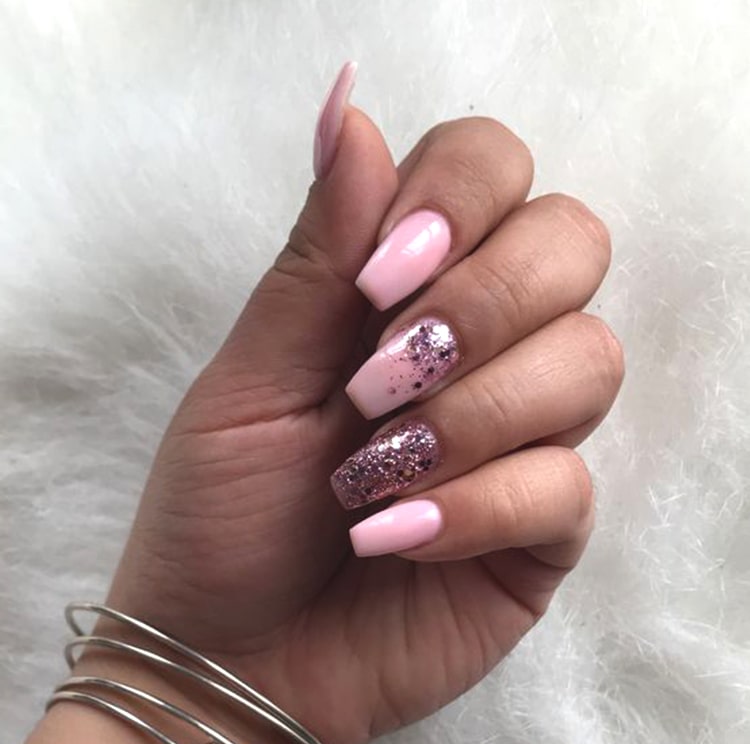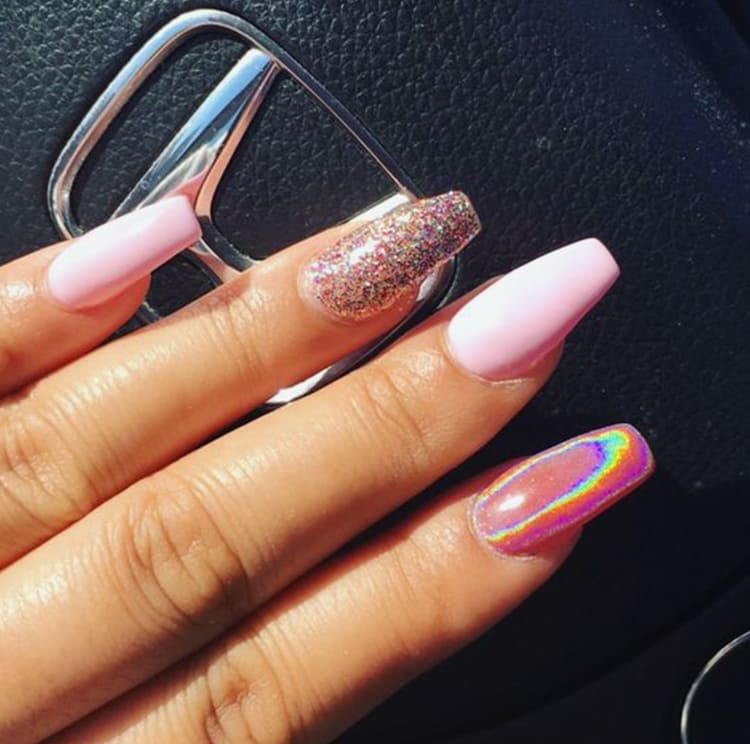 BLACK & ROSE GOLD NAIL DESIGN
It's bold and classy at the same time. The first color that comes to minds is black which is highly worn in the winter time. The coolest black and the most elegant rose gold combination of nail design trend is quite attractive for who crazy about the nail art. Black & Rose gold nail design trend generally works at night-outs which is quite eye-catchy under the shining night lights and a perfect choice from the 2019's winter trends.