It is obvious that you and your boo are one of the sweetest and funniest couples, so be prepared to reflect your imagination on your costume this Halloween! No matter what you're planning the following Halloween at the beginning of this year or you're a last-minute DIY couple, either way, your creativity will come into play with these couple Halloween costume inspirations. Don't worry these Halloween costume ideas are not only affordable for your pocket but they are also bloody cute which are perfect for couples who are seeking both. Check out the 14 Affordable & Cute DIY Couples Halloween Costumes that make you say; "Cannot wait for this October!".
 MINION COUPLES COSTUME 
Are you the fans of those adorable tiny yellow mischievous Minions? If your answers are yes, we have the cutest and most playful costume idea for the next Halloween. The movie Despicable Me has a huge fan base not only just among kids but the movie has succeeded to appeal every adult heart since it released in 2015. So, why you don't show your cute troublemaker sides of yours to others this October?
GET THE LOOK:  You can easily create yourself a minion look by wearing yellow clothes like a t-shirt, denim overalls, and a beanie or a helmet. Just decide which Despicable Me characters will be your next Halloween look.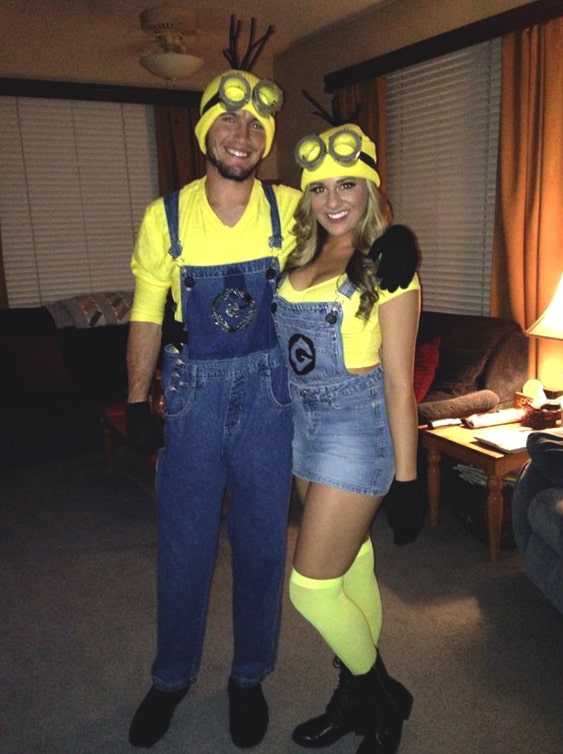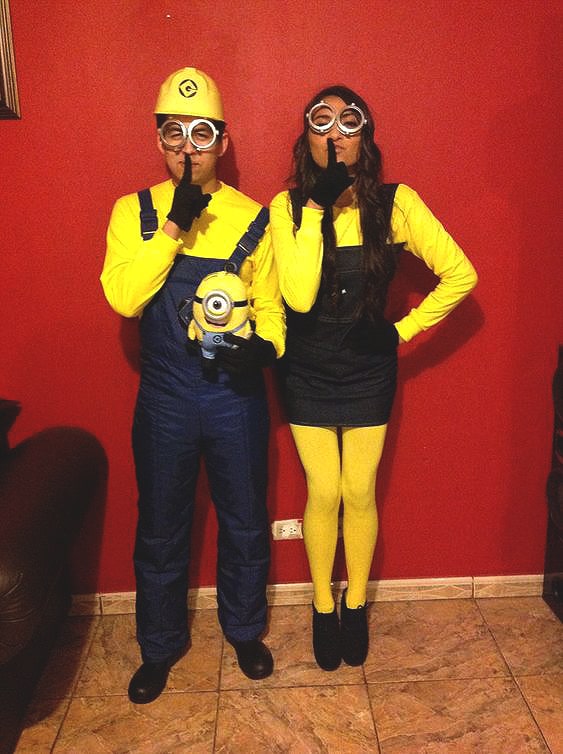 ELEVEN AND THE EGGO 
Stranger Things is on everybody's mind when it's Halloween, but you don't need to be a cliche by just wearing a vintage jacket and a baseball hat. Here's a very clever Halloween costume idea for couples who are the real fans of the devastating TV Serie.
GET THE LOOK: Here are what you need to have this Halloween costume: a bunch of yellowish papers and cardboard, scissors, and a pink long sleeve dress.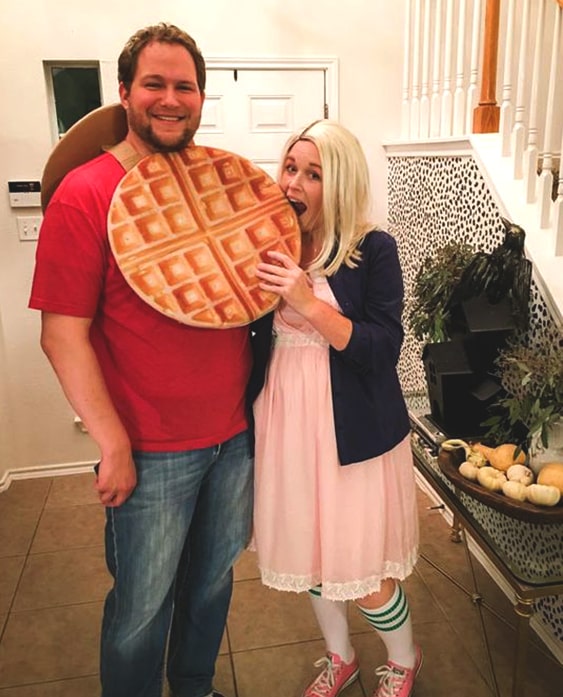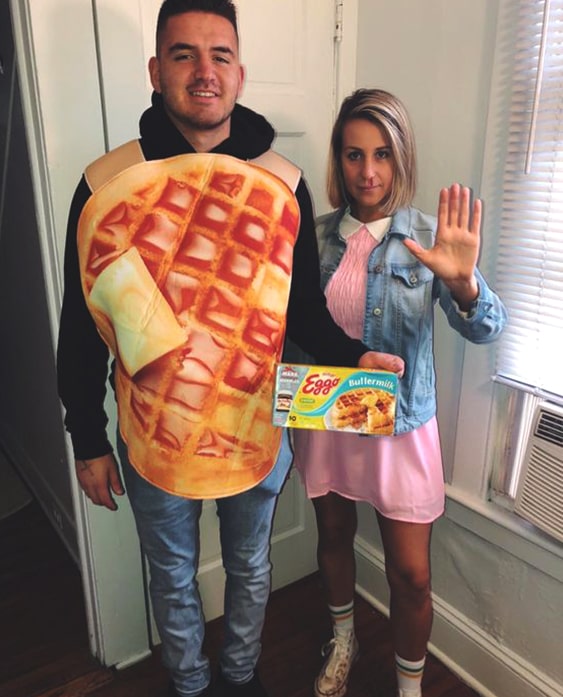 SUPER MARIO HALLOWEEN COSTUME 
If you are a gamer couple and looking for an old school nerd look, we've rounded up the costume ideas from the phenomenon game of Nintendo, Super Mario. First, decide which Super Mario characters to choose, will the concept be "Sorry Mario but the princess is in another castle." or wearing the red and green colored clothes to watch each other's back?
GET THE LOOK: You can try the Super Mario concept by using home stuff such as a red cap, denim overalls, and a mustache you made out of black cardboard. For the Princess Peach outfit, you don't need to be the exact dress of the character, just use your imagination on pink clothes!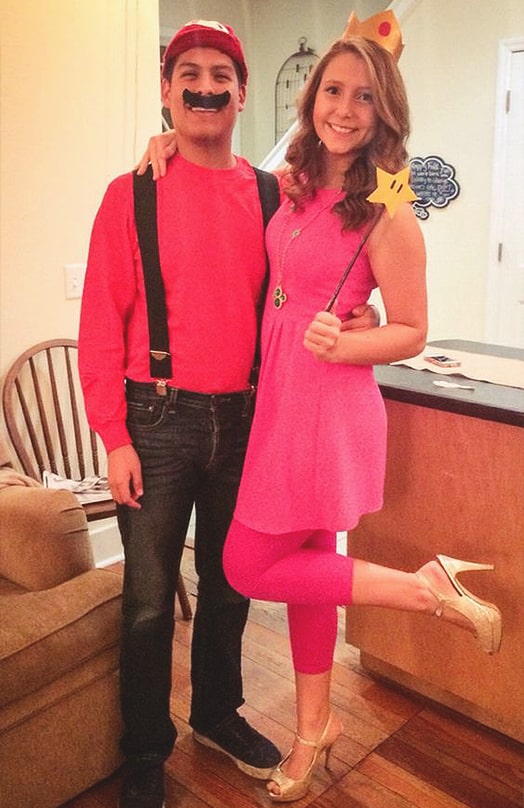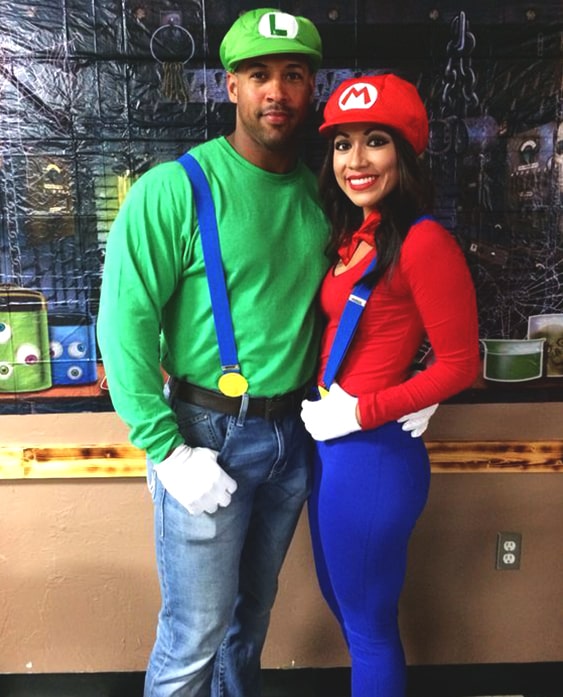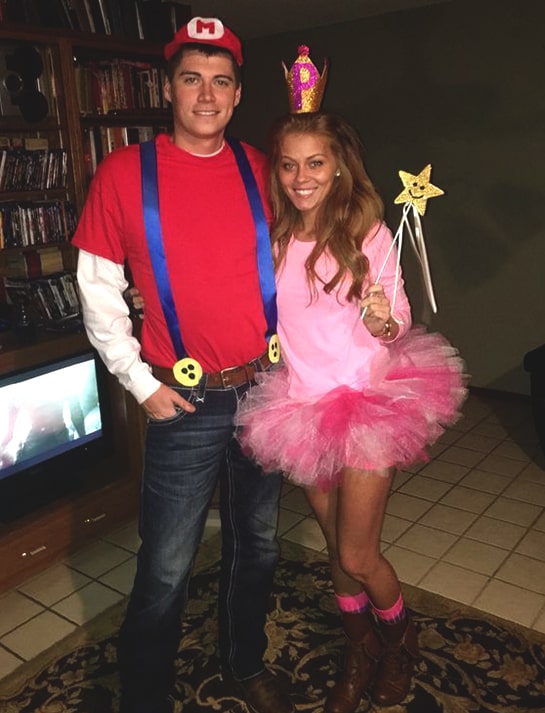 MERMAID AND SAILOR 
Halloween costumes don't need to be inspired by the cartoons and the movies all the time. You can turn yourself into a mythological creature, all you need to do is think simple. Have you ever imagine yourself as a mermaid in the infinite ocean? Of course, you have! Well then, take your sailor with you and set sail to the ocean. AHOY!
GET THE LOOK: For the mermaid outfit, just grab a glue gun to glue the seashells on a bustier and get a sequin mermaid green skirt or a pant, lastly add some glittery jewels on your face and hair. And the sailor look will be the easiest one that all you need a white shirt or a blue-striped white tee. Don't forget the sailor hat!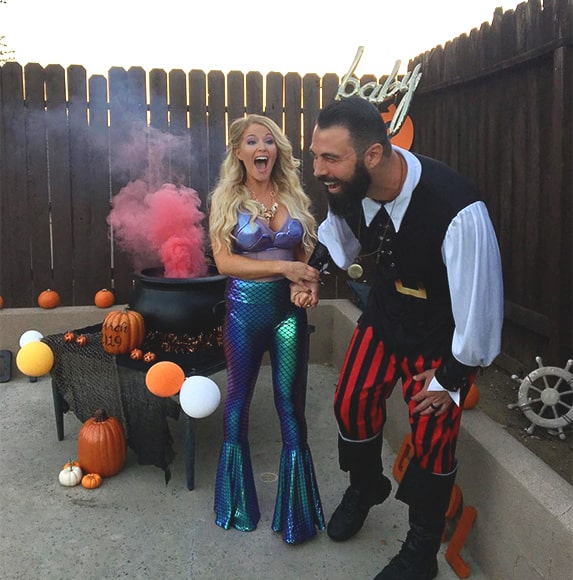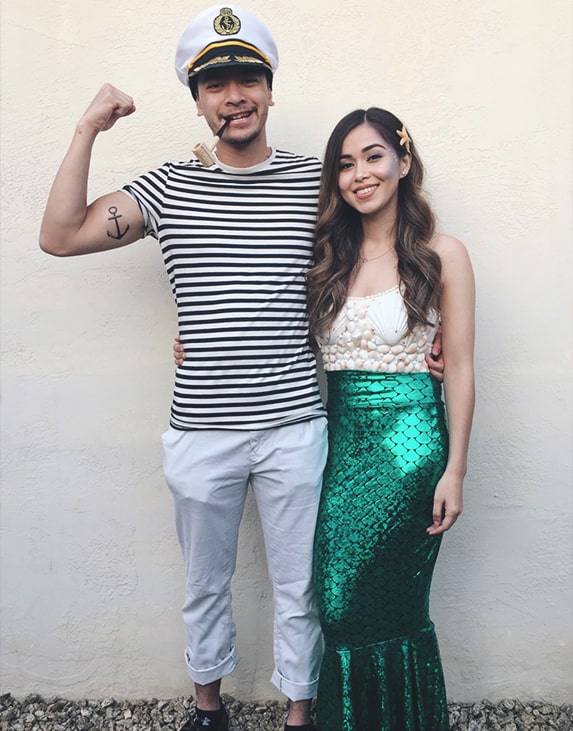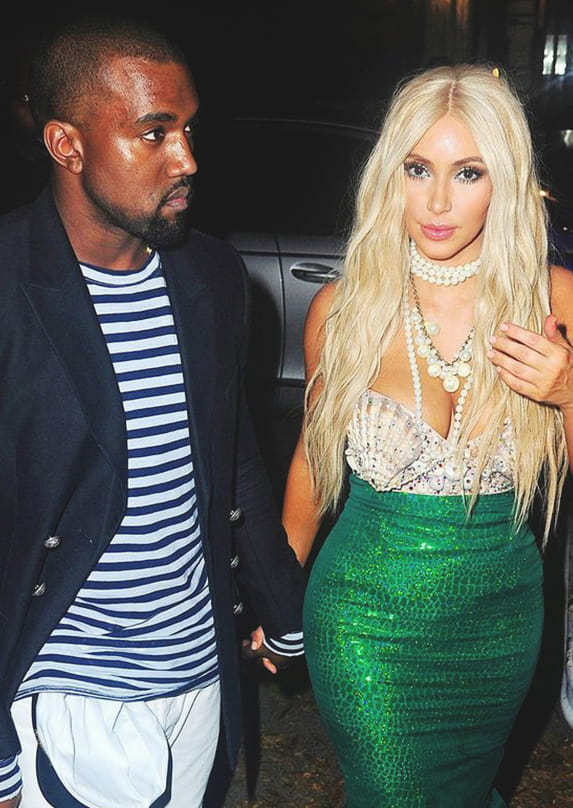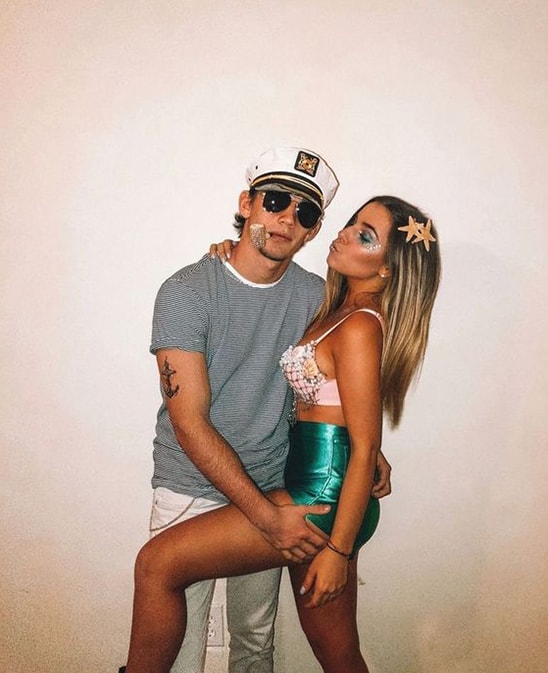 BUGS BUNNY & LOLA HALLOWEEN COSTUMES 
We all love Looney Tunes characters which are one of the best cartoon movies of our childhood. In 1996, The Space Jam movie gave us the next level point of view to the cartoons. The most lovable characters in the movie are Bugs Bunny and Lola still have the name of a perfect fiction couple. Get inspired by our Bugs & Lola Halloween costume ideas and show the other how to do a throwback!
GET THE LOOK: You can create bunny ears by cutting the cardboard as long bunny ears then glue them to headbands. If you don't want to struggle, you can just buy fluffy bunny ears on Amazon. The rest of the Bugs & Lola outfits are formed from the basketball uniforms and pair of striped socks.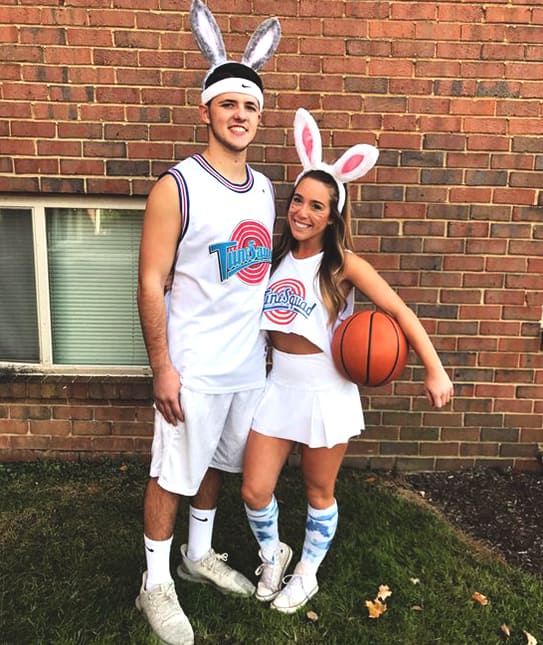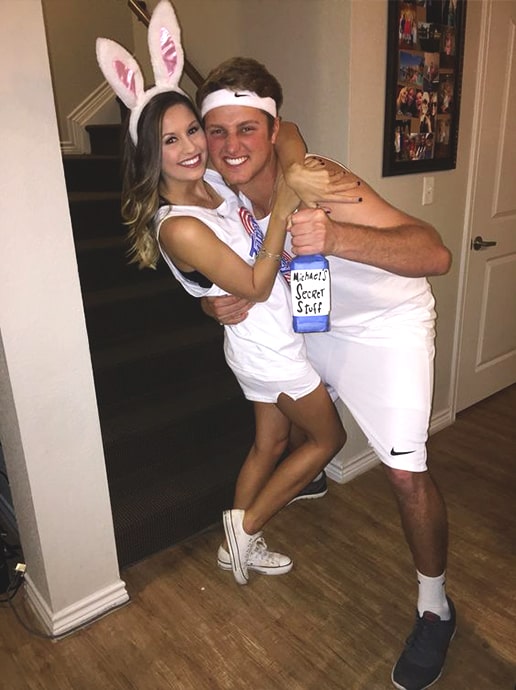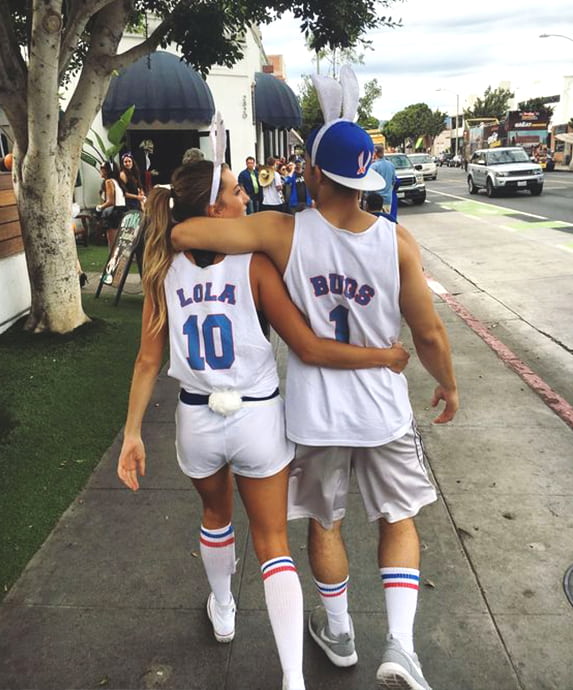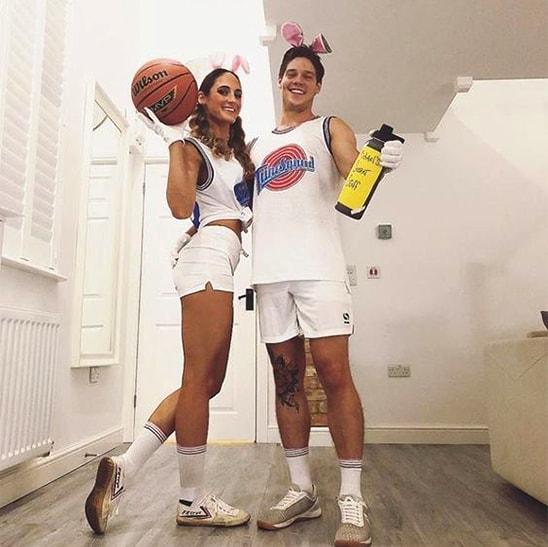 THE SIMS COSTUME IDEAS 
Here is the perfect Halloween couples costume idea that every nerdy The Sims fan will absolutely love! There are many costume creation options for The Sims if you brainstorm the ideas. It will be really a fun time as behaving like a Sim in Halloween. Here are some amusing The Sims Halloween costume ideas for couples!
GET THE LOOK: The most important part of this look is a Plumbob which is the green shape above the Sim's head. You can do it yourself with the same green color paper. If you manage it, you can complete the costume with interesting extensions like a mouse click, a pixel sensor over your body, or a thought balloon over your head.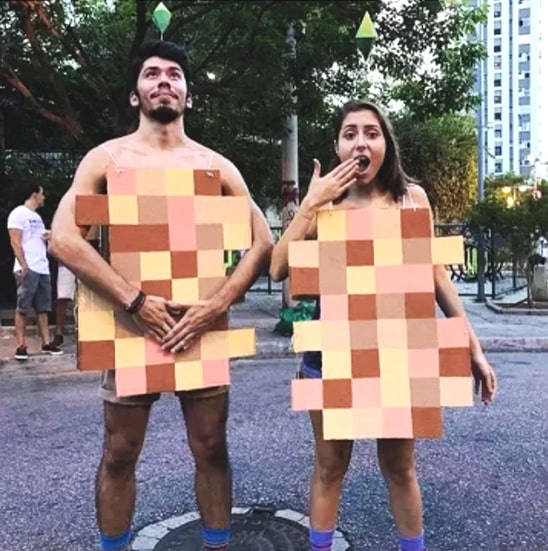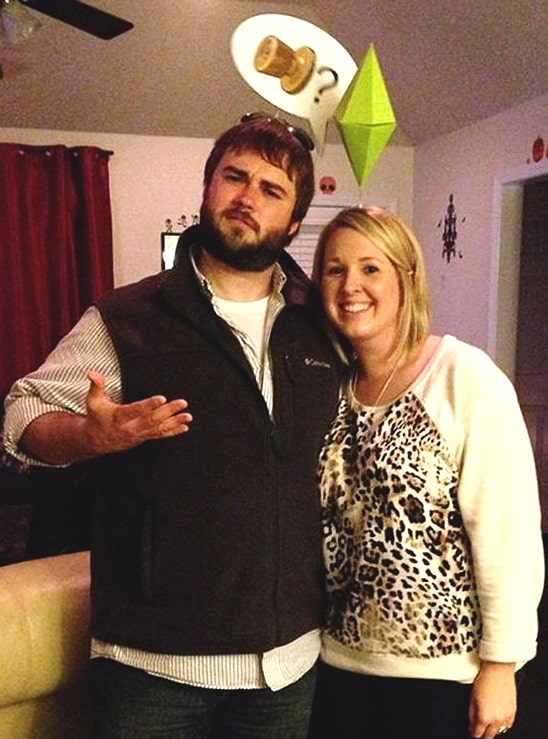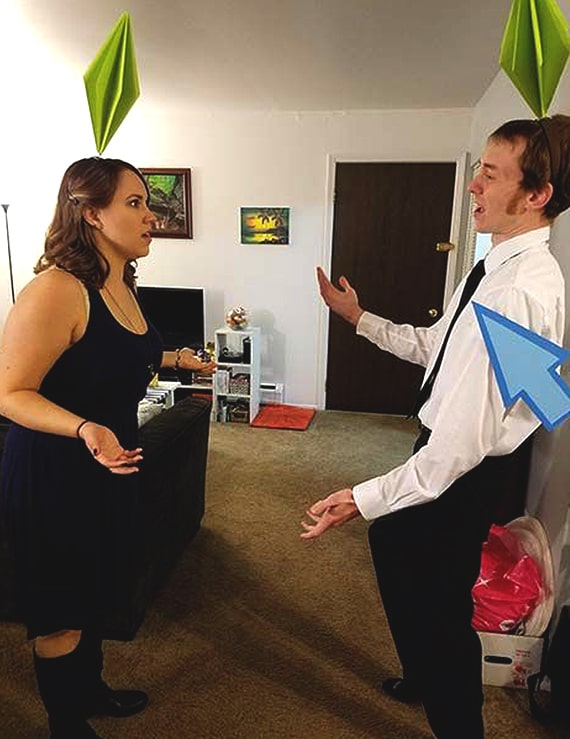 HARRY POTTER AND THE GOLDEN SNITCH 
Hey Potterheads! You're going to amazed by this Harry Potter Halloween concept as we did. It's a brilliant idea to show you and your boo are real Harry Potter fans rather than just being Hermione, Harry, and Ron. Bewitch the Halloween this October with your creative Harry Potter and the golden snitch costumes.
GET THE LOOK: As a golden snitch, you can wear a basic gold sequin or satin dress and wings for a bonus point. Your partner as Harry Potter can wear the whole Harry Potter look with round glasses and the scar on his forehead. You can create a wand by crafting a wood stick if you are a handy person. 🙂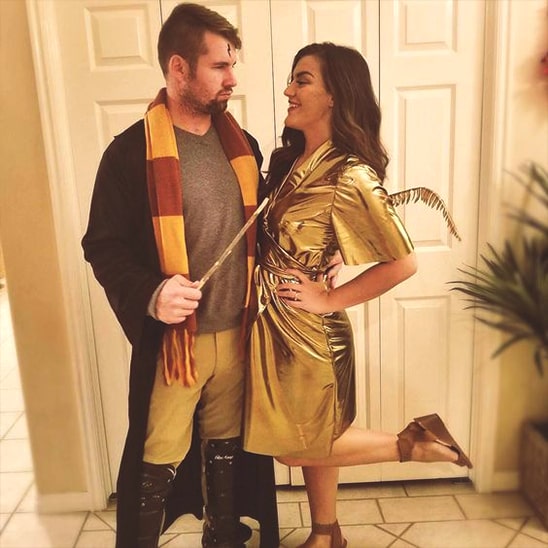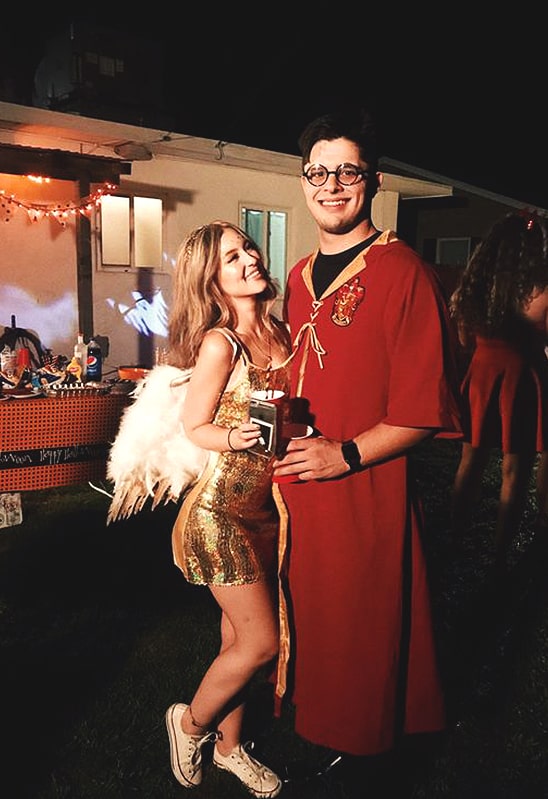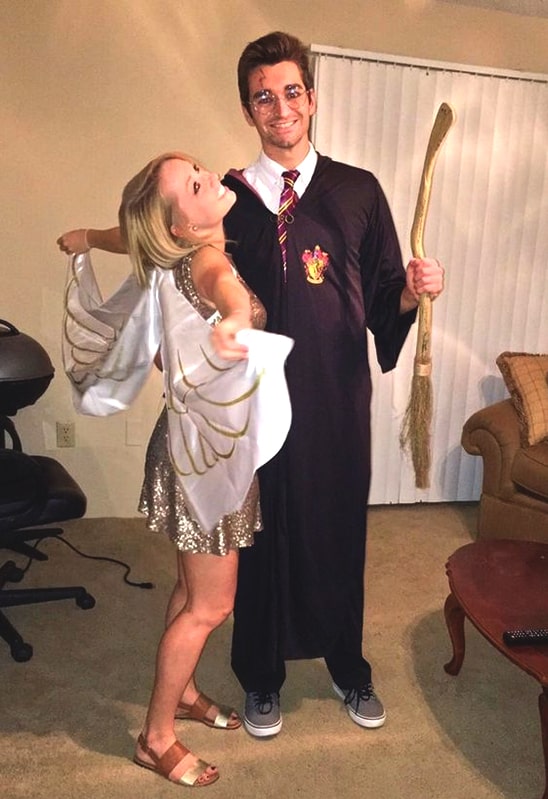 BUTTERFLY AND BUTTERFLY CATCHER 
What could be sweeter than a couple in a butterfly and a butterfly catcher Halloween costume? It's the simple yet entertaining inspiration for those couples who are fond of DIY costumes. It can be even funnier if you and your partner switch the roles! 🙂
GET THE LOOK: Butterfly catcher costume is made up of a bucket hat, beige-colored shirt, and a pant, lastly a net. Having the butterfly look is much easier because you can buy the whole butterfly costume from one place, or you can just wear a ballerina dress and butterfly wings.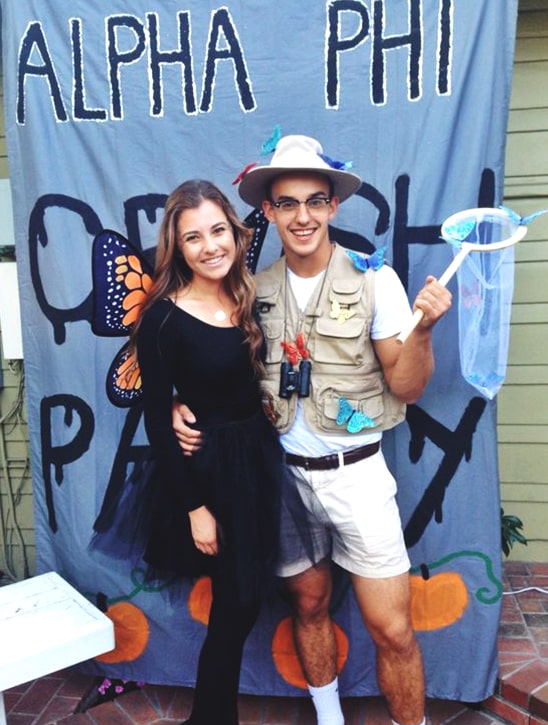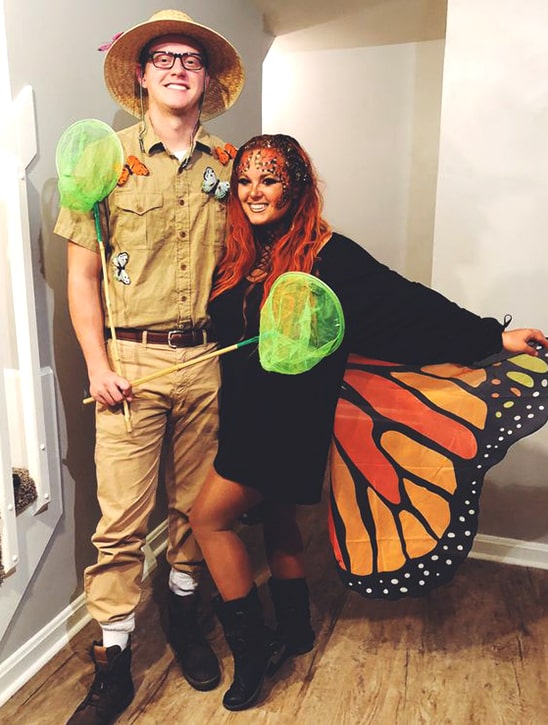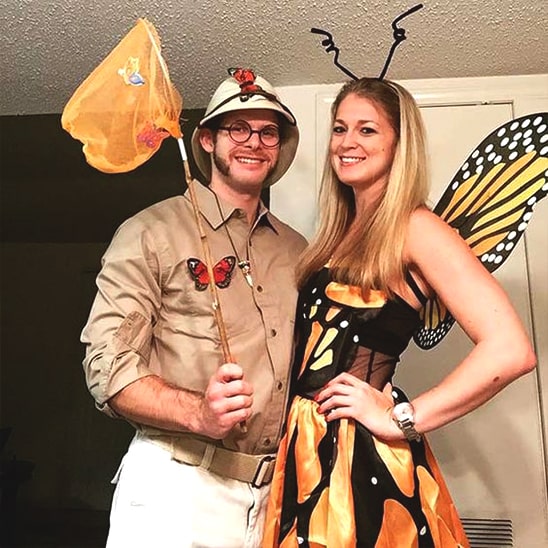 DALMATIAN & FIREFIGHTER 
It's totally a last-minute DIY Halloween costume idea that turns you into the cutest and the hottest couple in the ambient. Dalmatian and firefighter concept may sound cheesy but it is absolutely a go-to Halloween costume for couples.
GET THE LOOK: For the Dalmatian, all you need is a basic white tee and dalmatian ears. You can effortlessly paint a cheap white tee to get the dalmatian look. The rest of the outfit is up to you. For a sexy firefighter look, just wear black pants, a fireman hat, and red suspenders. That's all!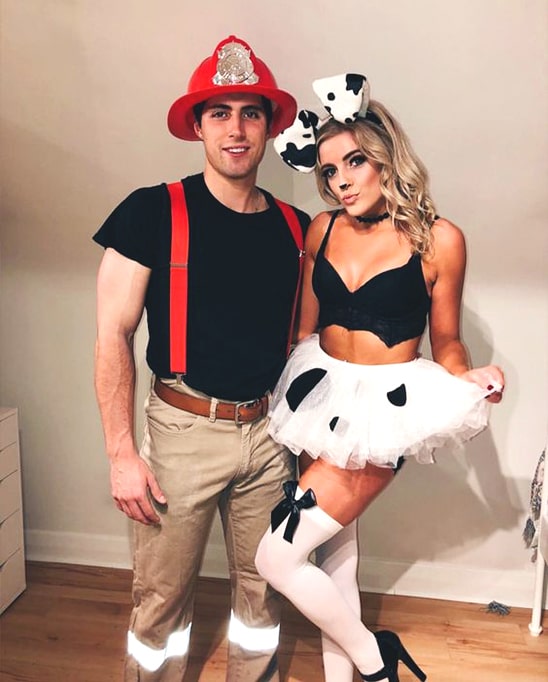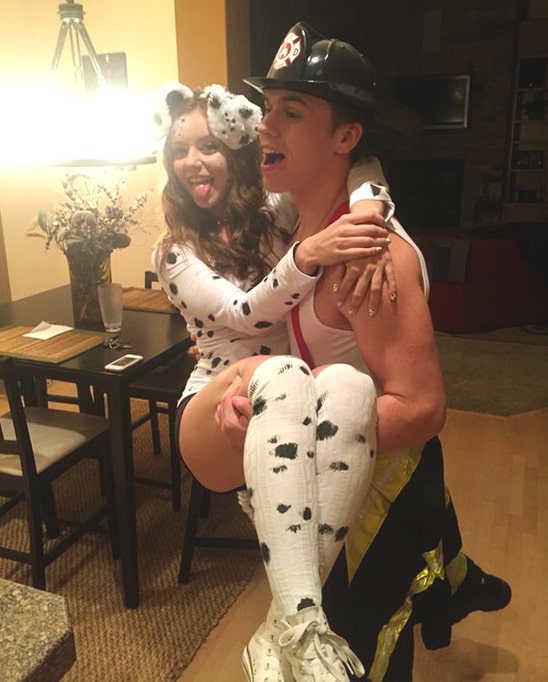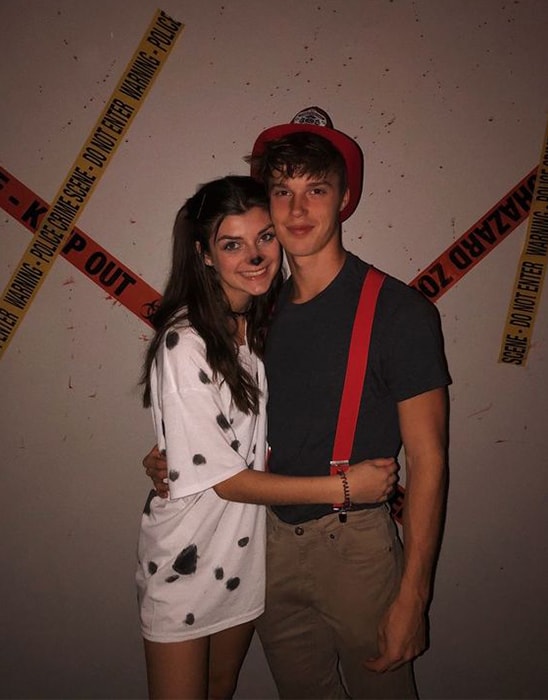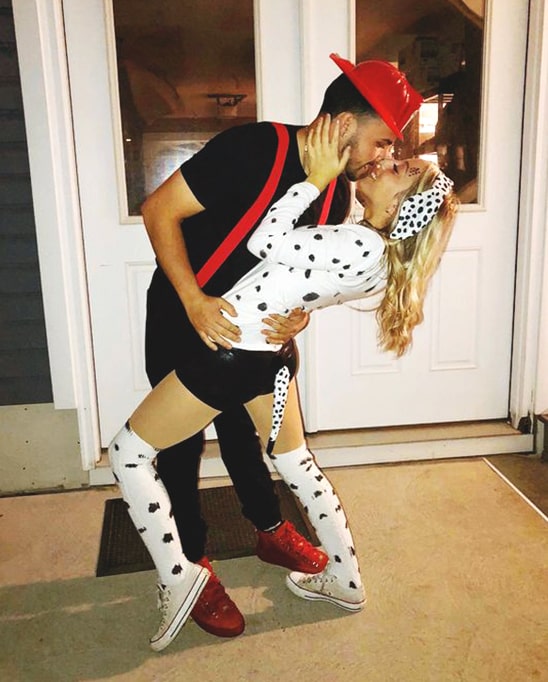 KOALA & EUCALYPTUS TREE 
Here's another perfect last-minute Halloween costume for couples. Koala and eucalyptus tree is a clever costume idea that couples who are true love birds and used to snuggle each other.
GET THE LOOK: The koala look is formed by grey clothes such as a dress, socks, or pants and a koala ear headband which you can easily do it at home with cardboard. If you can be able to do some makeup as similar to a koala, you'll definitely kill this Halloween look. For the eucalyptus tree, you can use artificial leaves on your partner's clothes and may prefer beige pants and a green top.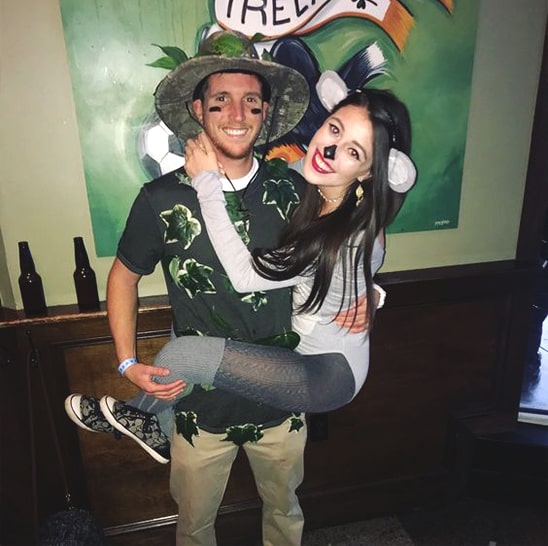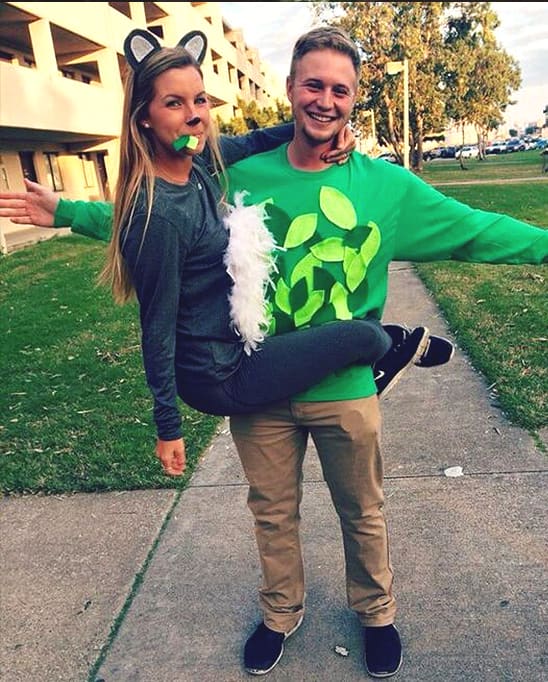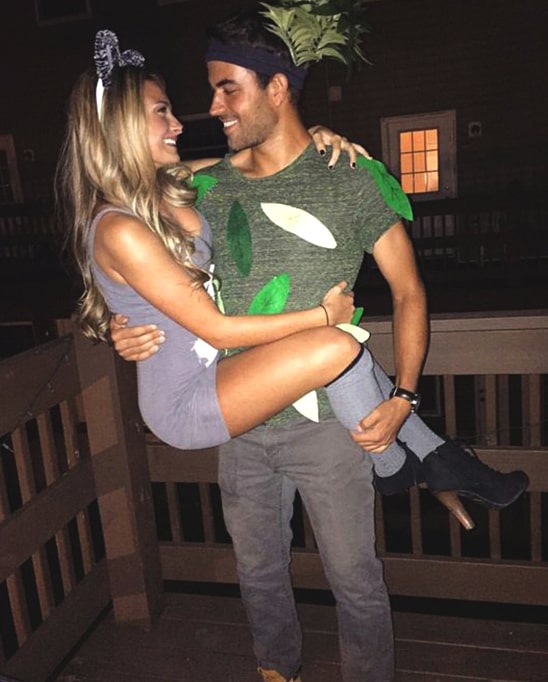 SUNFLOWER & GARDENER 
The next Halloween costume idea is far from scary but near to be the number one cutest couples costume. Here are some inspirational Sunflower and Gardener Halloween costume theme for the lovely couples.
GET THE LOOK: Find some artificial sunflowers to glue them on your clothes. To embellish the costume, get yourself a sunflower crown which can be simply done or buy from any clothing store. For the gardener, any apron can be used to get this look provided that it's green. And of course, a waterer has to be on your boo's hand to water you. 🙂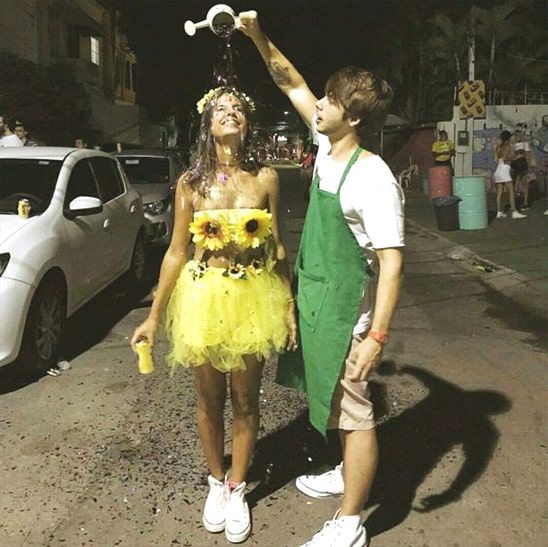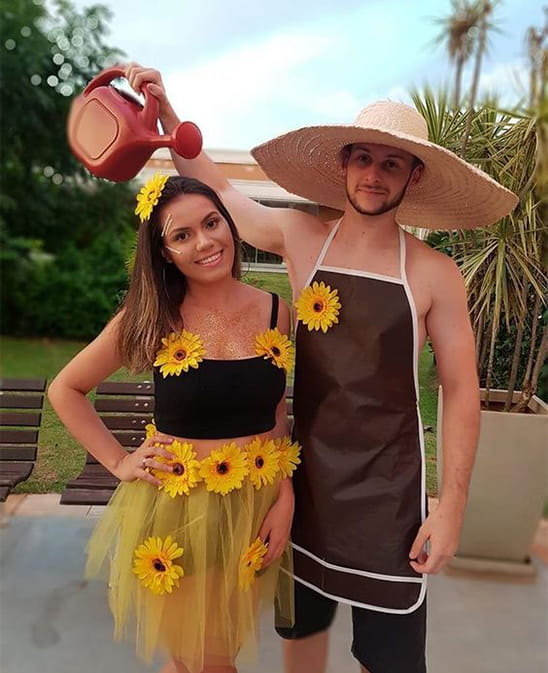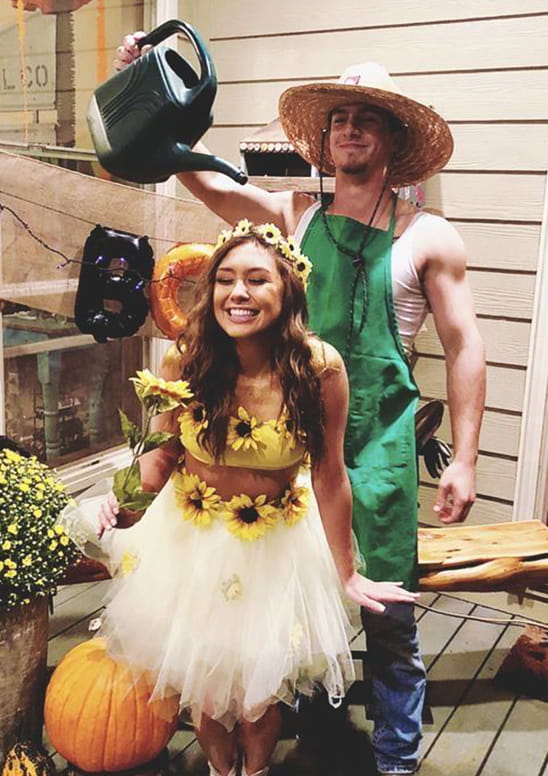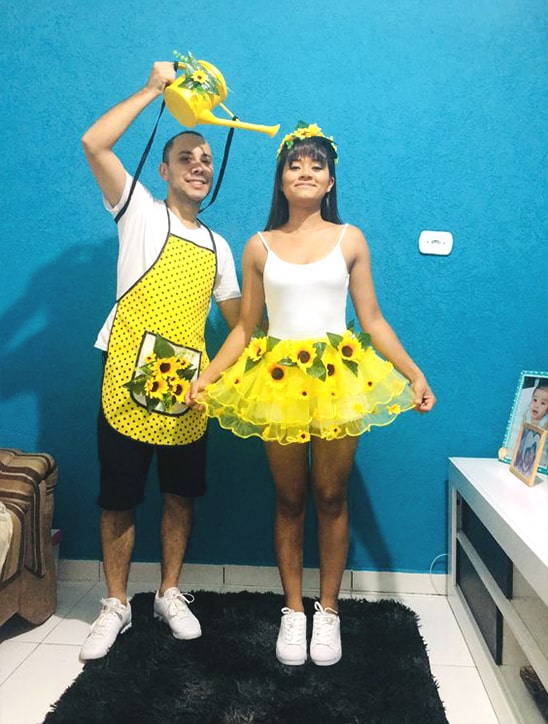 MICKEY & MINNIE DIY HALLOWEEN COSTUME 
It's the most preferred all-time Halloween costume look that every couple will try DIY Mickey and Minnie costume in one October. This fun and popular Halloween look are also easy to get from online.
GET THE LOOK: Wear matching everything like red bottoms, black tops, and cute mouse ears. Yellow shoes for the extra points!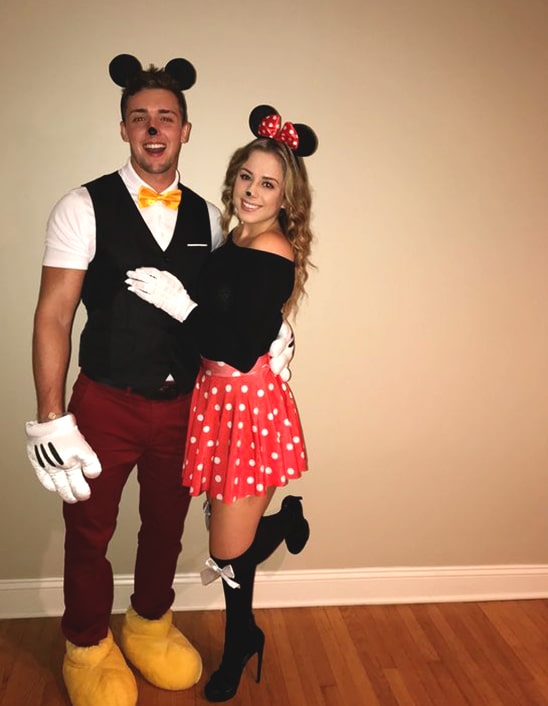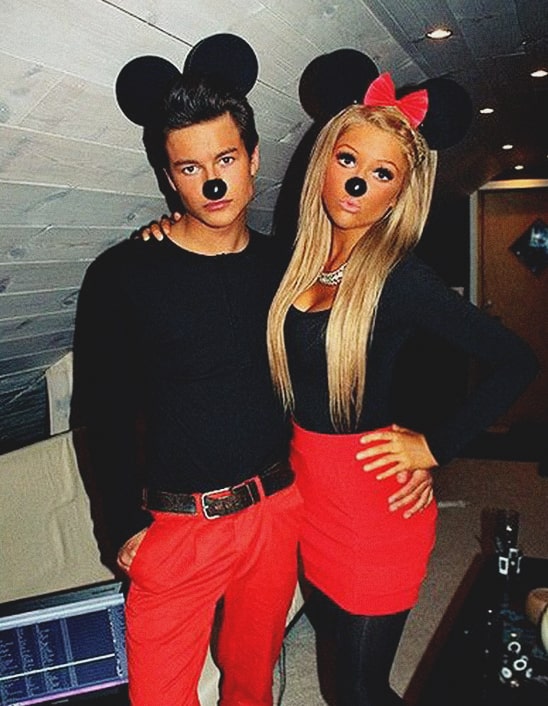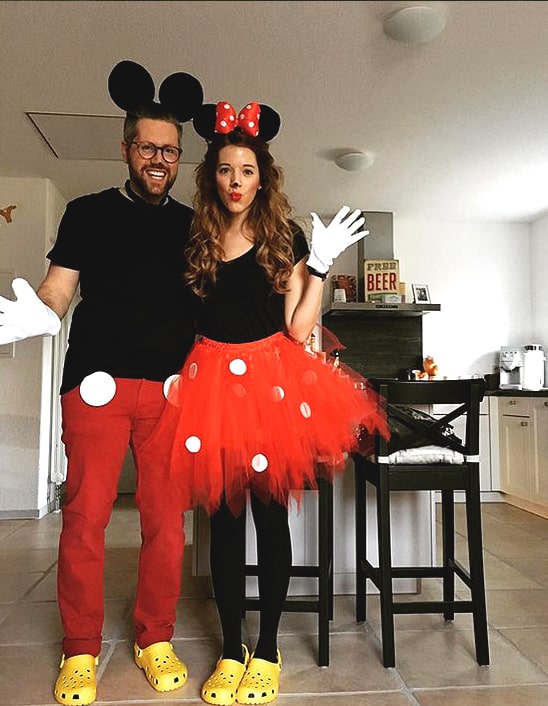 COSMO & WANDA FROM FAIRLY ODDPARENTS 
Be ready to be the fairly oddest couple on the next Halloween with Cosmo and Wanda! We all love this funny cartoon in our childhood and now it's time to act them in real life. It's a pretty cute DIY Halloween costume that you and your lover will have really hilarious moments while creating Cosmo and Wanda. Have a magical time out there!
GET THE LOOK: The major point of Cosmo and Wanda's look is the pink and green colored hair part. You can dye your hairs but if you can't dare, just buy inexpensive wigs to complete the costume, don't forget to get your tiny crown on your head. Then the easiest part is making the wands that you can create those with any black stick and yellow papers to put a star above it.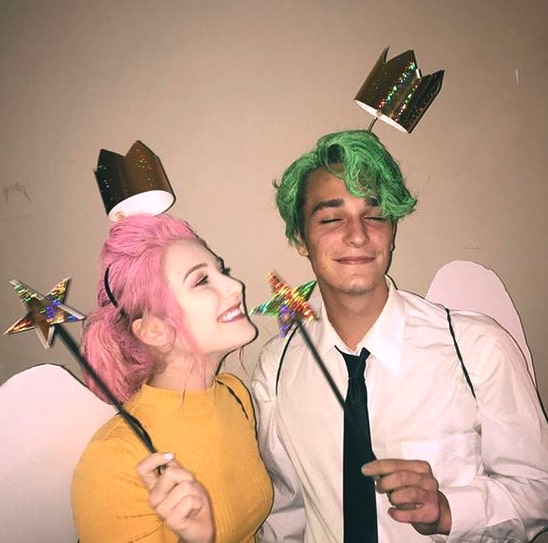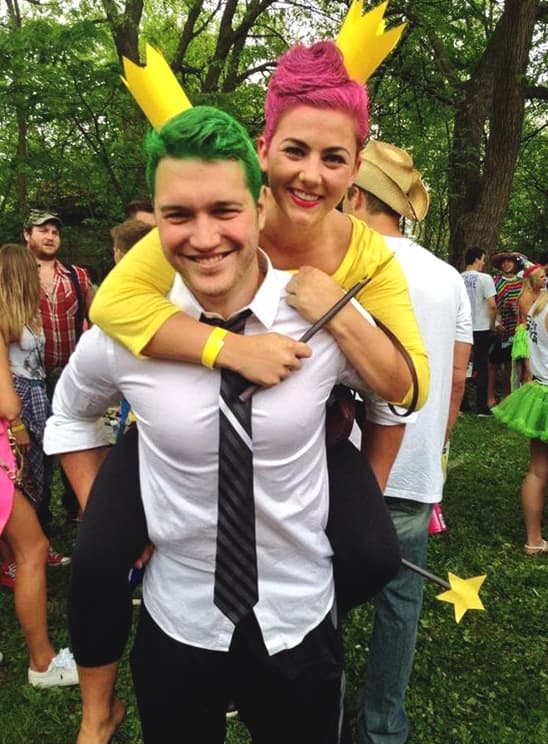 ALICE AND THE MAD HATTER 
"What an idea. A crazy, mad, wonderful idea." like Alice said in the movie. This Halloween costume theme might not be the cutest one but it is certainly the whimsical one! Alice in Wonderland is every dreamer's favorite Disney tale and Johnny Depp has made it even more wonderful. There's no excuse for not being Alice and the Mad Hatter on this Halloween. Eventually, aren't we all mad here?
GET THE LOOK: If you decide to do the costumes yourselves, keep it simple. As the Mad Hatter, you just need a fedora that can be embellished as the Mad Hatter's hat. You can use a few playing cards and a feather to decorate your hat. The outfit choices are a long maroon coat or a blazer. For Alice, a baby blue and white cloth will work for your look. A little detail for your hair is a black headband.