It's the most magical time of the year we all are waiting for! There's so much to do during the holiday, from decorating your Christmas tree to preparing your home for the holiday spirit. Above all those Christmas decorating ideas, your Christmas table setting is as important as the meal itself. Whether you're hosting a dinner, brunch, or breakfast, these Christmas table-setting ideas fit any time of the day. Get inspired by the best festive list of Christmas table-setting ideas for any style.
MINIMAL CHRISTMAS TABLE IDEA
Keep it simple with the sharp tones of black, white, and grey. Also, decorate the center of your table with a few pine cones and fir trimmings. For a more elegant look, add gold details such as candle holders, cutlery, or Christmas bells. Minimal Christmas decoration style is getting more and more popular recently. If you're less is more type of person, this is your style on Christmas.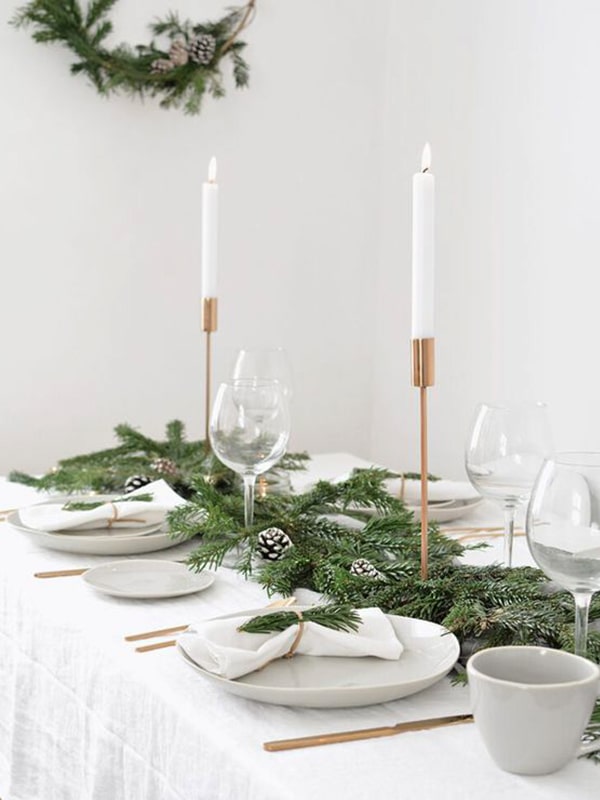 SHOP THE LOOK: 
 Gold-colored Metal Candlestick: $12.99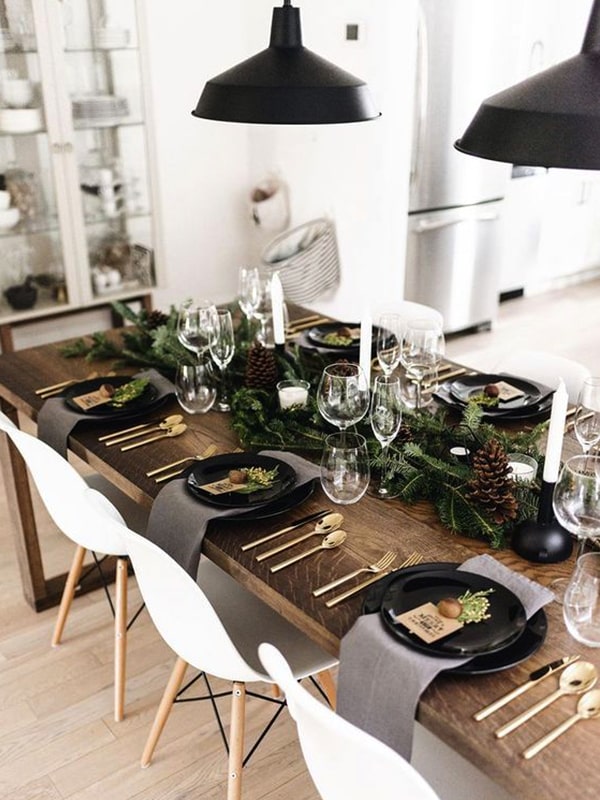 SHOP THE LOOK:
  Fine Gold Stainless Steel Cutlery: $6.90 – $9.90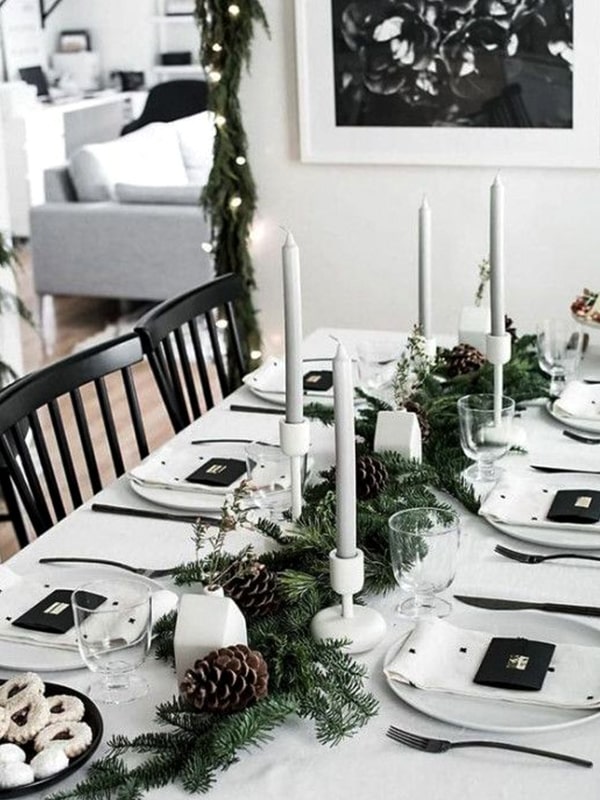 SHOP THE LOOK: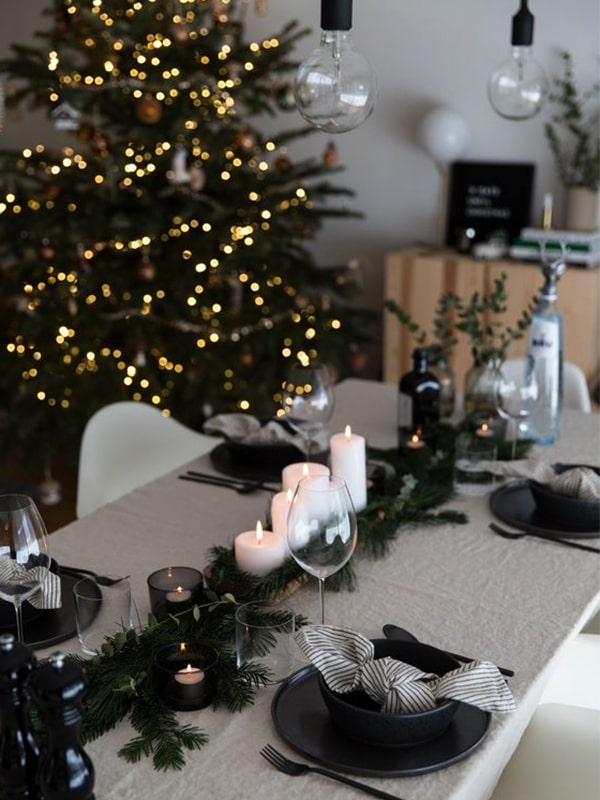 SHOP THE LOOK:
 Washed Linen Tablecloth: $64.99 
RUSTIC CHRISTMAS TABLE IDEA
It's one of the coziest Christmas table settings that can be decorated as modern or vintage. A rustic Christmas table setting is so easy to achieve with pine cones, vintage ornaments, and some fir tree branches. If you have a wooden table, you are a point ahead! The color choices should be moody and neutral which are grey, white, black, or metallic tones. Add some warm shades to reflect the cozy Christmas spirit.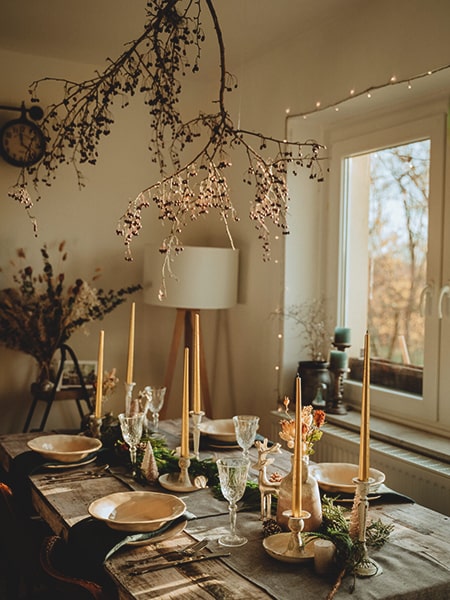 SHOP THE LOOK:
 Deer Table Top Decoration: $29.98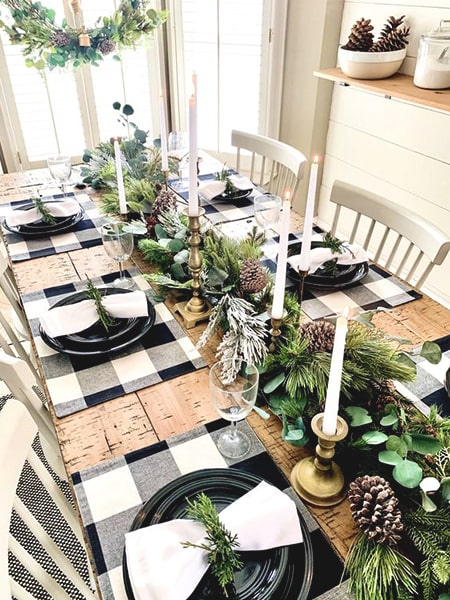 SHOP THE LOOK:
 Checkered Tablecloth and Placemats: $15.15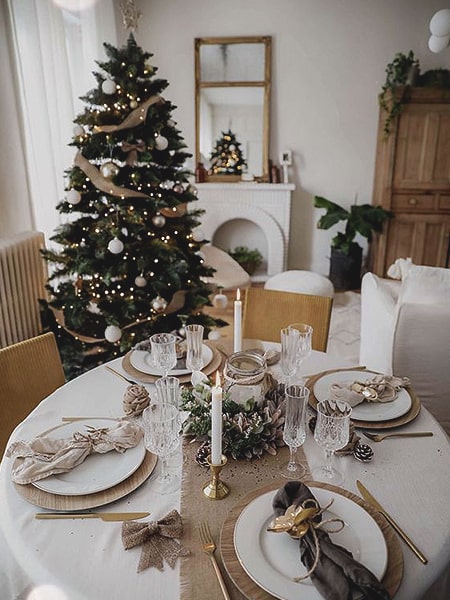 SHOP THE LOOK: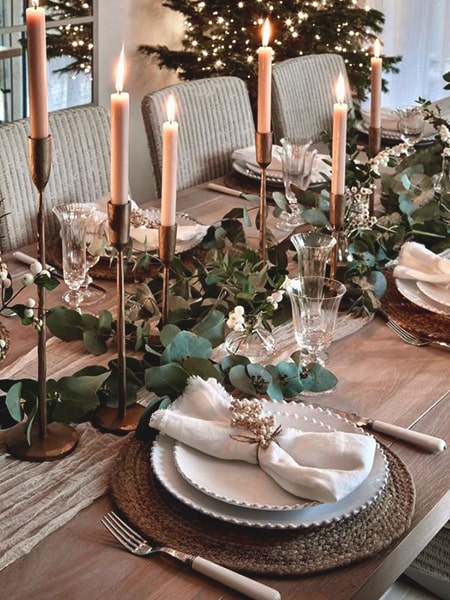 SHOP THE LOOK:
ELEGANT CHRISTMAS TABLE IDEA
For those who love elegant Christmas tables, adorn your table with elegant decorations like gold ornaments, garish napkin rings, and shiny placemats. Add some shimmery details to have that dreamy fabulous Christmas table setting.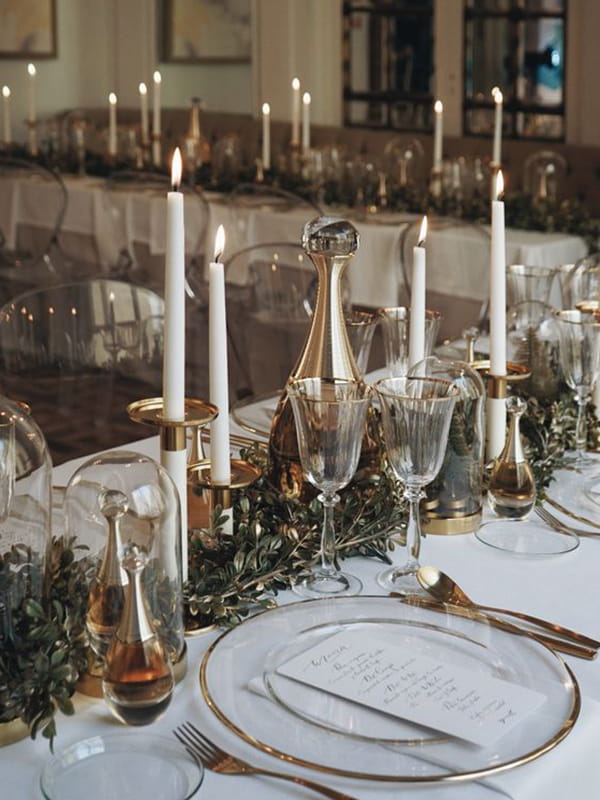 BUY THE LOOK:
 Glass tumbler with gold rim: $9.90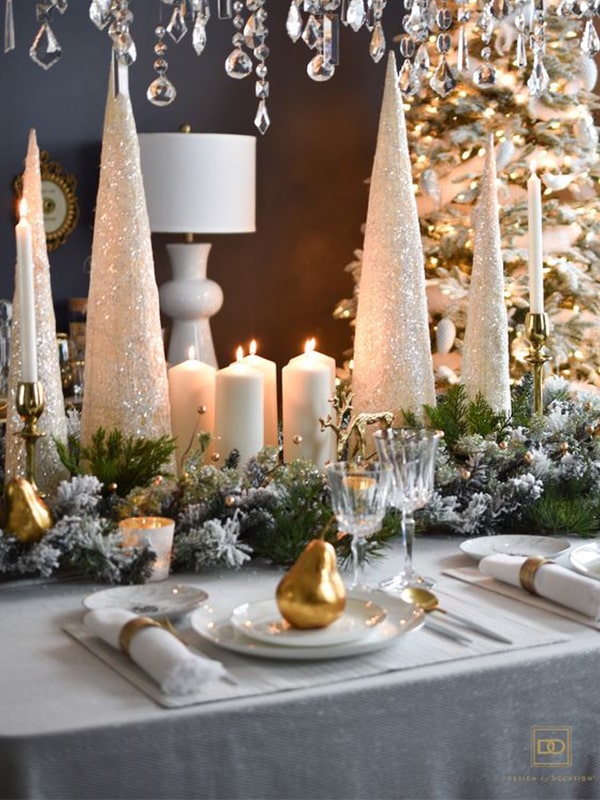 BUY THE LOOK:
 Lighted Gold Glittered Christmas Cone Trees: $39.88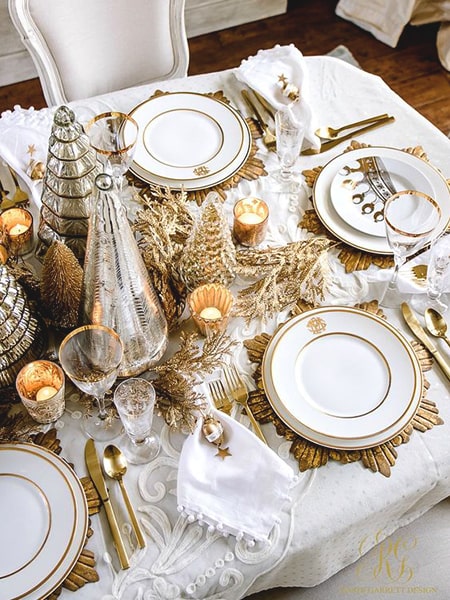 BUY THE LOOK:
 Snowflake Gold Placemats: $26.99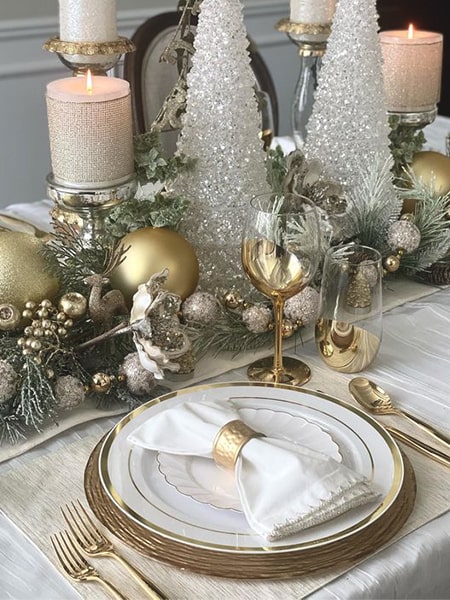 BUY THE LOOK: 
RED CHRISTMAS TABLE IDEA
When it comes to Christmas, the first color that comes up to mind is bright red. There're lots of festive ideas to decorate your table with red shades. If you want to full concept of bright red on the Christmas table, choose the major elements in red like a table runner or a tablecloth. However, red can be chosen as detailed decorations such as scented flowers, candles, or centerpieces.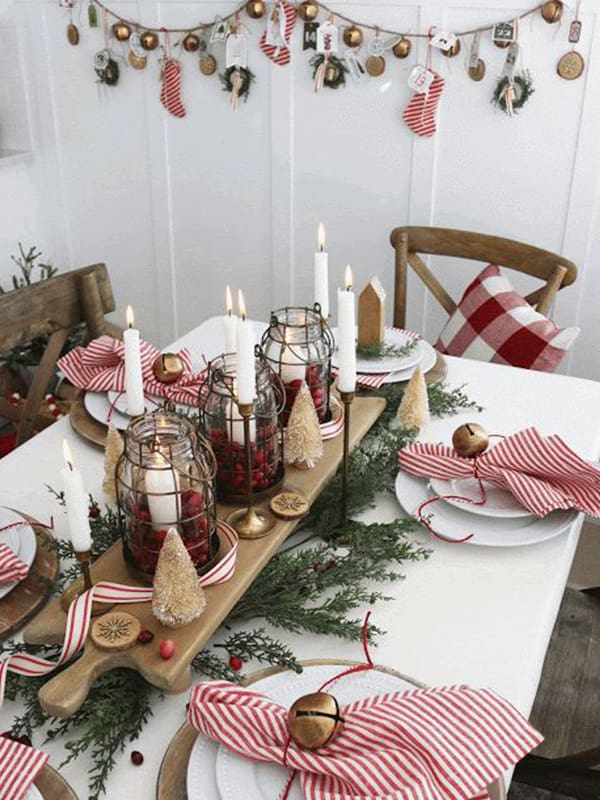 SHOP THE LOOK:
 Gold Finish Metal Garlands: $19.60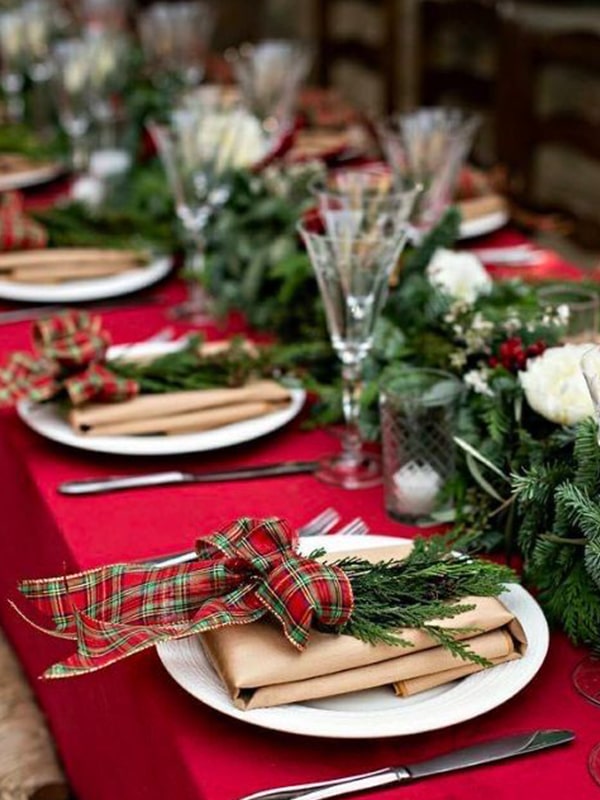 SHOP THE LOOK:
 Washed Linen Tablecloth: $64.99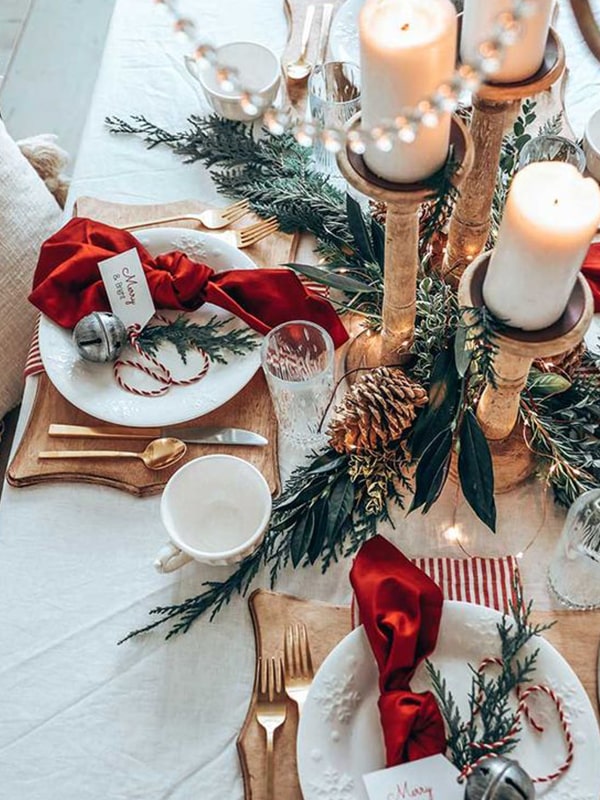 SHOP THE LOOK: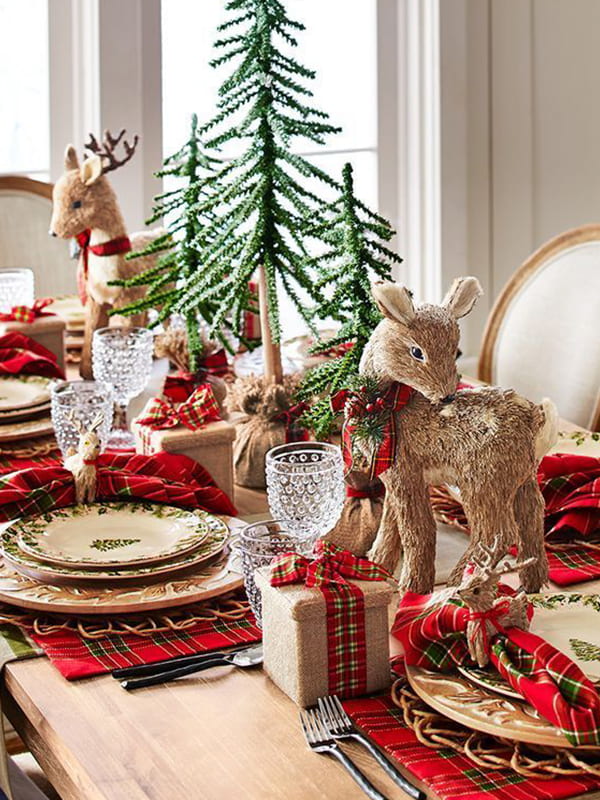 SHOP THE LOOK:
BLACK & WHITE CHRISTMAS TABLE IDEA
Setting up a black and white Christmas table is as simple as decorating your home with holiday cheer adornments. In addition to lightly colored detail decorations, black and white are predominant. For example, add neutral or bright tones to your china and cutlery.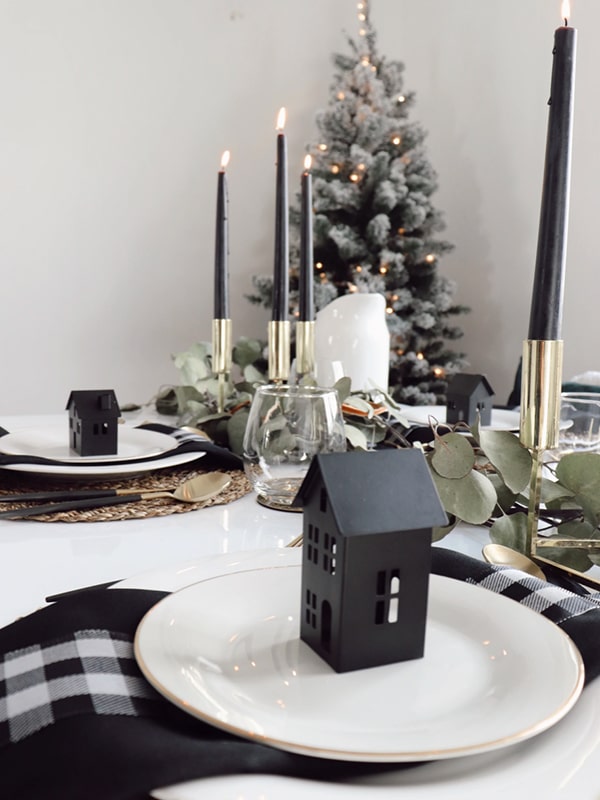 SHOP THE LOOK: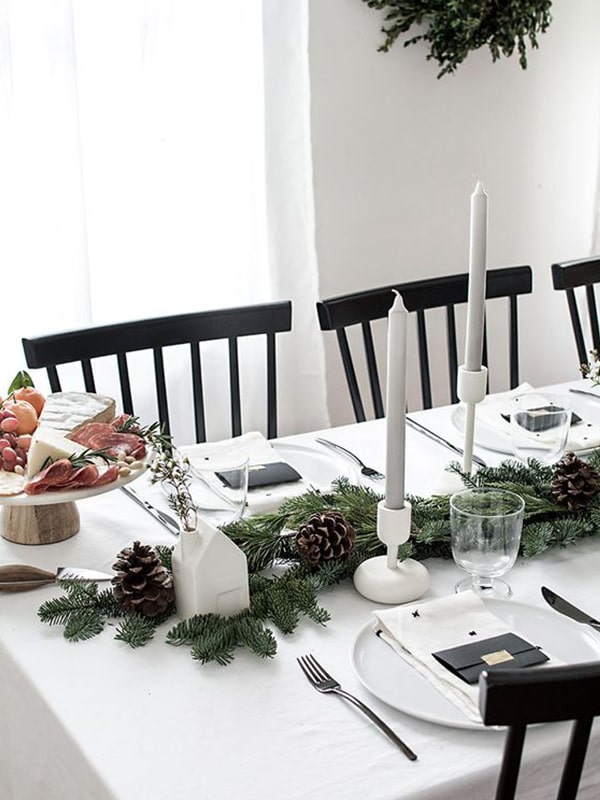 SHOP THE LOOK:
Porcelain Christmas Houses: $30.95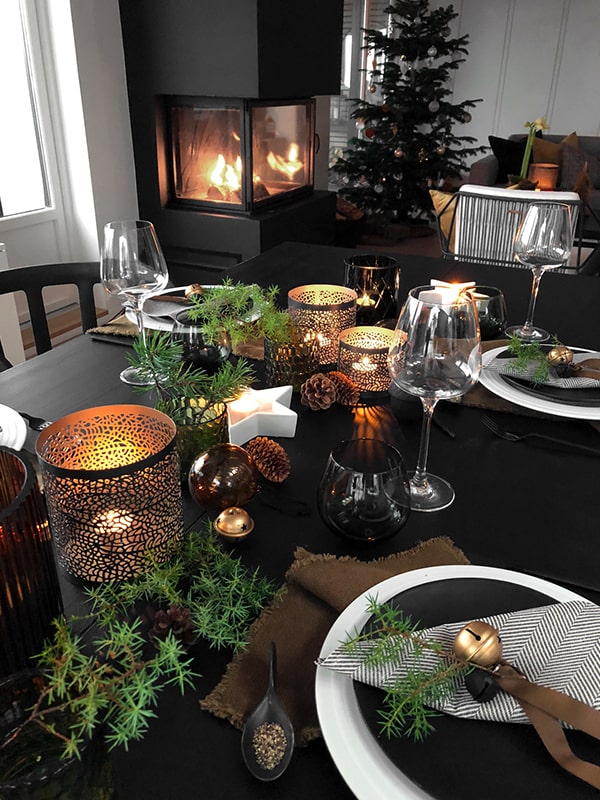 SHOP THE LOOK:
Irregular Porcelein Dinner Plate: $9.90
SHOP THE LOOK:
Black and White Striped Napkins: $17.99
SNOW WHITE CHRISTMAS TABLE IDEA
Let it snow! Let it snow! Turn your Christmas table into a real holiday scene by making it snow. Snow white Christmas table setting is easy to set up to your style. Choose white as the major color of your table setting and add some gold or metallic shades that lighten the theme up. Decorate with a snowed centerpiece or holiday accents.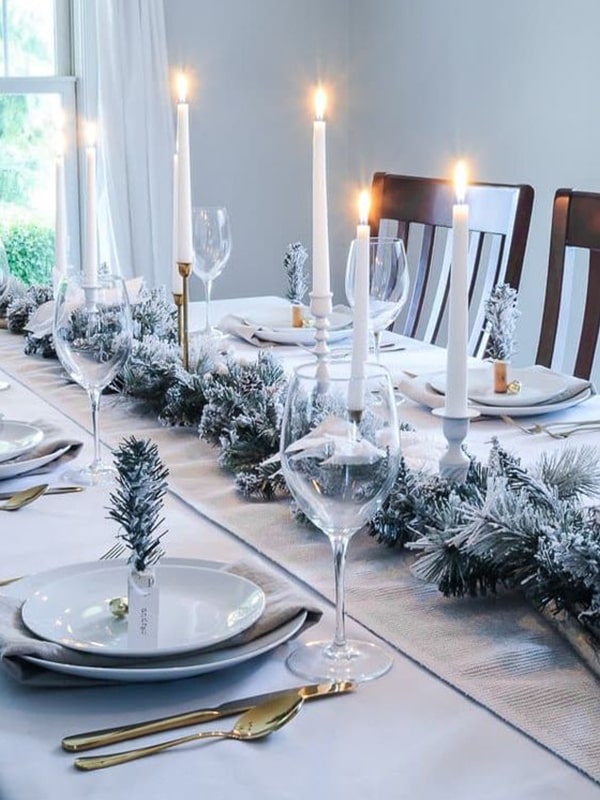 SHOP THE LOOK: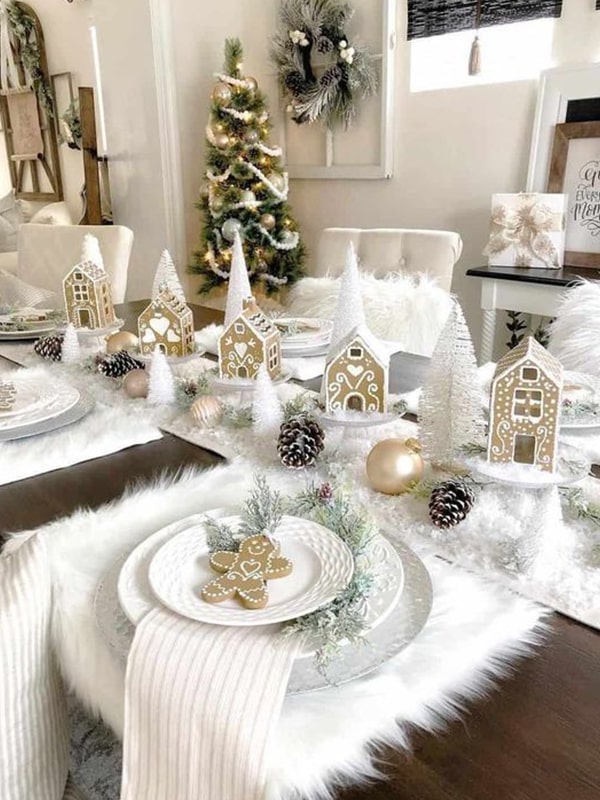 SHOP THE LOOK:
Christmas Figurines 9 Piece Set: $81.95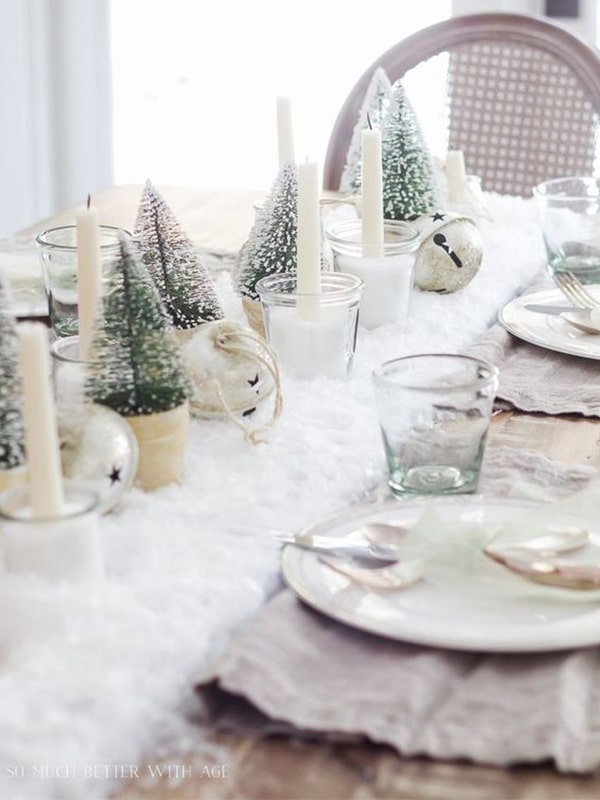 SHOP THE LOOK:
Bottle Brush Christmas Trees: $9.99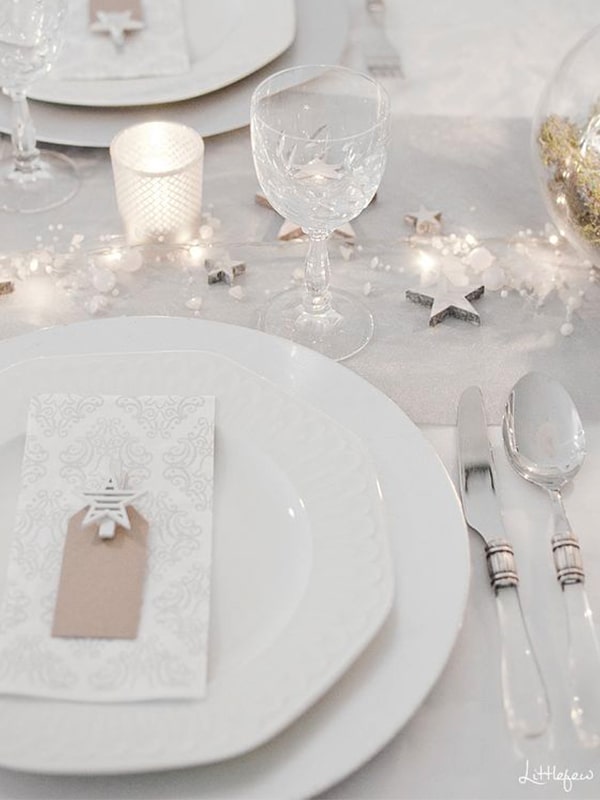 SHOP THE LOOK:
Farmhouse Star Ornaments: $12.99
FARMHOUSE CHRISTMAS TABLE IDEA
Modern but make it rustic! If it's your aesthetic, the farmhouse Christmas table setting idea is the one. Choose earth-toned materials, vintage decors, and neutral colors like white, brown, or green. Wooden dining table goes best with the farmhouse style, otherwise it look too modern rather than rustic.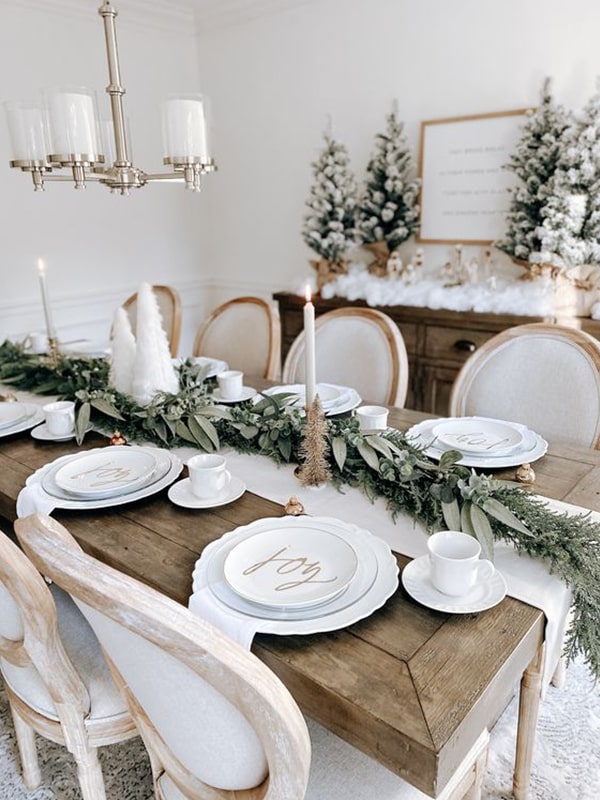 SHOP THE LOOK: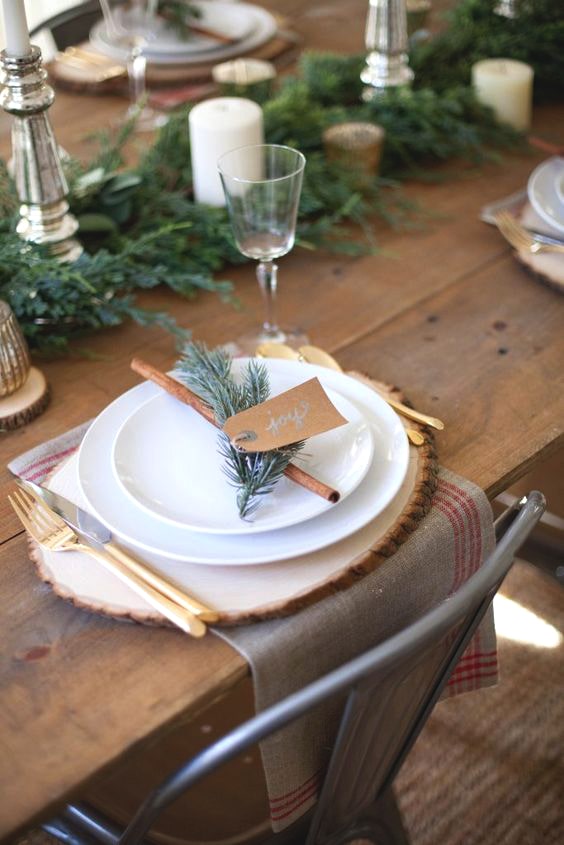 SHOP THE LOOK:
Basswood Country Round: $18.48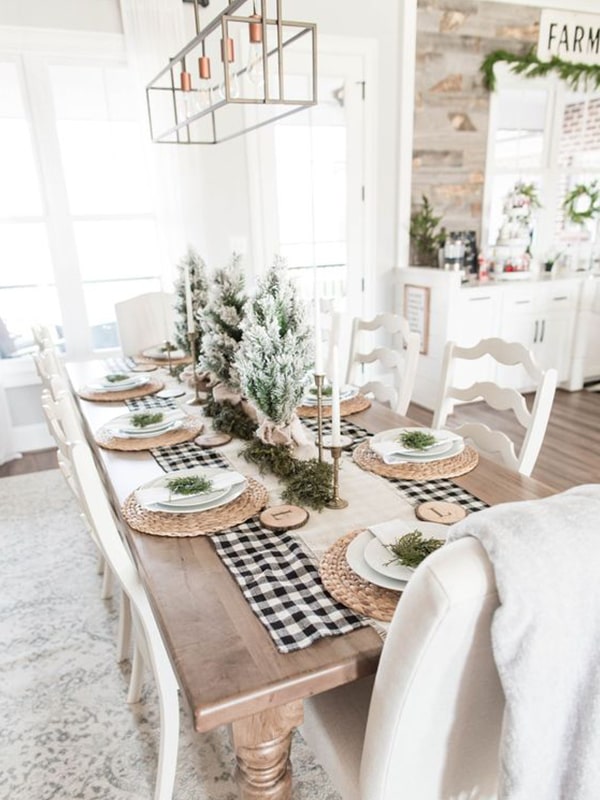 SHOP THE LOOK:
Buffalo Plaid Table Runner: $10.80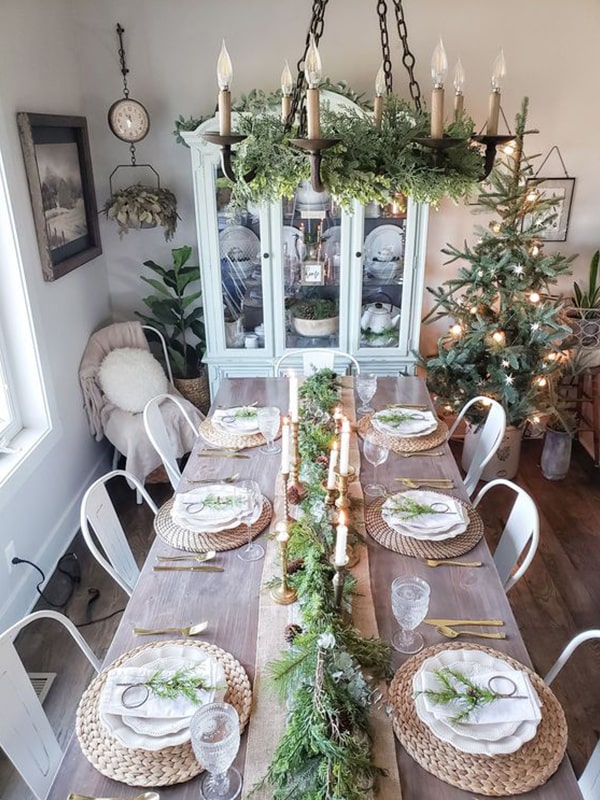 SHOP THE LOOK:
BLUE CHRISTMAS TABLE IDEA
One of the challenging thing in Christmas is that picking a color theme for your home. So, if you're get bored from the combinations of red, white, and green, here's a great option to look like a winter wonderland this year. The color palette of blue is wide from baby blue to navy, and turqoise to indigo blue.
Blue Earthenware Tableware: $12.90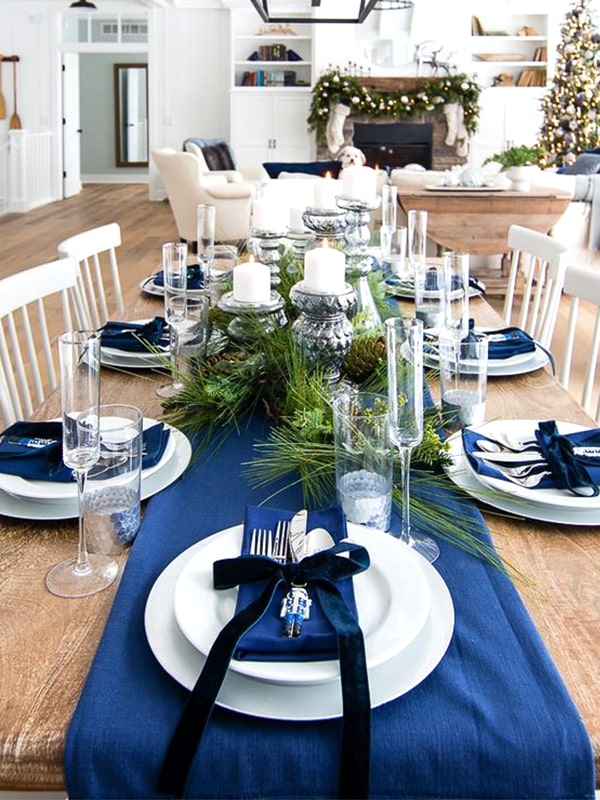 SHOP THE LOOK: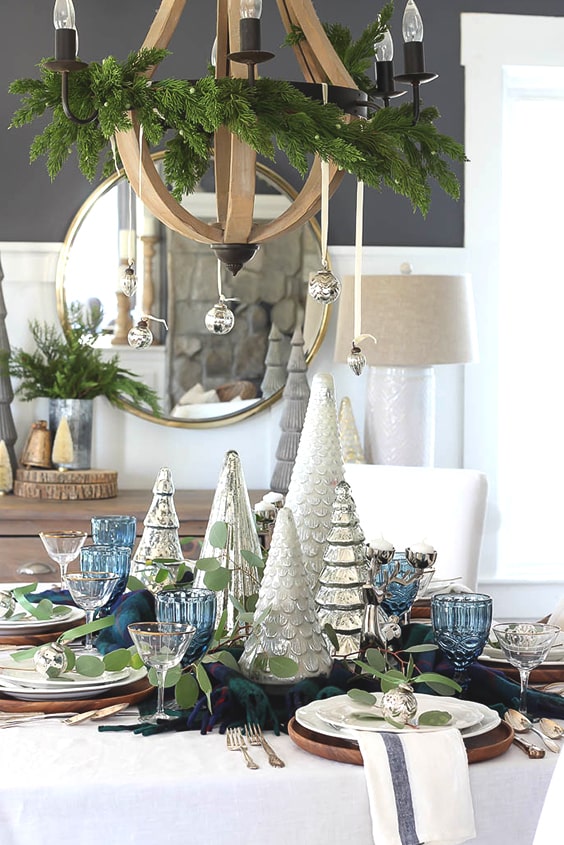 SHOP THE LOOK: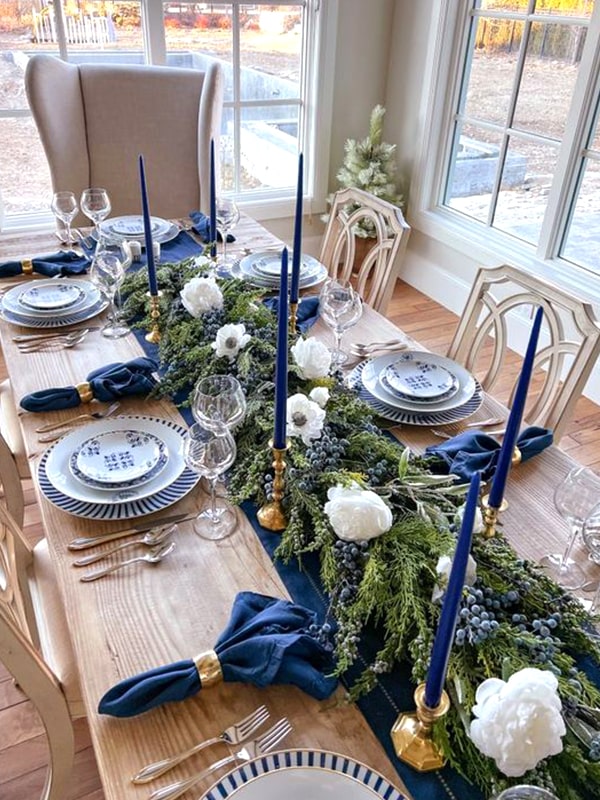 SHOP THE LOOK:
🎉 MERRY CHRISTMAS 🎉