Cannot believe that Christmas is around the corner! The joy of Christmas fills me with peace. And it's time to get out your favorite holiday decorations from the storage. The first step of transformation begins with the heart of your home – the living room. It's also the go-to location of the gorgeous Christmas tree with its shining lights, adorable ornaments, etc. But, a Christmas tree decoration is never enough for a festive living room look. It has to be more than that, the Christmas spirit needs to be everywhere from the walls to the tables. Here are rounded up 32 merriest living room decoration ideas for every Christmas design lover, whether you're a minimalist or maximalist.
WHITE CHRISTMAS LIVING ROOM
A snowy-white living room is the biggest reflection of the fascinating snowflakes in wintertime. Decorating your living room with a white concept also makes a calm and quiet Christmas ambiance. Furthermore, if you already have white furniture such as a couch, a table, or a carpet, you don't need much effort to design. Just a bit of accents like candles, coffee table decorations, and pillows.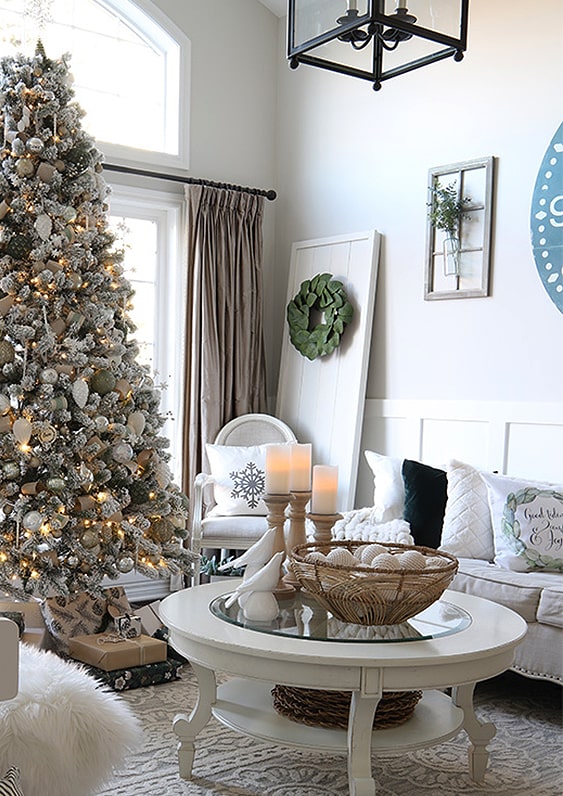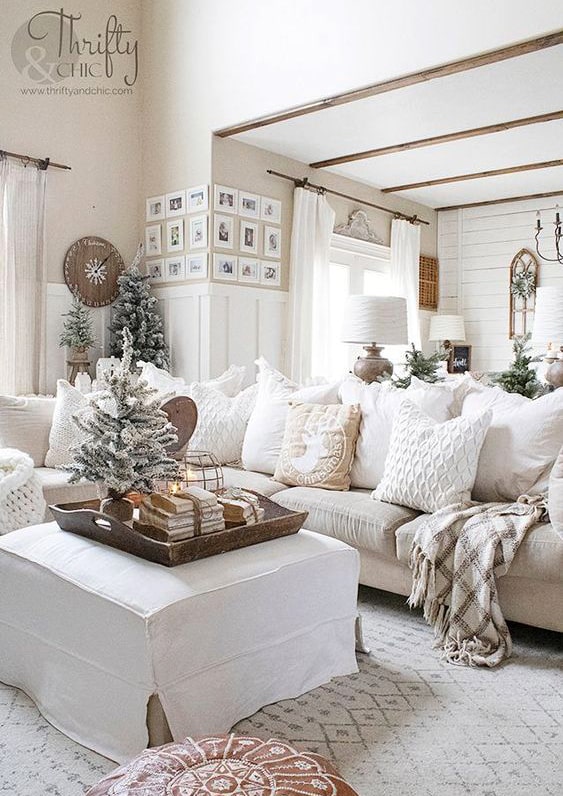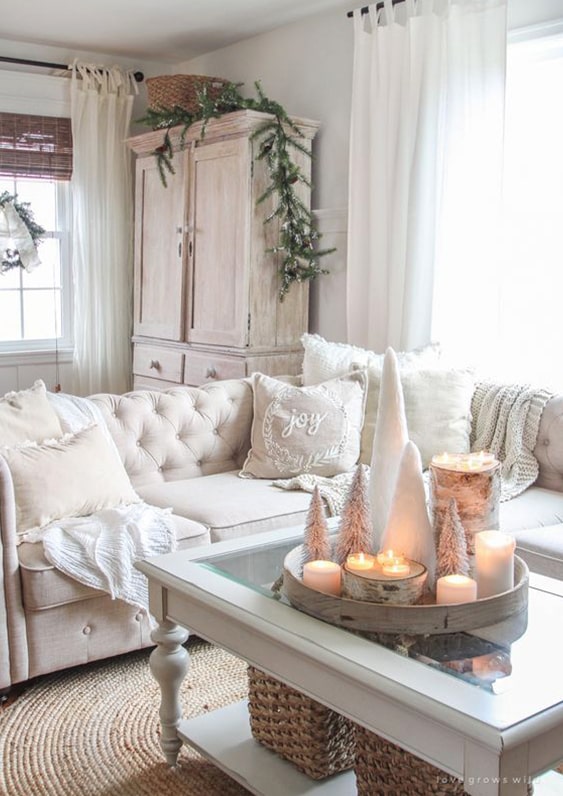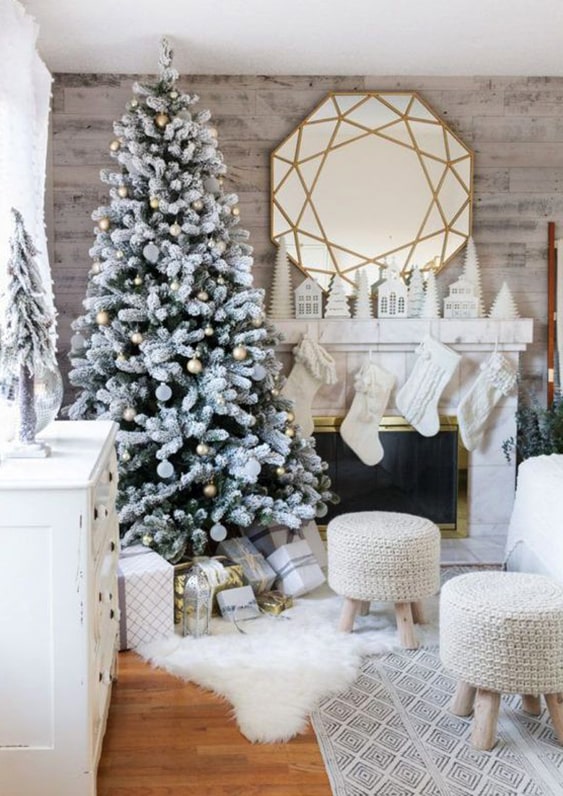 SHOP: 
COZY CHRISTMAS LIVING ROOM
For an intimate environment, your Christmas decorations can be more traditional and homelike. A large coffee table in the middle of your living room surrounded by cozy cushions or a big comfy sofa will hearten the conversations. Decorate the floor and your mantel (if you have) with candle lanterns to give your living room a cozier Christmas vibe. And using the classic red and white Christmas colors on your Christmas tree makes it casual and festive at the same time.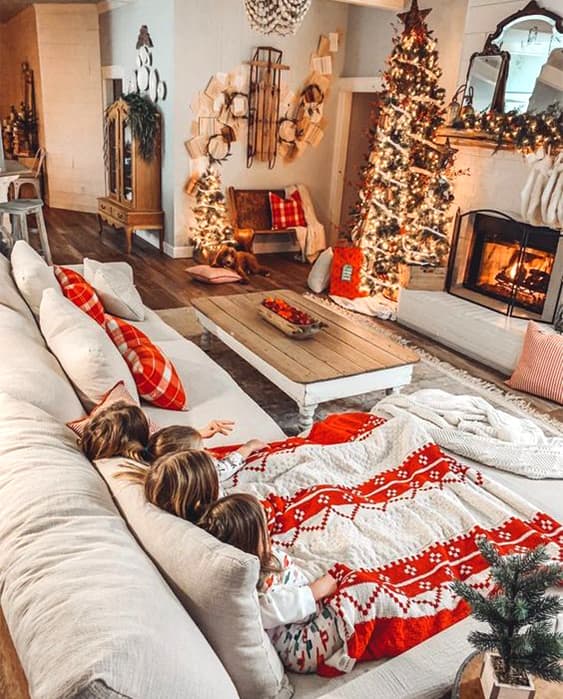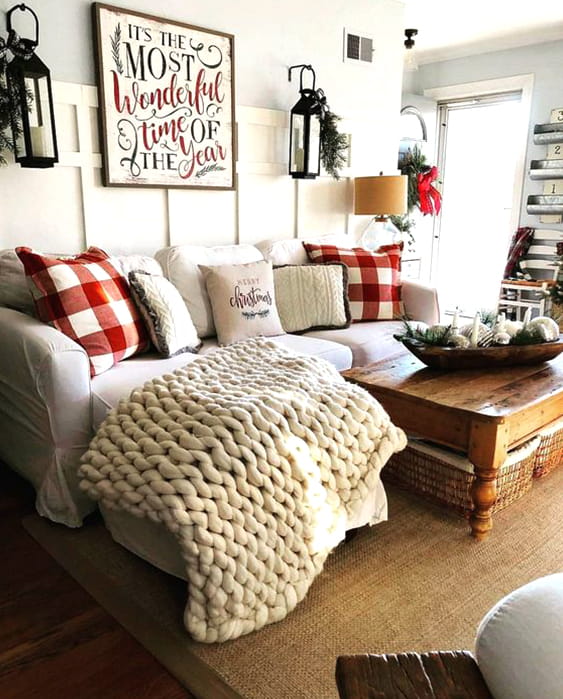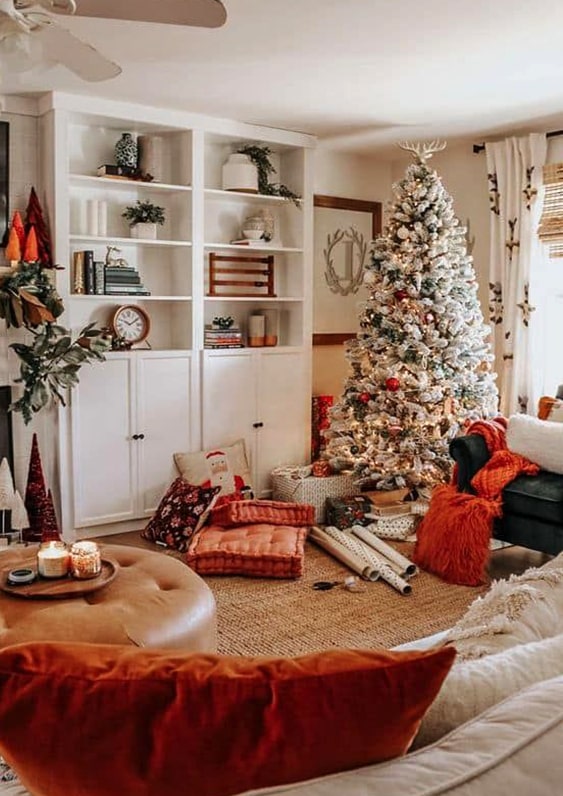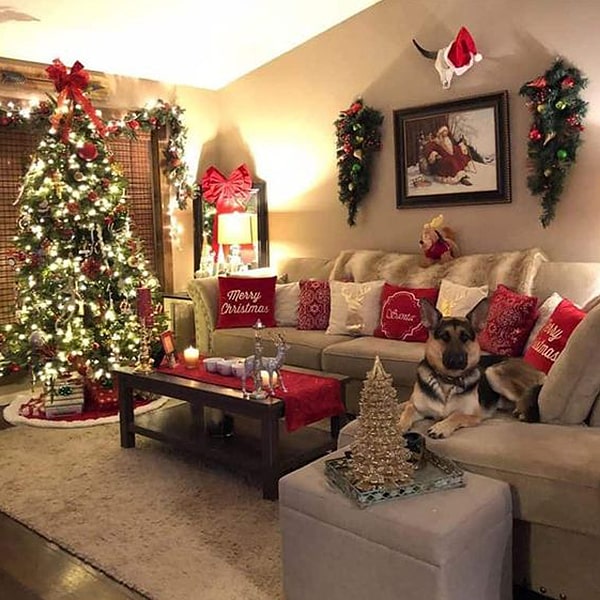 SHOP: 
BLUE CHRISTMAS LIVING ROOM
Is there something unique and out of traditional for Christmas on your mind? So, blue is the new Christmas decoration trend that you'll gonna love! It's inevitable that decorate your Christmas tree with blue ornaments and blue & green wrapped gift packages underneath. Moreover, all kinds of blue adornment items can be matched with your dream Christmas decorations. Blue and white or blue and green are the most matching shades when it comes to Christmas.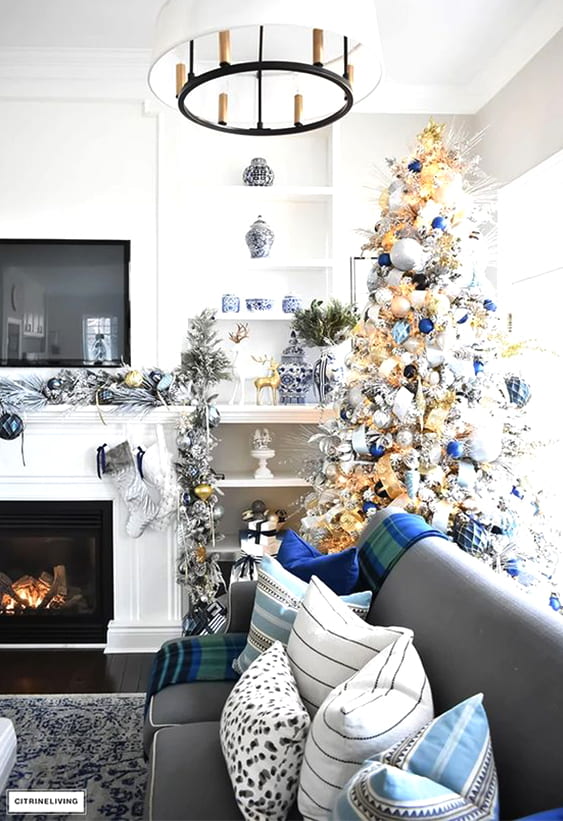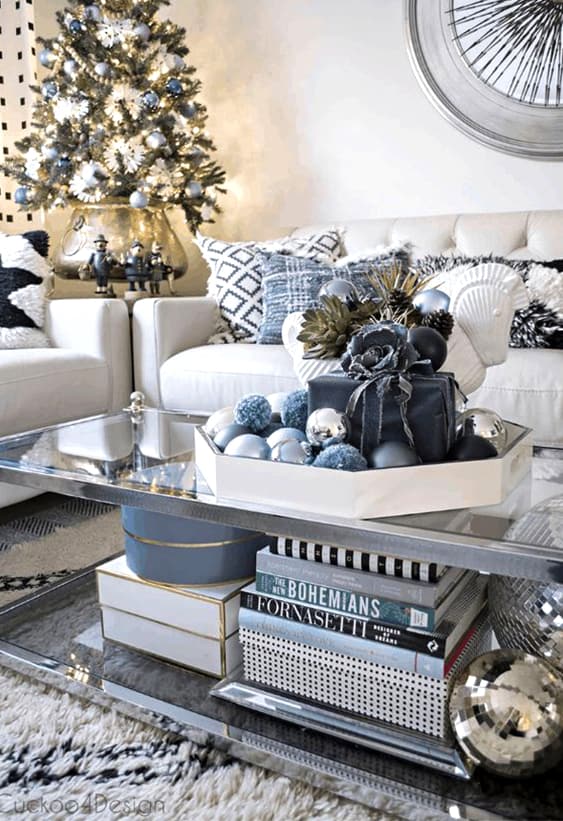 SHOP: 
MODERN CHRISTMAS LIVING ROOM
A modern Christmas living room has a plain and minimal look before anything else. Black, white, gold, or beige hues and subtle touches are mostly preferred in decorating. Minimalist and cool ornaments such as tiny trees, ceramic vases, or white candles make your living room more sophisticated and modern.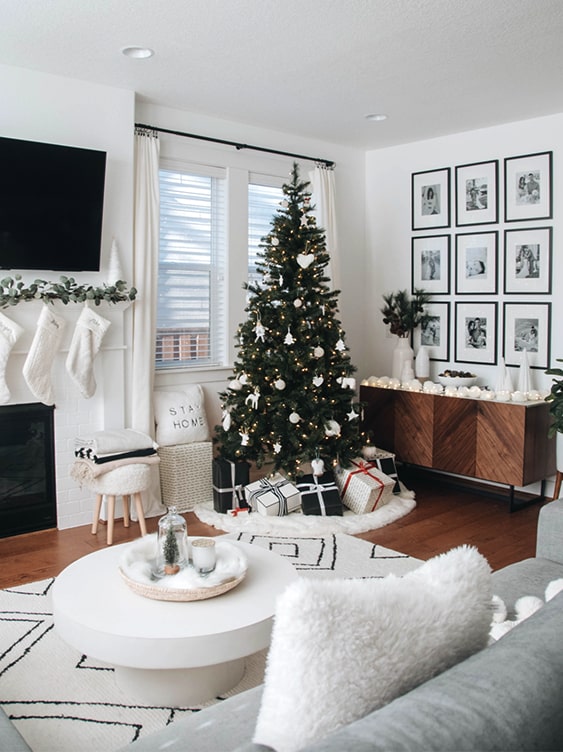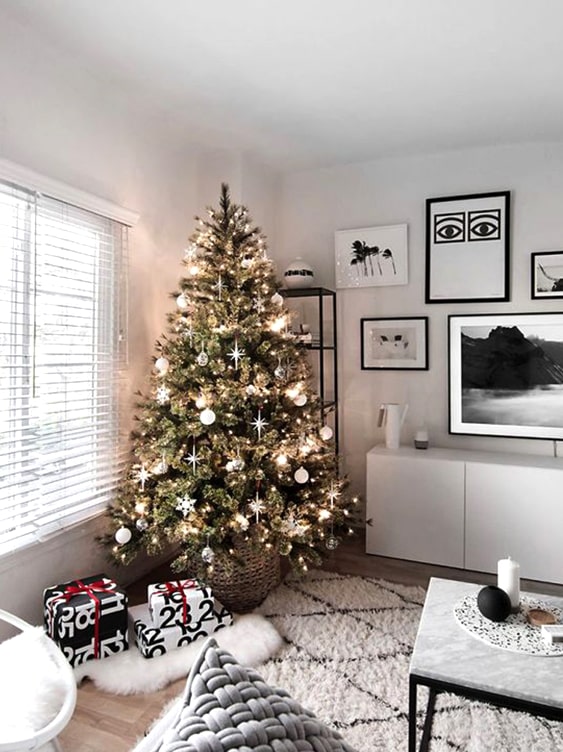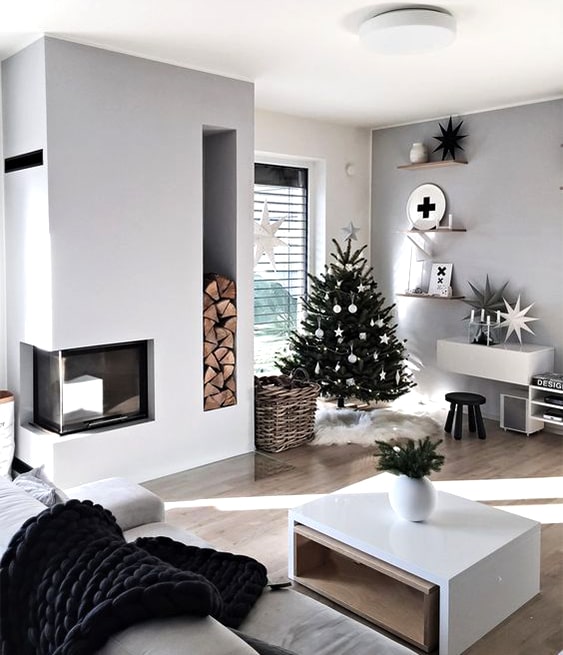 SHOP: 
BLACK & WHITE CHRISTMAS LIVING ROOM
When it's Christmas time, the only colors that come to our minds are red and green, but the time is black and white color scheme time! It's one of the newest holiday color trends recently that can be easily matched with gold and silver. Also, the black & white Christmas living room is so similar to modern living room decorations.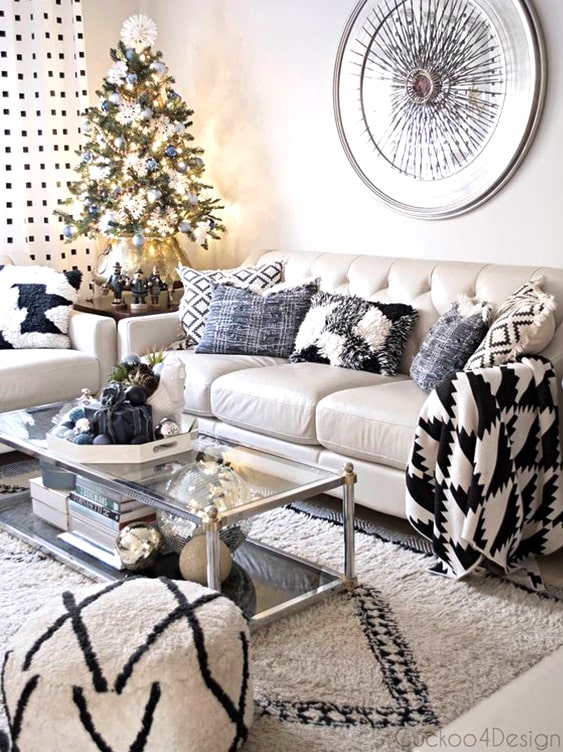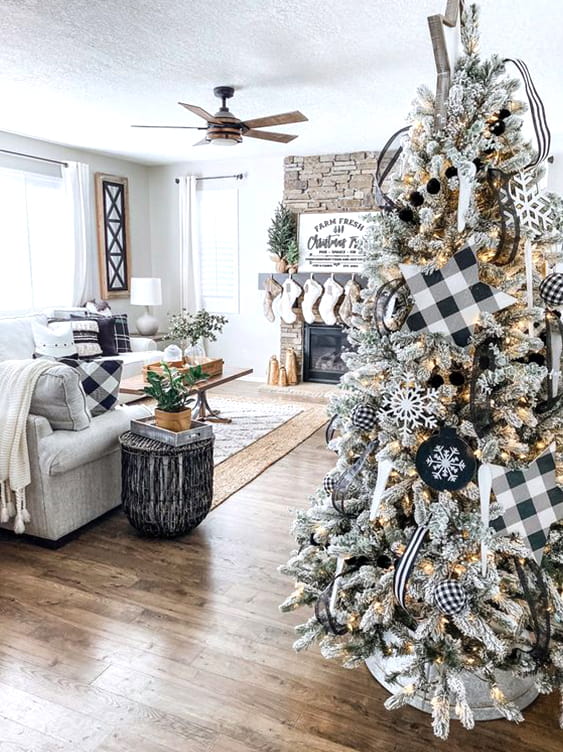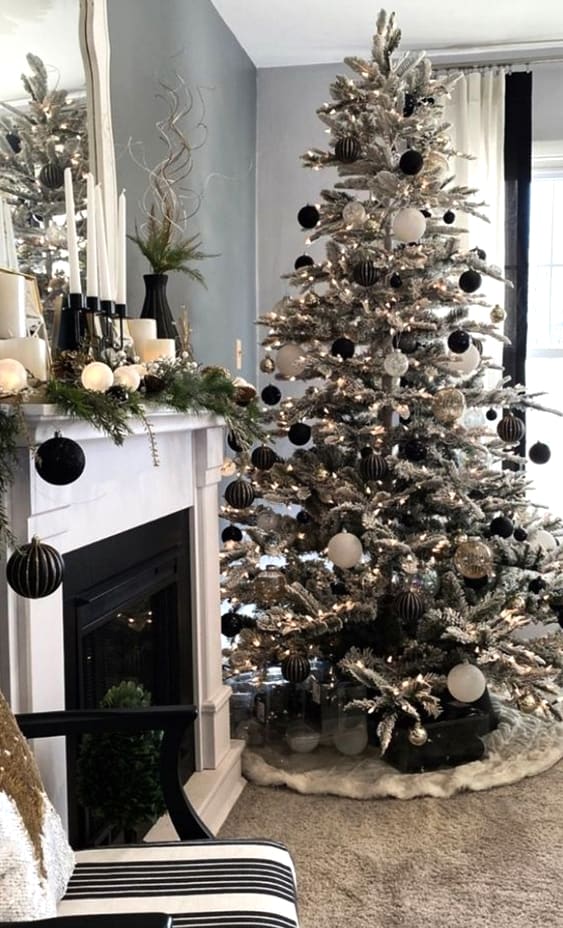 SHOP: 
COASTAL CHRISTMAS LIVING ROOM
Do you love nautical things? If so, a living room with coastal Christmas decorations is what you will be crazy about! Marine items like seashells, sails, or waves make your living room is located in a seaside area. To catch the whole coastal vibe, try to use sandy, turquoise, and navy tones in decorations and also on your Christmas tree.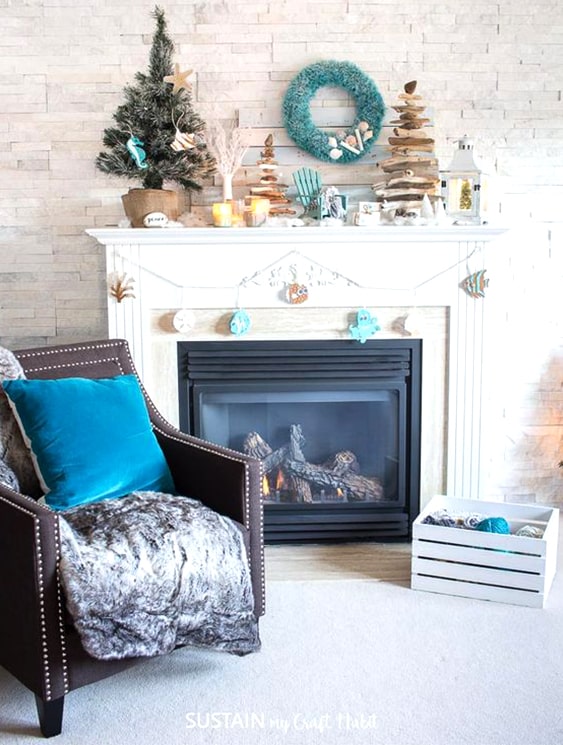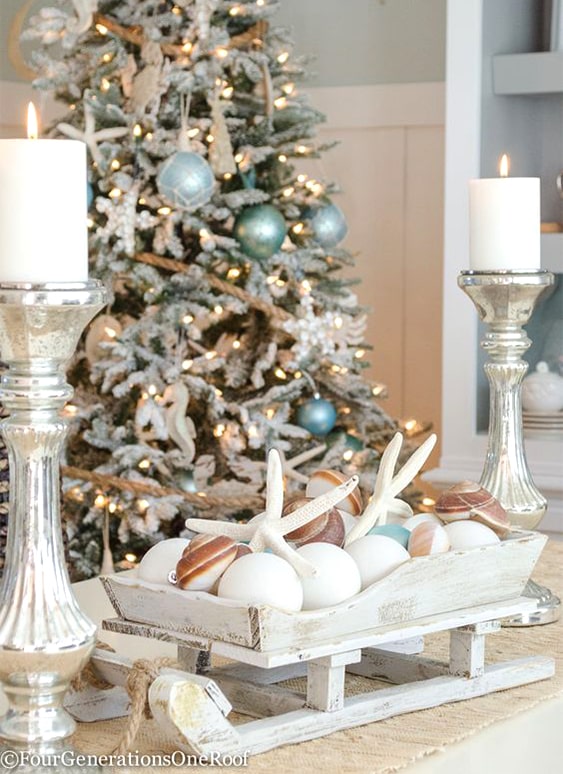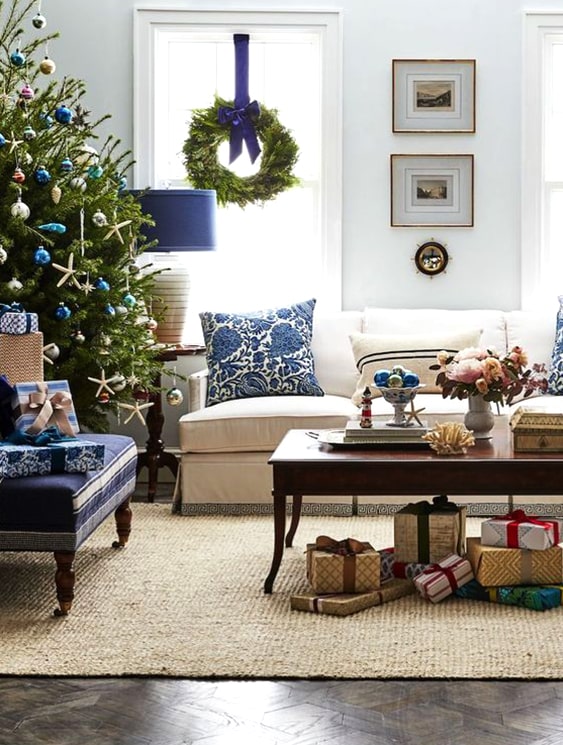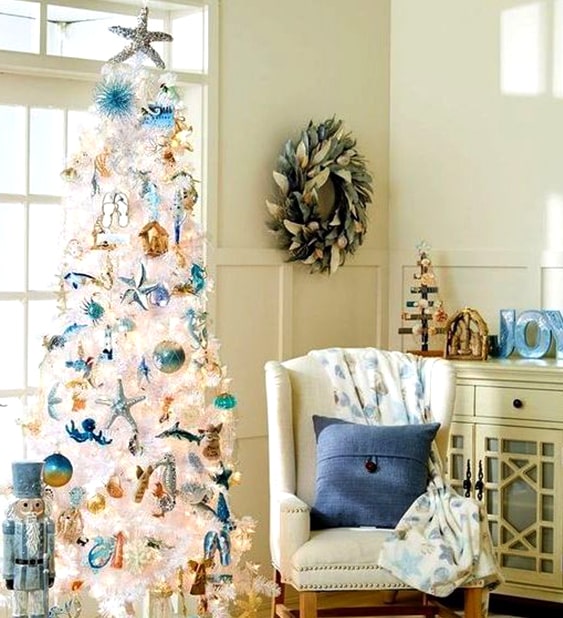 SHOP: 
VINTAGE CHRISTMAS LIVING ROOM
Vintage addicts need to take a look at this Christmas concept to add more items to their decoration shopping list! If your living room had already been furnished with vintage furniture, all you have to do is add some antique Christmas ornaments like hand-knitted stockings, lanterns, and patterned pillows.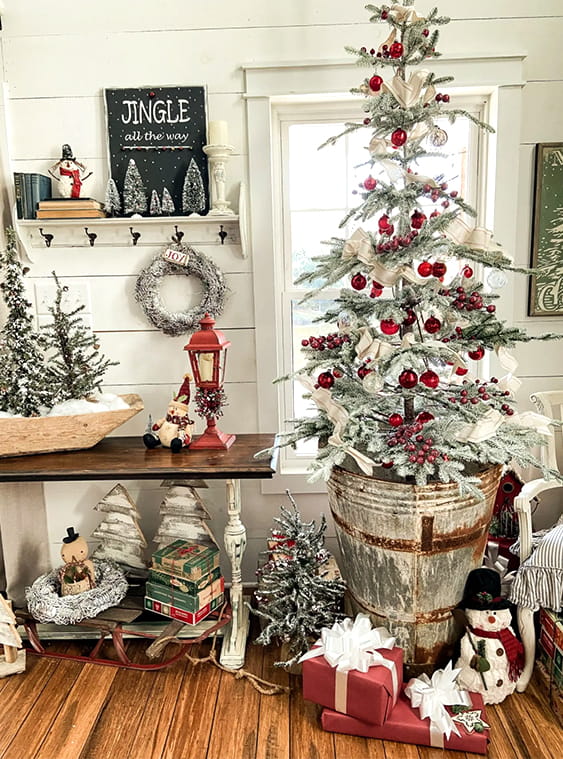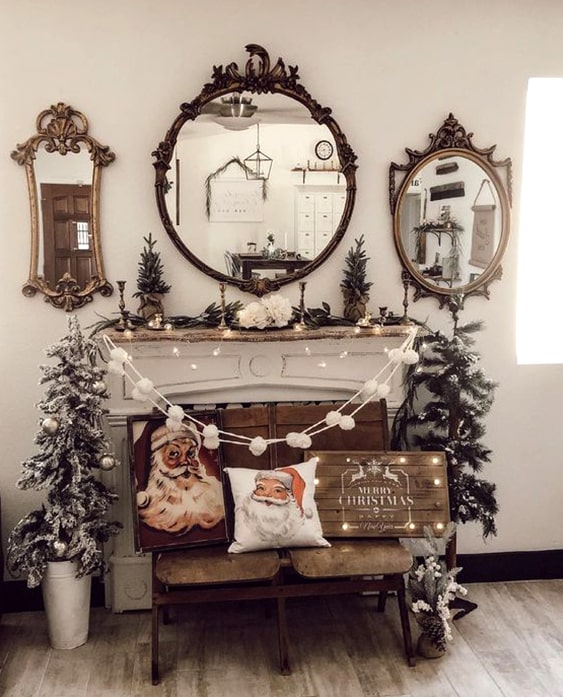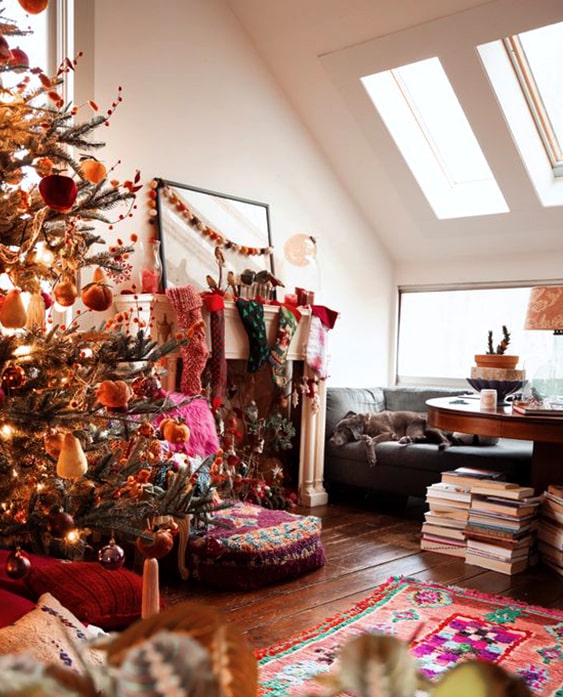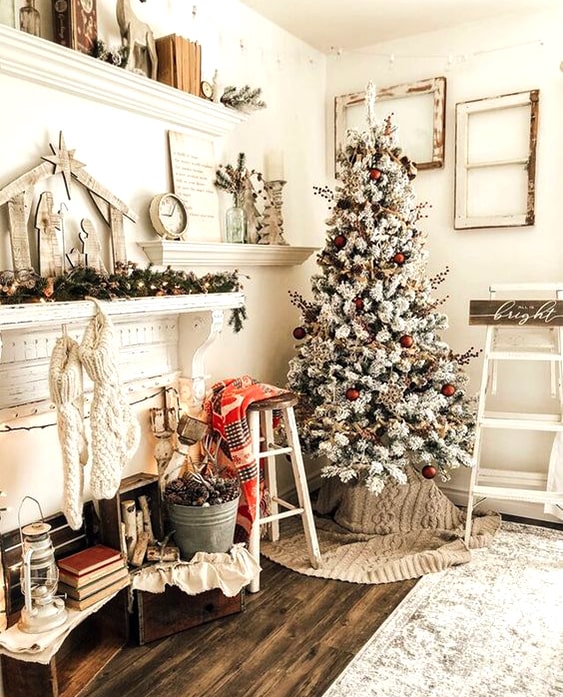 SHOP: 
NATURAL CHRISTMAS LIVING ROOM
For those who love minimal approaches and a natural-looking environment in their living space, a natural Christmas living room design is what you need! With a bare Christmas tree, plain knitted stockings on the mantel, and a full bowl of pine cones are a few ideas for your minimal natural living room at Christmas.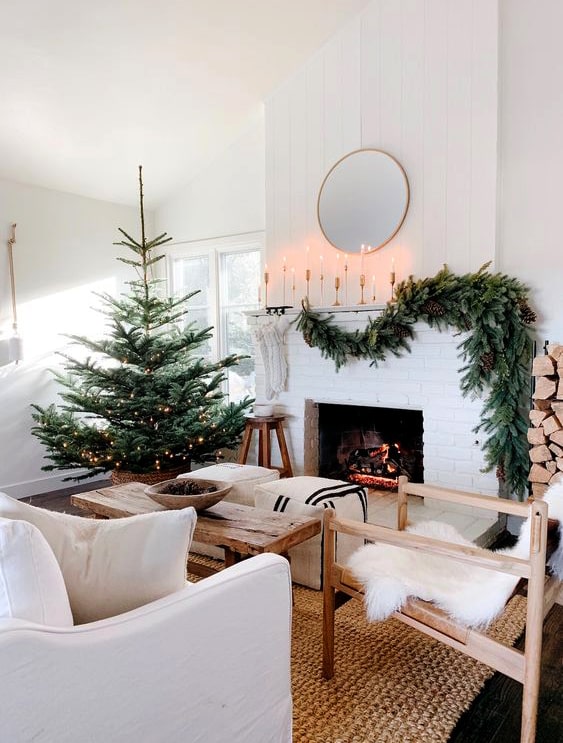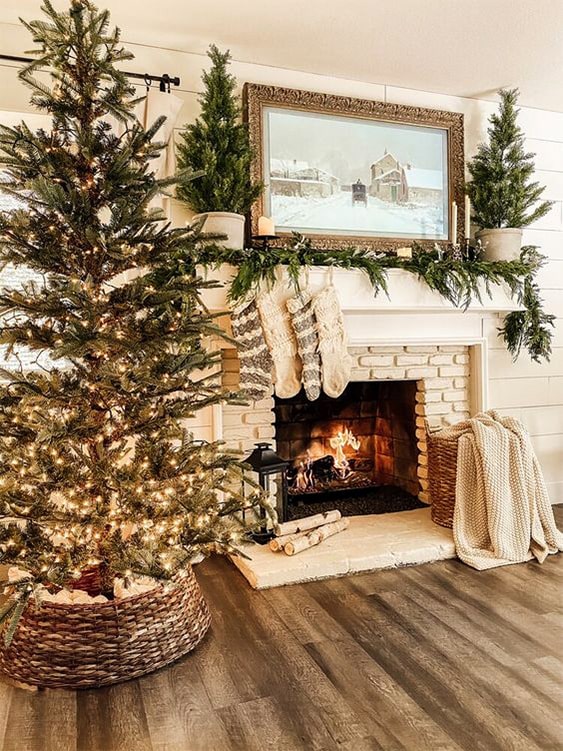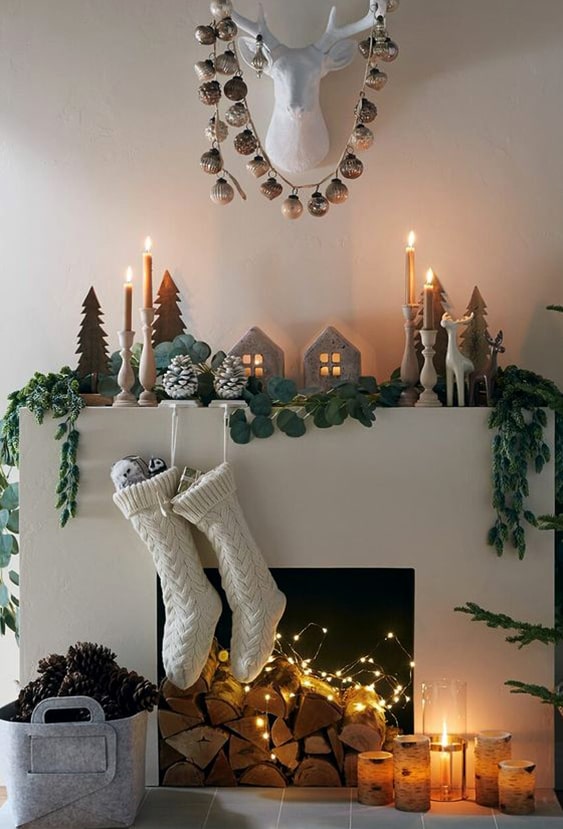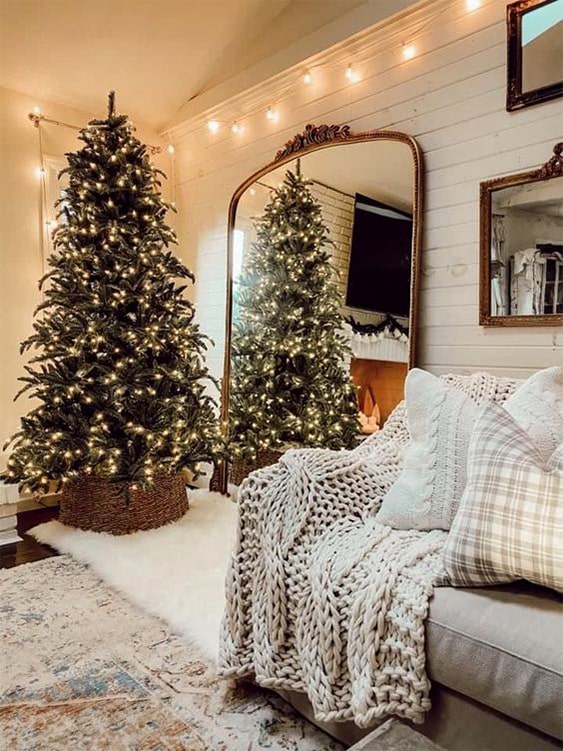 SHOP: