Christmas is the perfect time to try your hand in DIY Christmas crafts. Ornaments and decorations are a big part of Christmas and there is so much you can craft with little. Get hyped this Christmas and surprise your guests and even yourself with these easy Christmas craft ideas.
 Pinecone Wreath 
Pinecone represents the Christmas season perfectly and embodies the spirit of Christmas. Crafting a pinecone wreath is easy and fun. Just hot glue pinecones you collected outdoors in a wreath shape as you like.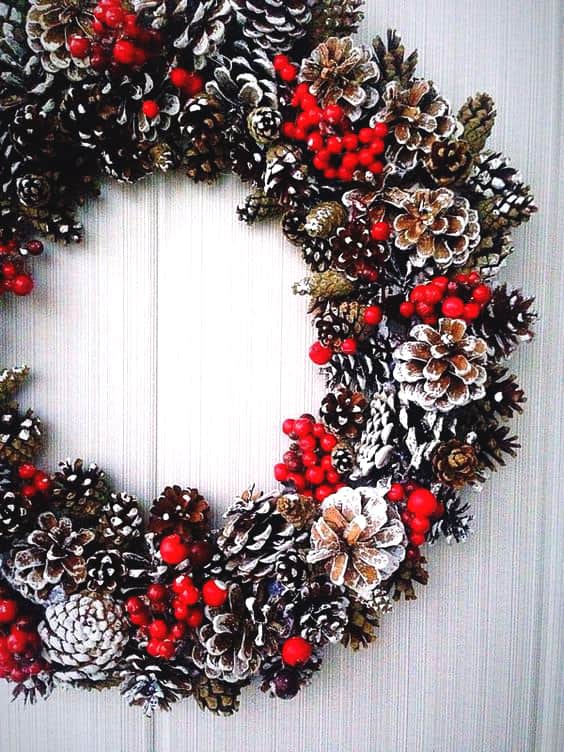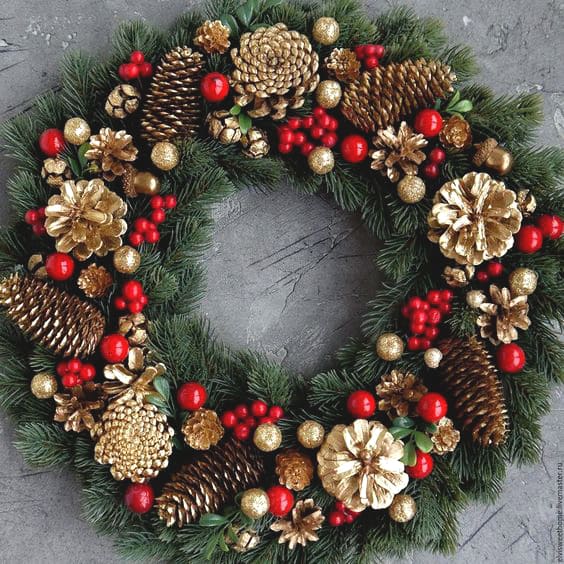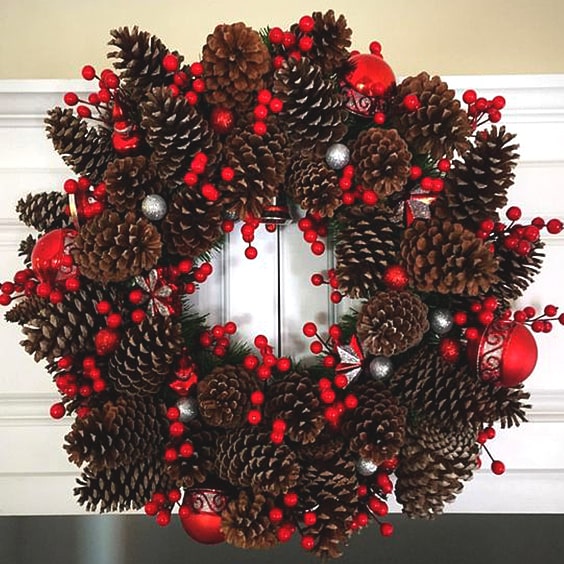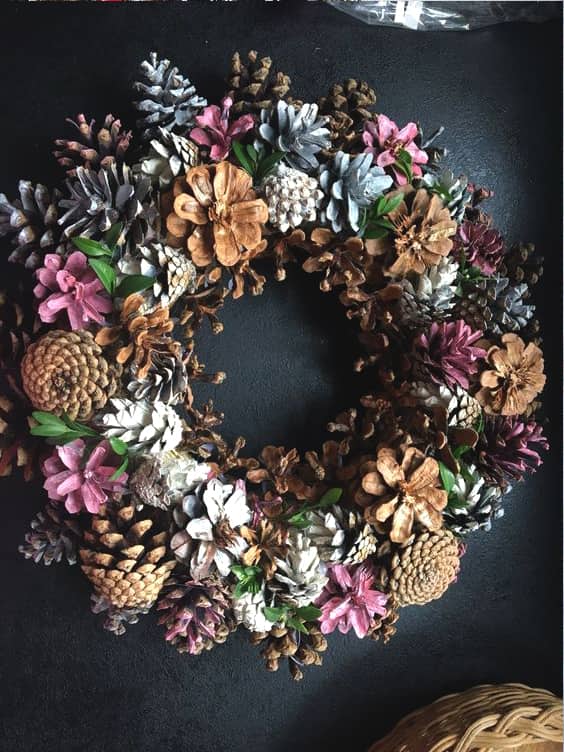 Christmas Straws 
Christmas straws are one of the easier DIY Christmas crafts. You can craft these cute straws by cutting leaf shapes out of paper and gluing those to the top of the red and white straws.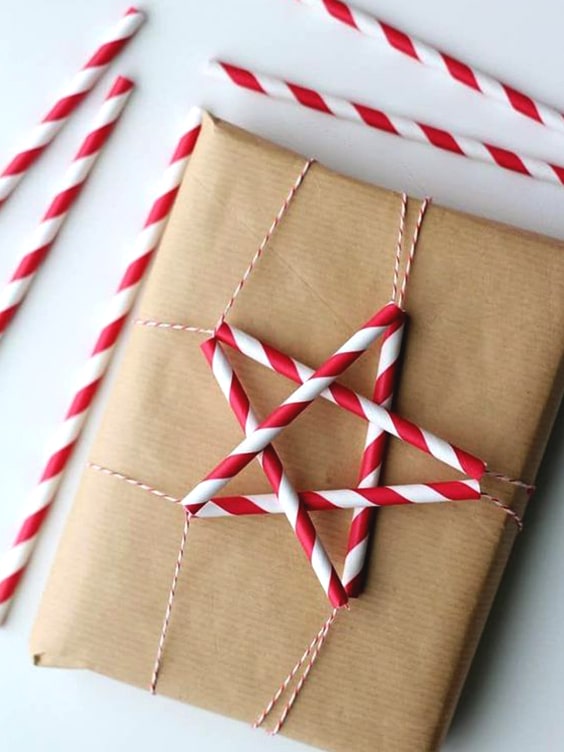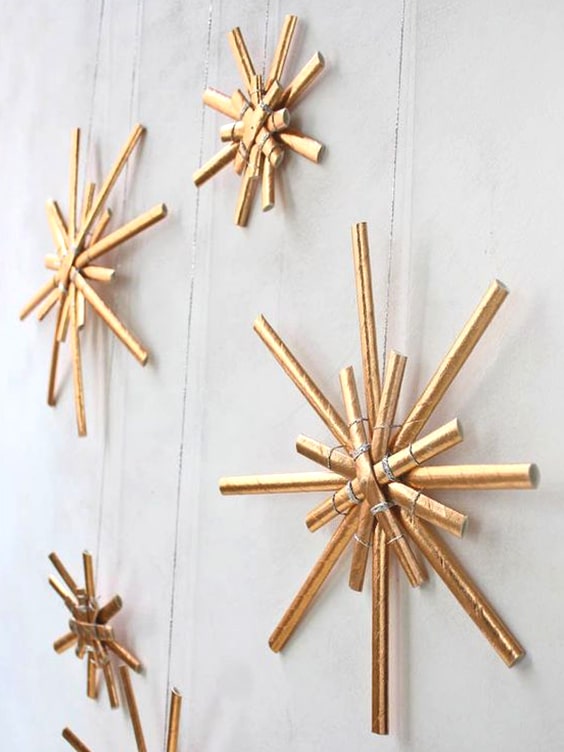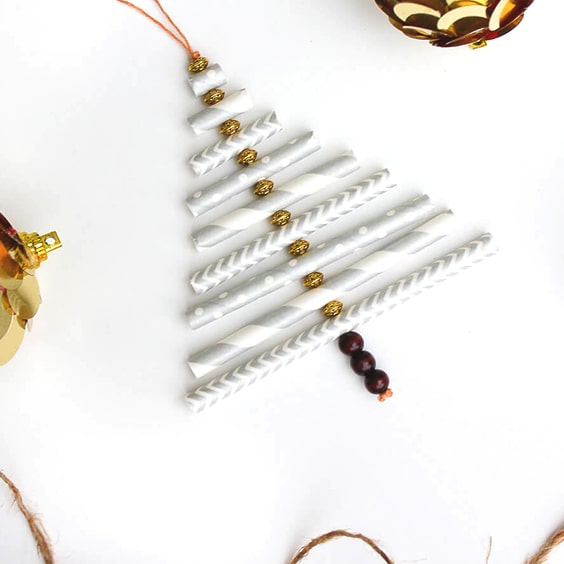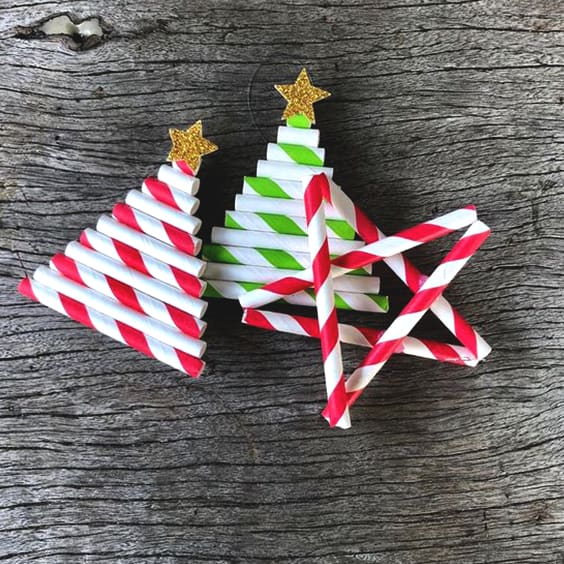 Festive Pillow 
The color of Christmas is red and all you need for a festive pillow is a red one. Gift wrap the pillow with a white cloth to create a simple yet smart Christmas decoration.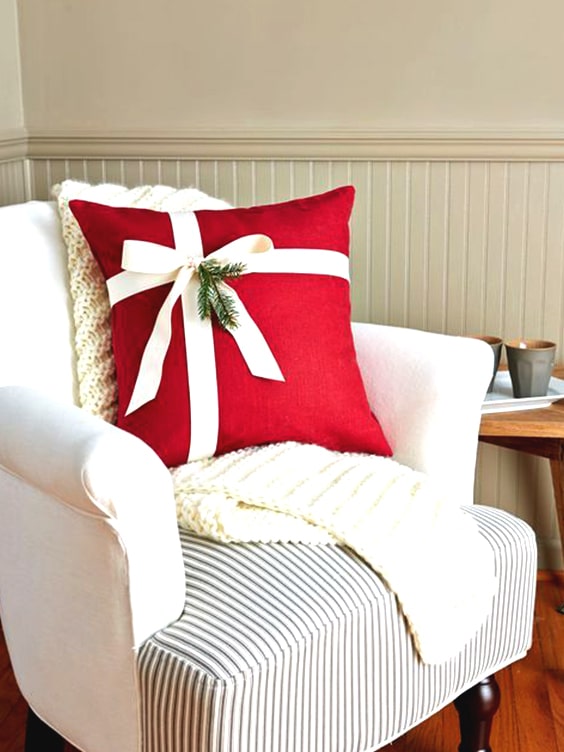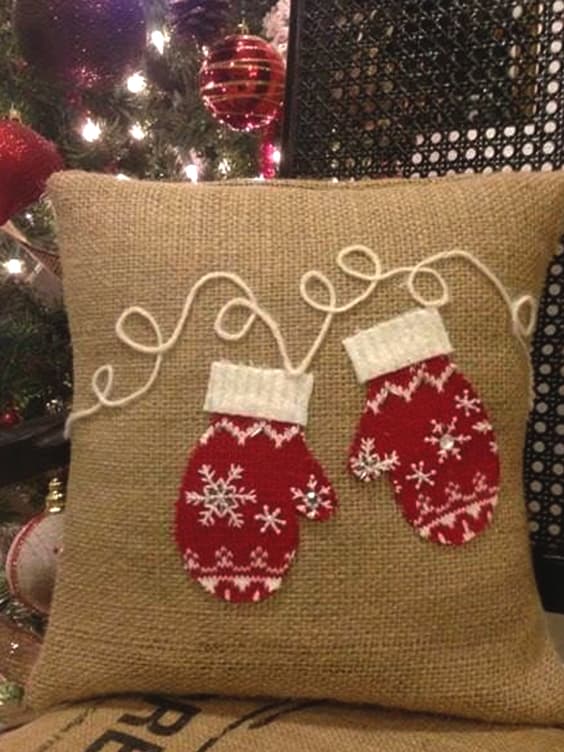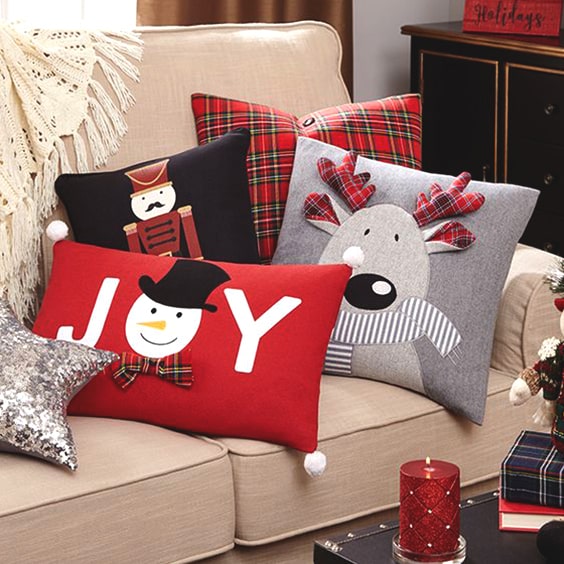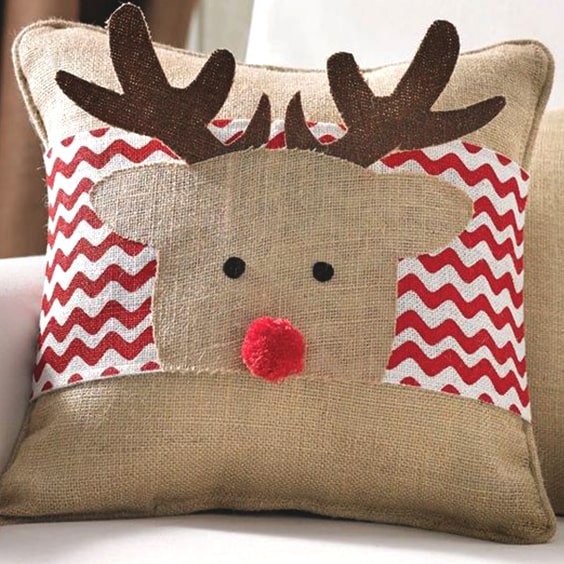 Holiday Shakers 
You can turn your salt shakers, jars, and lamps to true Christmas ornaments by filling them with little reindeer or pine tree toys which you can shop easily during Christmas. Then, decorate inside of the object with your figures and add baby oil to achieve a slow snowy appearance.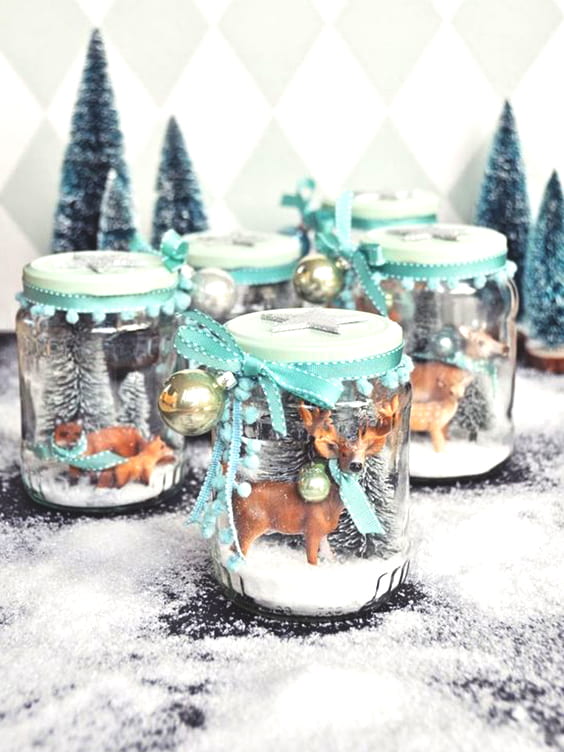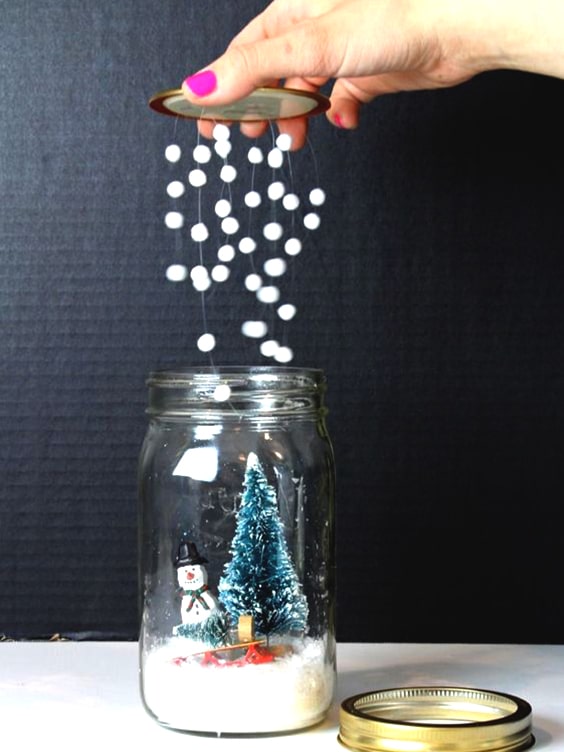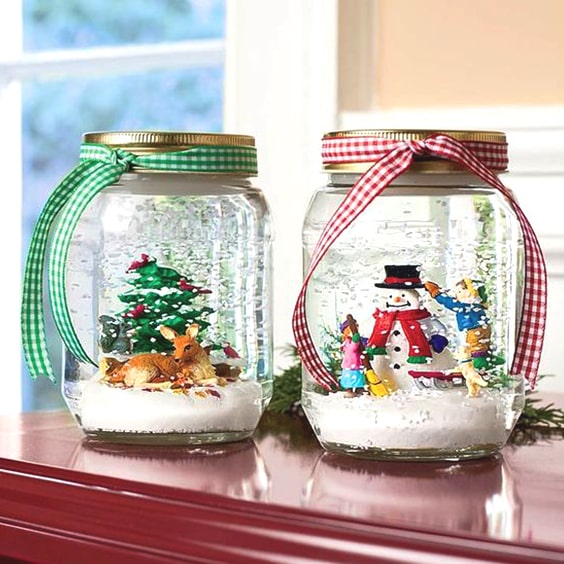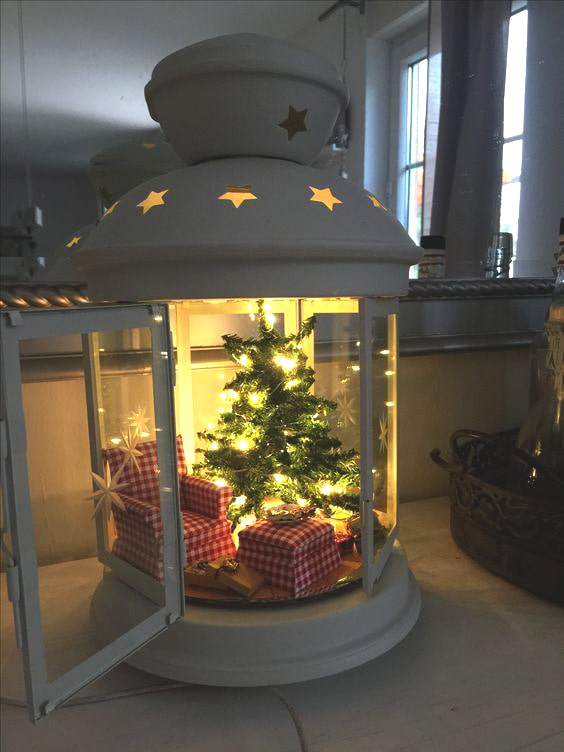 Sweater Stockings 
If you are an experienced knitter, you can cut your old sweaters and create cozy sweater stockings from them.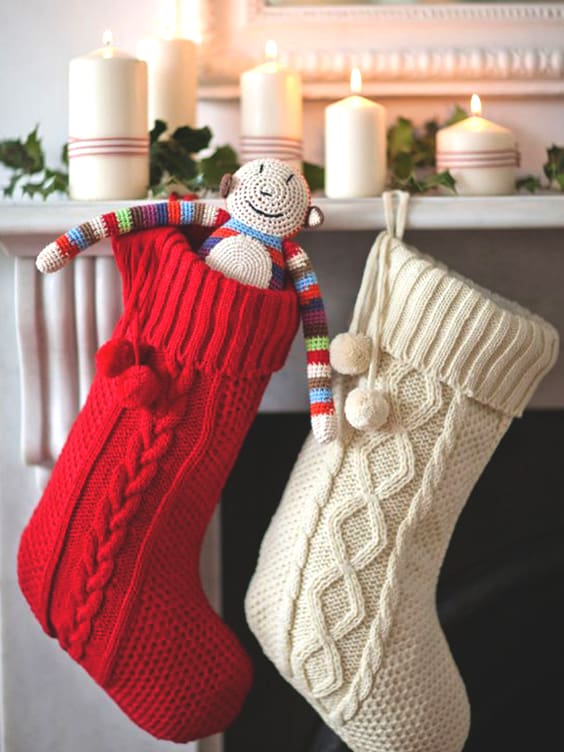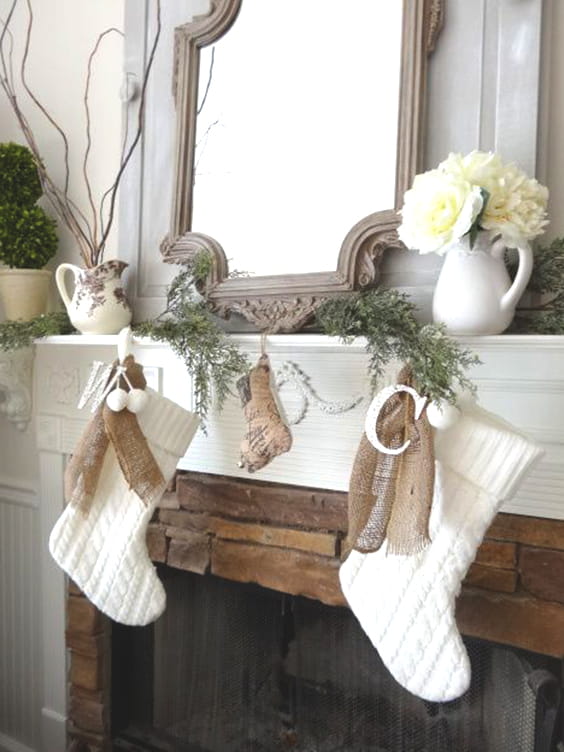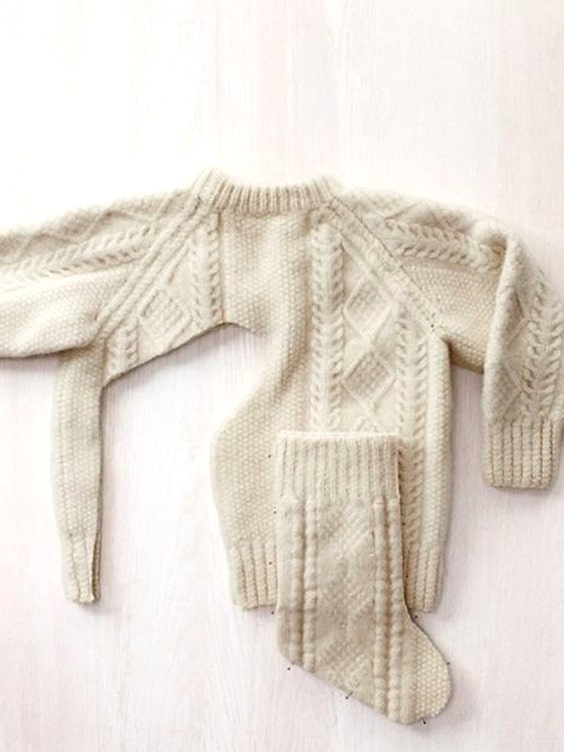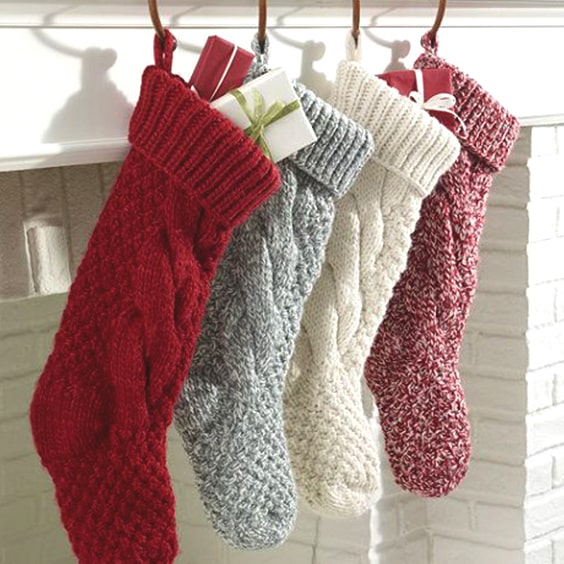 Christmas Treat Holders 
Children love Christmas treats and you can craft beautiful holders by wrapping cups in red and white yarn. You can then finish up your handmade holders by sewing buttons on them.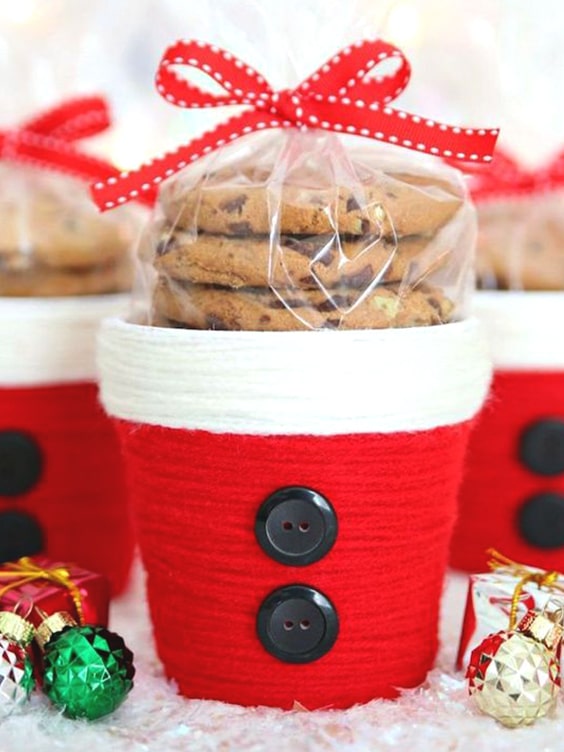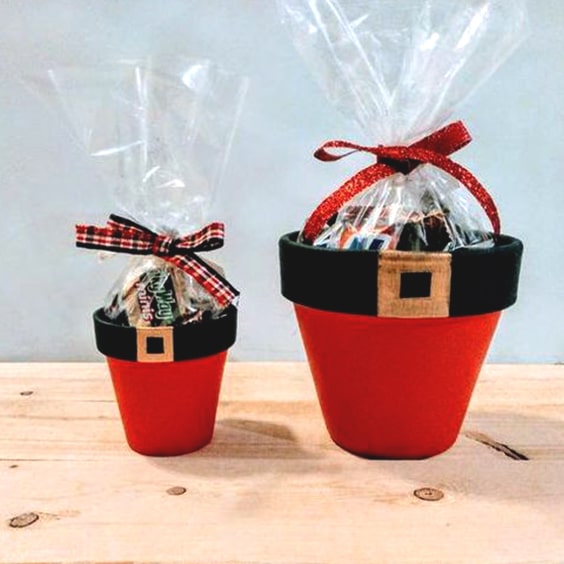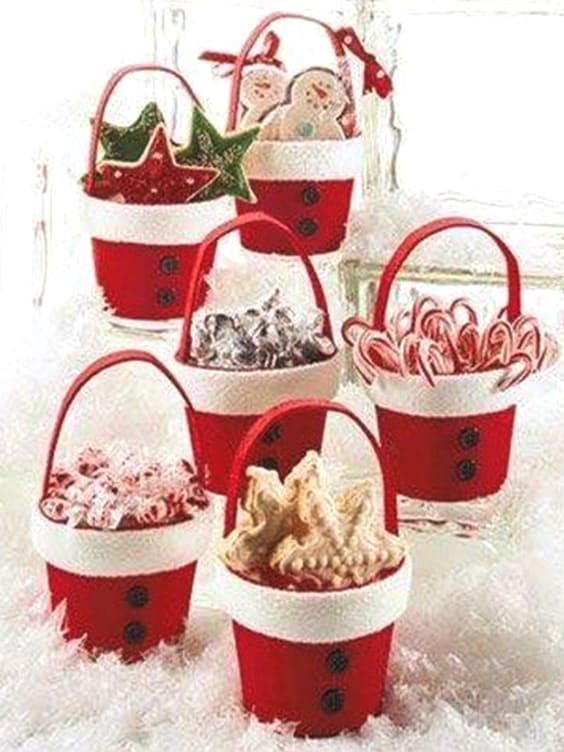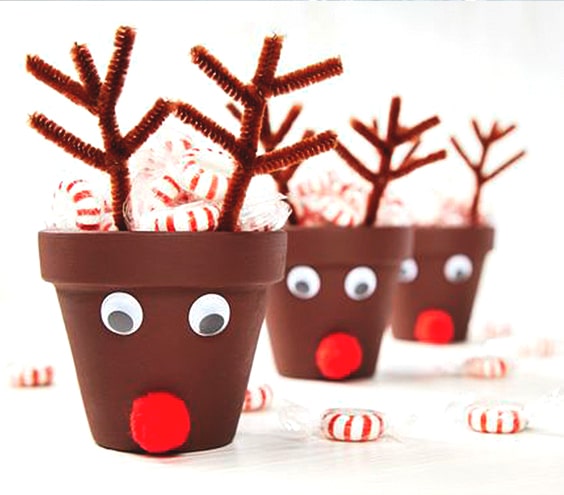 Festive Wall Art 
Skilled artists can create artistic Christmas art on paper and hang them on their walls during the holiday season.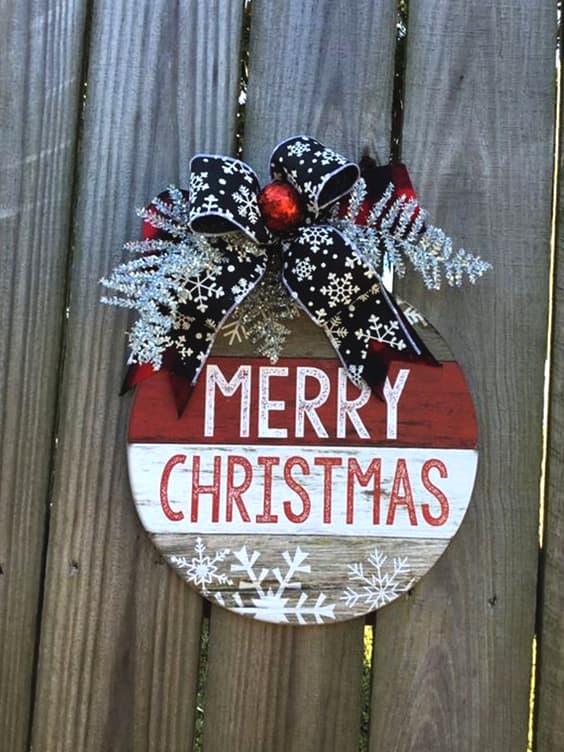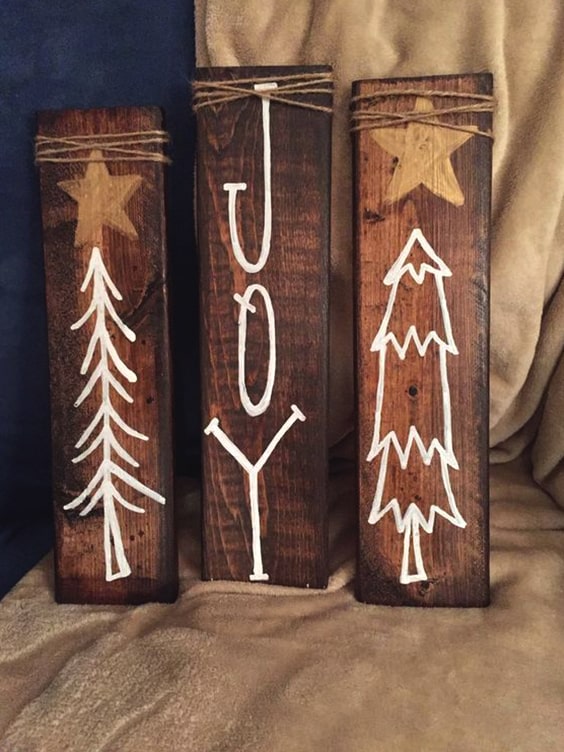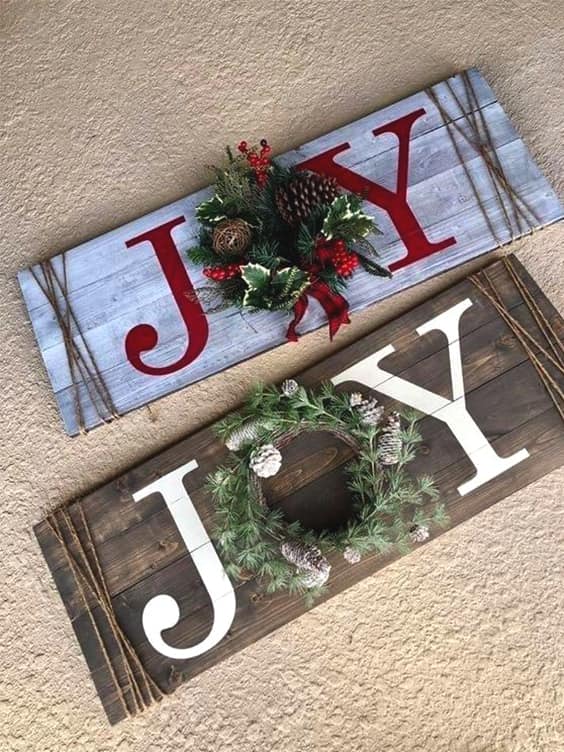 Wine Cork Christmas Tree 
We hope you collected wine corks for quite some time now for this unique DIY Christmas Crafts idea. Hot glue the corks in a way that will resemble a pine tree and add some little pompoms for extra flavor.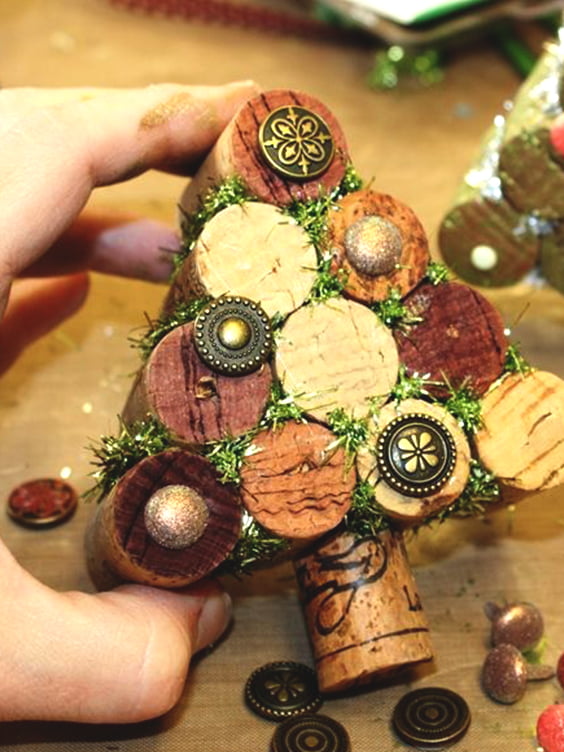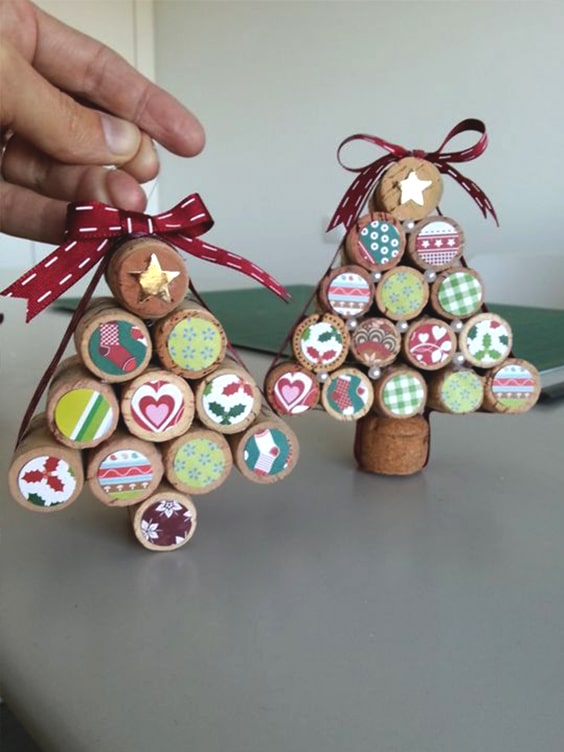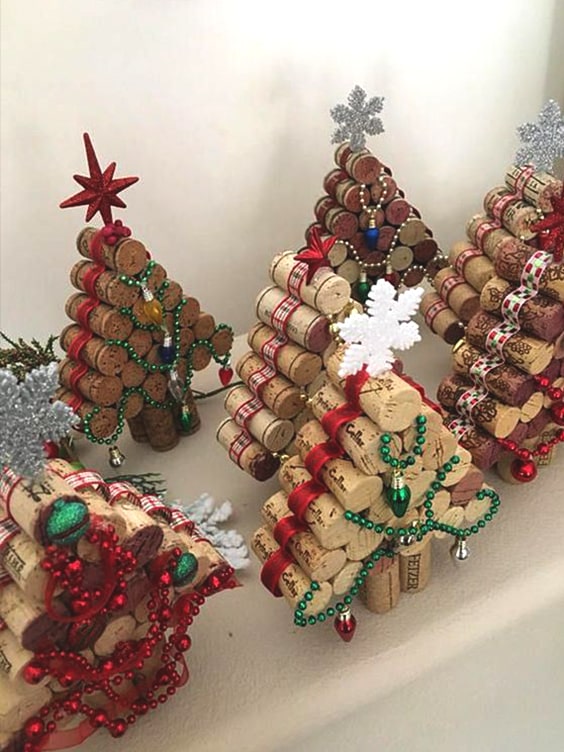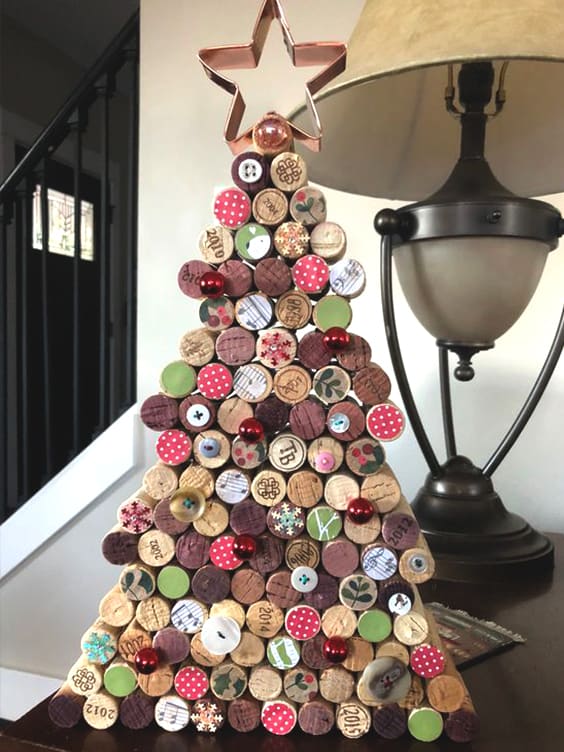 DIY Christmas Candles 
It is easy to find candles in the plastic glass during the season. You can draw happy snowman faces and glue buttons on the candles to craft the perfect candles for Christmas.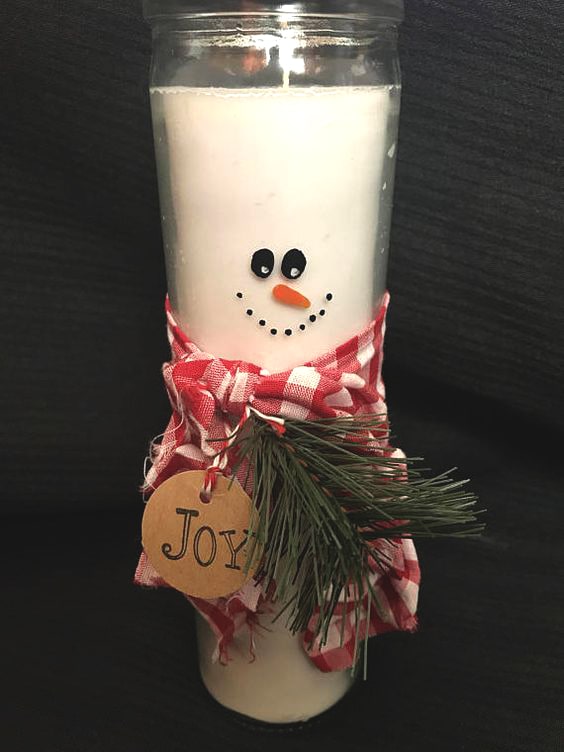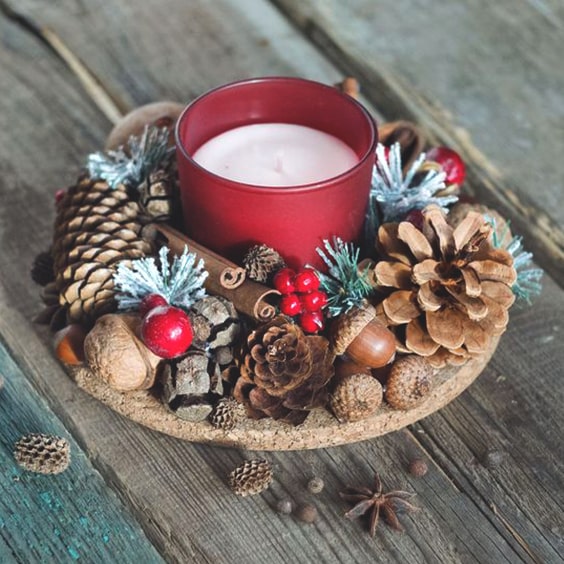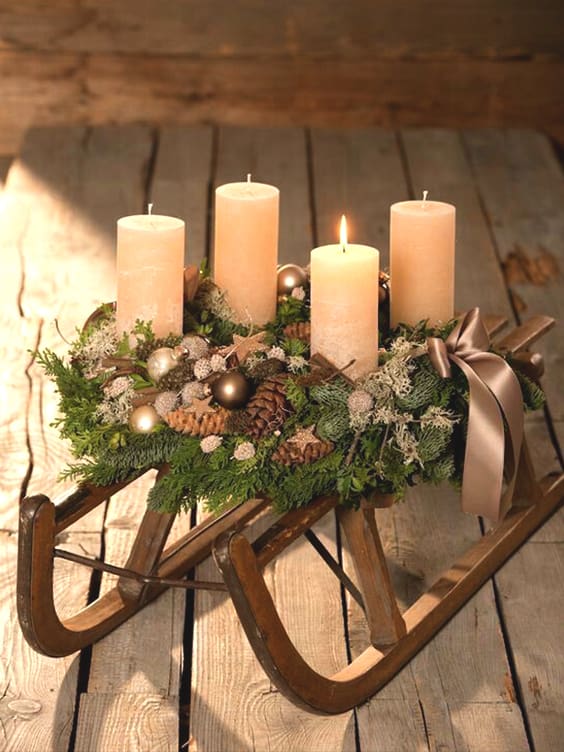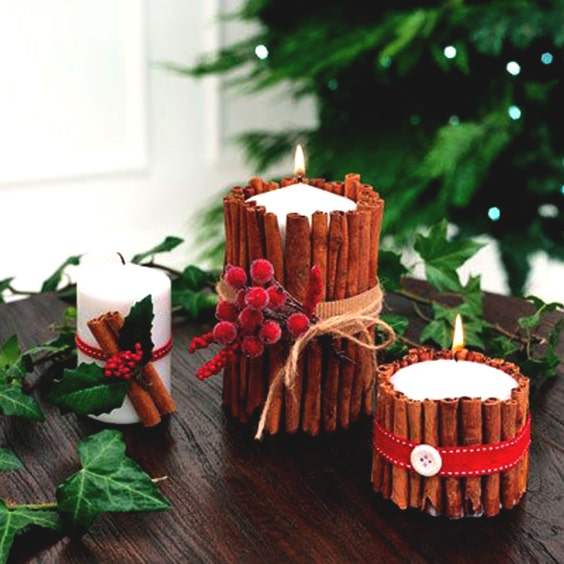 Yarn Wrapped Christmas Trees 
One of the easy Christmas craft ideas, everyone can craft yarn wrapped Christmas trees. Just wrap the cones with colorful yarn and glue a star on top of it to create this Christmas tree.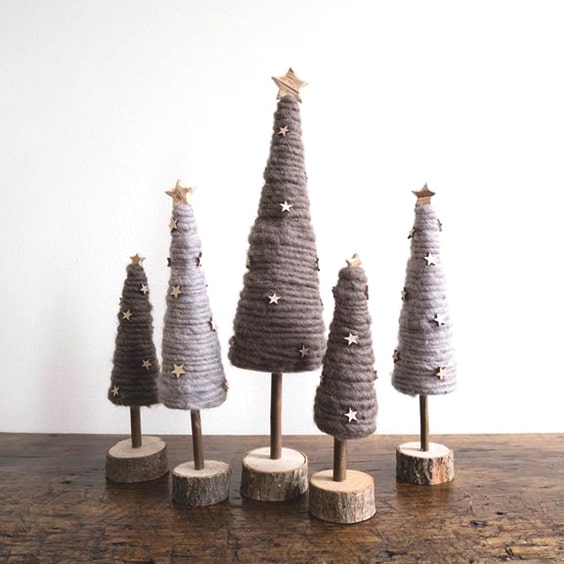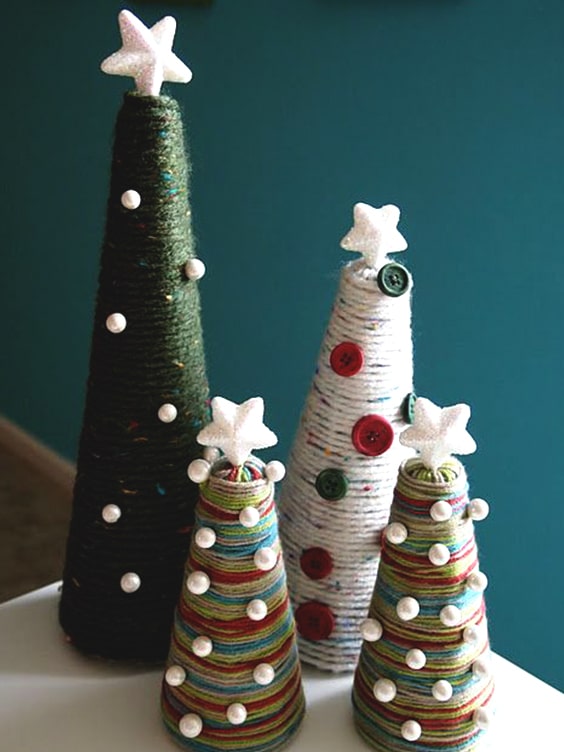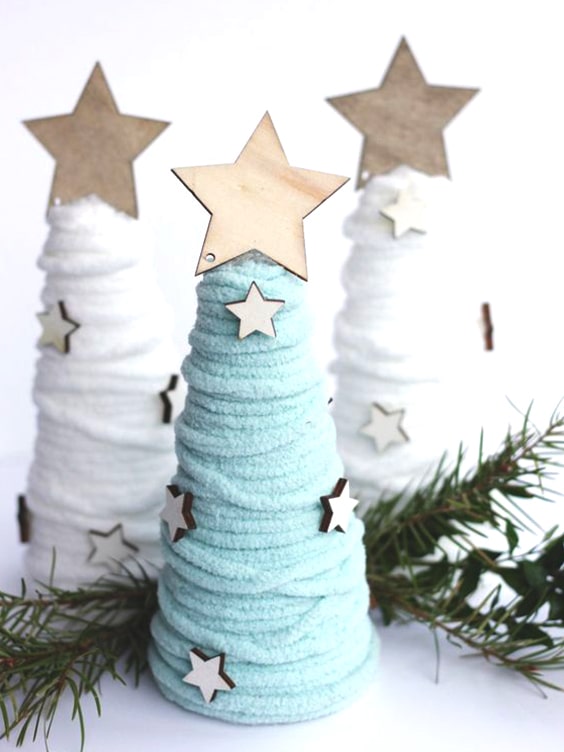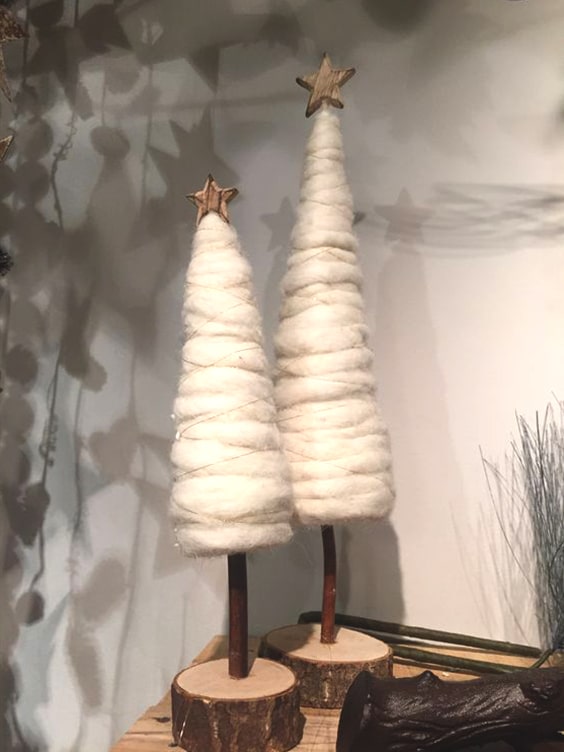 Napkin Bells 
You can bring the Christmas spirit to your dinner table by sewing little bells onto the corner of your napkins.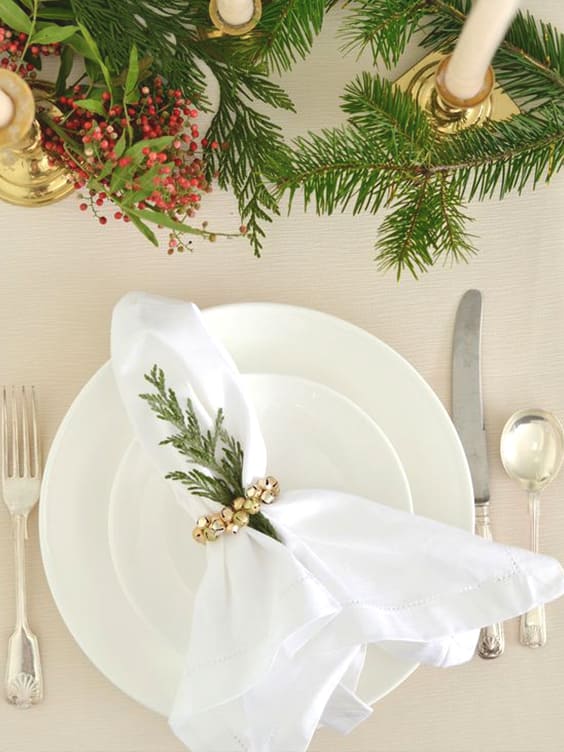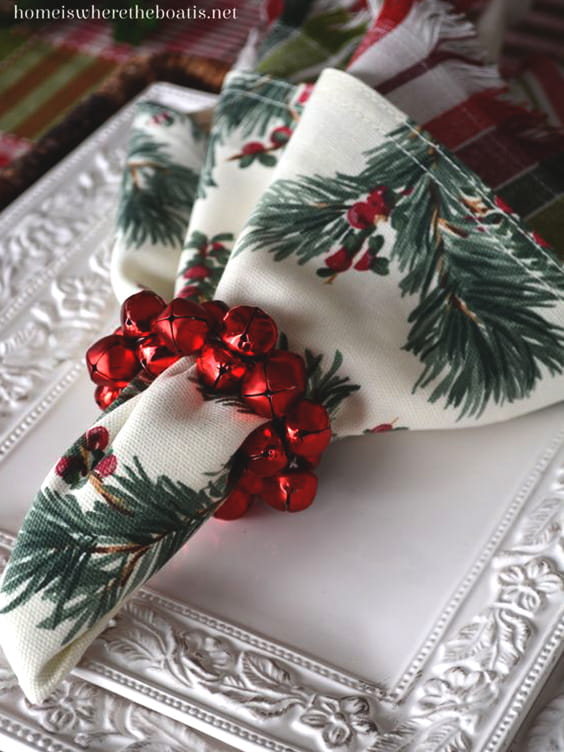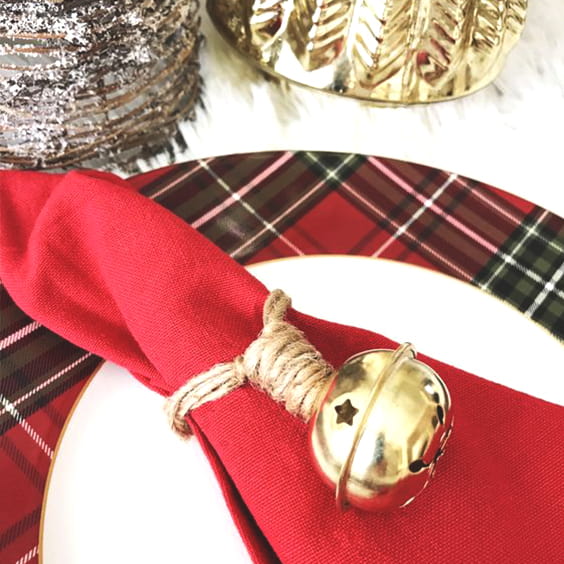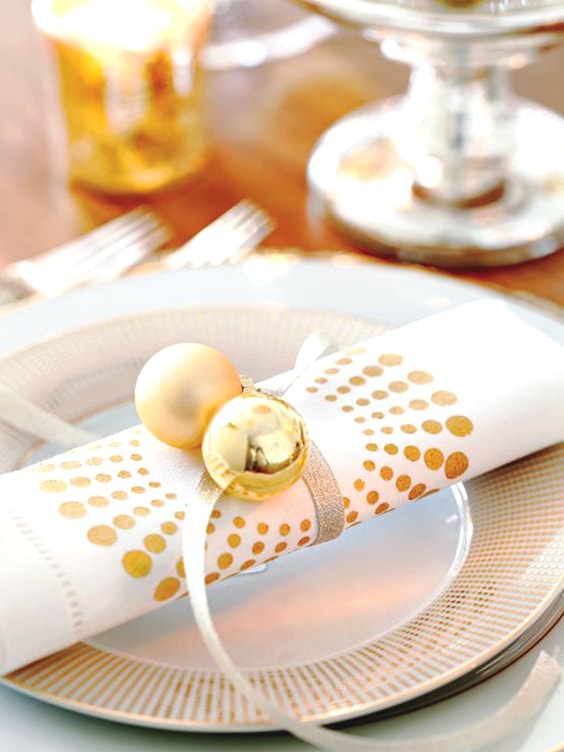 Twig Ornaments 
One of the popular Christmas crafts to do with children, just glue the twigs you collected together in the shapes of various Christmas ornaments. Be creative.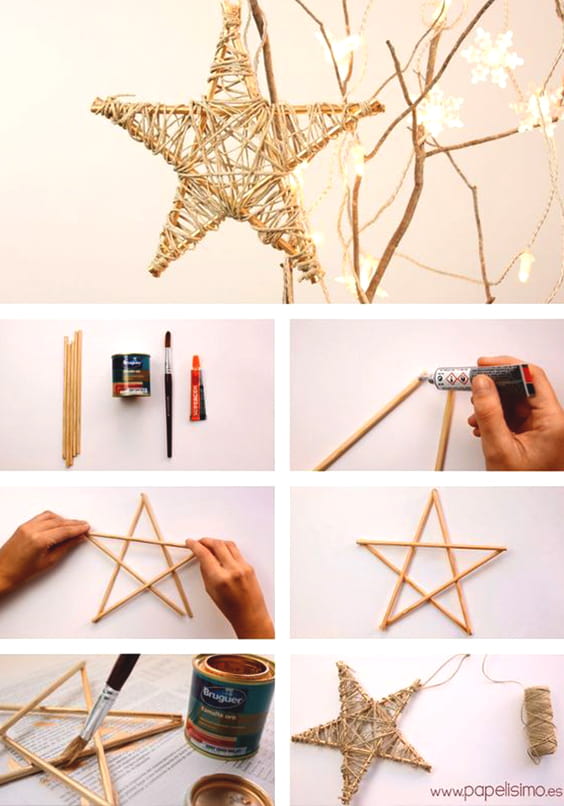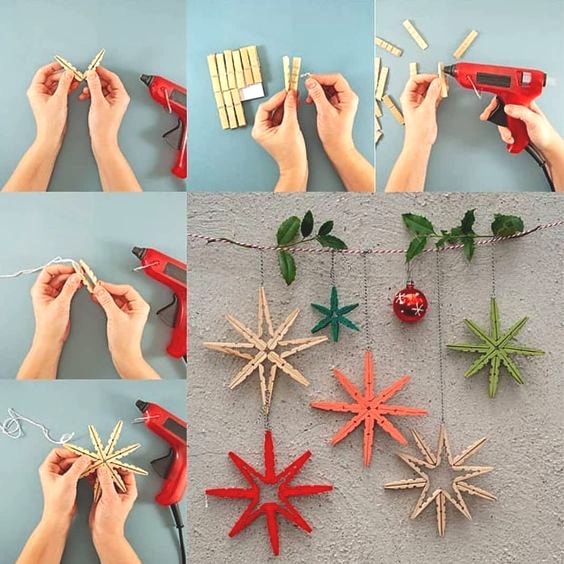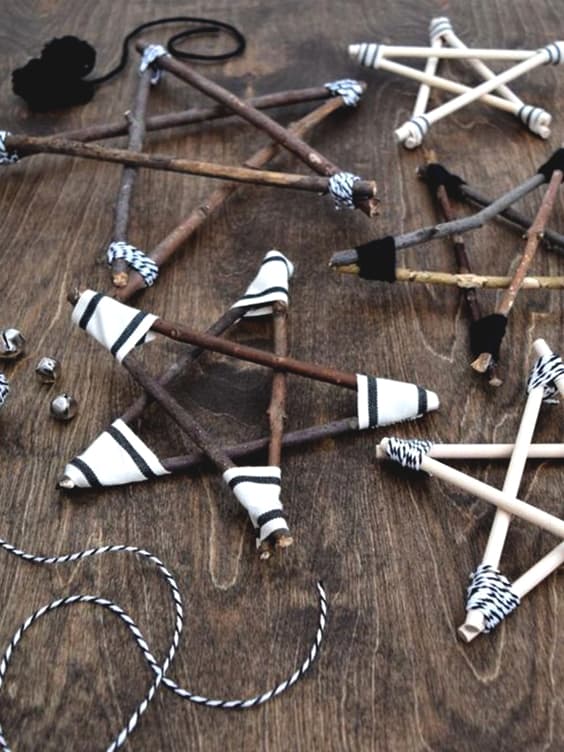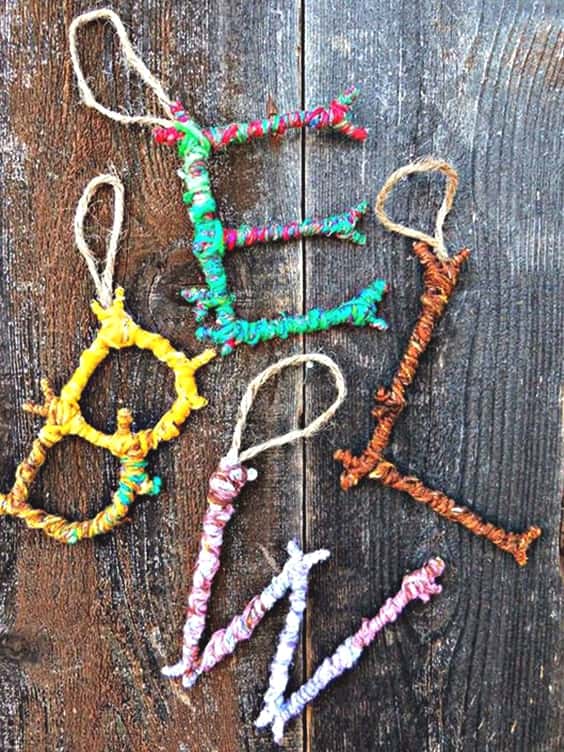 Pinecone Owls 
It's so fun to craft pinecone owl Christmas crafts. With some felt, pinecone and hot glue, you can create these beauties easily.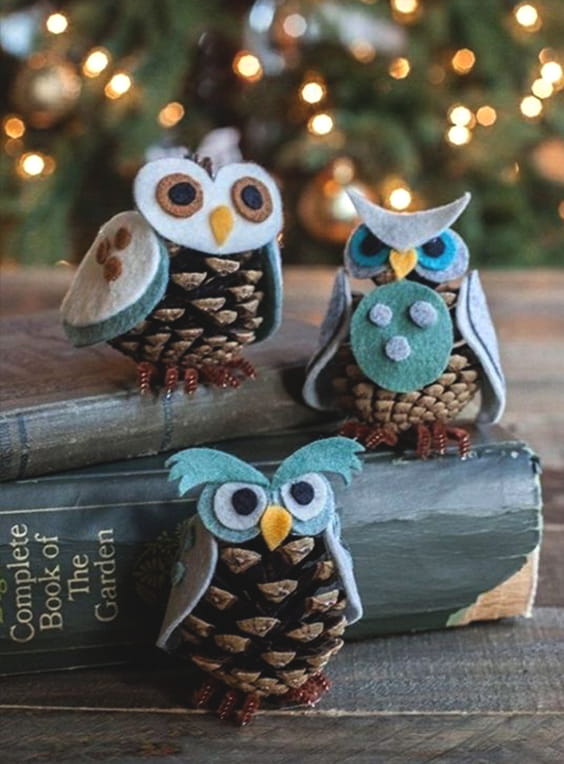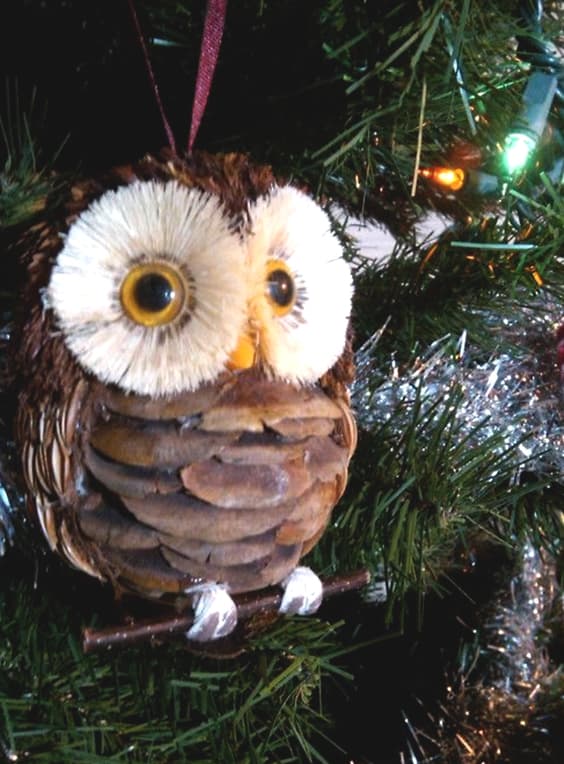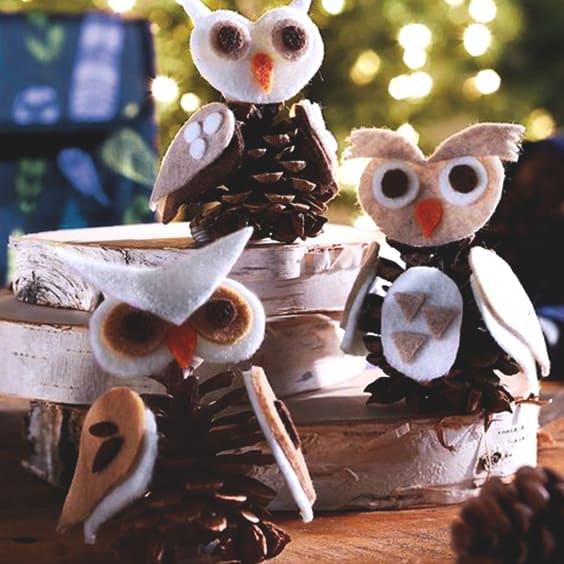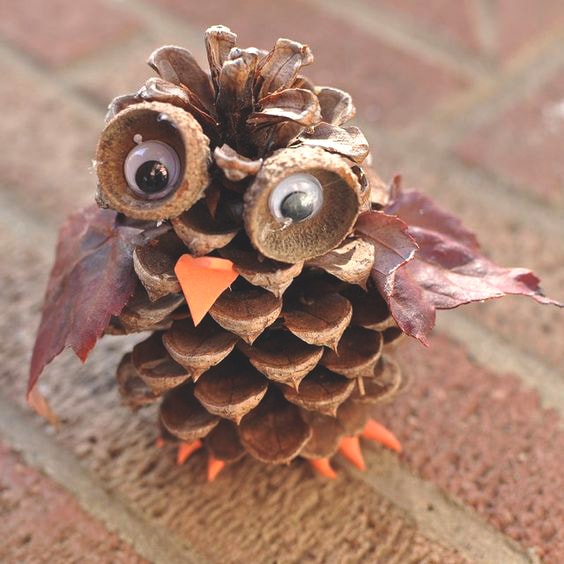 Wine Cork Wreath 
Wine corks are widely used in DIY Christmas crafts and this wreath is no exception. Strung with small red jingle bells, wine cork wreath adds a tasty flavor to this Christmas favorite.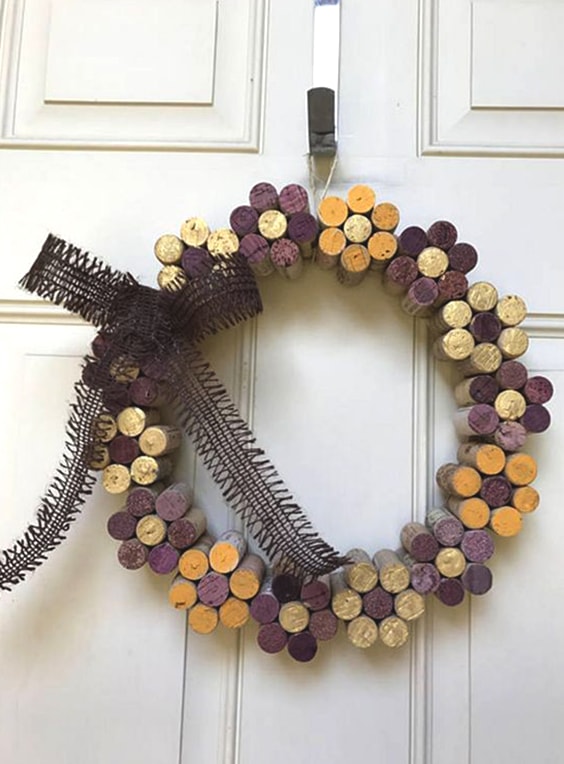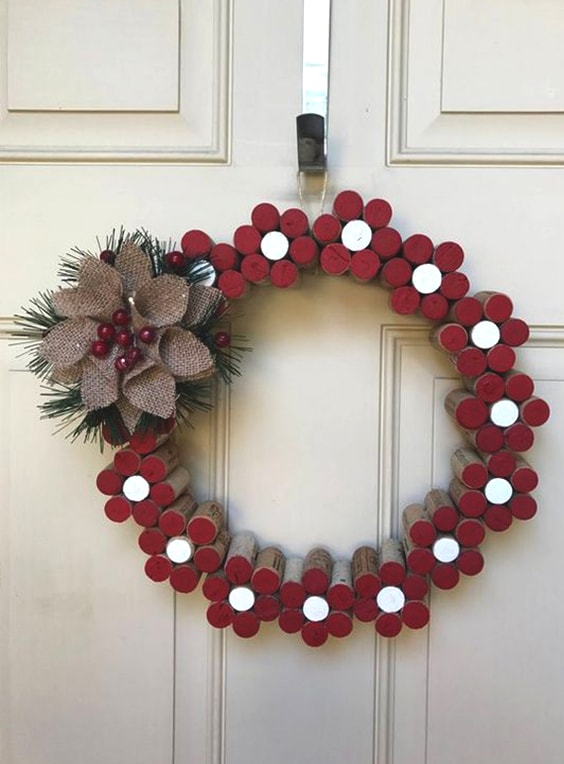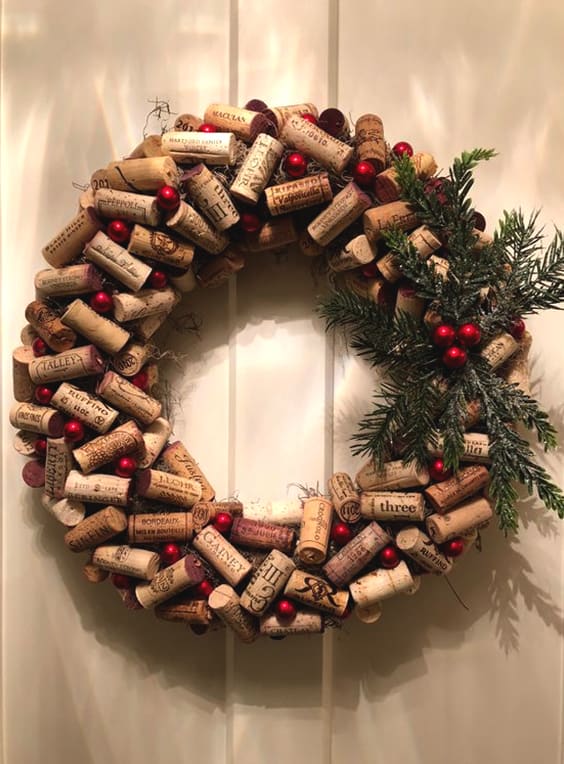 Pringles Can Christmas Cookie Container 
Pringles cans are a great tool to use in DIY Christmas crafts. You can dress, paint or wrap Pringles cans to create a Christmas themed DIY. The sky is the limit.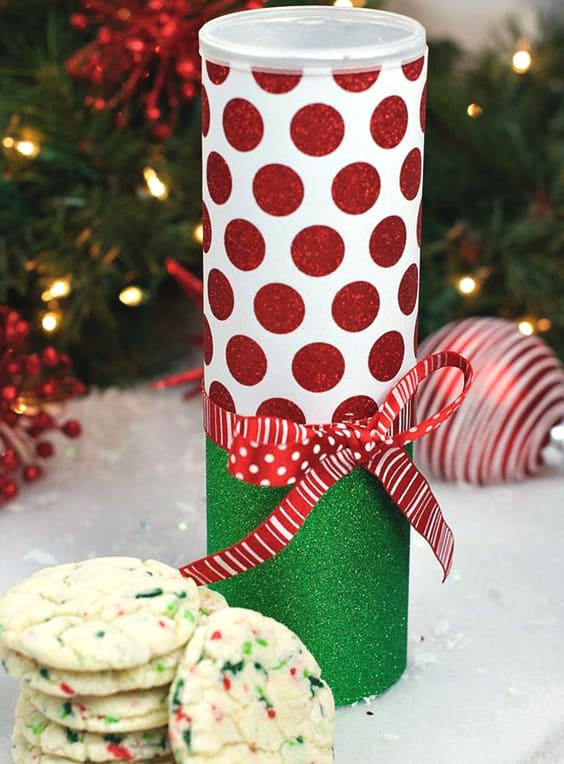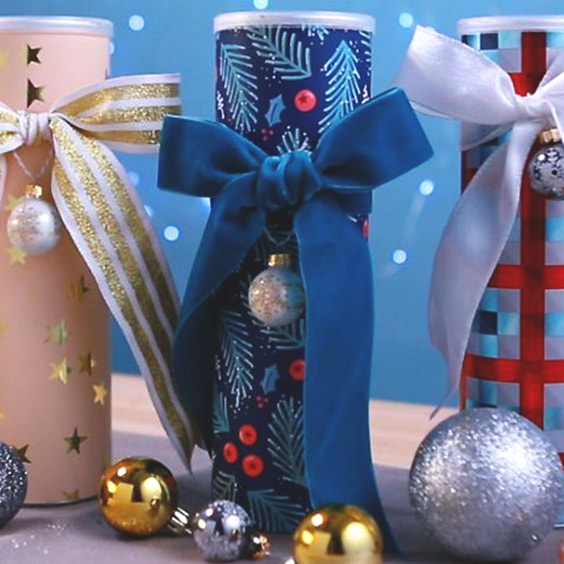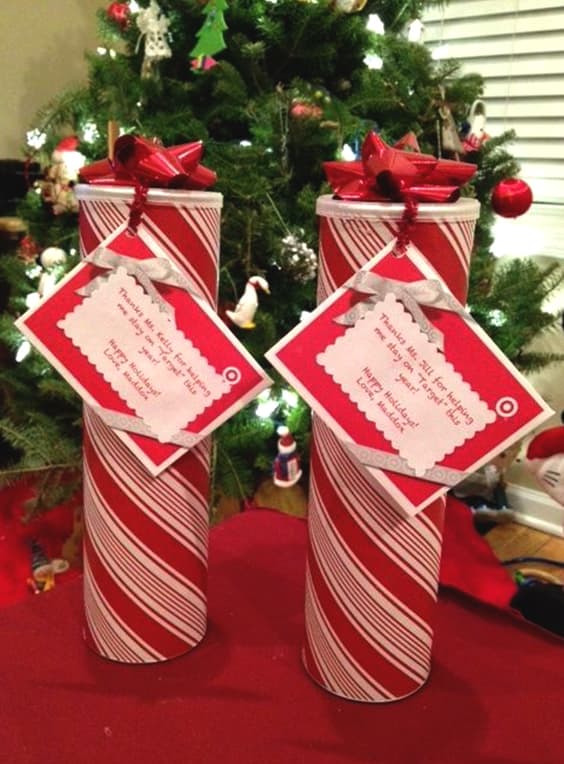 Reindeer Gift Bags 
Do you need a Christmas gift bags for your holiday presents? Here's the sweetest gift bag idea to create your own Christmas theme gift bags. All you need is glue and some ornaments to form your reindeer!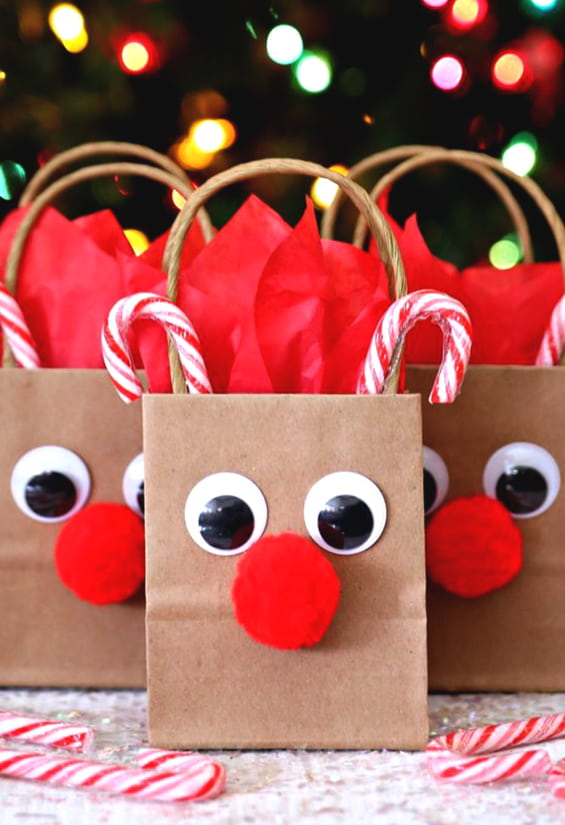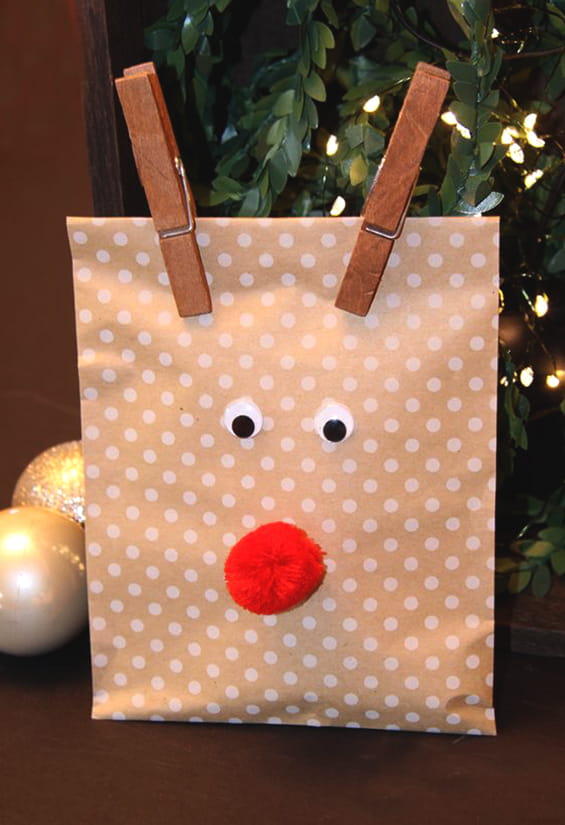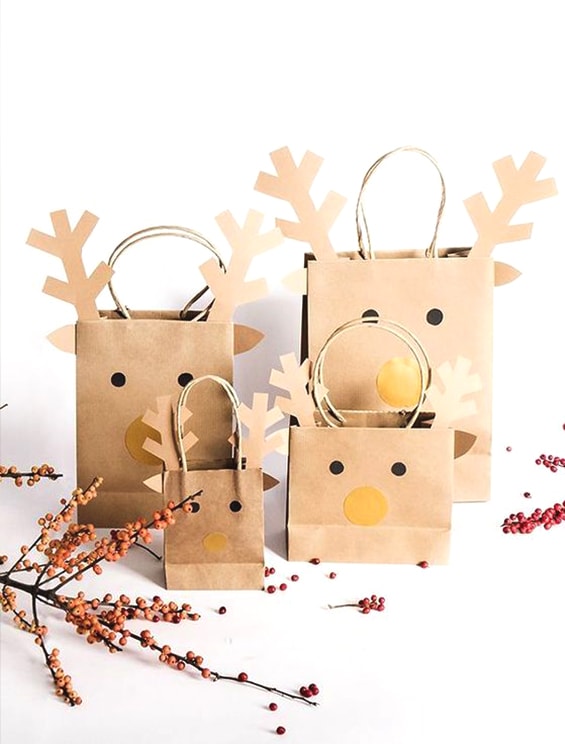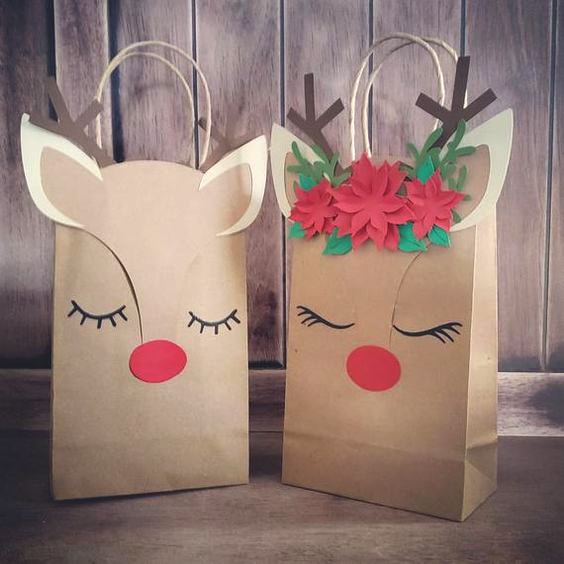 Wine Bottle Vases 
You can paint your empty wine bottles to white and red to create beautiful Christmas themed vases. Bonus is that you need to drink the wine to use the bottle for DIY Christmas crafts.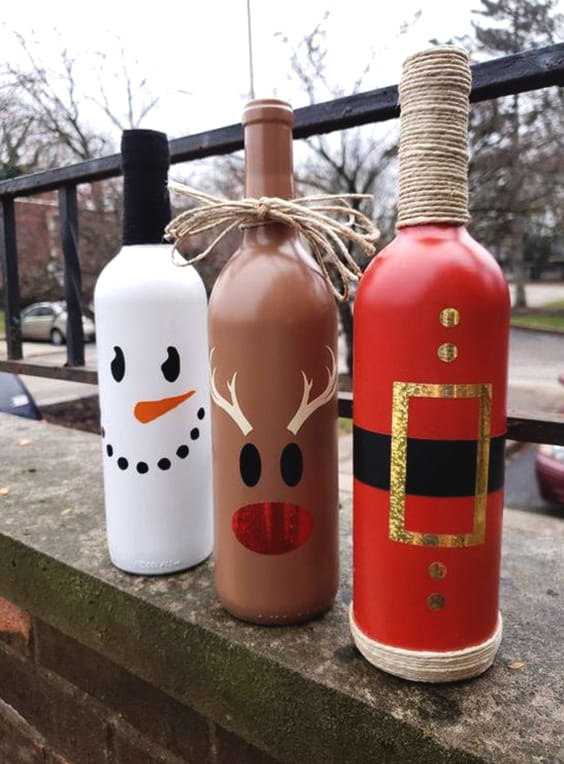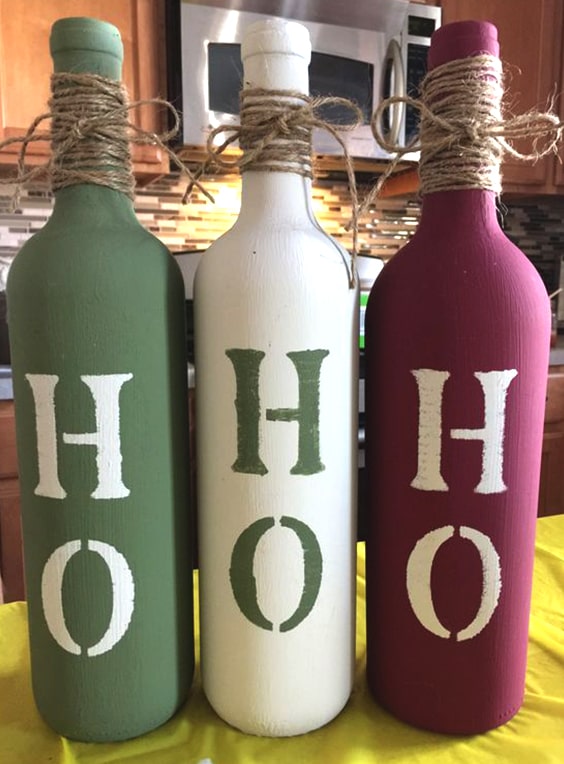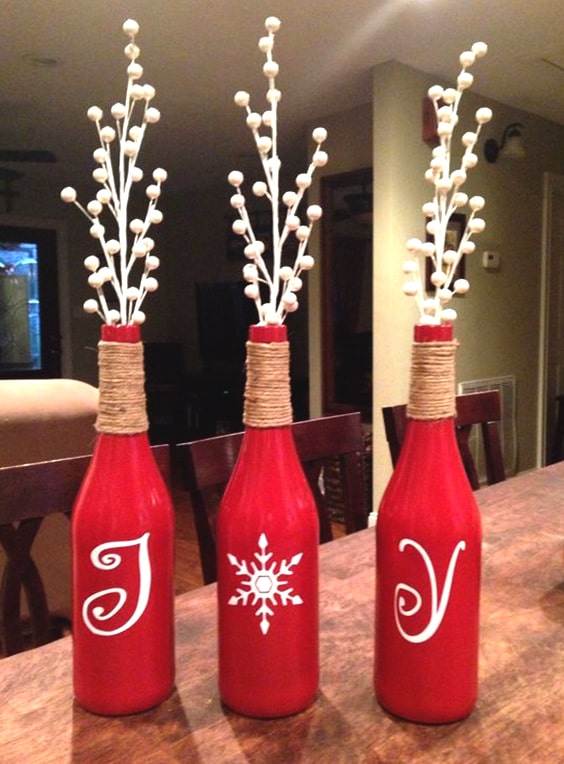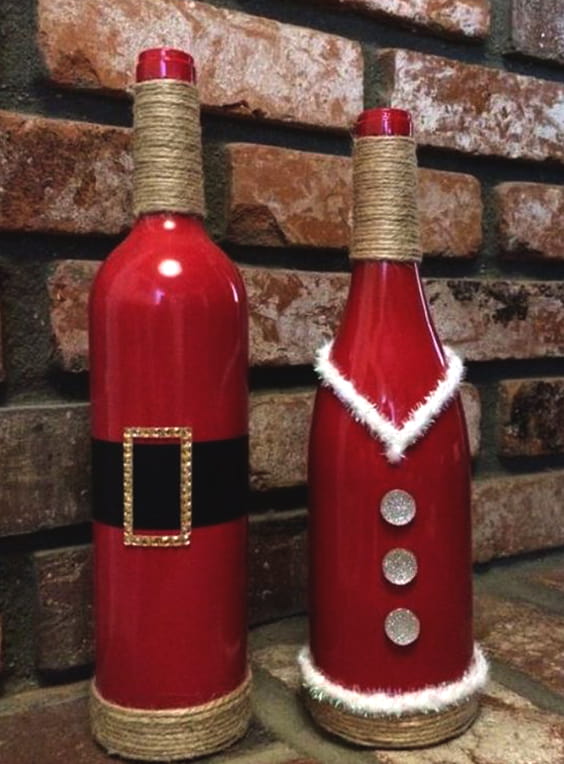 Clothespin Snowmen 
You can paint clothespins to white and draw cute snowmen on them to create unique Christmas ornaments. If you want to reflect Christmas vibe as something different, try clothespin Santa or deer. They will look so cute together!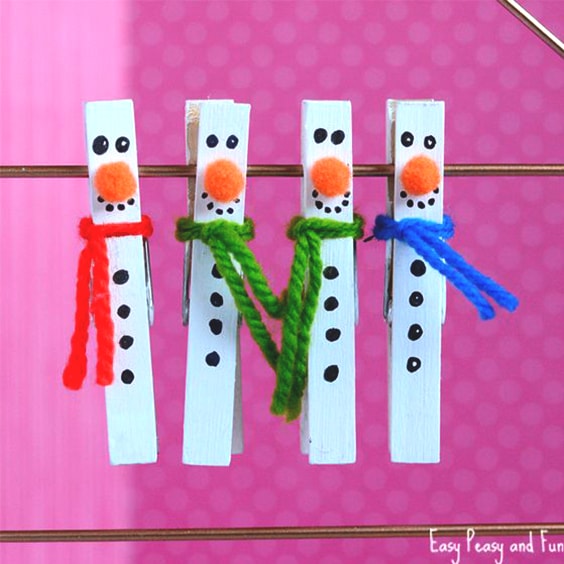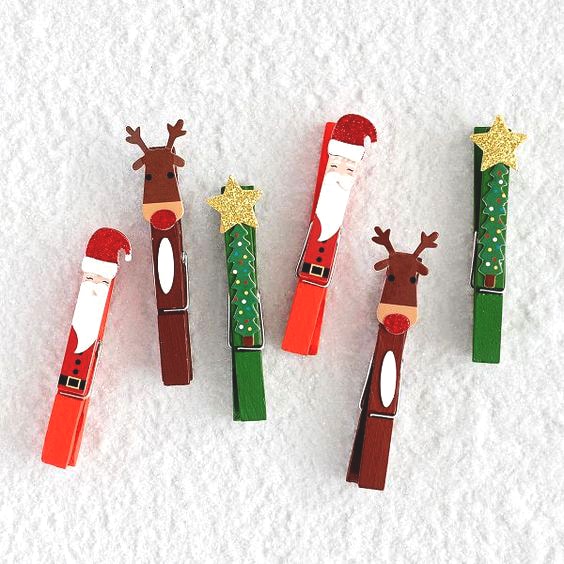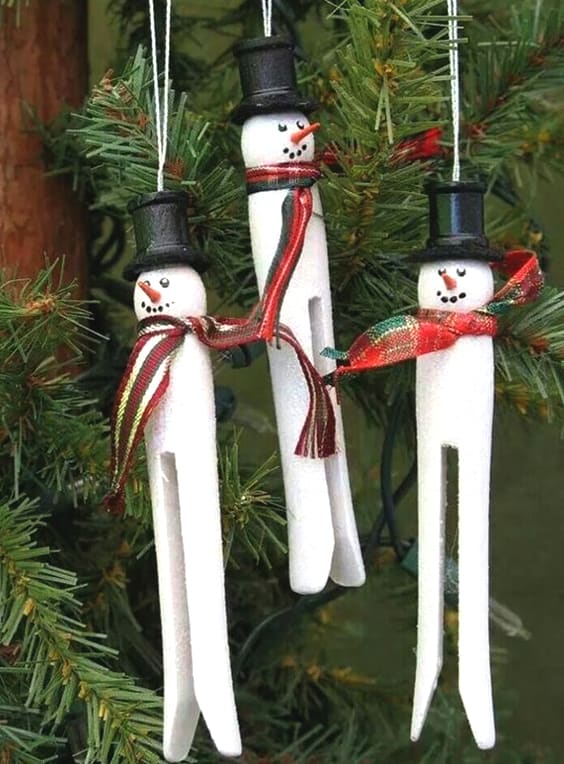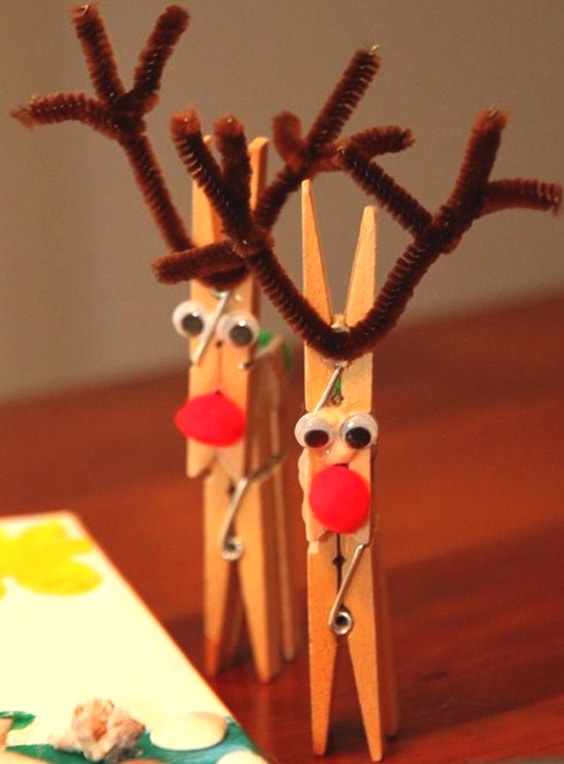 Toilet Paper Roll Wreath 
Cut and spray paint toilet paper rolls to transform them into one of the most beautiful DIY Christmas crafts.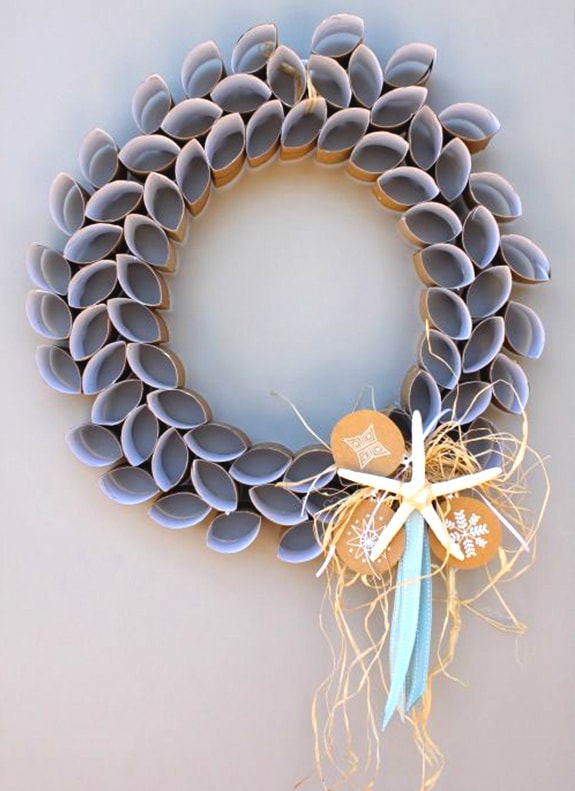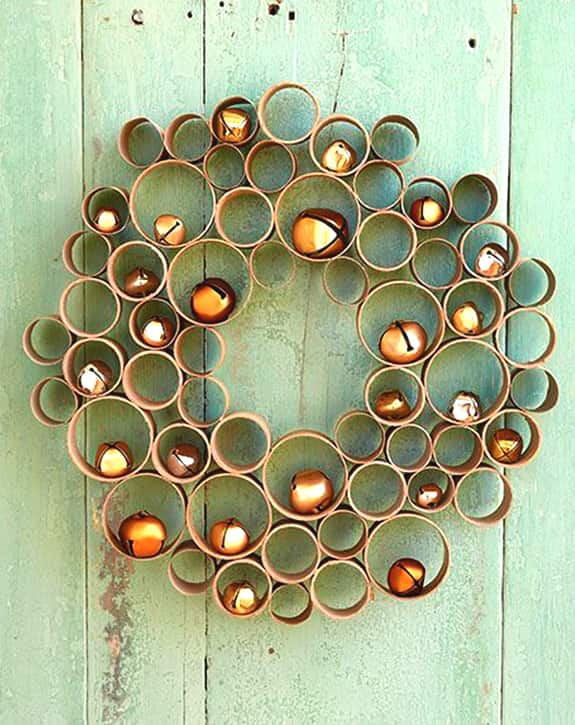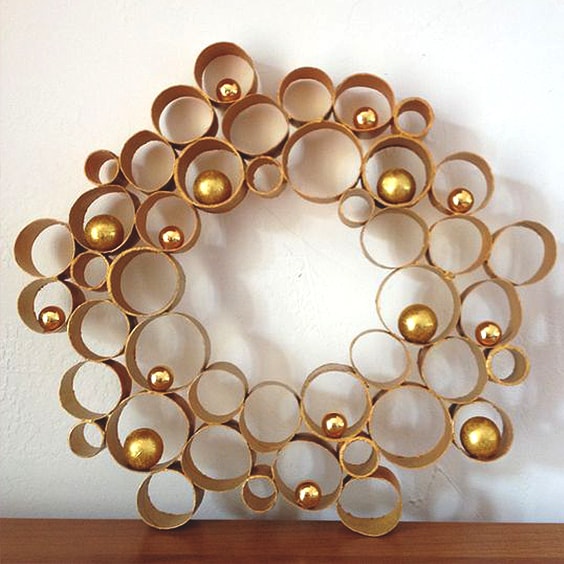 Plastic Spoon Christmas Tree 
If you are not very fond of soups and have a lot of plastic spoons laying around somewhere in the kitchen, we got the perfect Christmas crafts idea for you! Cut the circular ends and hot glue them together to create a plastic spoon Christmas tree that looks just like a pine tree.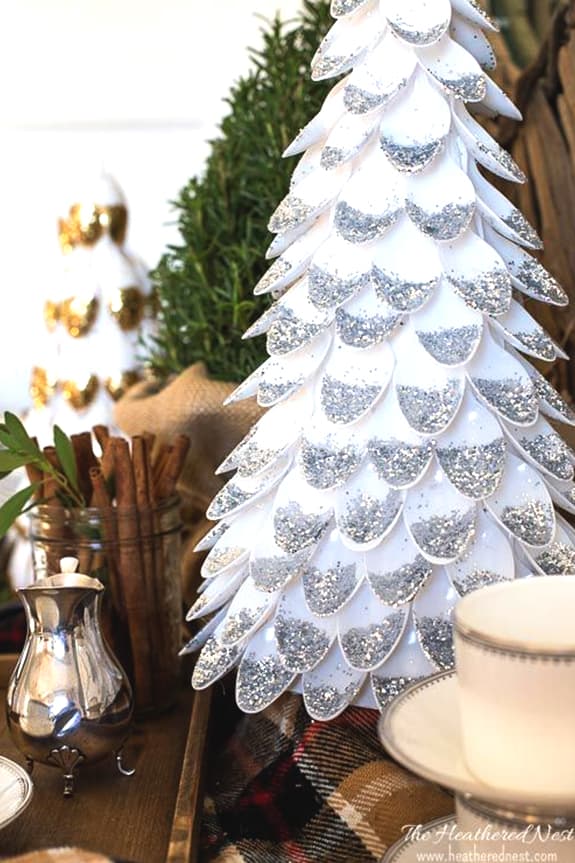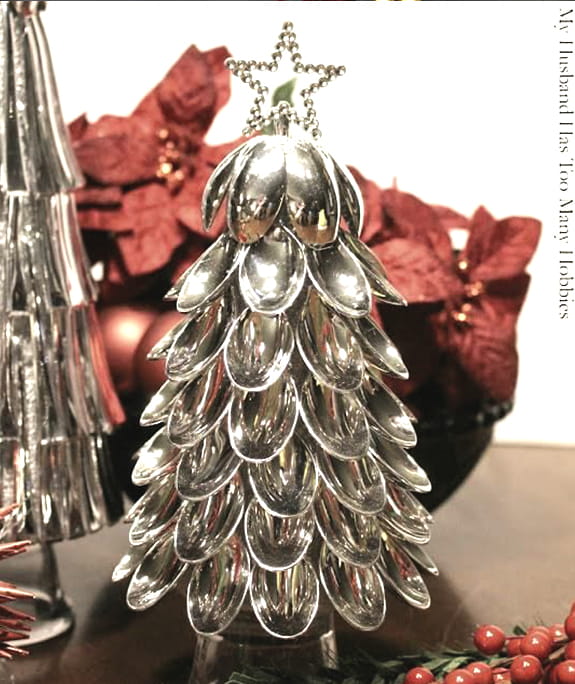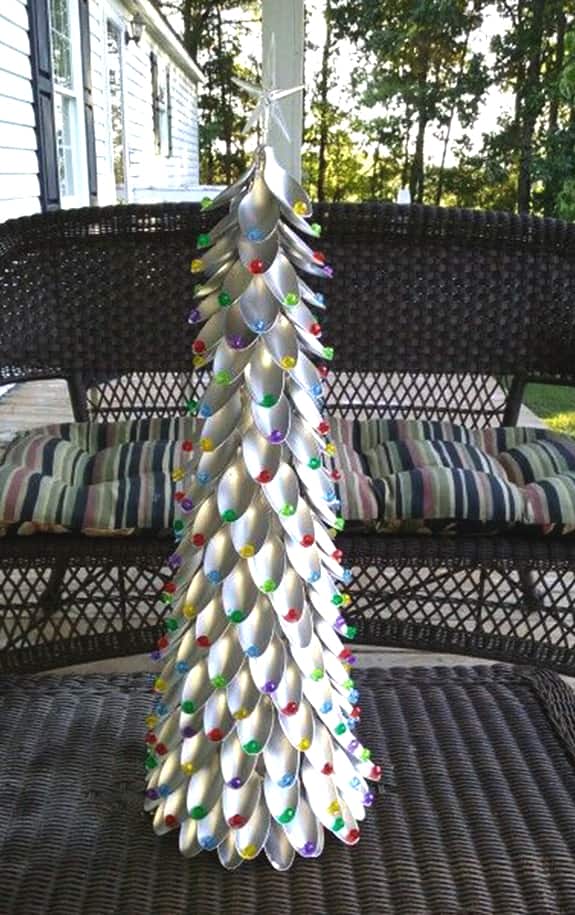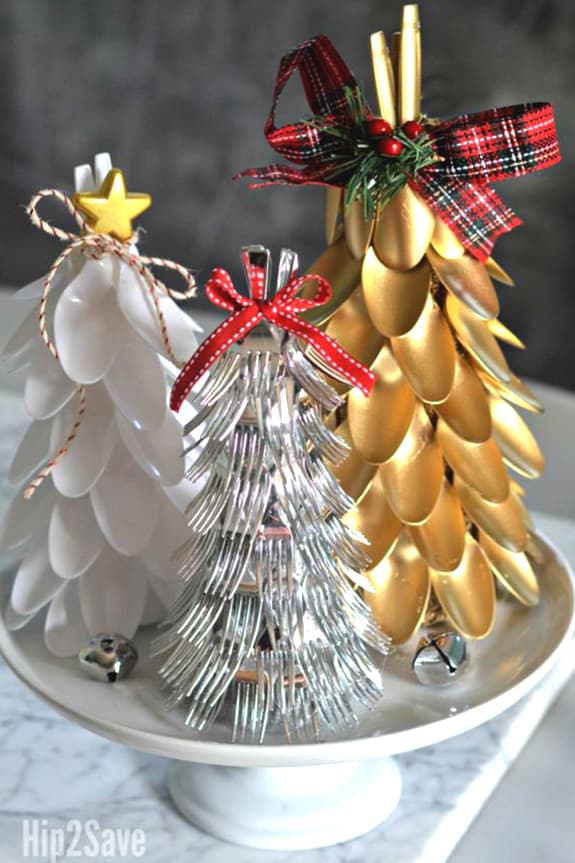 Santa Logs 
If you have recently trimmed logs, you can use them to paint and draw Santa on their smooth side.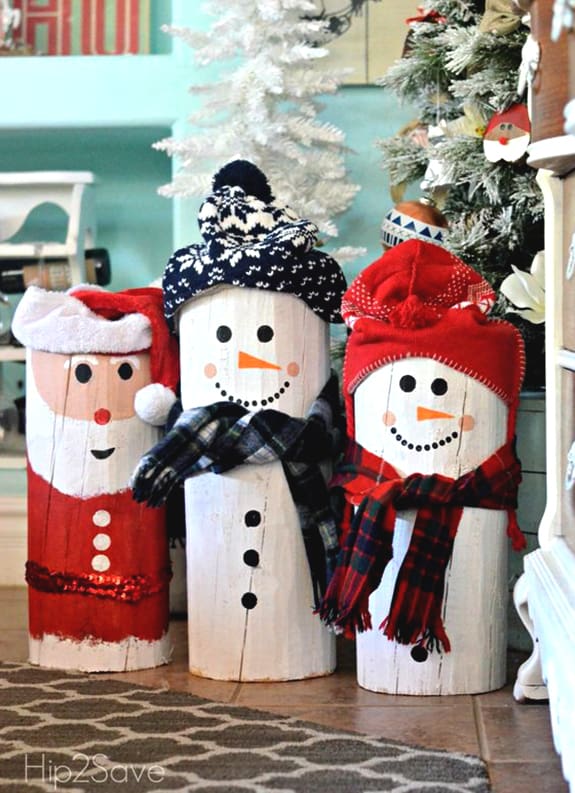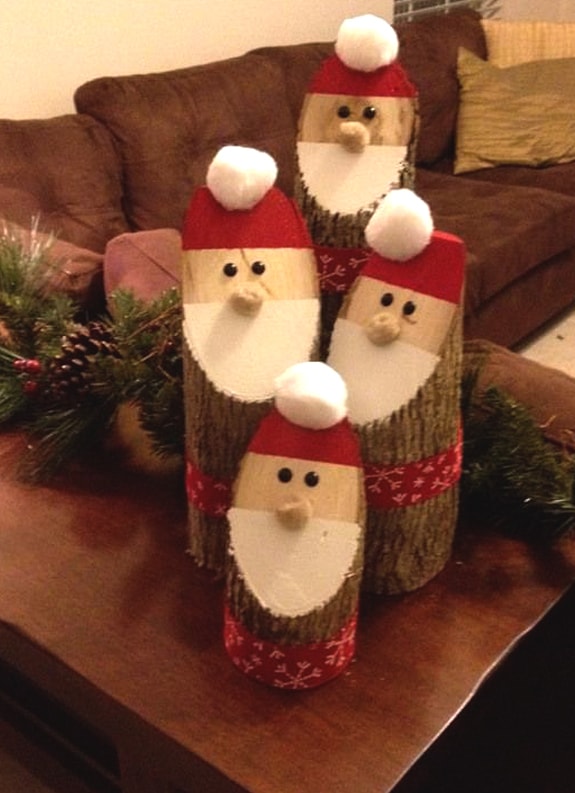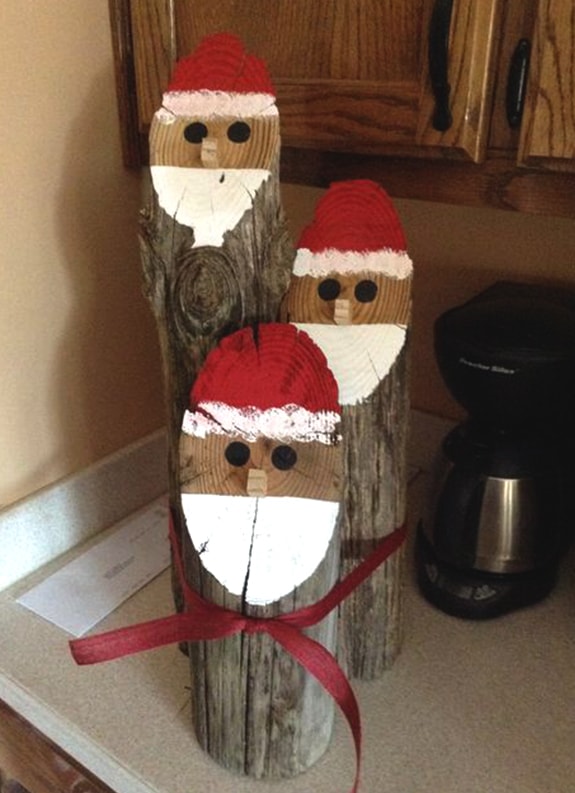 Felt Coffee Cup Sleeve 
Using felt, you can craft your own Starbucks Christmas themed coffee cup sleeve, be it Santa, an elf or a reindeer.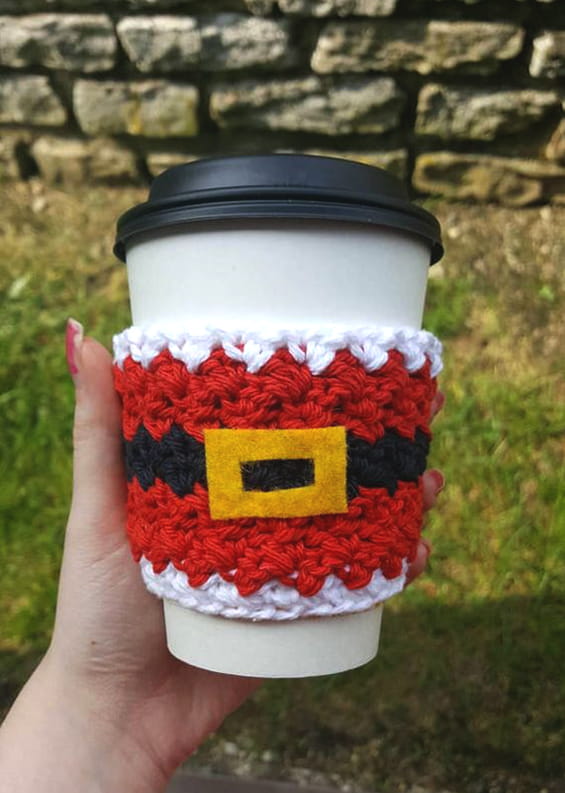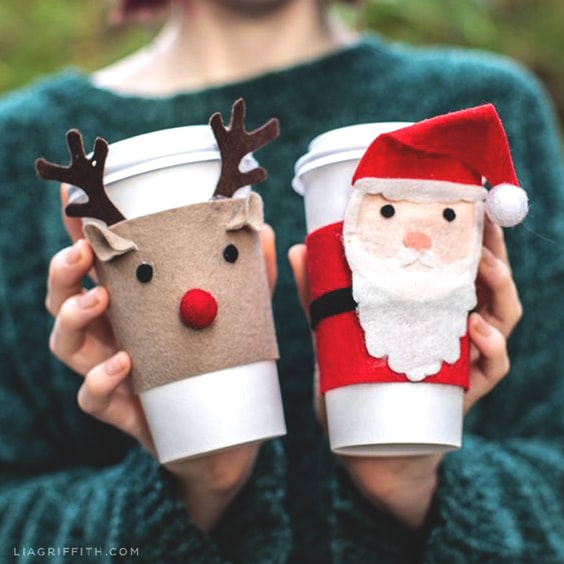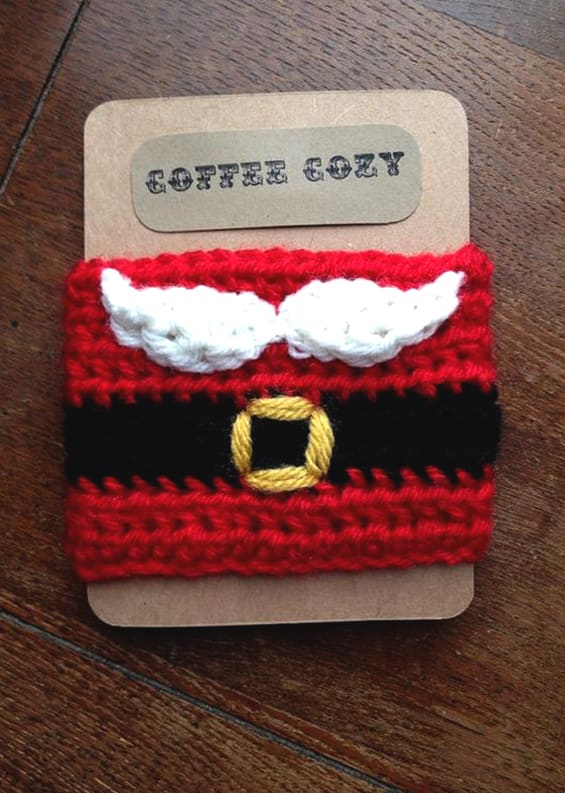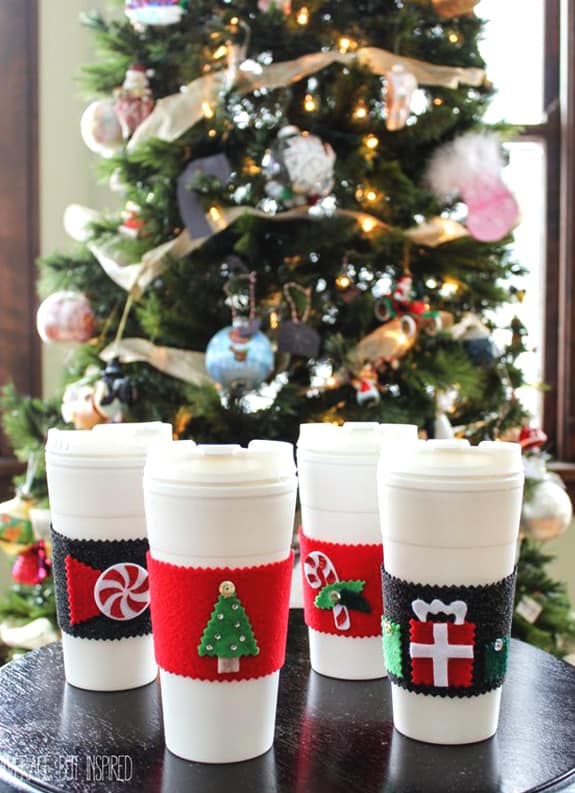 Bulb Wreath 
It is time to make use of the bulbs that completed their life cycle. Glue them together in a wreath shape and you'll have a colorful bulb wreath that is simply gorgeous.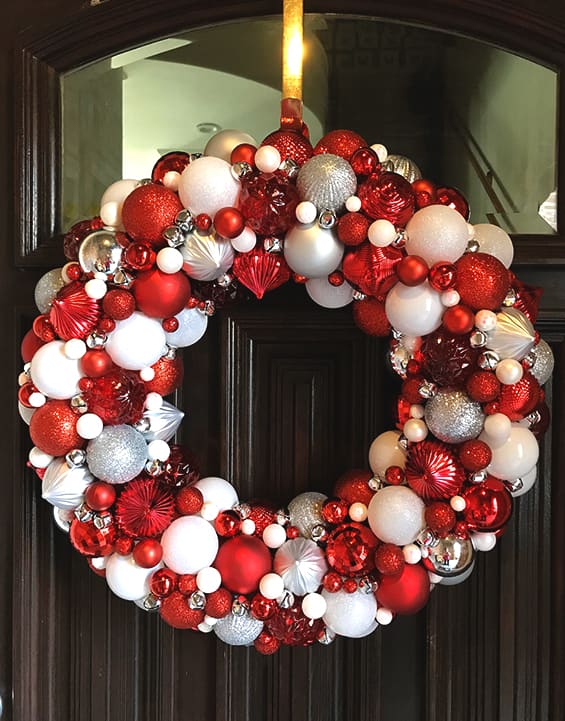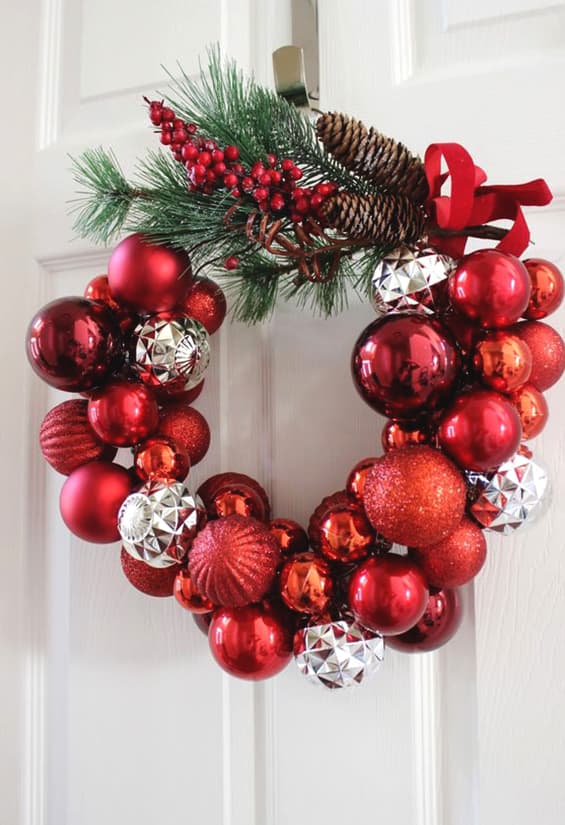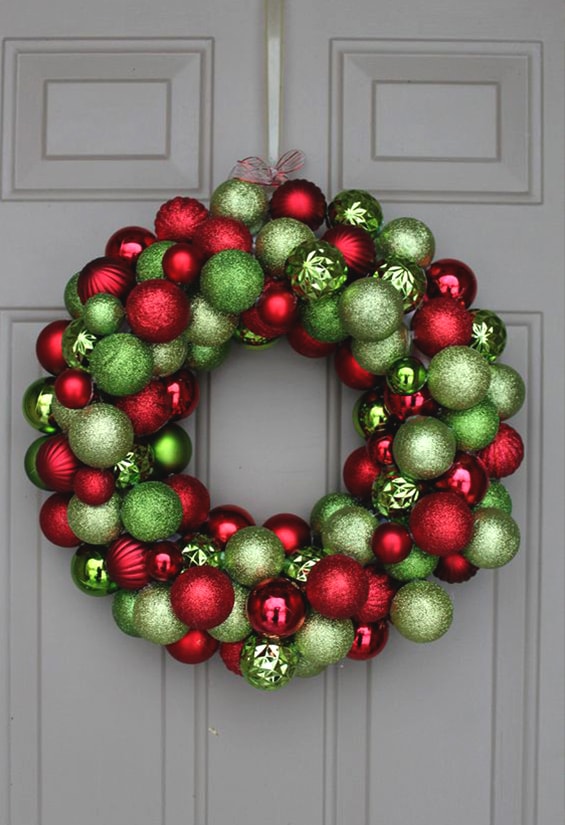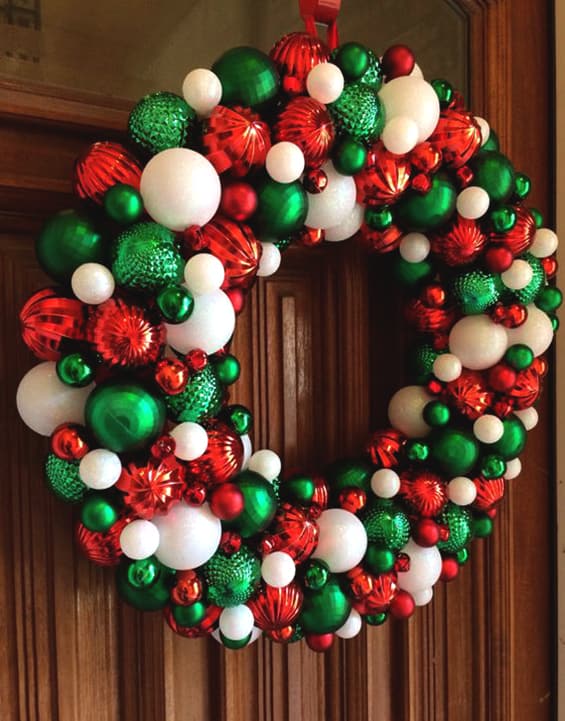 Rudolph Reindeer Ornaments 
There are so many ways to express Rudolph inspired reindeer ornaments for your Christmas tree. This Christmas craft idea also a nice activity for kids who love to hang ornaments on the tree.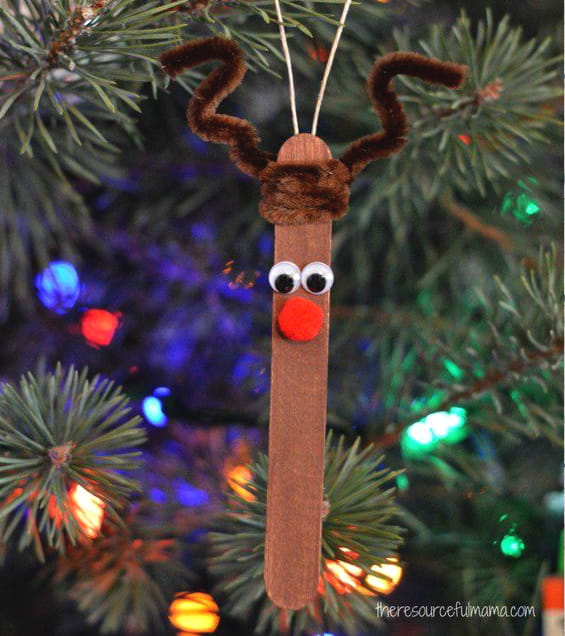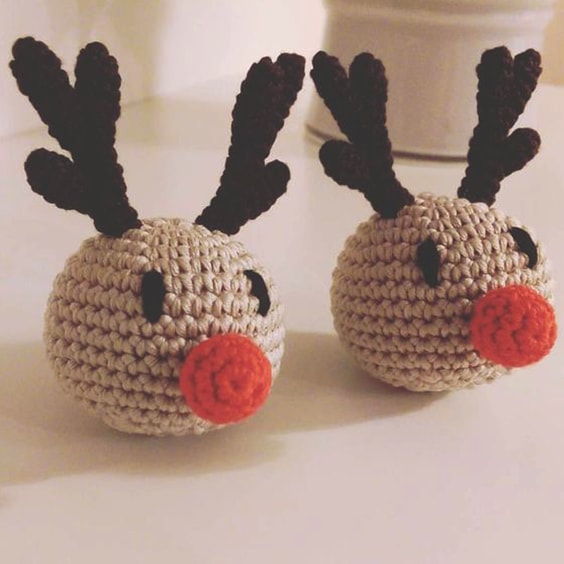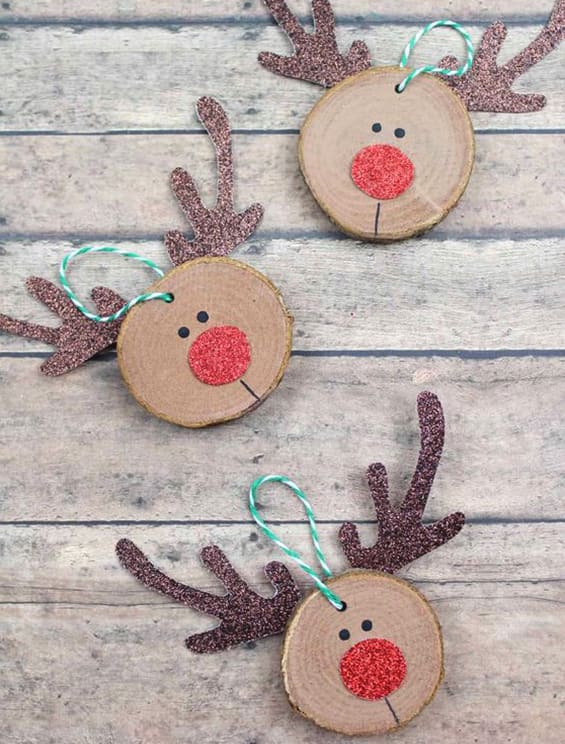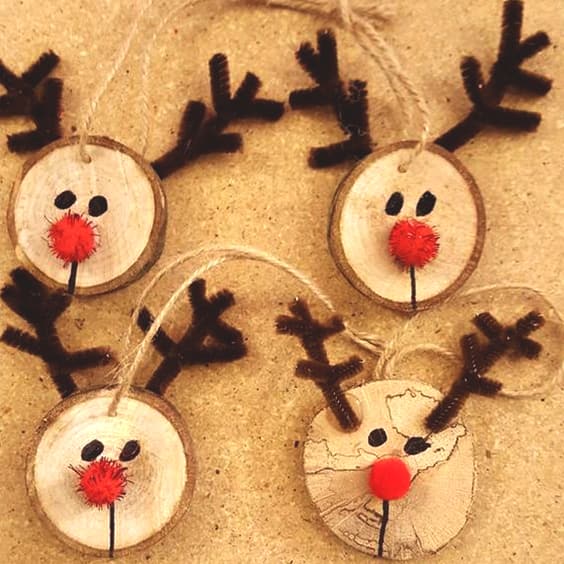 Christmas Light Napkin Rings 
You can wrap and tie old bulbs to your napkins with red and white string to create a unique Christmas theme for your dinner table.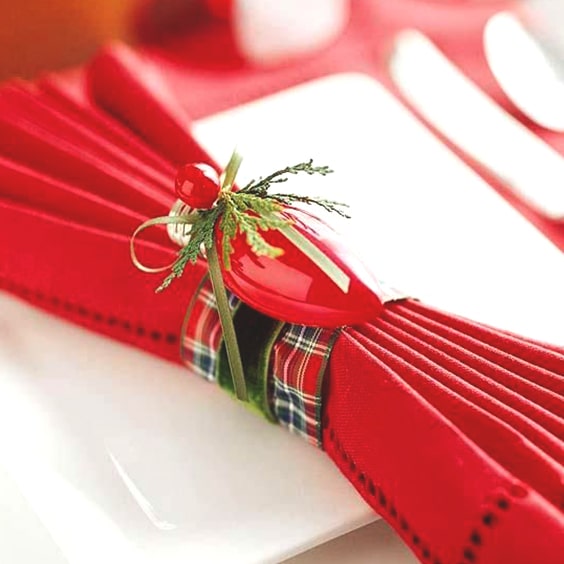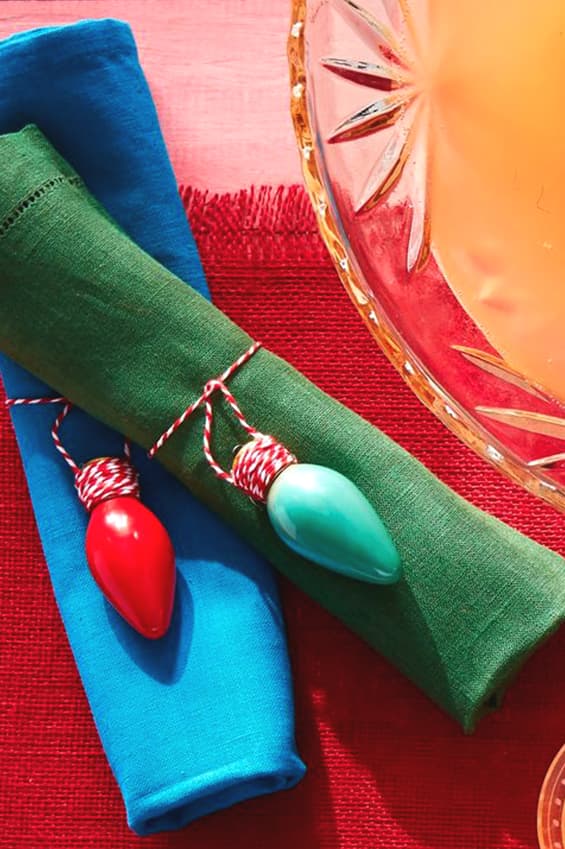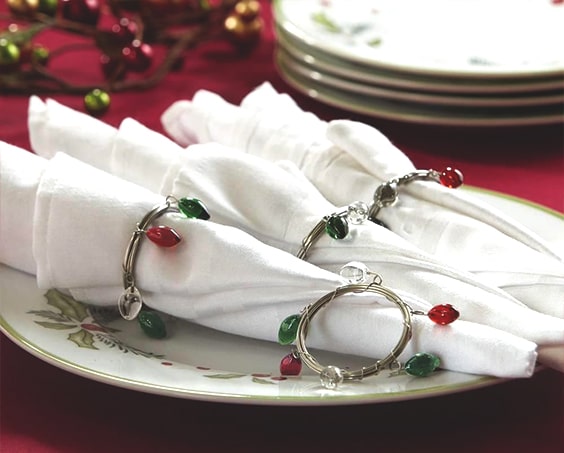 Basket Wreath 
One of the easy Christmas craft ideas, you can fill an old basket with winter tree leaves and a ribbon to create an ornament that oozes Christmas.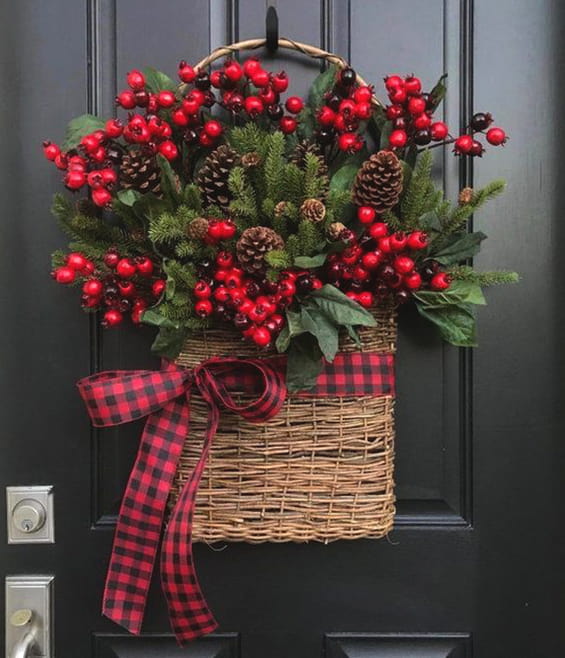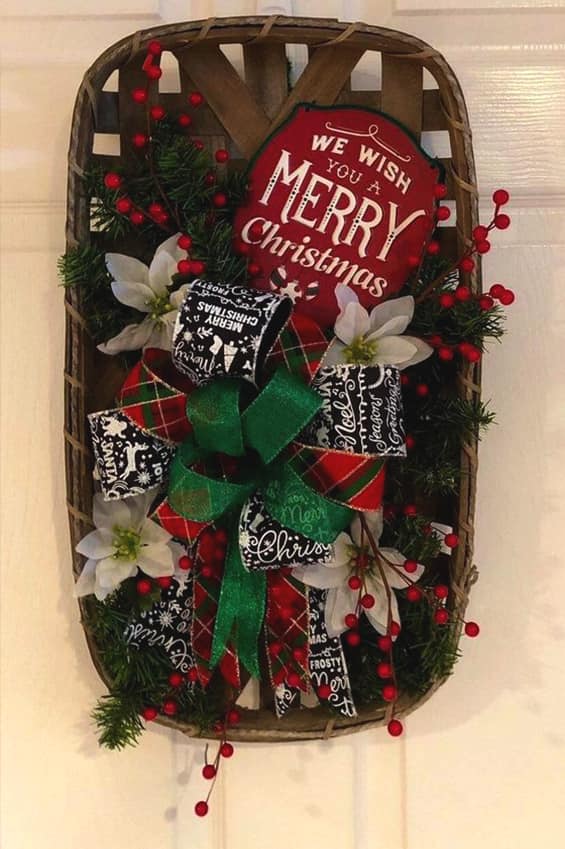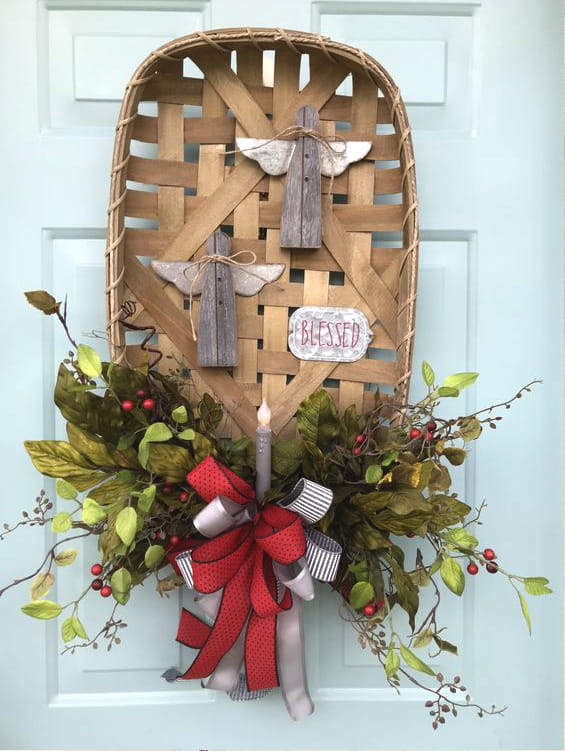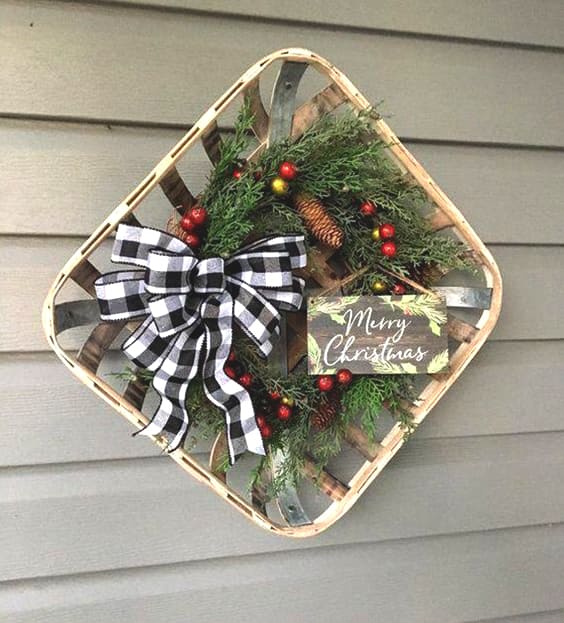 Holiday Cards & Photographs Tree 
Just stick Christmas cards and photographs to your wall in a pine tree shape and you will have the most unique Christmas tree in the neighborhood. Show your imagination by using some decors such as lights and ornaments.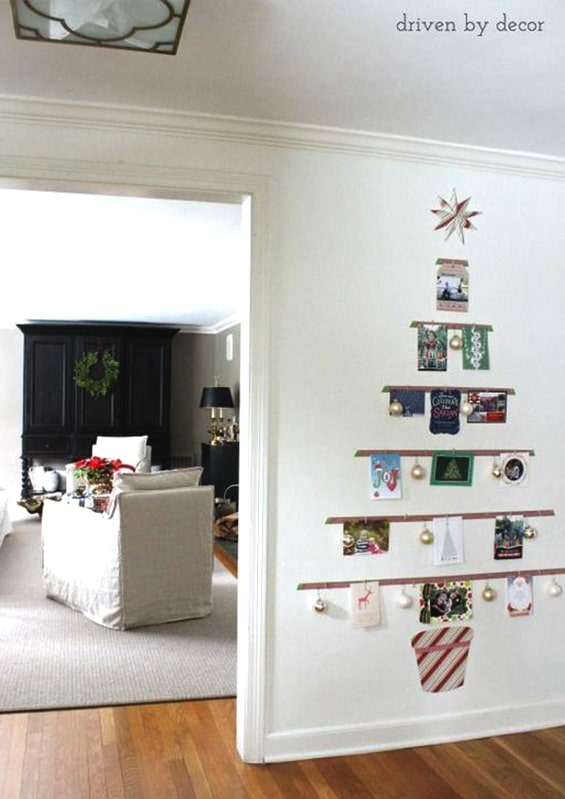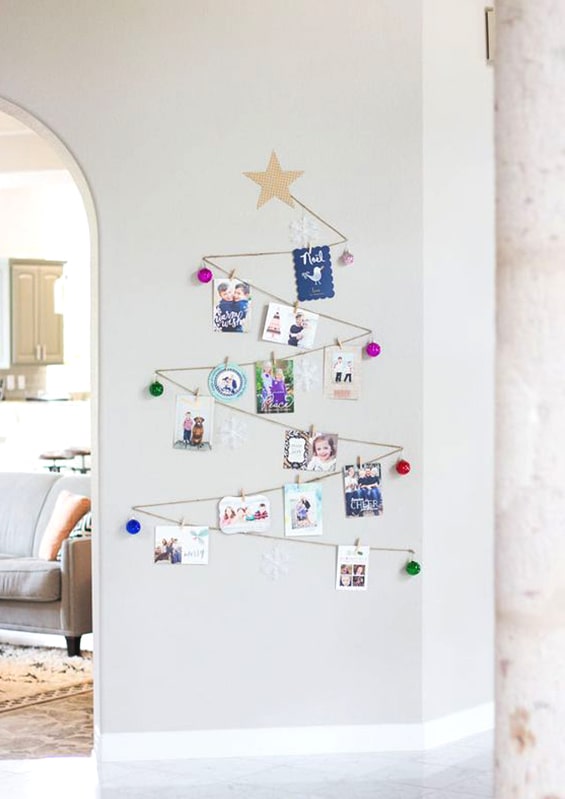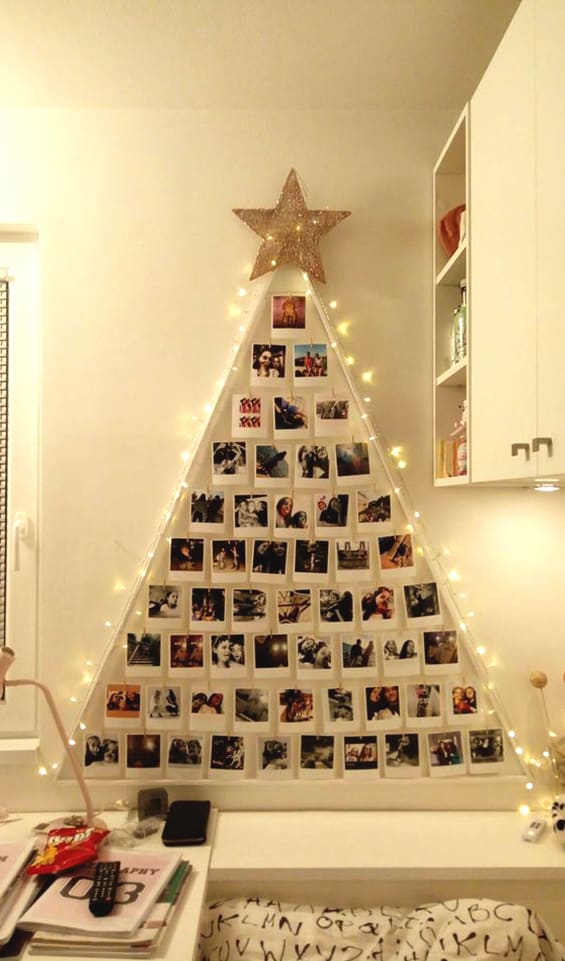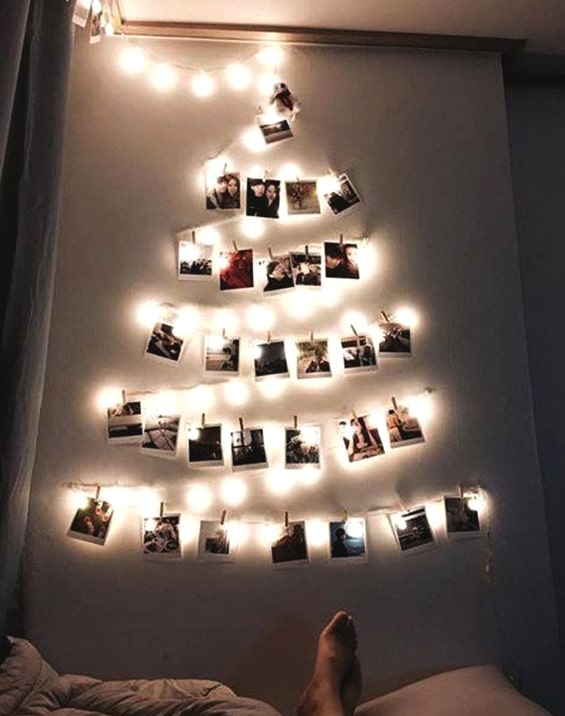 Dog Bone Wreaths 
Our loyal companions deserve their decorations at Christmas. Hot glue a dog bone to your wreaths for your pups and make them happy. Merry Woofmas everyone!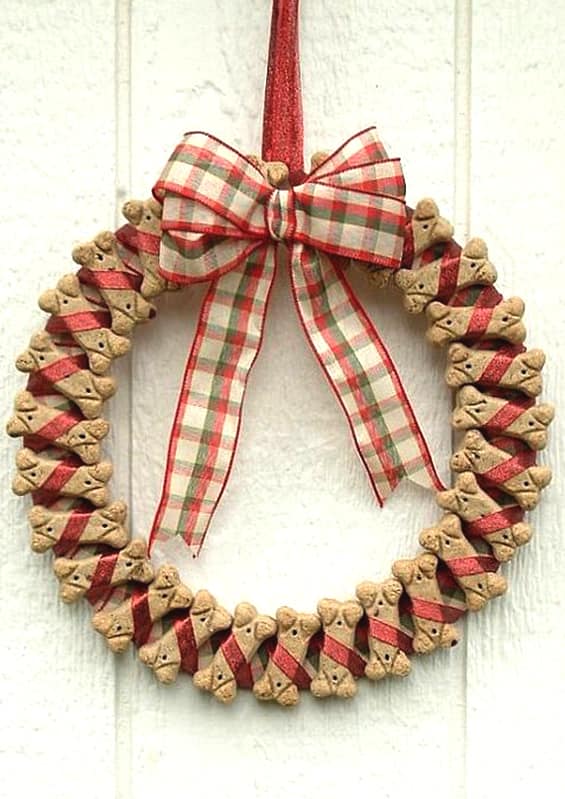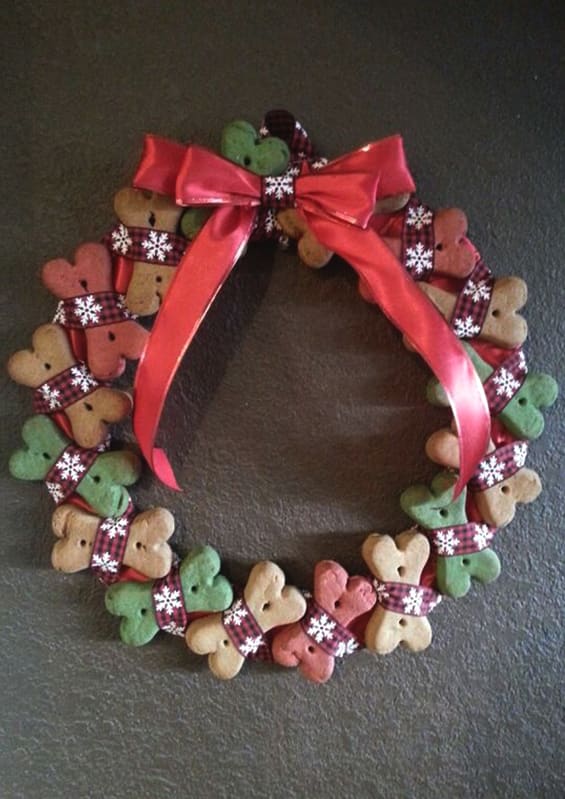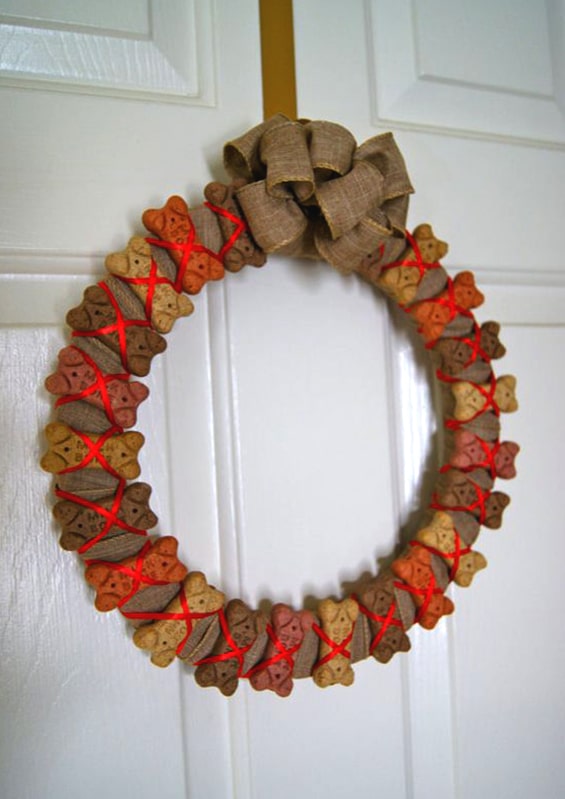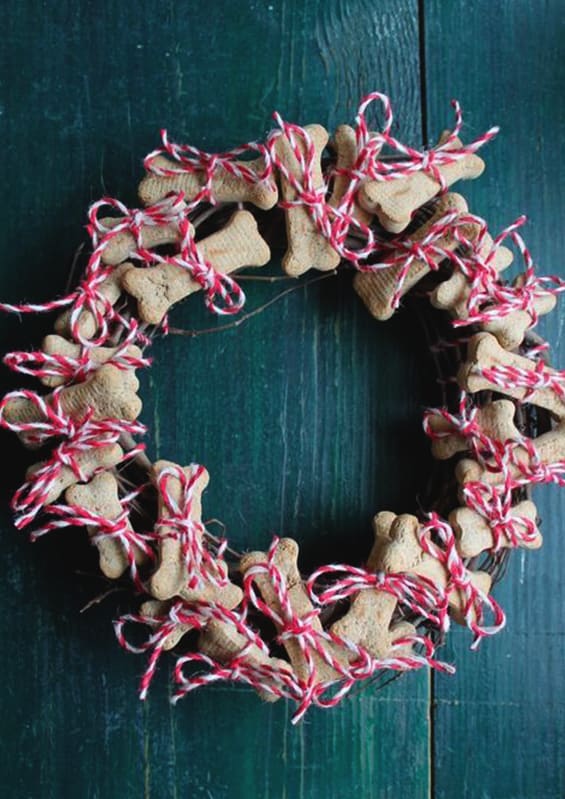 Christmas Necklace 
There are so many little ornaments you can use on Christmas trees. Why not use one of them to create a beautiful Christmas necklace for yourself?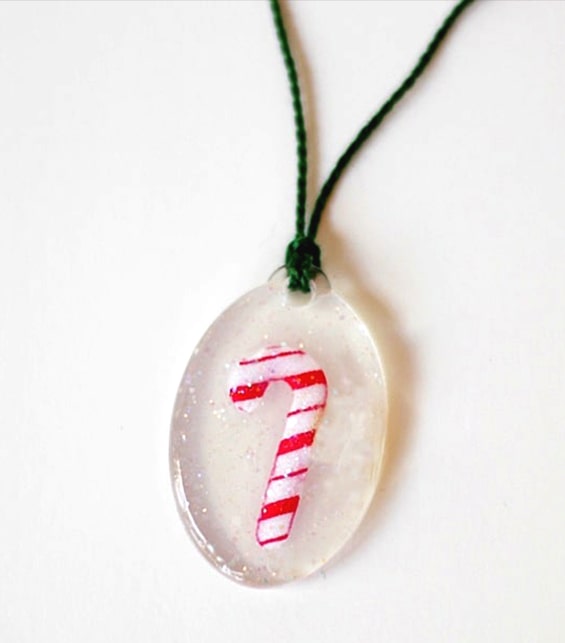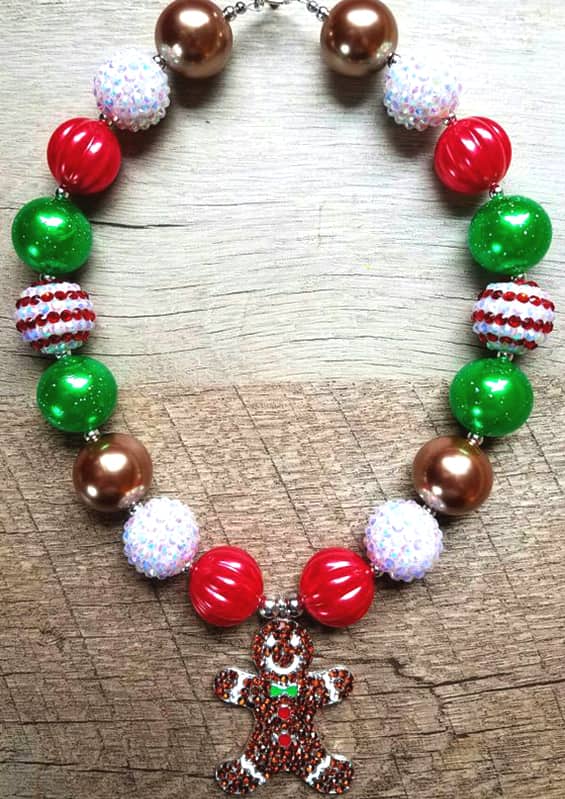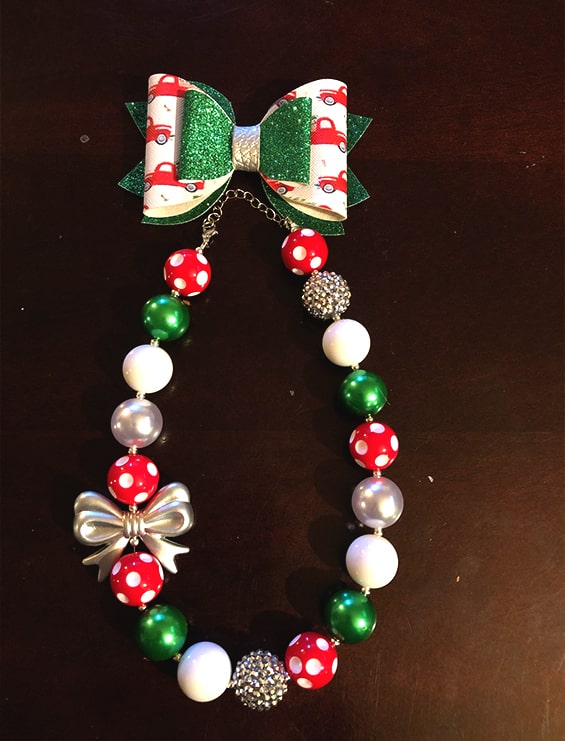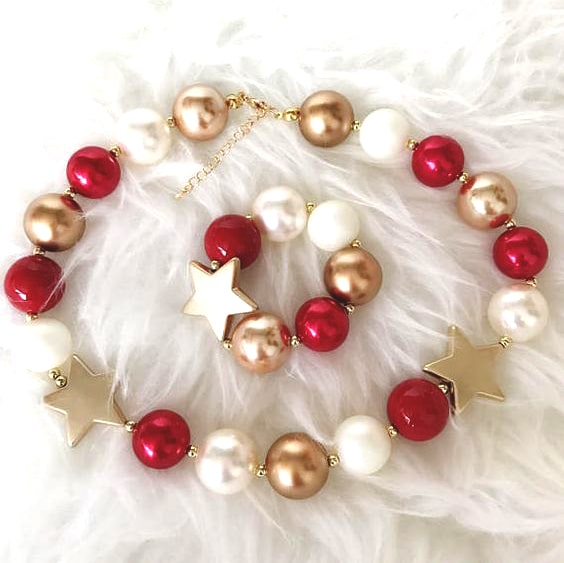 Plaid Shirt Ribbons 
You can cut your old plaid shirts to create ribbons out of them. Their design is perfect for Christmas.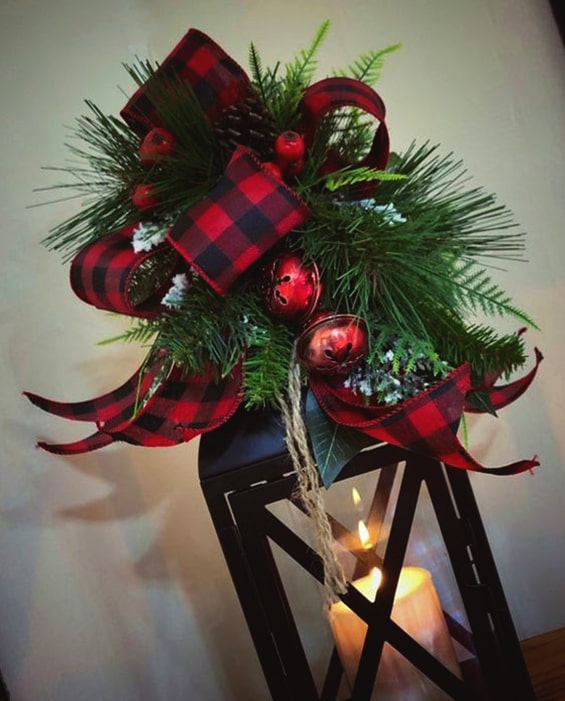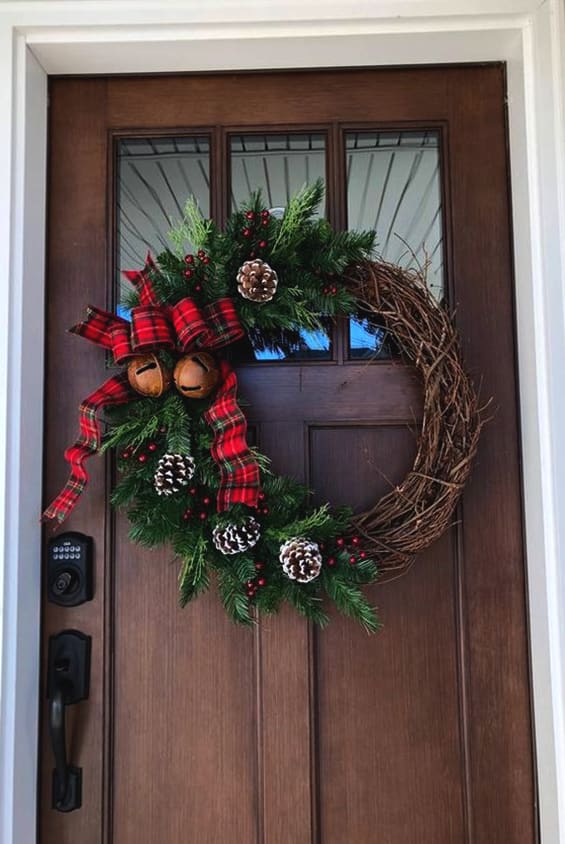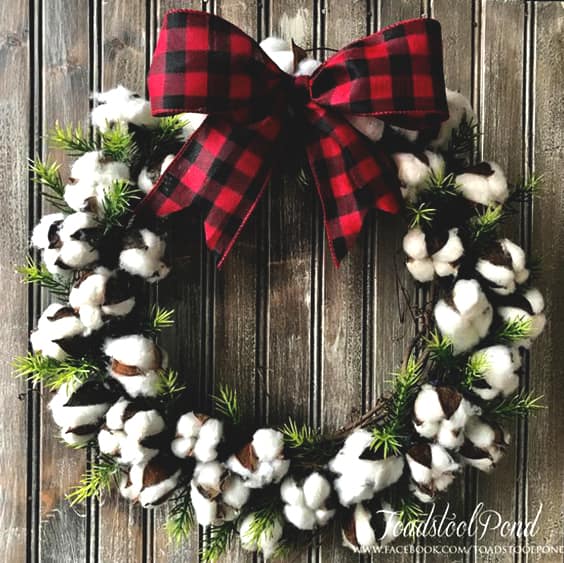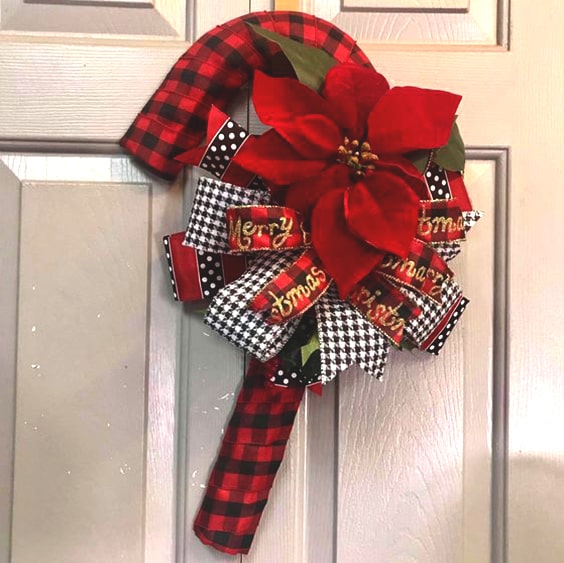 Pinecone Elves 
This DIY Christmas craft is very fun to do. You need felt and pinecones to craft these elves. For the base, you can always use wax.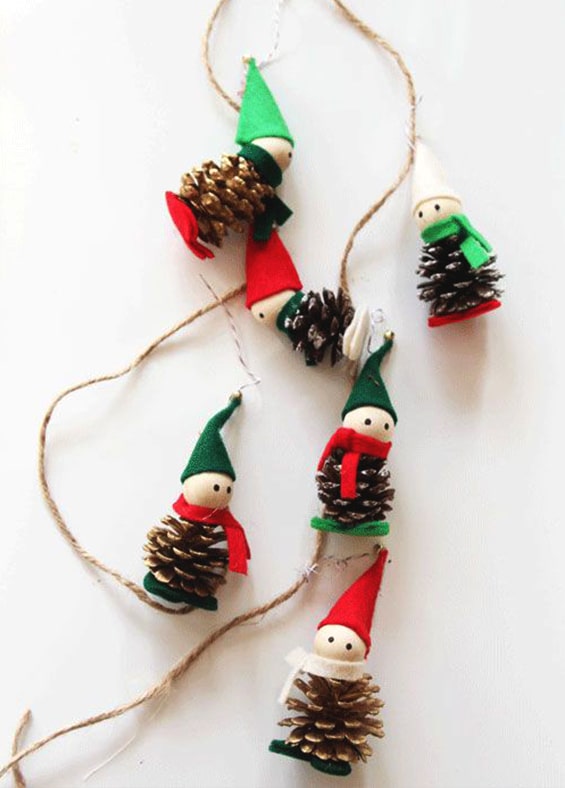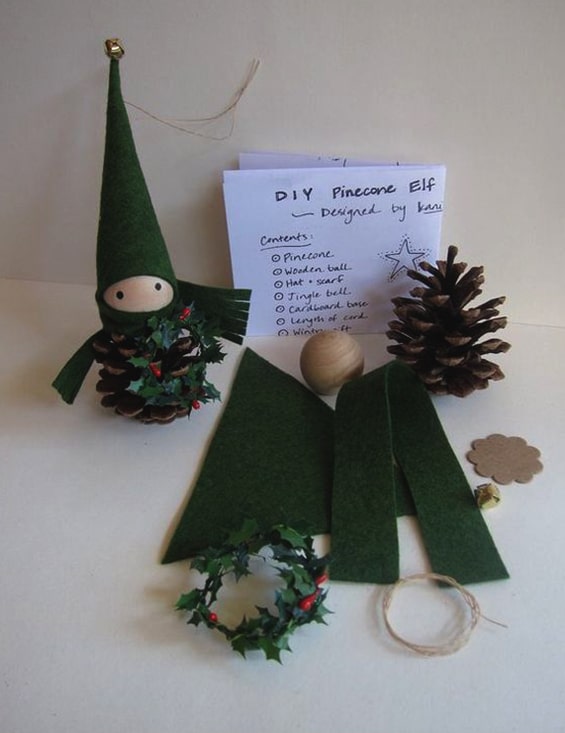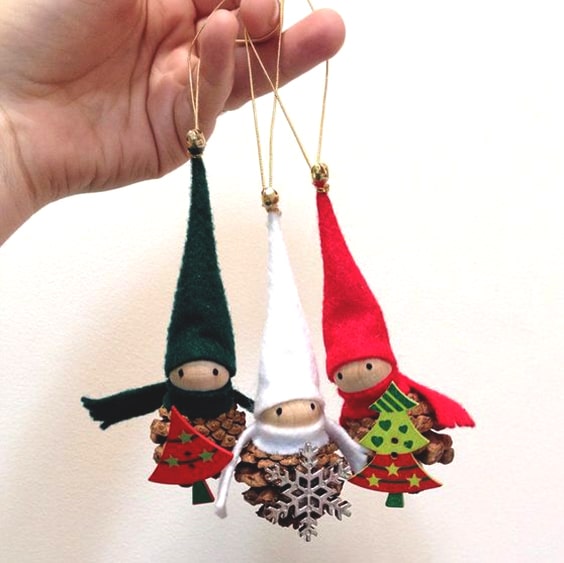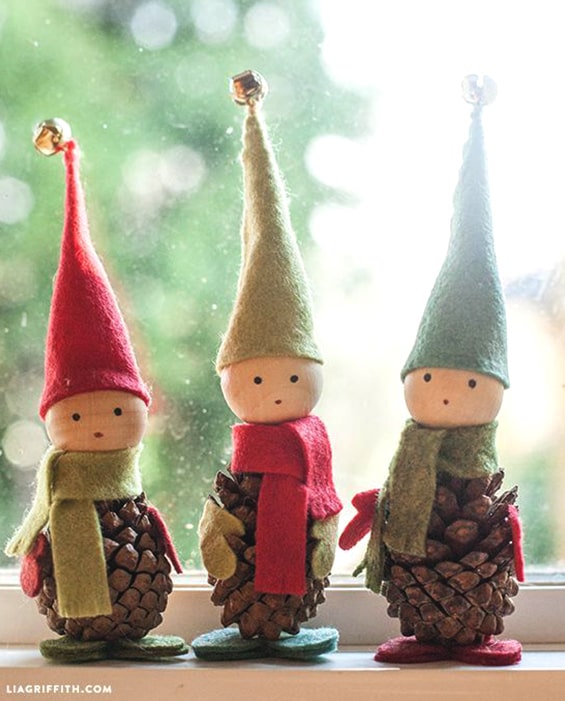 Handmade Christmas Cards 
For those skilled in drawing, creating handmade Christmas cards is an easy Christmas craft idea and they are certainly more special than the ones sold in shops.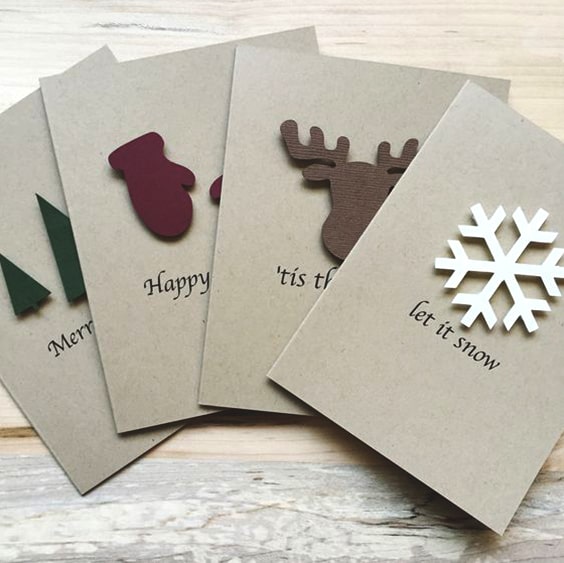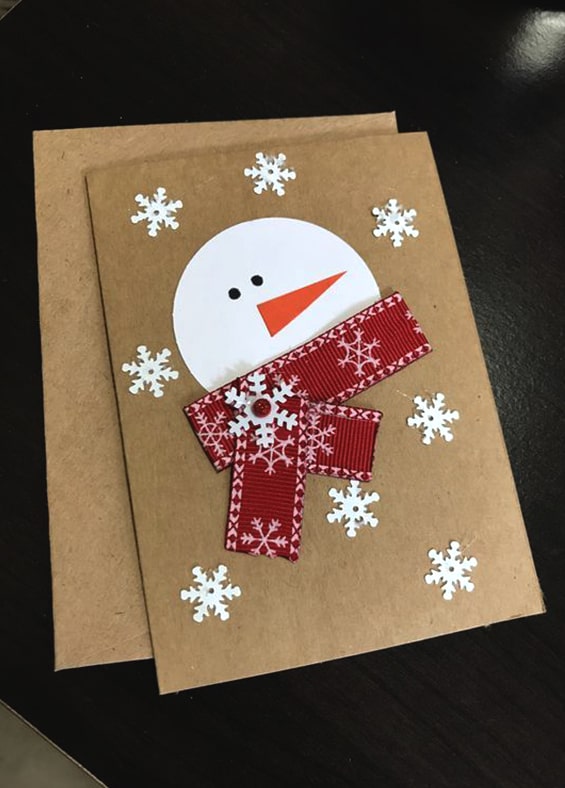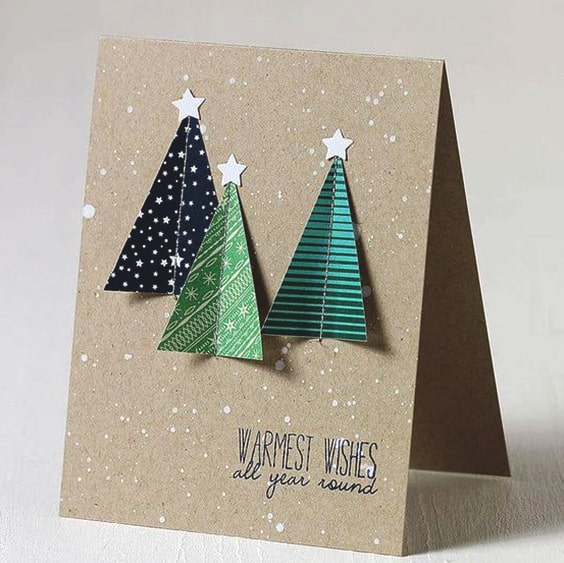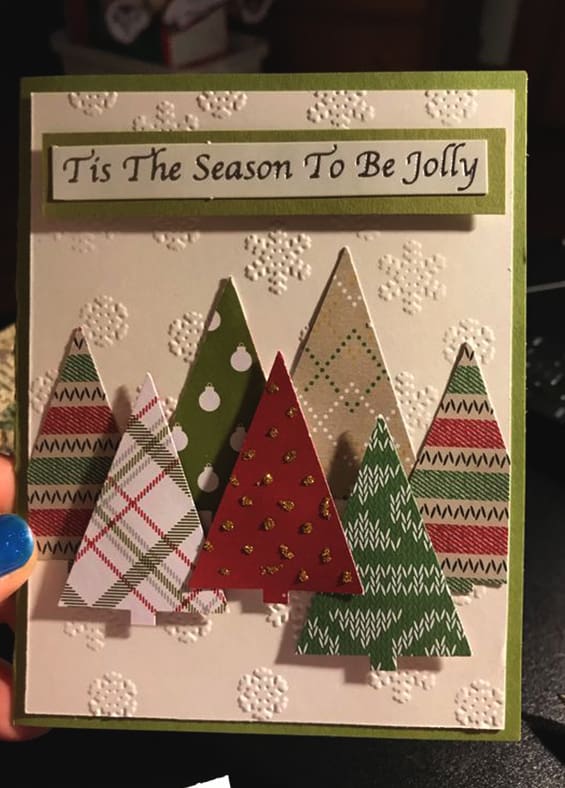 Thumbprint Christmas Cards 
Just paint your thumb and print it on cards to create unique thumbprint Christmas cards. Reminder, this is a very fun activity and perfect to do with children.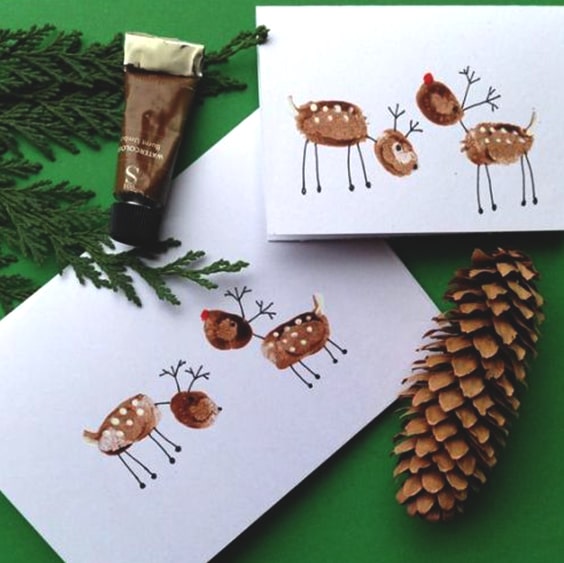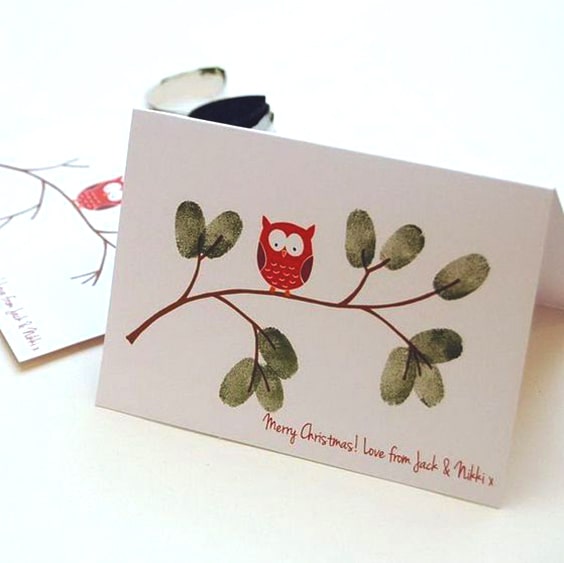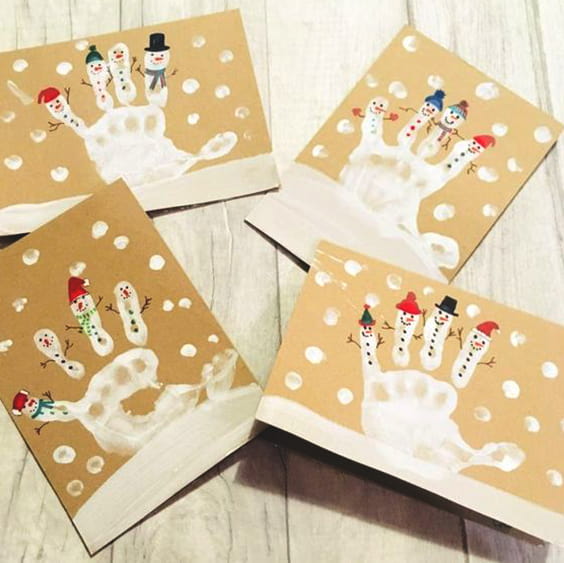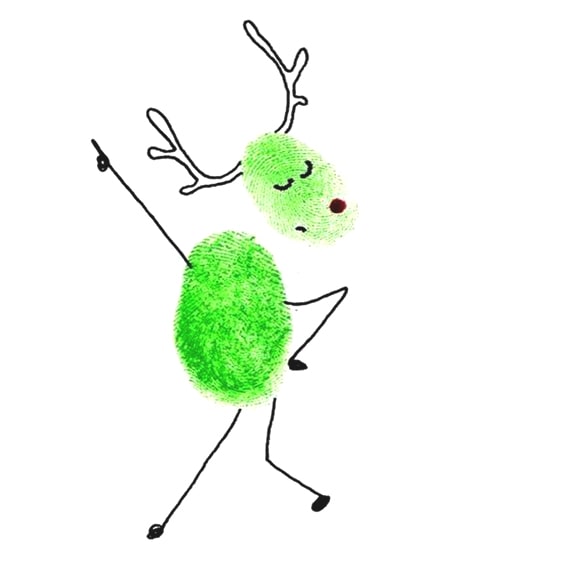 Road Map Christmas Gift Wrap 
Road maps can be found as freebies in various places and they are perfect to use as gift wraps. Just tie the wrap with a button for that extra Christmas feel.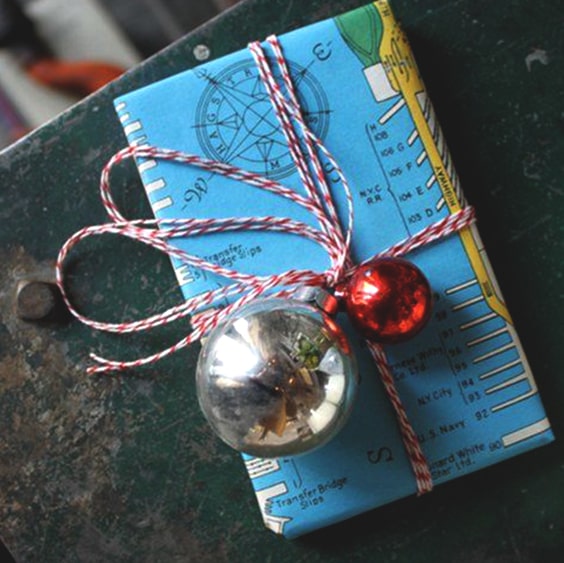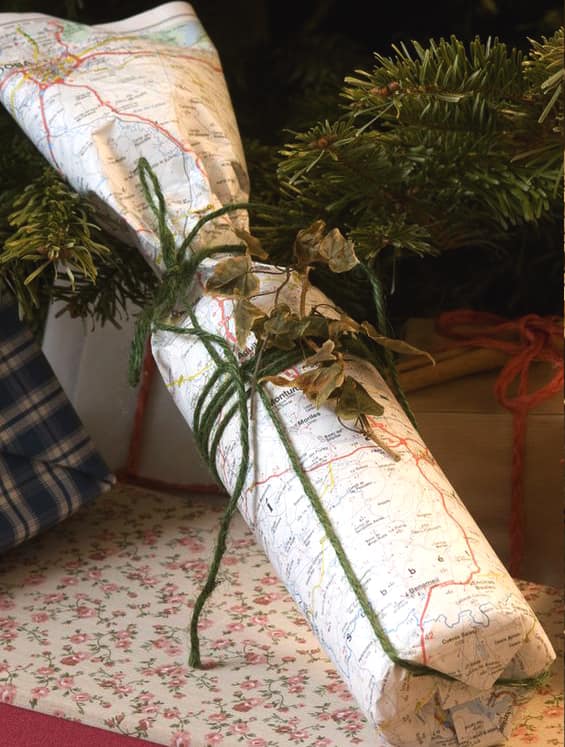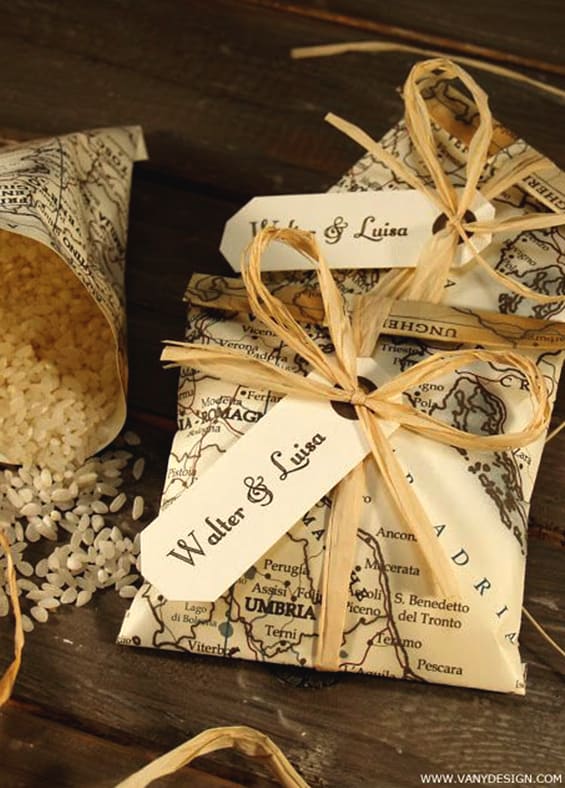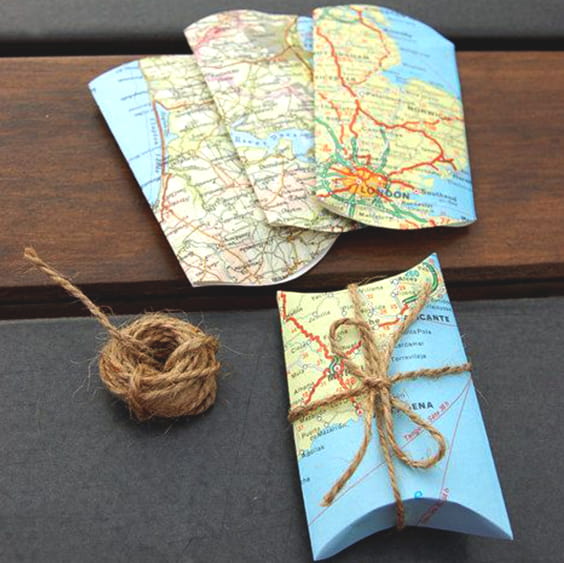 Cozy Felt Stockings 
Felt is easy to work on and socks are a Christmas favorite. Combine the advantages of both and craft unique socks for Christmas.